Travel
Fall Drives: Greenfield to the Ohio River | Ohio Route 41
This 71-mile trip through rural southwest Ohio passes through many small towns and offers spectacular views of the countryside alive with color.
October 2016 Issue
BY Leo DeLuca | Photos by Maddie McGarvey
October 2016 Issue
BY Leo DeLuca | Photos by Maddie McGarvey
In 1924, state Route 41 was established through the Highland County village of Greenfield. Home to outlaw country troubadour Johnny Paycheck (famous for his late-'70s recording of "Take This Job and Shove It"), the town was first surveyed in 1796, the final full year of George Washington's presidency.
Traveling south from Greenfield's historic downtown, Route 41 rolls through the hidden hills of Ross County and the small Paint Township communities of Fruitdale and Humboldt. October leaves pop red and orange and yellow along the roadside as they begin their slow fade to winter.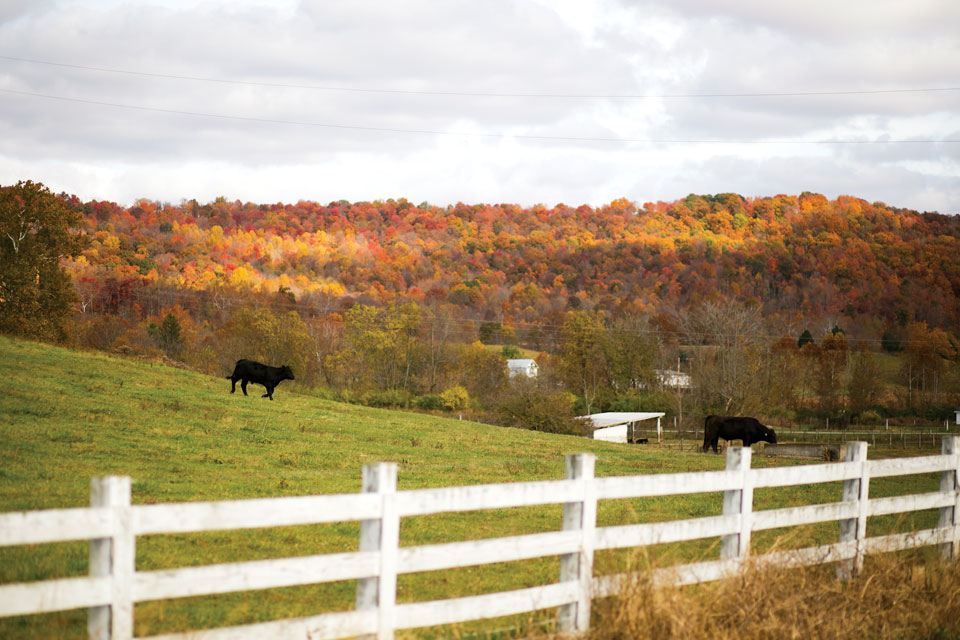 Hay bales dot the idyllic landscape en route to Bainbridge, home to the United States' first dental school. Established by John M. Harris in 1825, the school now operates as a museum.
As Ross County turns to Pike County, Amish buggies and bicycles appear along the side of the road. Moving toward Brush Creek State Forest and the quaint communities of Cynthiana and Sinking Spring, travelers begin to see cows, Shetland ponies and goats grazing on grassy hillsides.
Heading south on Route 41 to Peebles, an Ohio historical marker notes the town was platted in 1881 by Isaiah Custer on the junction of old Zane's Trace and the Cincinnati & Eastern Railway. With a population of 1,782 during the most recent census, Peebles seems vast when compared to other towns in the area.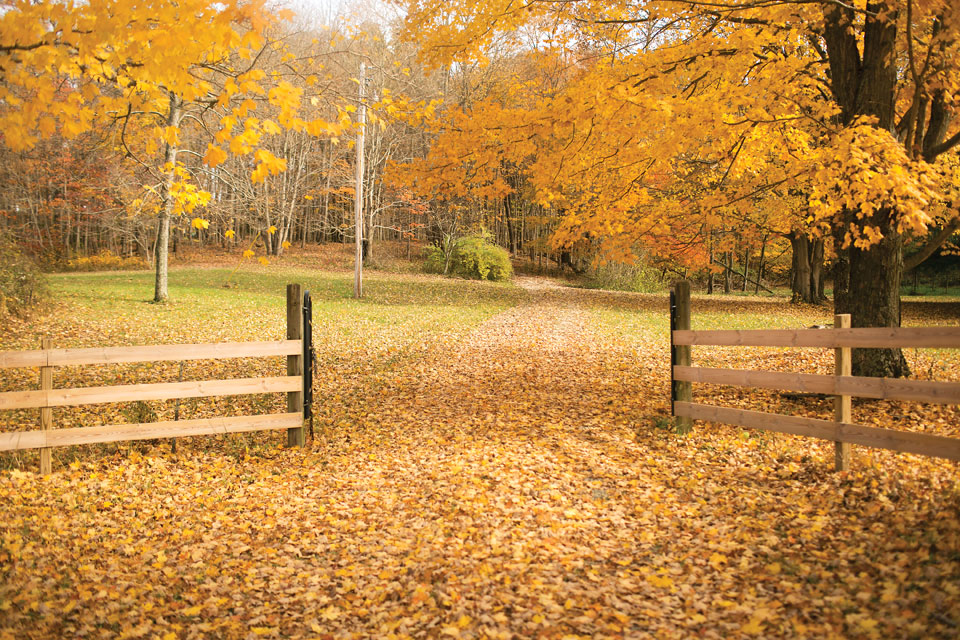 Onward through Oliver Township and Ohio Brush Creek to Dunkinsville and Treber Run, travelers are greeted by horses and fields before reaching West Union — the 1803 Adams County seat. Nearby, Wilson Children's Home — a stunning 1883 structure — proudly stands near the intersection of East Mulberry Street and North Wilson Drive as it has for generations.
Lone silos decorate the horizon near Sprigg Township before the road passes through Bentonville, Bradysville and Big Three Mill Creek, and then onward to Ellsberry and, finally, Aberdeen. At journey's end, travelers are greeted by the rolling Ohio River, as it curves gently through the hills, flickering like spangle on the surface.

***
Stops & Side Trips
Country Crust Bakery: Enjoy made-from-scratch goods at this Amish-owned bakery. From fresh apple fritters to whoopie pies to fresh-baked bread, this Bainbridge shop is a must-visit spot for travelers passing through the area. Although the wealth of sweets is alluring, it's the bakery's giant homemade pretzels that consistently steal the show. 4918 St. Rte. 41 S., Bainbridge 45612, 740/634-2253
Fort Hill Earthworks & Nature Preserve: Hike to the top of what Ohio History Connection describes as one of the best-preserved prehistoric hilltop enclosures in North America. With dense forests, hiking trails, rare and endangered wildflowers and a diverse range of bird species, Fort Hill is a favorite for nature lovers. 13614 Fort Hill Rd., Hillsboro 45133, 800/283-8905, arcofappalachia.org/fort-hill
Serpent Mound: Marvel at the ancient 1,348-foot-long Serpent Mound — a National Historic Landmark. Garnering international attention alongside eight other Ohio earthworks, the ancient effigy mound is in the running to become a World Heritage Site, joining wonders that have already received the designation such as the pyramids of Egypt and the Great Wall of China. 3850 St. Rte. 73, Peebles 45660, 800/752-2757, arcofappalachia.org/serpent-mound
Murphin Ridge Inn: Relax at this Amish country bed-and-breakfast. Rocking chairs, hiking trails and homemade food are the perfect complement to southern Ohio's rolling Appalachian foothills. While you're here, check out the neighboring towns offering handcrafted Amish goods, antiques and more. 750 Murphin Ridge Rd., West Union 45693, 937/544-2263, murphinridgeinn.com