Travel
Fall Color: Visit 14 Picture-Perfect Spots
Autumn is Ohio's most photogenic season. Here are the stories (and locations) behind more than a dozen beautiful photos that'll inspire you to create some masterpieces of your own.
October 2019
BY Rachael Jirousek & Jim Vickers | Photo by Matt Shiffler
October 2019
BY Rachael Jirousek & Jim Vickers | Photo by Matt Shiffler
Blue Hen Falls, Brecksville
41.2583° N, 81.5730° W

Blue Hen Falls is Cuyahoga Valley National Park's second-most famous waterfall. But in autumn it offers an incredible photo opportunity. "If you catch Blue Hen Falls in peak fall, it's one of the most beautiful hikes you're ever going to go on," says Cleveland photographer Matt Shiffler, who captured this shot. He recommends visiting after a fall rain so the water is flowing. "Leaves gather in the pool at the bottom of the waterfall and it makes for an interesting swirling effect." Instagram: mattshifflerphoto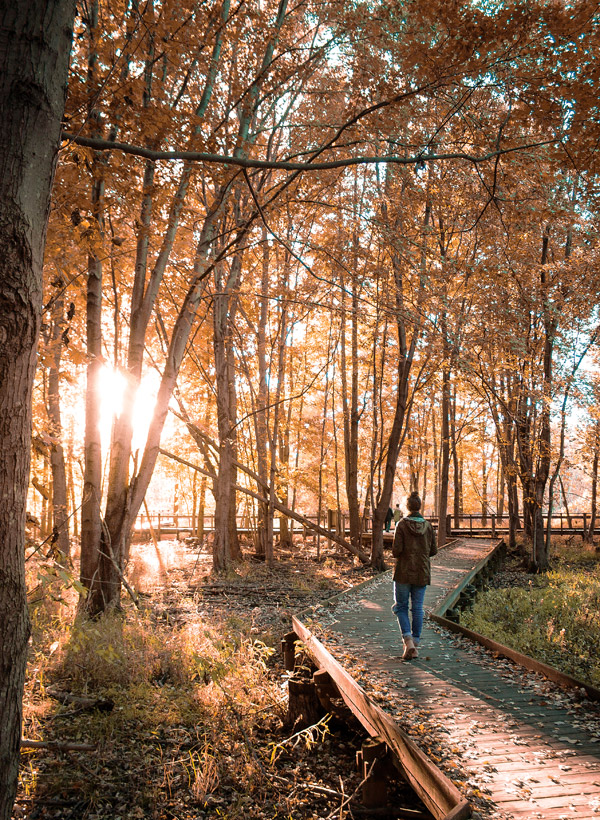 Maumee Bay State Park, Oregon
41.6843° N, 83.3634° W

Every year, Logan Brown and his family get together for Thanksgiving at Maumee Bay State Park. Already familiar with the location's features and the boardwalk that goes through it, Brown and his girlfriend visited last autumn in the hopes of getting an interesting shot at sunset. "We found this cool composition and the sun was just bursting through the trees," says Brown, who lives in Bowling Green. "The light was so golden and beautiful, and it was just the perfect fall night." Instagram: loganbrown98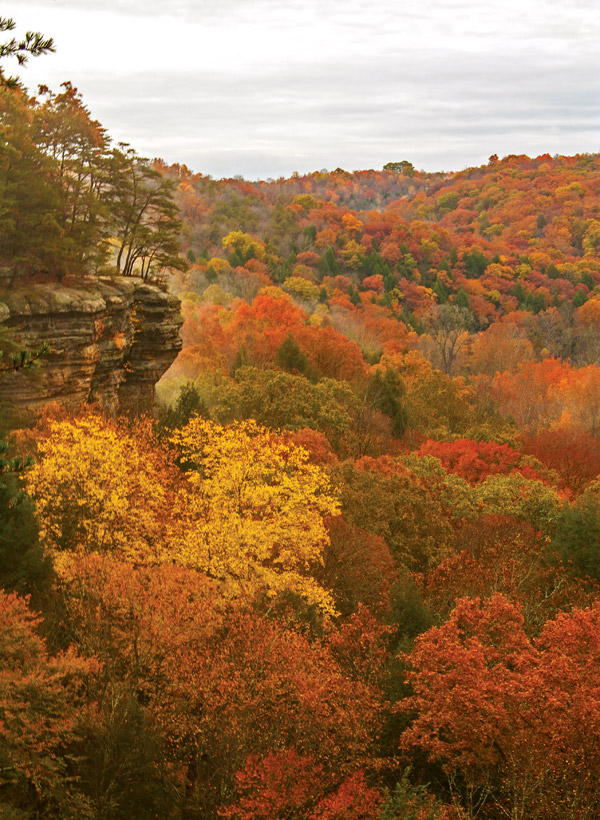 Conkle's Hollow, Rockbridge
39.4549° N, 82.5746° W

The rim hike along Conkle's Hollow is one of the most scenic treks in the Hocking Hills, particularly in the fall, given the colorful treetops and the cliffs that poke out above them. "I could see that rocky precipice and knew I wanted to get that, so I kept walking on that trail around the rim until I found a spot," says Aaron Pospisil, the Winfield resident who took this photo. "We found a beautiful spot ... with the fog coming out. It was a cool, damp morning — a beautiful morning to hike."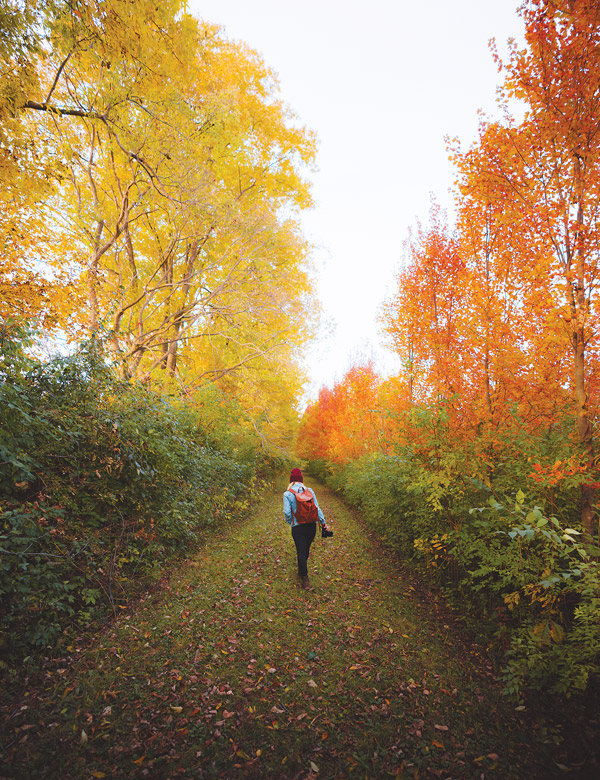 Walnut Woods Metro Park, Groveport
39.8340° N, 82.8623° W

Dylan Spitz and his wife Jillian make it a point to photograph the fall colors each year at Walnut Woods Metro Park, located about 10 minutes from their Groveport home. "It's our go-to spot and we love it, and it just happens to be super close," he says. Spitz captured this shot during a weekday evening last autumn. "We try to get out as much as we can when the fall color is here," he says. "We just keep an eye on it and pull over when the time is right." Instagram: dylanspitz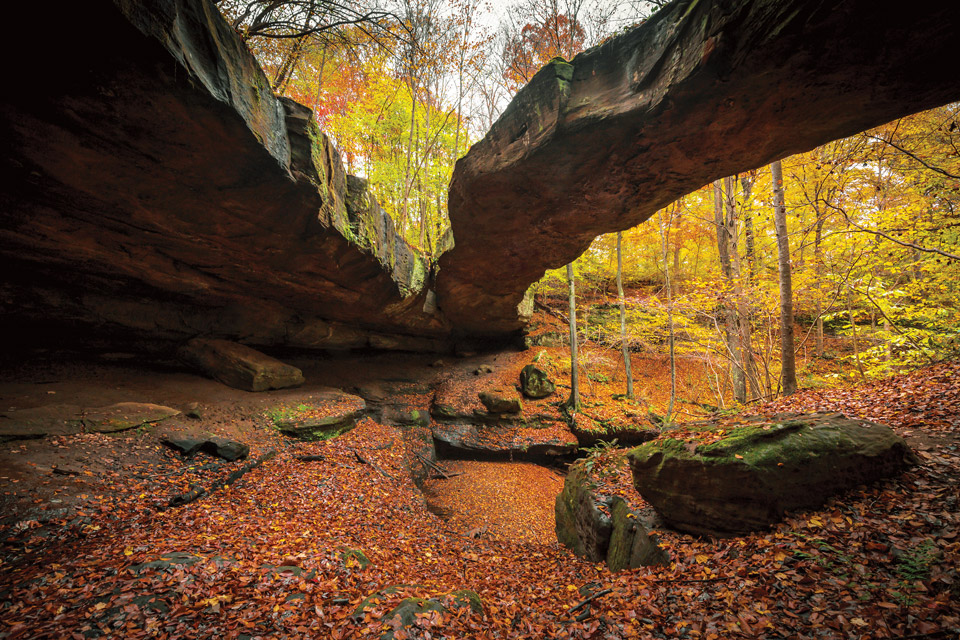 Rockbridge, Rockbridge
39.5769° N, 82.5025° W

This natural arch is more than 100 feet long and crosses a 50-foot ravine. It's an unusual natural formation to find in Ohio, which is what attracted Cleveland-based photographer Matt Shiffler to the spot. A 2.75-mile trail system takes hikers over a boardwalk and through the forest, before offering views of nearby farmland. "If there's been a lot of rain, there's a mini waterfall that trickles down through the Rockbridge," Shiffler adds. "It's a really good place to visit in the springtime, too." Instagram: mattshifflerphoto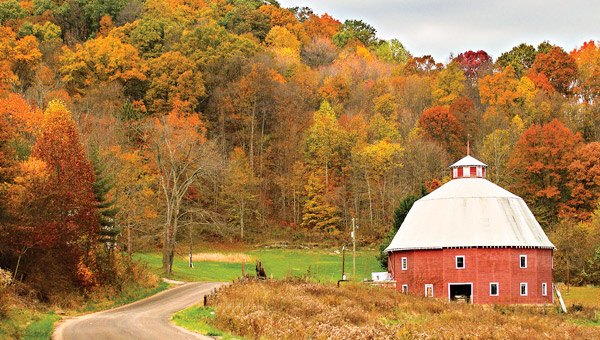 16-Sided Barn, Freeport
40.1924° N, 81.2712° W

Larry Cunningham discovered this unusual, 16-sided barn while traveling through Harrison County looking for covered bridges to photograph more than a decade ago. "It actually wasn't what I was looking for that day," recalls the Columbus resident. "I rounded this bend in the road and there was this magnificent, really strange-looking barn. ... It happened to have this perfect fall background, so I braked to a stop, pulled over to the side of the road and got out my camera." Instagram: larryc43230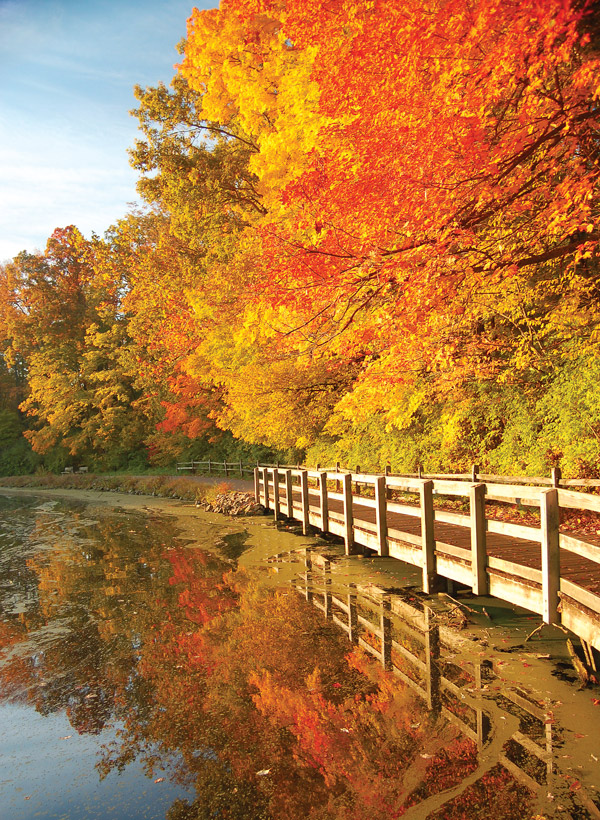 Sharon Woods, Sharonville
39.2838° N, 84.3910° W

Sharon Woods is located about 3 miles from Darko Glazer's home in the Butler County community of West Chester, making it a frequent photography destination when he's trying to capture the beauty of fall as well as other seasons. "This was a perfect day at the perfect time of year," says Glazer, who took this photograph around 3 p.m. on a bright October afternoon. "I was there at the right time, had the right angle ... and I got what I got."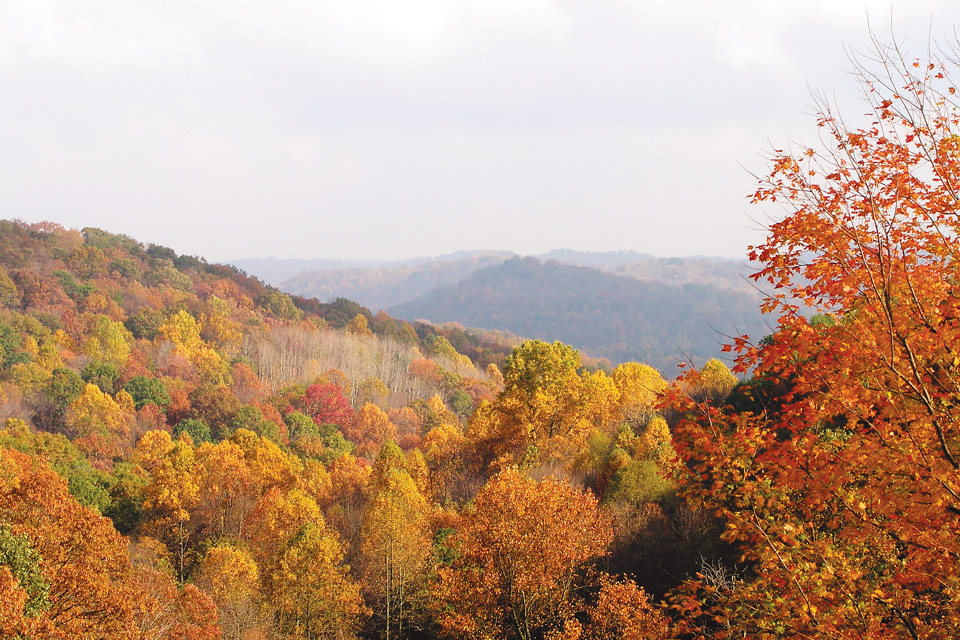 Wayne National Forest, Wingett Run
39.5670° N, 81.2596° W

Bruce Wunderlich was driving north out of Marietta on State Route 26 one fall afternoon when he noticed a road to the left that he'd never taken before, so he decided to explore. "It led me to the top of the hill, and at the top of that hill was this vista," recalls Wunderlich, who lives just outside Marietta. The view he captured that day looks out over a section of Wayne National Forest, which covers more than 250,000 acres in southeast Ohio. Instagram: bruce_wunderlich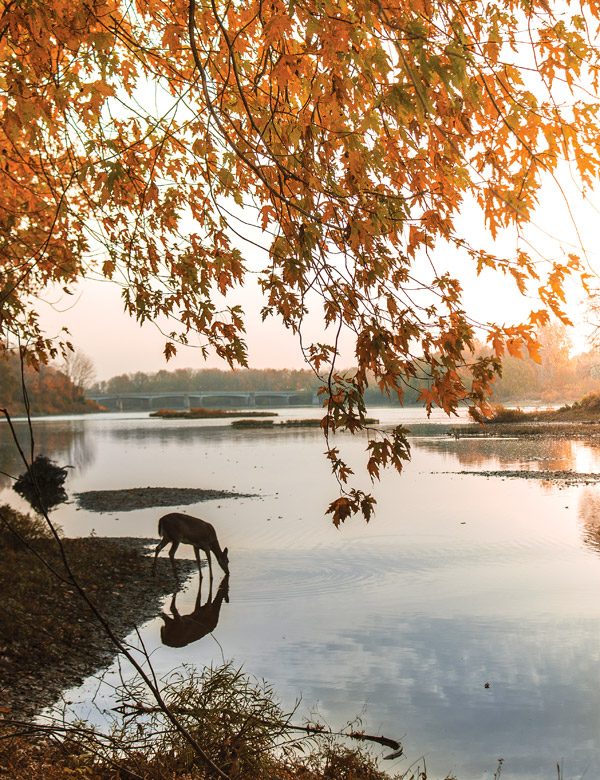 Side Cut Metropark, Maumee
41.5528° N, 83.6651° W

Soon after the sun rises over Side Cut Metropark, you'll often find deer coming from the forest to drink water from the Maumee River. "Side Cut is known for deer that are very comfortable with humans," explains Logan Brown, who got this shot. "That's a nice little photography hack about this location." Brown took this photo early one autumn morning when he was the only one at the park. "The light was just pouring in and there was a beautiful fall tree overhanging everything." Instagram: loganbrown98
Spring Grove Cemetery, Cincinnati

39.1673° N, 84.5248° W
David Ohmer has photographed Spring Grove Cemetery for the past 12 years, going many times each season, particularly in the autumn and spring."I know the cemetery probably better than I know my apartment," he says with a laugh. This shot of the Fleischman Mausoleum was taken one morning last fall. "Those bald cypress trees you see next to the mausoleum are just stunning in the autumn," says Ohmer, who lives in Cincinnati. "It's never the same each year. It's always a little bit different."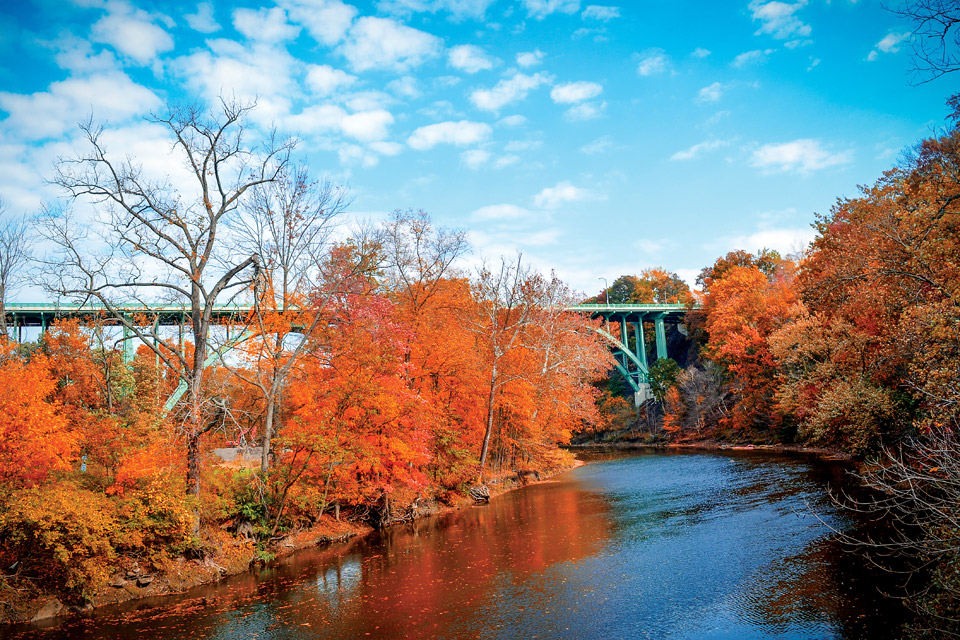 Rocky River Reservation, Fairview Park
41.4503° N, 81.8272° W

Cleveland Metroparks' Rocky River Reservation is one of Fairview Park resident Jen Goellnitz's favorite running routes. She also takes a lot of photos there. "When it comes to photography, I like to work in my own backyard, so I can have that home-field advantage as far as getting good weather and picking the time and day," Goellnitz says. This photo was taken from the Old Lorain Road bridge, which crosses the Rocky River. Beyond the trees, you can see the high-level Lorain Road Bridge that crosses over the river valley. Instagram: the_greenheron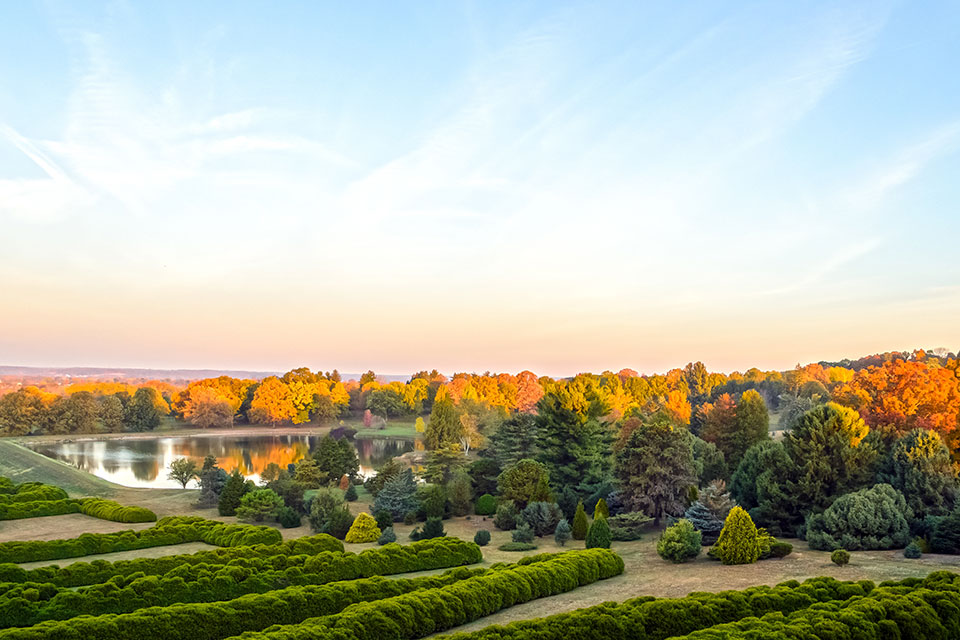 The Dawes Arboretum, Newark
39.9684° N, 82.4132° W

One of The Dawes Arboretum's most striking features is the long row of hedges spelling out its name. Brian Rodgers of Grove City was visiting one morning, when he noticed the fall sunlight striking the tops of the trees along the arboretum's large pond near the hedges. "I had to capture that somehow, but the angle was bad." he recalls. "I started looking around and saw this [observation] tower, and thought, I bet I could get a good angle from there." Instagram: brianlrodgers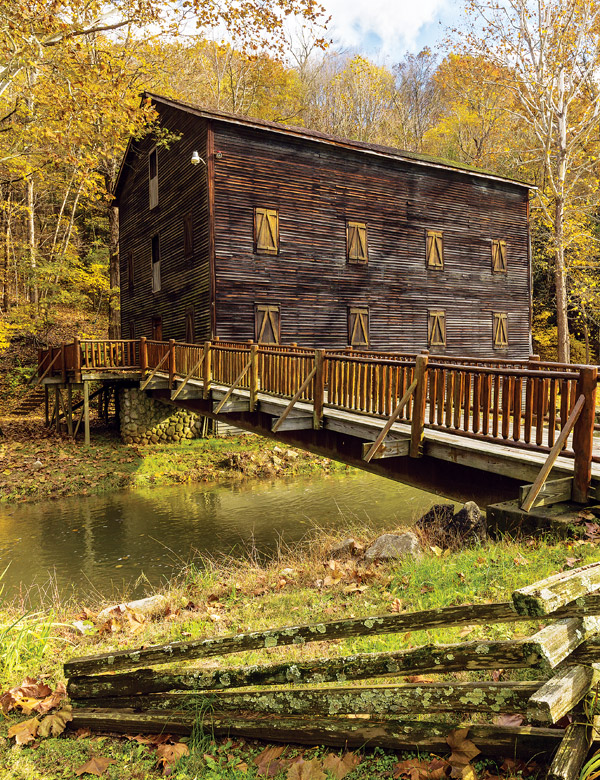 Wolf Creek Grist Mill, Loudonville
40.6011° N, 82.2613° W

Carl Stimac has long been familiar with the Wolf Creek Grist Mill at Mohican State Park, as he photographs scenic areas throughout the state. But one day last fall, the restored 1830s-era structure particularly grabbed his attention. "When I drove past, the autumn colors really gave a nice warmth to it," recalls the Mentor-based photographer. "The sun was coming in and out from between the clouds ... and [it] was highlighting the texture of the wood on the mill."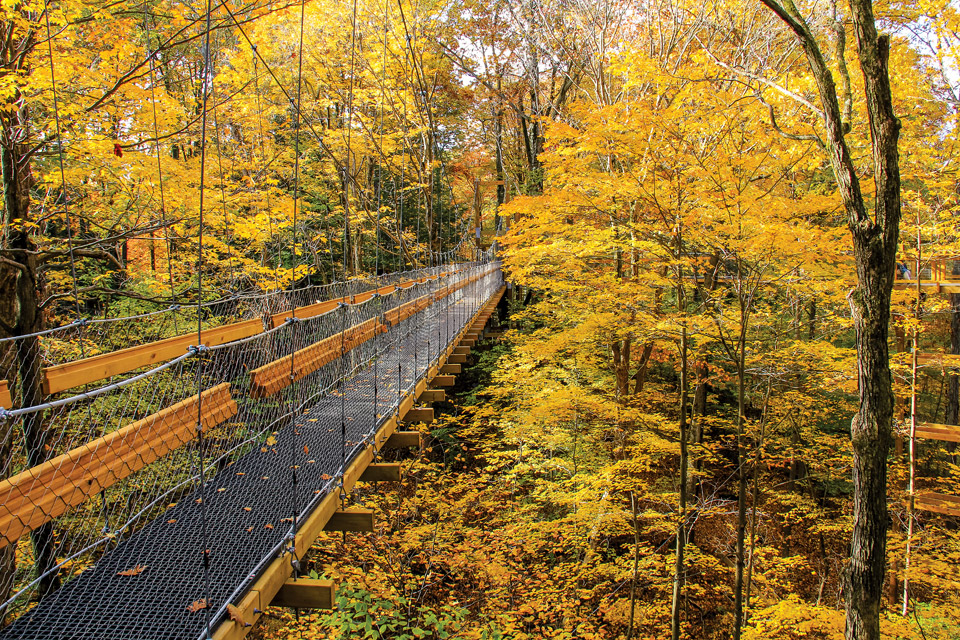 Holden Arboretum, Kirtland
41.6069° N, 81.3050° W

Skip Nyegard of Chardon has been a longtime member of Holden Arboretum, and he took this photo in 2015, the first year the northeast Ohio destination's Murch Canopy Walk was open to visitors. The 500-foot-long walkway takes hikers through the treetops and is suspended 65 feet above the forest floor. "This was the first time I was on the canopy walk," Nyegard recalls. "It is really, really cool. I was really impressed with it ... It offers a completely different perspective."

***

Now It's Your Turn: We want to see your favorite fall foliage spots across the state. Do you have a great photo you'd love to share with us? Tag it with #ohiomagazine for the chance to be featured in our Instagram stories during the month of October.