Travel
Craft Masters
Visit a cozy country taproom and a Cleveland brewhouse that's thinking outside the pint glass.
February 2015 Issue
BY Staff & Contributors | Photo by Matthew Roharik
February 2015 Issue
BY Staff & Contributors | Photo by Matthew Roharik
Farm Fresh
A short drive from Columbus, Rockmill Brewery serves tasty and traditionally crafted Belgian-style brews in a quaint, rural setting.

Country roads just outside of Lancaster lead visitors through the Ohio countryside toward the beautiful-yet-modest 19th-century horse farm that Rockmill Brewery calls home.

A former barn on the property has been converted into a cozy, multi-level tasting room that welcomes guests with aromas of ash and cherry woods burning in the fireplace. Around back, former stables now house a 30-barrel-a-week brewing operation that employs techniques from days of old to churn out its lineup of Belgian-style beers.

"When we first opened, we didn't have a lot of capital, so I was really interested in the old-world method of brewing," says Matthew Barbee, Rockmill Brewery's owner and brewmaster. "We weren't able to have a technology-driven brewhouse, so we had to re-create that old method."

Barbee uses a steam-jacketed brew kettle and pays close attention to the mineral content of the water to create the beer style that has since become Rockmill's flagship variety: saison. Originating in a French-speaking region of southern Belgium, saison is a farmhouse ale with a tart and fruity flavor. Barbee says it was traditionally brewed in the winter and meant to keep through harvest.

"These farmers had to work with whatever they had on hand, making it a very esoteric beer style," he explains. "The yeast strain inherently has a lot of character to it."

Though the beer's rich history is a great fit for the rustic aesthetic that Rockmill Brewery embodies, the fact that saison beers go well with food is what initially pulled Barbee away from the idea of winemaking. All of Rockmill's seven Belgian-style beers, which include witbier, dubbel and tripel, are created so they can be paired with a variety of cheeses, chocolates, meats and even cigars.

Rockmill Brewery, which is located just 25 miles southeast of Columbus, doesn't serve food, but guests are encouraged to bring their own. The brewery's website even points patrons to shops where they can pick up foods that go well with the beers. Picnics are common on the Rockmill Brewery property during the summer, and Barbee sometimes brings in guest chefs to prepare dishes that cater to Rockmill's lineup.

Prior to the brewery's founding in 2010, Barbee spent the early part of his professional career working for talent-management companies in Chicago and Los Angeles. Nervous to make the move back to his Ohio roots, he credits Columbus' burgeoning food and drink scene with giving him the confidence to open his business. Today, Rockmill Brewery offers a quaint and quiet getaway just outside the city. It is becoming a popular setting for weddings, private parties and music performances.

"A lot of people make comments that this reminds them of a wine-country experience," Barbee says. "I love that we can provide that here in rural Ohio."

5705 Lithopolis Rd. NW, Lancaster 43130, 740/205-8076, rockmillbrewery.com

***

BREWPUB BITES: Father John's Brewing Co.

You no longer have to say the secret password, "I know the drunken monk," to be seated, but a range of spiritual and religious artifacts — from Buddhist statues to Christian relics — still grace this Bryan brewery and restaurant. Formerly a Methodist church built in the late 19th century, stained glass is the most obvious reminder of the spot's former life, but all the decor is either original to the church, salvaged, refurbished or made locally.

"We use the word 'monk' a lot here," says general manager Michael Meffe, elaborating on the password used during the restaurant's not-so-public opening in 2013. The theme carries into the menu, as well.

The Silly Monk is one of Father John's signature bison burgers (the meat comes from a bison farm, just across the Indiana border) and is topped with shaved prime rib, caramelized onions, Swiss cheese and peppers. During warmer weather, many of the ingredients are picked straight from the brewpub's gardens, which cover more than eight acres of growing space.

Father John's Brewing Co. offers 16 beers that rotate on tap. One staple is the Old Scratch Amber. Hints of apricot and peaches make it a great match for the brewpub's duck confit entree (above) — a popular dish that stays year-round despite a monthly menu change. The Maple Leaf Farm duck legs are cooked confit-style for six hours, oven roasted and topped with grilled apricots and pears.
"It's something different," explains Meffe, "not your local pub food."

301 W. Butler St., Bryan 43506, 419/633-1313, fatherjohnsbrewery.net

***

BEER SAMPLER: Weasel Boy Brewing Co.

When it opened in 2007, Weasel Boy Brewing Co. brought local beer back to town for the first time since Prohibition, and owners Jay and Lori Wince offer a variety of balanced styles. "Our focus has always been drinkability," says Jay. 126 Muskingum Ave., Zanesville 43701, 740/455-3767, weaselboybrewing.com

Plaid Ferret Scottish Ale (4.5% ABV): The first-ever Weasel Boy beer, this smooth malty ale has notes of caramel, and Fuggle hops give it a balanced finish. "It has a modest alcohol percentage, smooth finish and a profile that's not too bitter and not too sweet," Jay Wince says.

Dancing Ferret IPA (6.6% ABV): Unlike bold and aggressive West Coast IPAs, this Midwest, American-style version delivers refreshing hints of citrus without the overpowering bite. "[It] has a very prominent hop character, but it's got some hop balance that doesn't make it too one-dimensional," Wince says.

Bitter Sable Imperial Black IPA (8% ABV): An early adopter of the Black IPA style, Wince crafted a beer with the hoppy quality of Dancing Ferret IPA but mixed with roasted barley to give it a darker character. "It's got a lot of bold malt flavor … that really balances the beer."

Anastasia Russian Imperial Stout (8% ABV): This bold and dark beer's pale and chocolate malts give it notes of coffee and other toasty flavors. "It has a good, balancing sweetness, but it dries out and finishes clean," Wince says. "It's on the lower side of alcohol percentage for a Russian Imperial Stout."

***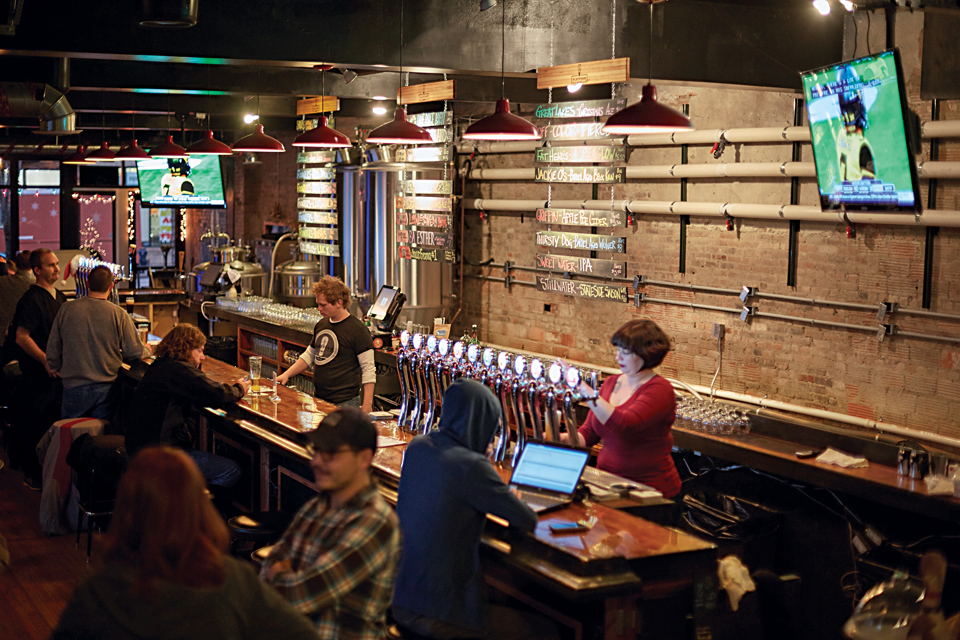 Brewing Guides
Platform Beer Co. serves an experimental and ever-changing lineup at its Cleveland taproom, but that's just part of its craft brew mission.

Warm light spills through the wide glass window of Platform Beer Co.'s Ohio City neighborhood storefront, beckoning beer lovers to the former Hungarian social club-turned-brewery.

The taproom is spacious, and when busy, it feels full but not overly crowded. Those who flock here are the sort who inspired owners Paul Benner and Justin Carson to create Platform in the first place: craft brew lovers who are looking for something new and different. They come not to slam beers, but to enjoy them.

Twenty-four taps host as many as 16 guest beers, while the rest of the handles pull house brews — interesting creations that change frequently. "Every single batch is an experiment," says Shaun Yasaki, the company's brewmaster. "I don't have a catalog of recipes. Half the time I make it up in the morning."

In late December, Platform's variety included a rare Polish smoked beer (known as a gratzer, or grodziskie), a barrel-aged imperial stout and ale fermented with wild yeasts. Since opening in 2014, Platform has repeated just one beer, and those who want to see what the brewery is up to can follow an online list.

Yasaki, who earned his hops as a brewer at Fat Head's Brewery in North Olmsted, first met Benner while visiting his home-brewing supply shop in the city's Tremont neighborhood. Two years later, they teamed with Carson, the owner of JC Beer Tech, a company that installs and cleans bar draft systems. Soon, the trio was trucking in 10-barrel-capacity brew kettles for their new Lorain Avenue brewhouse. Today, Platform Beer Co. has 12 brew kettles, seven conditioning and carbonating tanks and plans to make 3,000 to 3,500 barrels of beer in 2015. "Our customers connect not only with the end product, but with the makers of the beer," says Benner.

Platform's founders dedicated part of their business to fostering fledgling commercial brewers by giving them the knowledge and experience necessary to launch an operation bigger than a hobby. "They're essentially employees of ours," Benner explains. "Shaun takes care of the hands-on work with them. Then I work with them on their business planning. Justin helps them with finding investors, real estate, [and] sourcing equipment."

Apprentices learn how to adapt their small-scale home-brew recipes for Platform's commercial equipment. When a beer is ready, it goes on tap at Platform. The brewery keeps the proceeds, and the program is free for the participant.

Freelance designer and home brewer Kyle Roth was Platform's first incubator-program participant. His new company, Ferndock Brewing, is now on its way to a permanent location in Sandusky.

Yasaki has collaborated with three other breweries since Platform opened, and Carson and Benner worked with CLE Clothing Co. to design the can for their first retail-ready six packs: New Cleveland Palesner. The hybrid brew merges an old-time beer choice with a darling of the craft beer movement.

"[Cleveland still has] the infrastructure of a city that was large and prosperous and architecturally unique and interesting, and beer back then was pilsner beer," explains Benner. "Now, in the renaissance of craft beer, the pale ale has become the most prominent style. Shaun was able to marry those two."

4125 Lorain Ave., Cleveland 44113, 216/202-1386, platformbeerco.com

***

BREWPUB BITES: Columbus Brewing Co. Restaurant

The Columbus Brewing Co. dates back to 1830, when German immigrants made beer in what is now recognized as the city's historic brewery district. Prohibition brought an end to the five beer makers who operated there, but brewer Eric Bean revived the Columbus Brewing Co. name in 1988.

Cameron Mitchell Restaurants opened the Columbus Brewing Co. Restaurant nine years later (the brewery and the restaurant have always been under separate ownership), before selling it to current owners Doug Griggs and Mike Campbell in 2006. Today, five of the restaurant's 10 taps serve made-on-premises Columbus Brewing Co. beer, while the other five taps feature seasonal beers from throughout the Buckeye State.

Menu favorites include the roasted chicken salad and an ale-braised pot roast (above) that is smoked on-site for a full day. The dish is served with a sweet corn saute, a buttermilk biscuit with made-from-scratch blueberry jam and peppered mashed potatoes.

Assistant general manager Jamie Young recommends pairing the wintry dish with heartier beers, which can stand up to the big flavors. "Right now, I have Weasel Boy Snow Ermine on tap," she says. "It's like a chocolate vanilla bean stout."

525 Short St., Columbus 43215, 614/464-2739, columbusbrewingco.com

***

BEER SAMPLER: Yellow Springs Brewery

Yellow Springs Brewery's taproom is full of art and board games, but you won't find a single television. "The space is nice, quaint and friendly, but we want our focus to be on the beer," explains lead brewer Jeffrey McElfresh. 305 N. Walnut St., Yellow Springs 45387, 937/767-0222, yellowspringsbrewery.com

Captain Stardust Saison (6.5% ABV): American Comet hops and French saison yeast give this beer a strong citrus bite and a smooth finish. "This French saison yeast throws in incredible character," McElfresh says. "It's super versatile and can be used … to come up with distinct and unique beers."

Goat's Eye Belgian Pale Ale (6% ABV): This take on the Belgian pale ale incorporates American malts to give the beer a bready character with notes of white wine and citrus. "It's nice and pungent, but it still stays dry," McElfresh says. "It's a bold beer, but I think it's eminently drinkable."

Zoetic Citra Pale Ale (5.2% ABV): This beer blends musky Citra hops with an English malt character that balances each other out for a taste that is part earthy pilsner and part session IPA. "It starts as a session IPA, but then it sort of mellows into an American IPA as it ages," McElfresh says.

Maxxdout Stout American Stout (9.5% ABV): Aged in Smooth Ambler whiskey barrels, this American stout has strong hints of chocolate along with notable hints of whiskey. "It has that tannic from wood, but there is no acidity to it," McElfresh says. "The bite comes more from the whiskey than the tannins."

***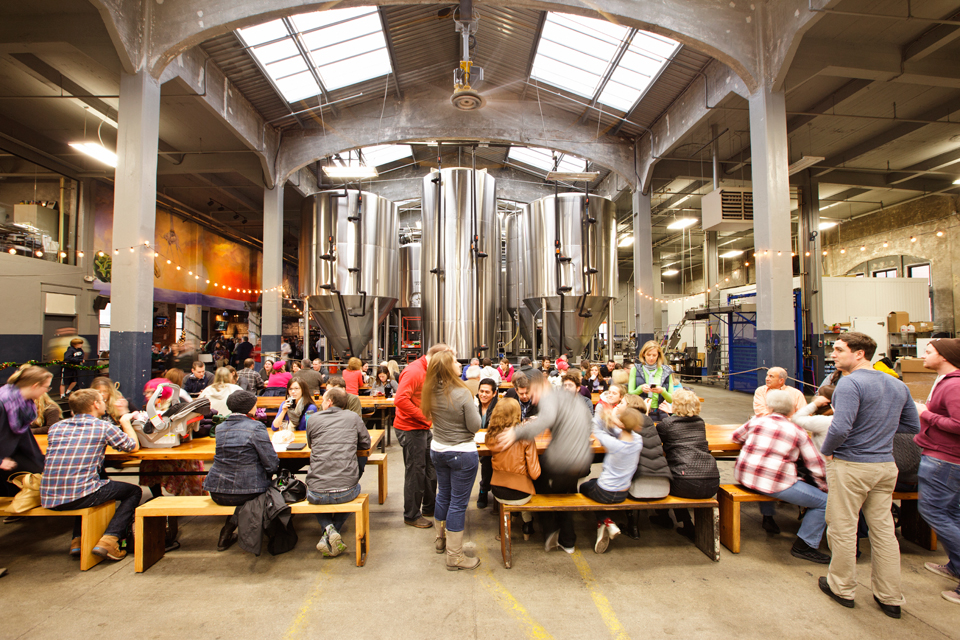 Local Haunt
Rhinegeist Brewery, located in the former Christian Moerlein bottling plant, offers a great place to hang out, mingle and sample.

With a name that translates to "ghost of the Rhine," it's only fitting that Cincinnati's Rhinegeist Brewery taps into the spirit of the city's rich brewing past. The brewery and tasting room, located in the former Christian Moerlein bottling plant, is bringing new visitors to Over-the-Rhine, a historic neighborhood that was synonymous with beer production at the turn of the 20th century.

California transplants Bob Bonder and Bryant Goulding opened the place in the summer of 2013, with an aim to make fresh West Coast-style brews. "It was an urban area with great architecture, and you could tell the restaurant culture was burgeoning," says Goulding, co-founder and vice president. "We felt like it was an opportunity to differentiate ourselves at this brewery with very hoppy and sessionable intentions, yet kind of riff off of the German heritage that was here."

Rather than the dark, smooth German lagers and ales that were hallmarks of the city's original brewery scene, Rhinegeist's core beers deliver pungent, aromatic and snappy hop-driven flavors that are powerful on the tongue but dry on the finish. Bonder and Goulding worked for various craft breweries out west, which inspired the men to make the IPA style their leading product. Over the years, they scoured the Pacific Northwest in search of new hops to incorporate into their beer.

"Those hops, like grapes, have intriguing depths of pine, tropical fruit, citrus," Goulding explains. "They can be really beautiful to drink, and there's been this renaissance of late-addition hops that preserves the beer's aromatic intensity."

Perhaps the beer that best epitomizes the Rhinegeist aesthetic is the Truth IPA, which delivers a sharp bouquet of West Coast hops with hints of mango and grapefruit. Since opening, Rhinegeist has expanded its palette, and it now brews styles that include an American porter, an Oktoberfest and more. Six styles are available in cans, which can be purchased throughout Cincinnati, northern Kentucky and Dayton.

The citrusy smell of hops lures guests up the stairway to Rhinegeist's industrial-looking 25,000-square-foot facility. Inside, a massive skylight illuminates long wooden tables lined up in front of the brewery's towering fermenting tanks. Aware of its gigantic public space, the brewery's owners provide plenty of recreational activities for patrons, including cornhole, pingpong, foosball and a weekly whiffle ball league.

"We really wanted to open people's eyes to the fact that the beer is made here," Goulding says. "This big space hearkens to ages ago when you would enter these palatial halls to gather and drink. It's become this zone where you can come and make it your own."

1910 Elm St., Cincinnati 45202, 513/381-1367, rhinegeist.com

***

BREWPUB BITES: Marietta Brewing Co.

Except for new floors and a fresh coat of paint, the Marietta Brewing Co. looks much as it did when it originally opened in 1997 at the confluence of the Ohio and Muskingum rivers. Tony Styer and his wife, Dana, bought the place in 2010, hired brewmaster Chris Hopkins and crafted a menu that embraces southeast Ohio's local-food movement. The restaurant buys from farmers markets and creates daily specials around what's available.

"Nothing's frozen," says Tony Styer. "We try to do everything handmade if we can." The Brew House Pizza (above) is a standout: It starts with a cream cheese-like sauce and is topped with a house cheese blend, ale-braised prime rib, bourbon turkey, applewood smoked bacon and a bruschetta mix.

Marietta Brewing Co. keeps two IPAs in rotation, both of which Styer says go well with the pizza. "I like a good, hoppy beer whenever I'm eating a lot of meat," he adds. The wheat-based Happy Trail IPA's floral character lightens the pizza's meat flavors. Then, there's the intensely bitter and fittingly named Hop Smash IPA. "It's like you're getting smashed in the face with the hops," Styer says.

167 Front St., Marietta 45750, 740/373-2739, mbcpub.com

***

BEER SAMPLER: Hoppin' Frog Brewery

Fred Karm doesn't do dainty. His sells his Hoppin' Frog beers in 22-ounce bottles and his Akron tasting room showcases the brewery's bold approach in 5-, 8- and 16-ounce pours."I make the beers you write home about," he says. 1680 E. Waterloo Rd., Akron 44306, 330/352-4578, hoppinfrog.com

Karminator, Imperial Doppelbock (9.3% ABV): "This is my namesake beer," Karm says of this thick brew with distinctive caramelized and toasted malt characters. "A bock is a malt-forward beer," he adds. "If you go doppelbock, you double everything; that's what gives it the rich flavor, the rich texture."

Gangster Frog, American IPA (7.5% ABV): Even if you don't think you like India pale ales, give this one a chance. Lemon, orange and grapefruit flavors drive it, and it's not as astringent as some takes on the style. "The hops are forward," says Karm, "but they're citrusy and friendly."

B.O.R.I.S. the Crusher, Oatmeal Imperial Stout (9.4% ABV): Boris is brawny, but balanced. "It's got a sweet spot more than most," Karm says of this British imperial stout with hints of chocolate and licorice. "It has an assertive, roasty character and lends itself very well to [barrel aging]."

Outta Kilter Scotch Red Ale (8.2% ABV): Traditionally, the Scots brewed beer in accordance with an alcohol tax: the higher the alcohol, the steeper the tariff. The strongest brew was a smooth, malty "wee heavy," which Karm has re-created in this red ale. "[The color] comes from caramelized malt," he says.

Browse our 2015 guide to more than 80 Ohio craft breweries here.