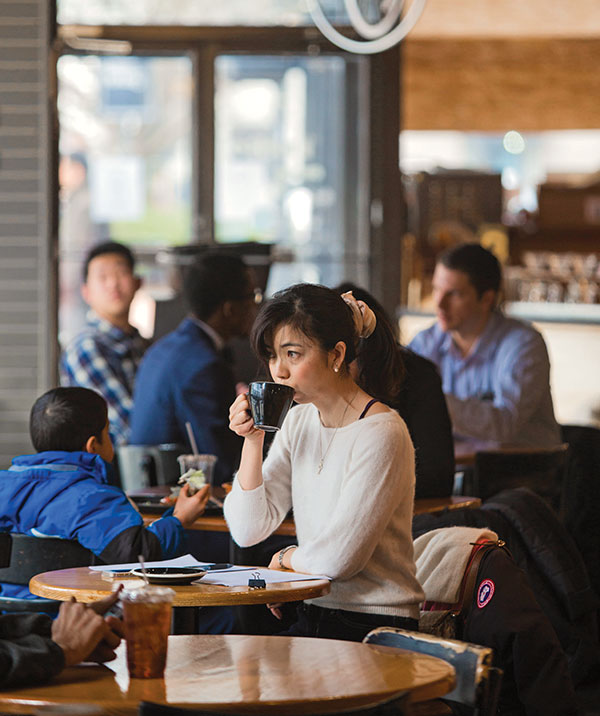 Travel
Brewing Guide
Explore two great drink trails in Columbus
October 2015 Issue
BY Staff & Contributors | Photo Courtesy of Experience Columbus
October 2015 Issue
BY Staff & Contributors | Photo Courtesy of Experience Columbus
Bean Town
Coffee may get our motor running every morning, but go beyond the doughnut-store fare, and one finds that the classic drink is an art form all its own. That point is illustrated by the Columbus Coffee Trail, which features eight coffeehouses and offers rewards to those who explore (visit four spots on the trail to get a free T-shirt). "We're looking to promote not just coffee," says Mick Evans, director of retail operations at One Line Coffee, "but the notion is that we all do things a little differently, and it's all good."

Cafe Brioso: Owner and roast master Jeff Davis' coffeehouse takes pride in its made-from-scratch food and roasted-in-store beans. All produce arrives fresh daily and fulfills Davis' philosophy of promoting healthier, cleaner eating, such as replacing high-fructose corn syrup with real Ohio honey and maple syrup. "We're passionate about what we do and our products," says Davis. "It's a coffee-first thought process here, but we really want to apply the same thought process to everything we do." 14 E. Gay St., Columbus 43215, 614/228-8366, cafebrioso.com

Mission Coffee Co.: Co-owners Jonathan Starr and Jared Williamson and director of customer experience Joe Capatosto focus on craftsmanship, collaboration and education, featuring coffee from fellow purveyors based in California, Wisconsin and Illinois, while also roasting their own beans in-house. The shop itself embodies a comfortable vibe that reflects how its owners want their customers to feel about coffee. "Whether it's your first time in a coffee shop … or you're a seasoned veteran, we try to cater to that," says Williamson. "The experience could be great, but if it's not an approachable one … it's not going to work." 11 Price Ave., Columbus 43210, 614/300-0648, missioncoffeeco.com

Impero Coffee Roasters: Tom Schroeder and Lucinda and Matthew Sontag were brought together by their love for quality coffee. The trio sees the trip from bean to cup as a journey — a fact that's reflected in the varieties they serve. Beans are sourced from Ethiopia, Guatemala and El Salvador and roasted in-store in small, 10-pound batches to minimize waste. "We're trying to introduce other coffees from around the world to people who have only experienced Starbucks," says Schroeder. 849 N. High St., Columbus 43215, 614/294-2489, imperocoffee.com

One Line Coffee: Father and son Mark and Dave Forman had been running two cafes for 12 years when they became curious about where the coffee beans they served came from. After running into dead end after dead end, they launched One Line Coffee in 2009, emphasizing the link between farm and shop. "We really like this energy between being involved in roasting and traveling to coffee-growing countries," explains retail operations managing partner Mick Evans. "[We're] doing more about knowing where the coffee is coming from and having more control over how it is roasted." 745 N. High St., Columbus 43215, 614/564-9852; 41 S. High St., Columbus 43215, 614/754-8356, onelinecoffee.com

For more information about the Columbus Coffee Trail, visit cbuscoffee.com.

On the Trail
A look at the other locally owned stops along the Columbus Coffee Trail

Roosevelt Coffeehouse: a socially conscious coffee shop that helps support initiatives to fight hunger and provide clean water; 300 E. Long St., Columbus 43215, rooseveltcoffee.org

Stauf's Coffee Roasters: dedicated to finding the highest quality Arabica beans; Three Columbus locations: 1277 Grandview Ave., Columbus 43212; 627 S. Third St., Columbus 43215; North Market, 59 Spruce St., Columbus 43215, staufs.com

Cup O' Joe: great coffee from Stauf's sister company; Two Columbus locations: 1791Olentangy River Rd., Columbus 43215; 2990 N. High St., Columbus 43215, cupojoe.com

Boston Stoker Coffee Roasters: does business with farmers from around the world to provide quality coffee; 771 Neil Ave., Columbus 43215, 614/564-9219, bostonstoker.com
***

Seventh Son Brewing Co. offers a selection of seasonal varieties.

Craft Fare
Spanning 20 locally owned breweries, the Columbus Ale Trail invites beer lovers to delve into the city's booming craft beer scene. So, grab a trail Brew Book available at any of the participating breweries, order a pint and collect a stamp at each spot (visiting four breweries nets you a commemorative pint glass and visiting all 20 gets the first 500 finishers a free T-shirt). If you're looking for a place to start, Columbus' Brewer's Row downtown serves as a taste of what's ahead.


Barley's Brewing Co.:
The oldest brewpub in the Columbus area, Barley's brewers started making beer in the fall of 1992. Every Friday, they tap a firkin — a small cask of traditionally made ale — and serve it until it's gone. Barley's brews 20 to 25 different types of beer each year, often adding their own twist to traditional recipes. "[Our style] is classic and authentic with a decent amount of inspiration and magic that goes on in the brewery when they want to play around and have some fun with things," says general manager Jason Fabian.
467 N. High St., Columbus 43215, 614/228-2537, barleysbrewing.com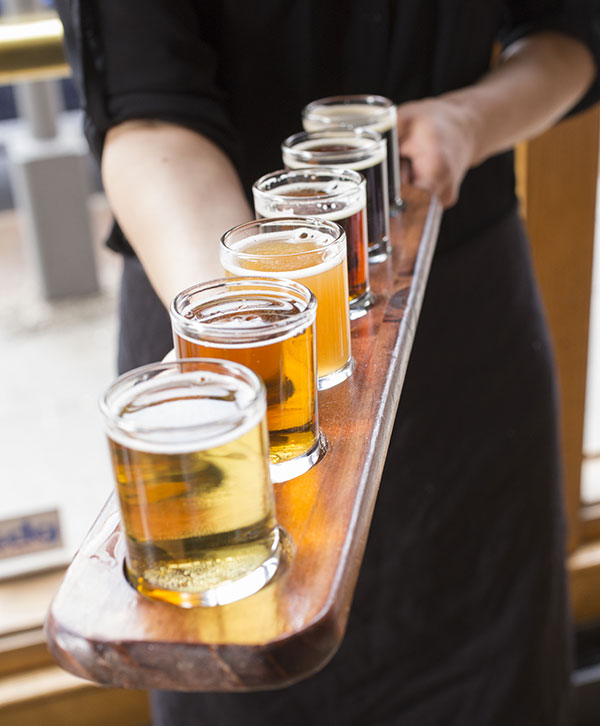 Elevator Brewing Co.:
Founded in 1999, Elevator encourages its regulars to join its MBA (Master of Beer Appreciation) and Ph.D. (Professor of Hearty Drinking) programs by coming in once a month. There's plenty of studying to do, too. Along with 16 perennial beers, the brewery makes more than 20 limited varieties each year. "They're beers that we've never brewed before," says owner Dick Stevens. Visitors can either hit the taproom or stop by the Elevator Brewery & Draught Haus.
Taproom: 165 N. Fourth St., Columbus 43215, 614/679-2337; Brewery & Draught Haus: 161 N. High St., Columbus 43215, 614/228-0500, elevatorbrewery.com
Wolf's Ridge Brewing:
As much a restaurant as it is a craft brewery, Wolf's Ridge Brewing serves its beers alongside a new American menu featuring fresh and seasonal ingredients. Visitors can find a dozen beers on tap in the restaurant, while the adjoining taproom features 20. Head brewer Chris Davison says his goal is to make the best possible re-creations of classic styles by staying true to their traditional ingredients, but not being afraid to experiment with new and interesting ideas. "We'll take those base beers, and then we'll have a lot of fun doing infused versions of those styles," says Davison.
215 N. Fourth St., Columbus 43215, 614/429-3936, wolfsridgebrewing.com
North High Brewing:
This microbrewery opened in 2013 as a brew-on-premises establishment, and customers can still schedule a date to come in and brew about six cases of beer. "If you've got an idea, and you give our manager enough time to procure the materials, we'll do whatever you want to do," says brewmaster Jason McKibben. In August 2014, North High Brewing began producing its own beers as well, with a philosophy of crafting balanced and refreshing styles. "I think that any beer that's made, I should want to drink more than one of them," says McKibben.
1288 N. High St., Columbus 43201, 614/407-5278, northhighbrewing.com

Seventh Son Brewing Co.:
Collin Castore's spot is housed in a former auto shop from the 1920s, which he and co-owners Jen Burton and Travis Spencer transformed into a brewery and tasting room two years ago. "We completely gutted it and renovated it," recalls Castore. Since then, Seventh Son Brewing Co. has made about 70 different beers. Boasting an extensive list of seasonal varieties, first-time visitors and regulars alike can always find something new. "We have three core beers, but we're continually trying new things," says Castore.
1101 N. Fourth St., Columbus 43201, 614/421-2337, seventhsonbrewing.com
For more information about the Columbus Ale Trail, a full list of participating breweries and information on how to redeem the stamps from your Brew Book for your pint glass and T-shirt, visit cbusaletrail.com.
On the Trail
A look at the 15 other locally owned stops along the Columbus Ale Trail
Actual Brewing Co.:
mixing beer and science;
655 N. James Rd., Columbus 43219, actualbrewing.com
Buckeye Lake Brewery:
near Buckeye Lake State Park, about 30 miles east of downtown;
5176 Walnut Rd., Buckeye Lake 43008, buckeyelakebrewery.com

Four String Brewing Co.:
a rock 'n' roll craft brewery in the heart of Grandview;
985 W. Sixth Ave., Columbus 43212, fourstringbrewing.com


Homestead Beer Co.:
Licking County's largest brewery;
811 Irving Wick Dr. W., Heath 43056, homesteadbeerco.com

Knotty Pine Brewing:
a neighborhood bar and nanobrewery in Grandview;
1765 W. Third Ave., Columbus 432121, knottypinebrewing.net
Land-Grant Brewing Co.:
production brewery in historic East Franklington;
424 W. Town St., Columbus 43215, landgrantbrewing.com
Lineage Brewing:
a cozy taproom featuring rotating beers and small bites;
2971 N. High St., Columbus 43202, lineagebrew.com
Pigskin Brewing Co.:
a sports-themed microbrewery;
81 Mill St., Columbus 43230, pigskinbrewingcompany.com

Rockmill Brewery:
located on a farm in rural Lancaster and featuring beers modeled after those in Wallonia, Belgium;
5705 Lithopolis Rd. NW, Lancaster 43130, rockmillbrewery.com

Sideswipe Brewing Co.:
owner Craig O'Herron's background in martial arts inspired the name and power-packed beers;
2419 Scioto Harper Dr., Columbus 43204, sideswipebrewing.com
Smokehouse Brewing Co.:
a Grandview spot serving microbrews and barbecue;
1130 Dublin Rd., Columbus 43215, smokehousebrewing.com
Staas Brewing Co.:
known for its variety of English and Belgian all-grain beers;
31 W. Winter St., Delaware 43015, staasbrewing.com
Temperance Row Brewing Co.:
brewpub housed inside Uptown Deli and located in Westerville's Historic Uptown;
41 N. State St., Westerville 43081, uptowndeliandbrew.com


Zaftig Brewing Co.:
a small suburban microbrewery specializing in high-gravity beers;
545 Schrock Rd., Columbus 43229, drinkzaftig.com

Zauber Brewing Co.:
Crafting German and Belgian-style ales;
909 W. Fifth Ave., Columbus 43212, zbeers.com