Travel
Arts in Appalachia
These five attractions share the stories, history and traditions of Ohio's hill country.
July 2017 Issue
BY Linda Feagler | Photo courtesy of People's Bank Theatre
July 2017 Issue
BY Linda Feagler | Photo courtesy of People's Bank Theatre
Spanning 32 counties, from the outskirts of Cincinnati to the edge of Cleveland, Ohio's Appalachian region offers outdoor adventures, beautiful views and a bounty of arts and culture. "People in larger communities look at this region as being strictly fiddles, banjos and dulcimers, but it's so much more than that," says R. Hunt Brawley, executive director of the Peoples Bank Theatre in Marietta. "Over the past 10 or 15 years, we've experienced a resurgence as outdoor enthusiasts discover the beauty of hiking and biking here. And now, people are learning about the cultural opportunities offered year-round."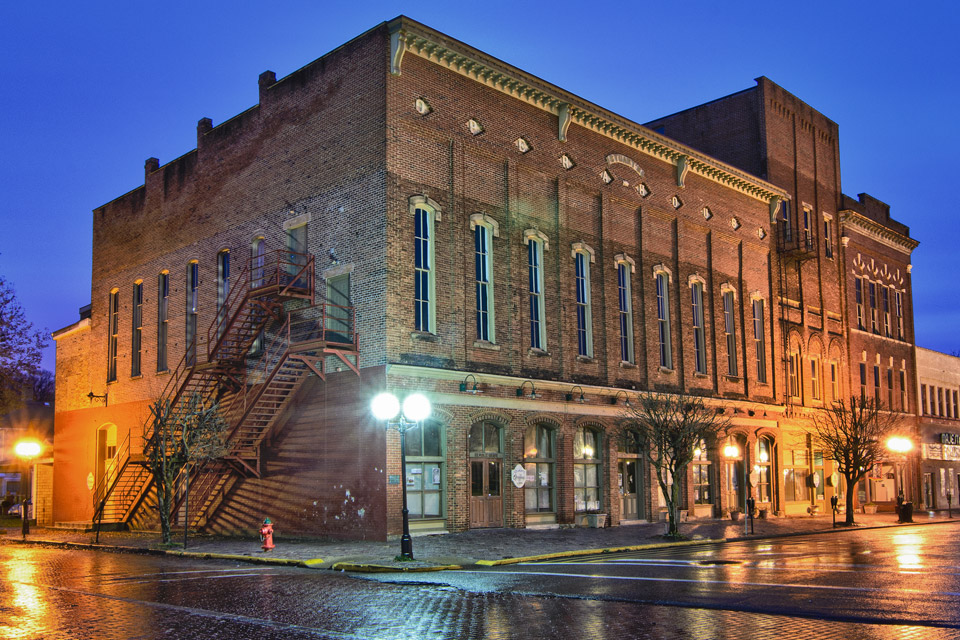 Stuart's Opera House
This 450-seat theater in downtown Nelsonville was built in 1879. It's filled with history and hosts a lineup of great musical acts.

Walk through the lobby of Stuart's Opera House in Nelsonville, and 138 years of history rise up to greet you. Completed in 1879, the cultural center was a mecca for vaudeville shows of the day, as well as community events ranging from Sunday-school classes to high school commencements.

"It was very much a workingman's theater," says executive director Tim Peacock. "You wouldn't call it opulent or majestic by Broadway's standards, but it was truly beloved."
The theater's fortunes ebbed and flowed through the century. When the city fell on hard times in 1924, the playhouse closed. In the '70s, restoration efforts began, only to be felled by a fire that ravaged much of the interior. A community initiative launched to restore Stuart's culminated in its grand reopening in 1997.
Some 2017 performances include "An Intimate Evening of Songs and Stories" with Rock & Roll Hall of Fame inductee Graham Nash, while performers from Athens and Nelsonville pay tribute to some of music's biggest stars in "A Night with the Legends."
"The true beauty of the theater lies in its intimacy and clear sightlines," Peacock says. "At a maximum of 450 seats, you're always really close to the performer." 52 Public Square, Nelsonville 45764, 740/753-1924, stuartsoperahouse.org

***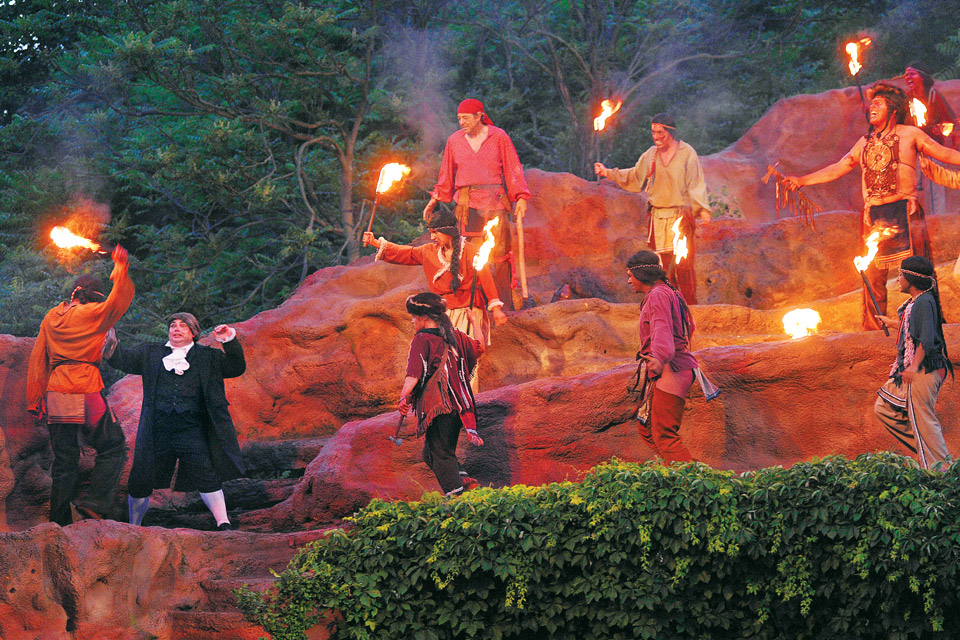 Trumpet in the Land
Pulitzer Prize winner Paul Green's outdoor drama in New Philadelphia shares the triumph and tragedy of Ohio's first settlement.

David Zeisberger and his followers were hardy souls who endured persecution and prejudice to stand up for what they believed in. The Moravian missionaries established the village of Schoenbrunn (which in German means "beautiful spring") near New Philadelphia in 1772 to bring Christianity to the Native American Lenape people in northeast Ohio.
But when Revolutionary War clouds gathered over Ohio's first settlement, the Moravians ultimately found themselves caught in a brutal conflict that led to the death of 96 Christian Indians at the hands of a band of American militiamen.
For the past 48 summers, the missionaries' riveting story has been brought to life on the Schoenbrunn Amphitheatre stage in "Trumpet in the Land." Written by Pulitzer Prize-winning dramatist Paul Green, the production pays homage to Zeisberger's devotion to his calling.
"David Zeisberger was such a powerful figure in Ohio history," says the show's general manager Margaret Bonamico. "So much so that there's a line in the play that proclaims him to be a 'trumpet in the land' when it came to his preaching."
Although the 2 1/2-hour play is filled with gunfire, horses and explosions, the family-friendly drama focuses not on spectacle, but on triumph over tragedy.
" 'Trumpet in the Land' is a story about the founding of Ohio," Bonamico explains. "It's our way of bringing a pivotal time in our state's history to life and making it relevant for everyone." Visit website for information about other performances at the amphitheater this summer. 1600 Trumpet Dr. NE, New Philadelphia 44663, 330/339-1132, trumpetintheland.com

***

Twin City Opera House
This historic 560-seat venue brings notable country music, gospel and bluegrass names to Morgan County.

The music filling the Twin City Opera House in McConnelsville one Saturday of every month tugs at the heartstrings. Deanna Clark, who grew up in Amesville, and her husband Marvin, a native of Morgan County, wouldn't have it any other way. The couple — both avid fans of country music — founded "Ohio Valley Opry" 17 years ago to share their ardor for the sounds they've listened to since they were kids.
"I cut my teeth on hymns and gospel music. Marvin cut his on music you can square dance to," Clark says. "The lyrics tell a story. They connect with the common man. It's not abstract."
The 560-seat Twin City Opera House, which opened in 1892, sets the stage for evenings of down-home fun.
On July 15, Tommy Cash, Johnny's younger brother, will perform, while Ricky Skaggs and his band Kentucky Thunder bring their special blend of bluegrass to the stage Sept. 16. Dion Pride, son of legendary Country Music Hall of Famer Charley Pride, takes the stage Oct. 21. The Wayfarers will perform on Nov. 18.
"When artists come to the Twin City Opera House, they are blown away because it reminds them so much of the Ryman Auditorium in Nashville, which was the original home of the 'Grand Ole Opry,' " Clark says. "The acoustics here are top notch. Clearly, our opera house has withstood the test of time." 15 W. Main St., McConnelsville 43756, 740/525-9218, ohiovalleyopry.com

***

Peoples Bank Theatre
This Marietta venue has hosted some of entertainment's biggest names and continues to draw headliners to Washington County.

Anyone who was anyone played the Peoples Bank Theatre in downtown Marietta. Frank Sinatra, Jimmy Stewart, Judy Garland and Randy Travis are just a few of the headliners who have graced the stage since 1919.
Today, the structure remains a destination for theater lovers looking for the best of Broadway, as well as performances by renowned singers, songwriters and speakers.
Upcoming shows include alternative rockers Soul Asylum and Cracker (July 14), Grammy Award-winning country star Steve Earle and The Dukes (July 22), the Missoula Children's Theatre production of "Cinderella" (July 29), Robert Cray (Aug. 18) and "An Afternoon with David Sedaris" (Oct. 29).
"This is a great place to see a live show," says R. Hunt Brawley, executive director of Peoples Bank Theatre. "The acoustic properties are fantastic, and the sight lines are great."
The theater's stage is a focal point for more than just performances: The decorative fire curtain, erected in 1919, has been restored to its original splendor. Created by Minnesota's Twin City Scenic Co., the drape depicts a snowy alpine scene in shades of salmon, cream and green.
"Artists had to remove 60 years of coal dust from the curtain as they restored it and repair the tears and water damage that occurred over the years," Brawley says. "This is a living, breathing piece of history." 222 Putnam St., Marietta 45750, 740/371-5152, peoplesbanktheatre.com

***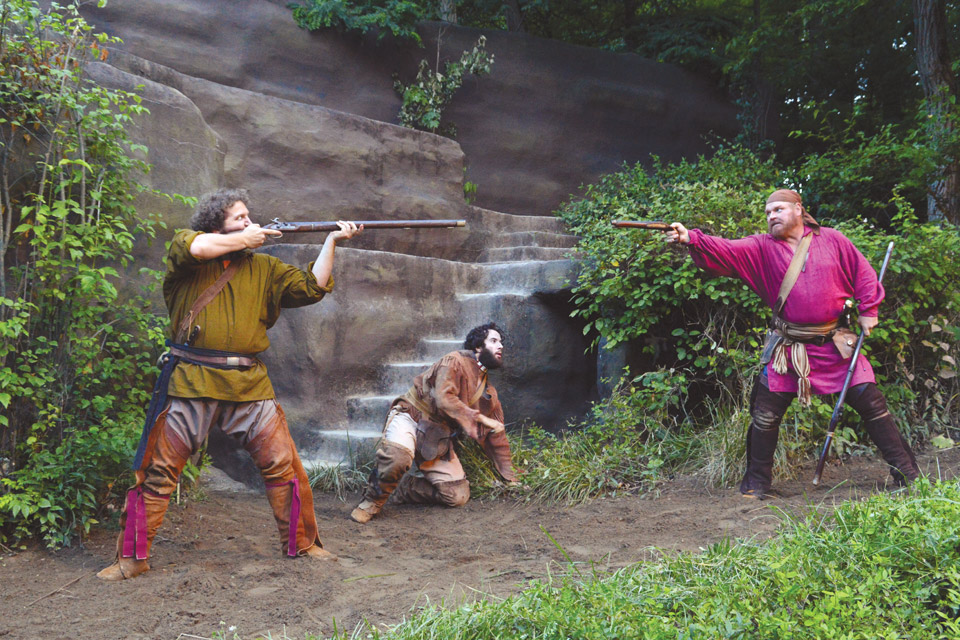 Tecumseh!
Sugarloaf Mountain Amphitheatre in Chillicothe plays host to this outdoor drama that tells the life story of the Shawnee leader.

As a 6-year-old, Brandon Smith stared in wide-eyed wonder at the scene before him: Native Americans and frontiersmen were duking it out with rifles and tomahawks amid galloping horses, booming cannons and blazing campfires.
Today, Smith, a Chillicothe native, produces the outdoor drama that captivated him more than two decades ago. "Tecumseh!" which is celebrating its 45th season at the 1,800-seat Sugarloaf Mountain Amphitheatre, chronicles the life of the legendary 18th-century Shawnee leader as he struggles to defend his Ohio homeland.
"We often think about history in terms of statues and books," Smith says. "But the characters in 'Tecumseh!' were real people, and they lived right here. The battles they fought were truly hinge moments, which led to the western expansion of the United States."
With the help of a dozen horses, 500 pounds of gunpowder, recorded narration by actor Graham Greene, a script by celebrated historian Allan W. Eckert and a soundtrack by The London Symphony Orchestra, a cast of 60 gathers six nights a week through Sept. 3 to present the family-friendly history lesson.
The scenic vista of pine and the natural acoustics made possible by the convergence of two ravines make the bowl-shaped hollow on the side of Sugarloaf Mountain a dazzling backdrop.
"Some stories are so big that you have to go outdoors," Smith says. "Part of the charm of outdoor drama is that there's a chance it could rain. That can really add to a scene." Visit website for other performances at the amphitheater this summer. 5968 Marietta Rd., Chillicothe 45601, 866/775-0700, tecumsehdrama.com