Travel
Appalachia: Astronauts and Stargazing
From attractions tied to American icons to perfect spots for gazing into the universe, these destinations in Ohio's Appalachian counties celebrate space and our exploration of it.
July 2019
BY Casey Mazzoli | Photo by Brad Hoehne
July 2019
BY Casey Mazzoli | Photo by Brad Hoehne
John Glenn Astronomy Park, Logan
Brad Hoehne refers to the central piece of stargazing equipment installed at John Glenn Astronomy Park's observatory as the "wow telescope."
"People climb up the ladder, they look through it, and there's a star cluster that has half a million stars," he says. "And 20, 30, 40, 50 times a night, someone reflexively goes, 'Wow.'"
Hoehne, who has independently studied astronomy for more than 25 years, serves as director of the astronomy park, which is located in Hocking Hills and offers outdoor adventurers the opportunity to peer into the night sky once they're done hiking, kayaking and zip lining throughout this highly visited region of southeast Ohio. Hoehne magnifies the wow factor with a lineup of regular programs.
Visit on a clear Friday or Saturday evening for a brief introduction to astronomy. After you attempt to wrap your mind around the vastness of the universe — a concept Hoehne holds critical to the study of the night sky — you'll get to look through the observatory's main telescope and smaller ones on the plaza into the wee hours of the night as you search for star clusters, planets and other celestial sights.
On July 20, marvel at the Milky Way and the rising of the moon while reliving the Apollo moon landing in real time on its 50th anniversary. The program will mark all the major events Americans kept up with from their living rooms, complete with newscasts, recordings of conversations between mission control and the astronauts, and a 1/5-scale model of the lunar module that kids can lift onto a mock lunar landing site. Visit website for more information and driving directions to the astronomy park. 877/403-4477, jgap.info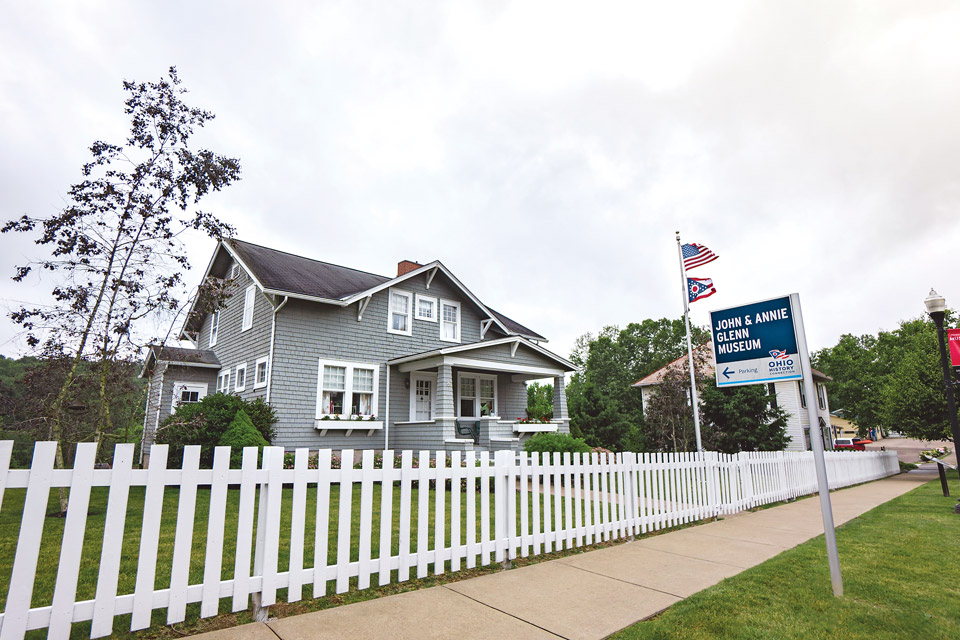 John & Annie Glenn Museum, New Concord
A number of astronauts hail from Ohio, but Neil Armstrong and John Glenn have become American icons synonymous with space exploration. Glenn went on to become a U.S. Senator and even returned to space in 1998 aboard the space shuttle Discovery at age 77, but he grew up in the Muskingum County community of New Concord.
Today, his boyhood home serves as an Ohio History Connection museum and was added to the National Register of Historic Places in 2018. Locals are proud of Glenn and his wife Annie's ties to New Concord and were the ones who led the drive to set the home aside as a tourist attraction.
"There are a lot of astronauts, but there's never going to be another first American to orbit earth, so we need to make sure we acknowledge that here in his hometown," says Debbie Allender, the museum's director of operations. The John & Annie Glenn Museum often welcomes school groups, but Allender says adults from near and far also visit the site.
"We've had visitors from all over the world," she adds. "It amazes us every year."
Those who step inside the home find themselves part of an immersive living history presentation. During 2019, actors depicting Glenn's children and others re-create the year 1962, when Glenn made history by orbiting the Earth. In other years, the home has depicted life in 1937 or 1944, offering a glimpse into the lives of Glenn's parents and young John Glenn himself as well as boarders during the Great Depression and a World War II nurse.
The second floor houses a variety of Glenn memorabilia, from his childhood tricycle to the original jumpsuit he wore after his famous orbit around the Earth in the Friendship 7 spacecraft. The museum also houses items tied to Annie Glenn, who served as an advocate for people with disabilities and communication disorders as she herself overcame a stutter. Visit website for hours and admission. 72 W. Main St., New Concord 43762, 740/826-3305, johnglennhome.org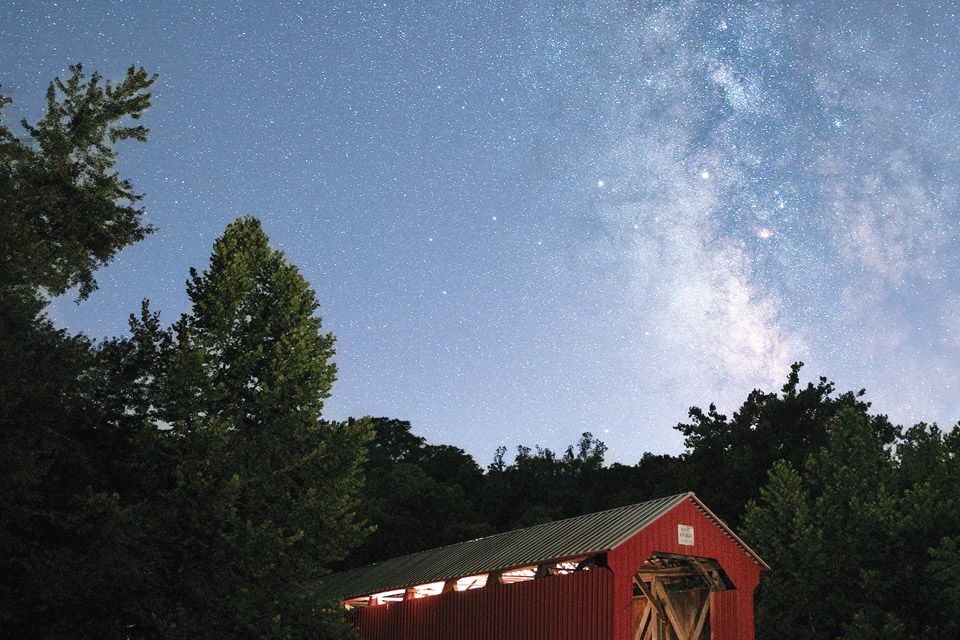 Stargazing Sites, Burr Oak State Park, Stonelick State Park & Wayne National Forest

Naturalist Julie Gee illuminates the natural nightlife at southeast Ohio's Burr Oak State Park with spectacular summer programs. Sign up to skim across the lake on a pontoon boat at sunset. Then, set out on one of the park's guided night hikes, where you can explore a landscape rustling with owls, katydids and bats. Afterward, check out the night sky at Burr Oak State Park's astronomy field, where dark skies make for incredible stargazing opportunities.
"Part of the reason is that we are away from any major urban area," says Gee.
The most popular astronomy program is organized around the Perseid meteor shower in mid-August, but the constellations put on a dazzling show throughout the year.
Travelers will also find great stargazing at Lamping Homestead Recreation Area in Wayne National Forest, located about 71 miles east of Burr Oak State Park. At the trailhead for the Lamping Homestead Trail, stargazers will find an open field beside a lake that offers a great view of the night sky. The remote area also makes for an excellent spot for primitive camping.
Stonelick State Park in Clermont County, located about 25 miles east of Cincinnati, offers a zoomed-in look at nebulae, galaxies and more on clear Saturday nights, when volunteers from the Friends of the Cincinnati Observatory bring their telescopes to the site. Night-sky enthusiasts can gaze at any time throughout the summer on their own. Burr Oak State Park: 10220 Burr Oak Lodge Rd., Glouster 45732, 740/767-3570, parks.ohiodnr.gov/burroak; Stonelick State Park: 2895 Lake Dr., Pleasant Plain 45162 (GPS address), 513/734-4323, parks.ohiodnr.gov/stonelick; Lamping Homestead Recreation Area in Wayne National Forest: 36998 Clearfork Rd., Graysville 45734, 740/373-9055, fs.usda.gov/wayne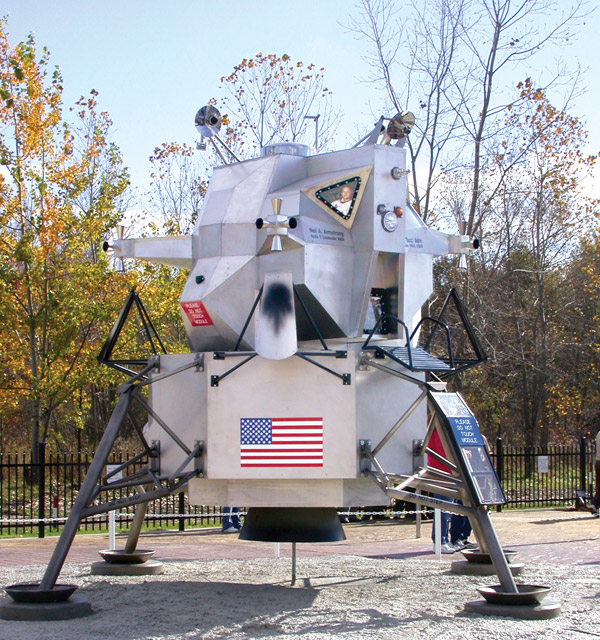 First Flight Lunar Module, Warren
Decades before Neil Armstrong became the first man to walk on the moon, he took his first airplane ride in Warren. A barnstormer offered Armstrong and his father a ride on his Ford Trimotor plane. The excursion cost just 25 cents and led Armstrong to dedicate his life to becoming a pilot, a career that ultimately led him to the space program.
Today, at the site of this pivotal moment in Armstrong's life, the First Flight Lunar Module commemorates the astronaut's legendary accomplishment with a half-size model of the spacecraft in which Armstrong and Buzz Aldrin landed on the lunar surface.
The replica was built using original blueprints for the Apollo 11 Lunar Module and sits atop a re-created moon surface (complete with footprints) inside a fenced-in area.
The site also features replicas of the two rockets that lifted the Apollo 11 mission into space. Armstrong himself visited the site in 2005 and gave it a thumbs-up, remarking that he clearly remembered the boyhood flight that occurred here.
Dan Mathey, who helped plan the site and now maintains it, says its purpose is to inspire young people to reach for the stars in their own lives.
"Whether they become a musician, a lawyer, a doctor or an athlete, we always encourage young people, if they have a dream, to let people know," Mathey says. "There are a lot of people who will help you reach your dream. Neil realized that." Open daily 10 a.m.–5 p.m.; 2553 Parkman Rd. NW, Warren 44485, 330/898-3456, firstflightwarren.org