Travel
5 Great Brewpubs
Visit Ohio spots that have mastered craft brews and great food to go with them.
February 2014 Issue
BY Brooke Bunce, Leo DeLuca, Andrew King, Kelsey Smith & Jim Vickers | Photo by Jonathan Willis
February 2014 Issue
BY Brooke Bunce, Leo DeLuca, Andrew King, Kelsey Smith & Jim Vickers | Photo by Jonathan Willis
Fifty West Brewing Co.| Cincinnati

Conviviality and merriment echo through the rooms of Fifty West Brewing Co. Rosy cheeks and laughter accompany carefully crafted beer and tapas-style food in this historic-home-turned-microbrewery.

Edgar and Martha Scott, a prominent local family, built the storied estate in 1827. It is rumored that Abraham Lincoln once stayed in the upstairs bedroom and, for many years, the building housed a brothel that served bootleg liquor and became home to Cincinnati's dark underbelly. In those times, the establishment was a seedy speakeasy known as Kelly's Roadhouse.

The December 1973 issue of Cincinnati Magazine noted that famous bootlegger George Remus once supplied the property with liquor. Often referenced as the inspiration behind Jay Gatsby, the bootlegging protagonist in F. Scott Fitzgerald's famous novel The Great Gatsby, Remus continues to inspire today.

"Our name pays homage to the road on which we are located — a road that stretches 3,037 miles from Ocean City, Md., to California," explains Bobby Slattery, who owns the place with Whit Hesser and Blake Horsburgh. "Remus said his empire was built by, 'getting alcohol on 50 and taking it west.' We liked the idea of our business being one gigantic road trip, with every beer being a different trip on Route 50."

Amongst cozy lighting, and historic wood ceilings, customers can sip on a Spooner Summit Double IPA or enjoy a Speedbump Kolsch. The beer selection at Fifty West is in steady rotation, giving customers the chance to enjoy a variety of styles, flavors, and compositions. Brown ales, stouts, pilsners and more are made with ingredients ranging from brown sugar to coffee to sweet potatoes.

Along with the beer, Fifty West's food offerings are also in constant rotation. Whether it's goat cheese tomato bisque, butternut squash gnocchi or wild mushroom meatballs, head chef John Tomain is never satisfied with a static menu. The only constant is Tomain's desire to create dishes that accentuate the beers on tap.

Due to the expertise of its three owners, Fifty West Brewing Co. has already gained quite a following since opening in November 2012.
An engineer by trade, Whit Hesser drew up the brewpub's layout and works as its general manager. Slattery, a charismatic character with a giant smile, helped his family run their restaurants while growing up and gained a solid understanding of how such a business should operate.

Horsburgh discovered his love for craft brewing while studying philosophy at Ohio University and working at Jackie O's Brewery in Athens. After graduating, he decided to pursue his passion full time, but wanted to put his philosophy degree to use. To that end, four virtues are painted across each wall of the back room: "Craftsmanship" to the north, "Patience" to the south, "Tradition" to the east, and "Innovation" to the west.

"The virtues serve as simple reminders for my day-to-day duties," explains Horsburgh. "It is easy to get complacent, so I look to these as inspiration for the craft. To me, beer is much more than water, barley, hops and yeast."

ON THE MENU
Food and beer pairings from brewmaster Blake Horsburgh

Wild Mushroom Meatballs/Coast to Coast IPA
"The piney notes of the hops complement the earthiness of the mushrooms and root vegetables. The citrus notes from the beer help to cleanse the palate and cut the richness of the dish, which includes house-made ricotta, root vegetable purée and wild mushroom sauce."

Torta Barbacoa/Loneliest Road Stout
"The brisket that goes into this dish is braised with beer, coffee, chocolate and chilies. This complements the flavors of this hearty and creamy stout. The malty sweetness helps to cool down the heat from the chilies. [It's] a full-bodied beer for a big bold dish."


***

Elevator Brewery and Draught Haus | Columbus
Tucked between the skyscrapers of downtown and nestled along Columbus' main drag of High Street,
Elevator Brewery and Draught Haus
has a prime location that befits the elegant feel of what's happening within its walls.
"You've got the arts district to the north and the beer in the Brewery District to the south," says co-owner Dick Stevens. "I was marrying those ideas with the restaurant downtown."
The 1897 Columbia Building the brewpub calls home was originally built as a saloon and billiards parlor and both of the pool tables in the back room date back to the late 19th century. The building is on the National Register of Historic Places and the bar has been restored to its original look and feel with intricately carved mahogany, stained glass and mosaic floors, along with some adjustments, including neon blue lighting and modern tables, chairs and paint.
"There's the food, and then there's the physical ambiance," says owner Dick Stevens. "We wanted to play to the history of the building, but we also had the challenge of creating a wow factor when guests walk in. So we juxtaposed that with the more modern feel of the tables and chairs and lights."
Instead of whiskey (which was once distilled here) a dozen Elevator brews, ranging from the popular Dark Horse Lager to the seasonal Horny Goat Porter, are the main attraction. There are always 10 Elevator regulars to choose from such as Three Frogs IPA or Bleeding Buckeye Red Ale, as well as two specialty selections. The brewery is working on an upcoming line of herb-based beers featuring basil, coriander and rosemary among others.
Brewmaster Vic Schiltz prepares the recipes and oversees most of the production process in Elevator's brewery just two blocks east of the restaurant, and he relies heavily on experimentation when it comes to new and unusual tastes. "I just put stuff in here and see what comes out the other end," he says. "I don't get out books and say, 'This is what it's going to be.' " Results of his experimentation can be seen in the often outlandish and unique seasonal and specialty beers.
Elevator Brewery goes beyond beer with an upscale dinner menu. But the spot's signature brews make frequent appearances, starting with appetizers such as pot stickers in a honey nut brown ale broth. The majority of main dishes come with a suggested beer pairing, and the restaurant's entree options range from a 14-ounce New York Strip to crab-stuffed scallops.
For Stevens, despite grand features and complex designs, the restaurant is meant to be a showcase for the beer. And the operation has grown into more than merely a business. Stevens started the brewery with his son, Ryan, in 1999, anticipating he would helm the company. But Ryan's death in 2003 turned Elevator Brewery into a labor of love.
"The primary reason I do this is keeping the legacy going for him," Stevens says. "It's all of my motivation. It keeps me going."
ON THE MENU
Food and beer pairings from general manager and managing partner Will Triplett
Tenderloin Medallions/Dark Horse Lager
"Dark horse is one of our gateway beers, an easy-drinking dark lager. The dark malts give it a deep flavor and that comes across in the color. It has a lot of chocolatey undertones and we think that goes really well with the doppelbock demi-glace on the tenderloin."
Drunken Mussels Linguine/Bleeding Buckeye Red Ale
"You can pretty much pair a red ale with anything. … But we like it with seafood because it's not a really assertive beer, and its flavors are pretty well balanced."
***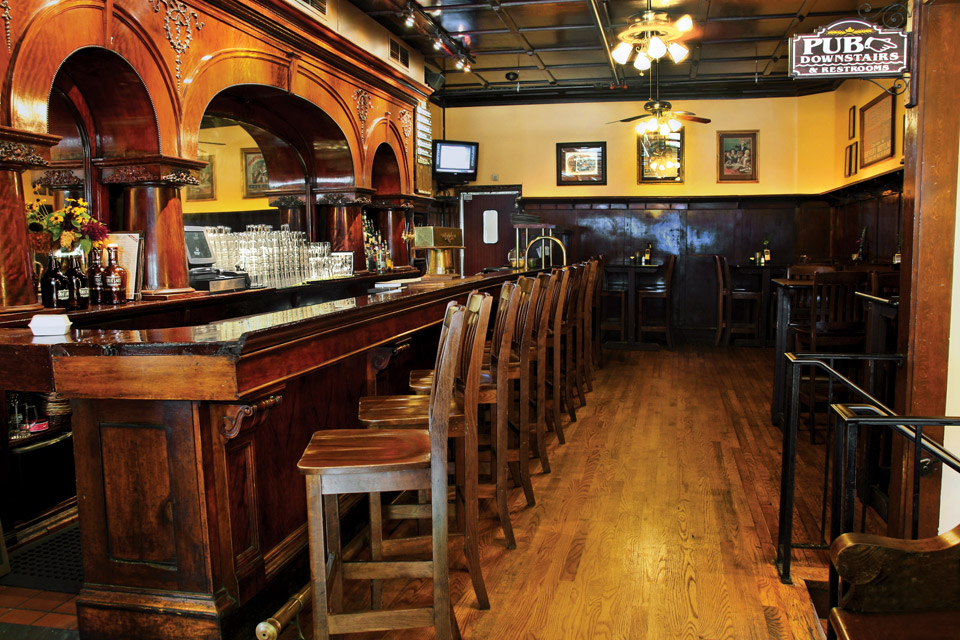 Great Lakes Brewing Co. | Cleveland
Great Lakes Brewing Co.
's interior serves as a reminder of its past life. It is a union of three Victorian-era buildings that were once home to the Elton, a hotel, saloon and burlesque house, McClean's Feed and Seed Co. and the Market Tavern, one of legendary lawman Eliot Ness' regular hangouts.
The mahogany bars and local reclaimed wood used throughout the brewpub give a sense of tradition, which is further reflected in the 26-year-old brewery's family of five year-round beers: Dortmunder Gold Lager, Eliot Ness Amber Lager, Burning River Pale Ale, Commodore Perry IPA and Edmund Fitzgerald Porter.
"Our core beers have been around for a long time, so our job is to maintain them," says Luke Purcell, Great Lakes Brewing Co.'s brewer and events specialist. "We have to tweak the recipes from year to year, as the [hops and barley] are different, to keep the beers consistent."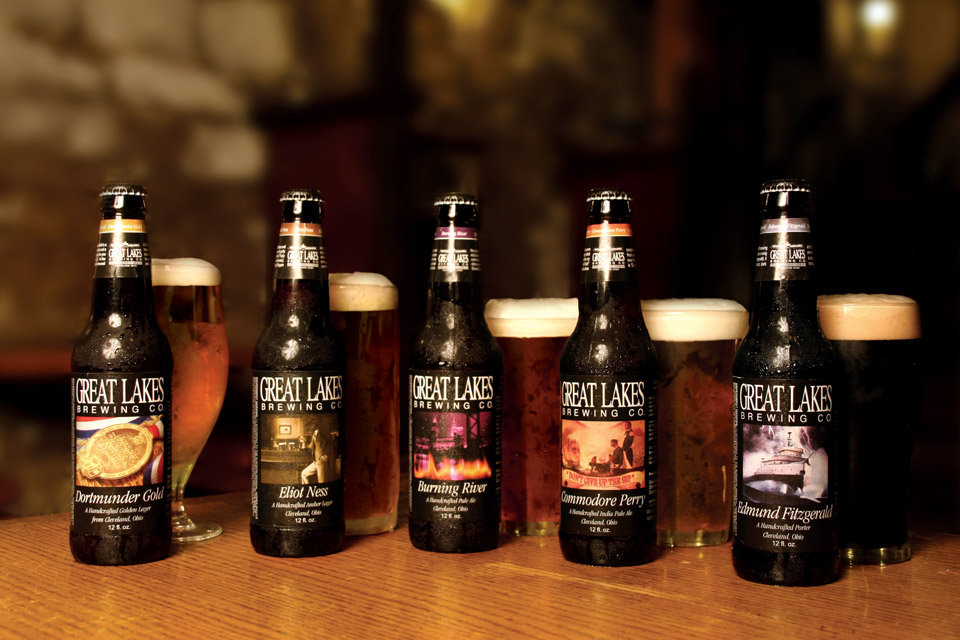 Prior to Prohibition, Cleveland was a city full of brewers. This tradition of brewing is one of the main reasons owners Pat and Dan Conway decided to open the state's first craft brewery. To help keep the experimental spirit of brewing alive, Great Lakes Brewing Co. produces several seasonal brews, such as Blackout Stout, Nosferatu and the ever-popular Christmas Ale.
The brewpub also works hard to use sustainable practices to give back to the community. The brewery reuses spent brewery grain by giving it to farmers to feed the livestock that eventually appears on the menu. Remaining spent grain is fed to the worms that fertilize the soil at the two farms the brewery has owned and operated since 2010.
Ohio City Farm, just a few blocks away, and Pint Size Farm, located about 25 miles south of downtown Cleveland, are used to provide the brewpub with fresh ingredients throughout the year.
"In the growing season, 80 percent of our produce comes from those two farms," explains Richard Basich, the brewpub's local-food liaison.
While this was a challenge at first, the brewpub has come to rely on the local produce to maintain its menu full of traditional comfort foods, ranging from butternut squash ravioli to pot roast.
The local ingredients also shine in each month's Brewmaster's Dinner. These special events are where the brewery likes to experiment with using its award-winning beers to complement and contrast the food.
"You're looking for one to make the other better," Purcell says. "But the main thing is to just do it, try it, have fun with it, just like craft beer itself — keep looking for new ones."

ON THE MENU
Food and beer pairings from chef Rock Finley

Stilton Cheddar Ale Soup/Dortmunder Gold Lager
"Not only do we put the Dortmunder in the soup, but it also goes well with the cheddar and helps to balance the sharp and salty flavors of the soup."
Signature Bread Pudding/Eliot Ness Amber Lager
"Our bread pudding is known and talked about everywhere and it happens to pair well with our Eliot Ness. It's a good example of not using a stout or porter with dessert."
***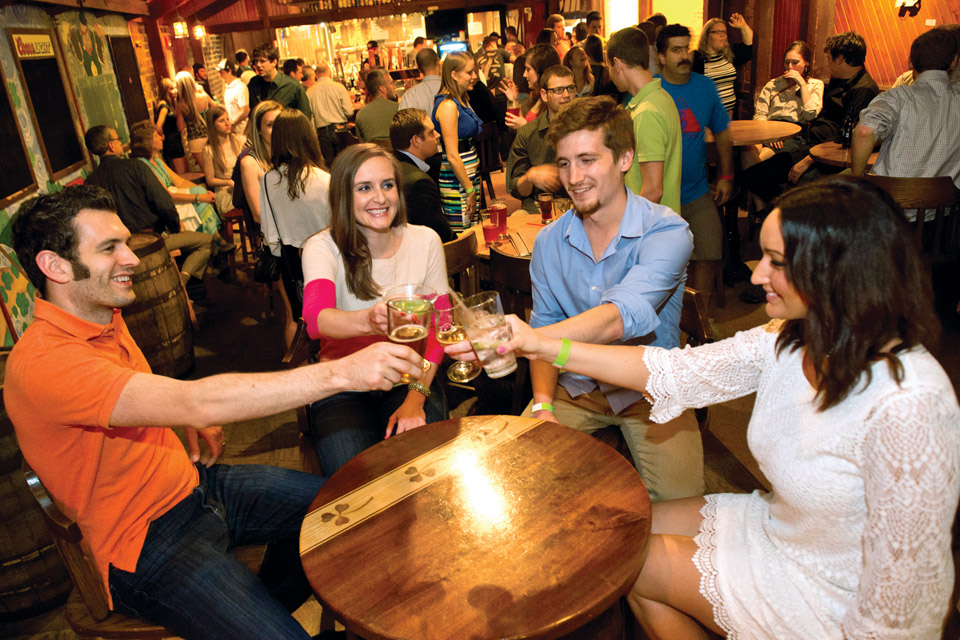 Jackie O's Pub & Brewery | Athens
Reflecting the relaxed vibe of the quirky college town it calls home, Jackie O's brewpub is filled with wooden barstools and barrel-base tables. Visitors are invited to grab a perch, grip a pint and browse a menu of bar food with a twist.
The beer-batter fried cheese curds are from nearby Laurel Valley Creamery, and the pizza crusts are made with spent brewing grains that give them a crunchy and slightly nutty texture. Local artists even crafted the beer-tap handles from recycled wood.
As the home of Ohio University, Athens' influx of students as well as their friends and family has made
Jackie O's
a local landmark in less than a decade. It takes that local love seriously too, relying as much as it can on ingredients grown nearby, whether it's berries used in drinks or grain used in pizza crusts.
It doesn't hurt that the brewpub is affiliated with a 22-acre farm that grows fresh produce, or that its in-house bakery churns out fresh breads, all of which are used on-site or sold to other Athens restaurants and the local farmers market. The restaurant even started making its own butter with milk from Snowville Creamery in nearby Pomeroy.
"We try to keep everything we use within 30 miles," explains Matt Spolar, Jackie O's lead creative strategist. "If you buy lettuce or meat or eggs from Athens, our money stays in the community. And, at the end of the day, the community is what allows us to grow."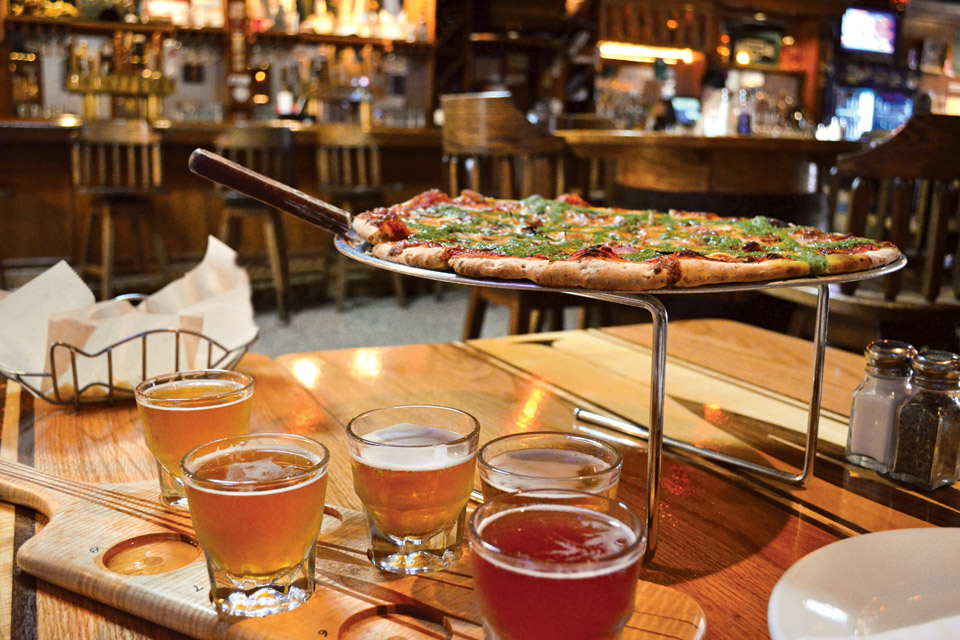 Jackie O's has grown quite a bit since Art Oestrike bought the bar formerly known as O'Hooley's in 2005. (And in case you're wondering, Jackie O's is named in honor of Oestrike's mom.) In 2009, he acquired the space next door and turned it into what now is the Public House, a much larger room for gathering and revelry that houses Jackie O's kitchen and stage for musical acts.
That college-town quirk also carries over to the beer, where head brewer Brad Clark flexes his creative muscles. "We like to use a lot of interesting ingredients or put ingredients together in ways people haven't done before," he says.
Clark ages beers in different types of barrels, such as bourbon or wine barrels, to add unique flavors. He has also developed a souring program, where wild yeasts and bacteria are used to give beers a distinctly tart taste. Clark is currently resurrecting a beer that was released in 2010; it involves aging a wheat IPA in wine barrels, adding wild yeast and topping it off with 30 pounds of sweet clementine flesh. Called Orange Oak, the beer will be available this March.
Over the course of a year, Jackie O's makes 50 to 70 different brews, offering 38 taps between the brewpub and public house. All of Jackie O's original beers are made on-site or at its taproom, also located in Athens.
"When we get to deviate and go off on an artistic tangent," Clark says, "we tend to have a lot of fun."
ON THE MENU
F
ood and brew pairings from head brewer Brad Clark

Athens' Own Cheeseburger/Mystic Mama IPA
"This West Coast-style IPA has a pungent hop character and a supporting cast of citrus and pine notes that cut through the sweetness of the burger's beef and onions and the richness of the cheese. The carbonation of the beer also helps scrub the palette, getting you ready for that next bite."
Fried Cheese Curds/ Chomolungma Honey Nut Brown Ale
"The brown ale gives a lot of toasted bread-type character and you also get this salty cheesiness from the curds, so it creates this grilled cheese marriage of flavors."
***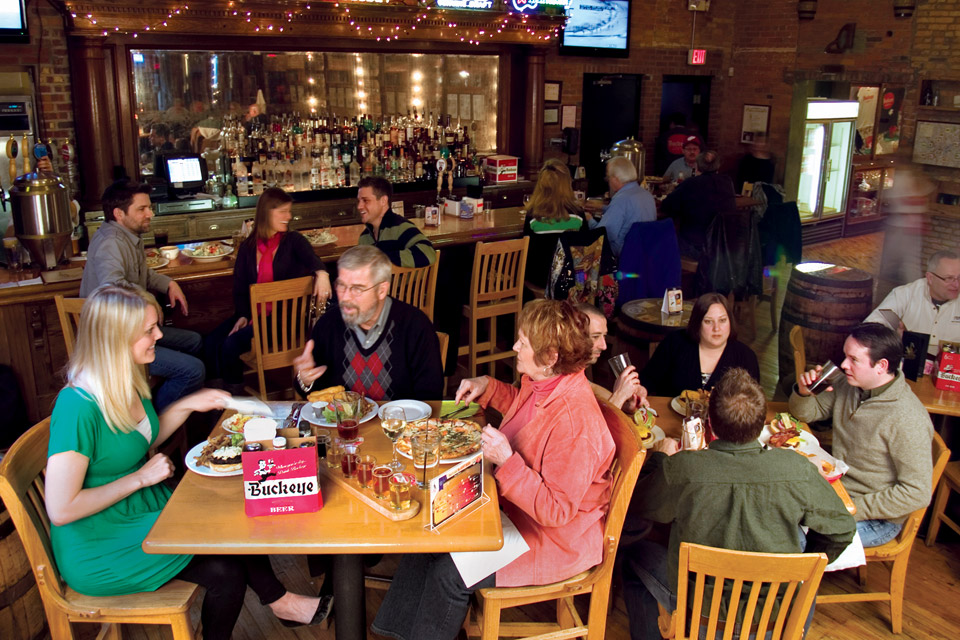 Maumee Bay Brew Pub | Toledo
The 70,000-square-foot Oliver House was built by hand without the use of a single power tool. It took workers seven years to complete what was considered the epitome of a modern hotel when it opened in 1859. At the time, that meant the addition of water closets and mechanical call buttons.
"It was designed by Isaiah Rogers, who was a prominent architect of the day — 'the father of the modern hotel' they say in the history books," explains Neal Kovacik, general manager of The Oliver House and the
Maumee Bay Brew Pub
, which is housed in a former ballroom on the building's second floor.
These days, the beautiful Greek Revival-style structure is thought to be one of the last buildings of its kind left standing in the country, Kovacik says.
The historic property is home to four restaurants and the brewpub, which makes the beer it serves on-site (a separate facility located just across the street makes the beer Maumee Bay Brewing Co. sends to distributors). The brewpub's high ceilings, wooden floors and brick walls create an inviting and open space to sip from a rotating selection of nearly two-dozen beers.
Choices span seasonal flavors such as Blitzen Ale and familiar favorites such as Buckeye Beer, which started in Toledo in 1838 before it was sold to Chicago's Peter Hand Brewing Co., which also produced Meister Brau. In 1972, Miller Brewing Co. bought both Meister Brau and Buckeye Beer and stopped producing both.
"It was reported in the Toledo Blade that the recipe for Buckeye figured in on the recipe for Miller Lite," Kovacik says, adding that Jim Appold, owner of The Oliver House and Maumee Bay Brewing Co., bought the label back from Miller Brewing in the early 1990s and once again started producing Buckeye Beer in Toledo.
"It's a little different than the original Buckeye [Beer] — not much," Kovacik says. "It has 5.2 percent alcohol. It's truly a craft beer with a little different hops and a little different brewing. … It's a lighter American lager, and it has very good flavor."
Visitors to Maumee Bay Brew Pub can't miss the throwback Buckeye Premium Beer mural painted outside near the front entrance with a winking waiter and the words "When you're dry … Drink Buckeye."
That mix of history and whimsy fits nicely with the feel of The Oliver House. But Maumee Bay Brewing Co. is serious about its place in Ohio's rising craft brew scene. That's clear in the approach to its brewpub, which serves up acclaimed beers such as its Amarillo Brillo Double IPA and Total Eclipse Breakfast Stout alongside a large menu of quality pub-food favorites. Options range from tasty wood-fired pizzas to oversize burgers (its Cow vs. Pig Burger serves a half pound ground beef patty topped with smoked bacon and barbecue pulled pork) to the cheddar beer soup that's been a menu staple since 1995.
Kovacik says the approach, and the recipe for the brewpub's longevity, has been very simple. "What we try to do is make the best completely locally produced beer that we can and pair it with some very good pub food."

ON THE MENU
Food and brew pairings from general manager Neal Kovacik


The Vegetarian Pizza/Buckeye Beer
"The beer just has a little bit more mild flavor and the flavors of the pizza aren't overwhelming. So you can eat the food and the beer complements that."

Beer Braised Beef Brisket/Amarillo Brillo
"We have a great barbecued brisket that's slow-roasted and very tender. We think our Amarillo Brillo Double IPA is a strong enough flavor on its own to handle that strong flavor of barbecue. It's strong enough to stand up to those flavors. You'll experience the barbecue, of course, then you'll experience the flavor of the beer."
DON'T MISS:
Our guide to more than 50 Buckeye State breweries