Travel
4 Great Ohio Riverfronts
Whether you want to spend an afternoon paddling or watching the day roll by, make these spots part of your summer travel plans.
July 2019
BY Lindsey Carr, Tyler Haughn and Jim Vickers | Photo by Javi Gutierrez
July 2019
BY Lindsey Carr, Tyler Haughn and Jim Vickers | Photo by Javi Gutierrez
Scioto River, Columbus
Explore our capital city's riverfront by visiting the Scioto Mile, a network of public spaces in the heart of downtown.

The Scioto Mile hugs the curve of its namesake river, and since 2011, the flowing green space has remade the center of our capital city. It's a place where one can take in free summer concerts at Bicentennial Park, scale an outdoor climbing wall at Scioto Audubon Metro Park or connect with the Scioto Greenway Trail that runs along both sides of the river.

Before the project began in 2007, the land along the Scioto River was a multiple-lane highway that ferried downtown commuters in and out of the city. As a result, the Scioto River and land along it were mostly ignored. Today, thanks to the Scioto Mile, COSI, which moved to the riverfront in 1999, and the National Veterans Memorial and Museum, which opened in 2018, are both located on prime watefront spots.

"We took the space that we had, took the assets that were there and tried to take this underutilized area and make it into a key destination," says Amy Taylor, chief operating officer at Columbus Downtown Development Corp., who was involved with many aspects of project. "It is the … restored river and the Scioto Mile that is the iconic image of our community."
Bicentennial Park: This 4.66-acre park known for its 15,000-square-foot fountain with 1,000 jets of water offers a perfect summer cooldown. As evening falls, the fountain transforms into an illuminated piece of public art, while Bicentennial Park Pavilion offers free concerts, movies and dance performances throughout the season. The glass-enclosed on-site restaurant, Milestone 229, serves up striking downtown views alongside elevated comfort food and features a patio along the riverfront. 233 Civic Center Dr., Columbus 43215, 614/645-3800, sciotomile.com
Olentangy Paddle: See the heart of Columbus in a new way by renting a canoe or kayak and paddling along the Scioto River. Beginning at various spots, the route heads upriver and provides a different perspective on the downtown skyline as well as notable landmarks along the Scioto Mile. The trip takes about 2 hours (including instruction), and paddlers are required to return to the starting point. Must reserve via website. olentangypaddle.com
The Boat House at Confluence Park: Located a couple miles north of Bicentennial Park, The Boat House at Confluence Park is nestled at the point where the Olentangy and Scioto rivers meet. The restaurant's large windows provide nice views of the Scioto River, but opt for a patio seat for glimpses of the Scioto Mile's attractions downriver. The upscale restaurant, which is suitable for casual lunches and special occasions alike, features a seafood-heavy menu and open kitchen. 679 W. Spring St., Columbus 43215, 614/469-0000, boathouserestaurantoh.com

National Veterans Memorial and Museum: This poignant 53,000-square-foot museum is unlike any you've visited. Whereas other institutions focus on artifacts, the National Veterans Memorial and Museum collects the stories of our men and women in uniform and presents them in 14 exhibition alcoves that follow the curve of the building. The museum's Great Hall offers views of the Scioto River, while a 2.5-acre Memorial Grove provides a place for reflection. 300 W. Broad St., Columbus 43215, 614/362-2800, nationalvmm.org

---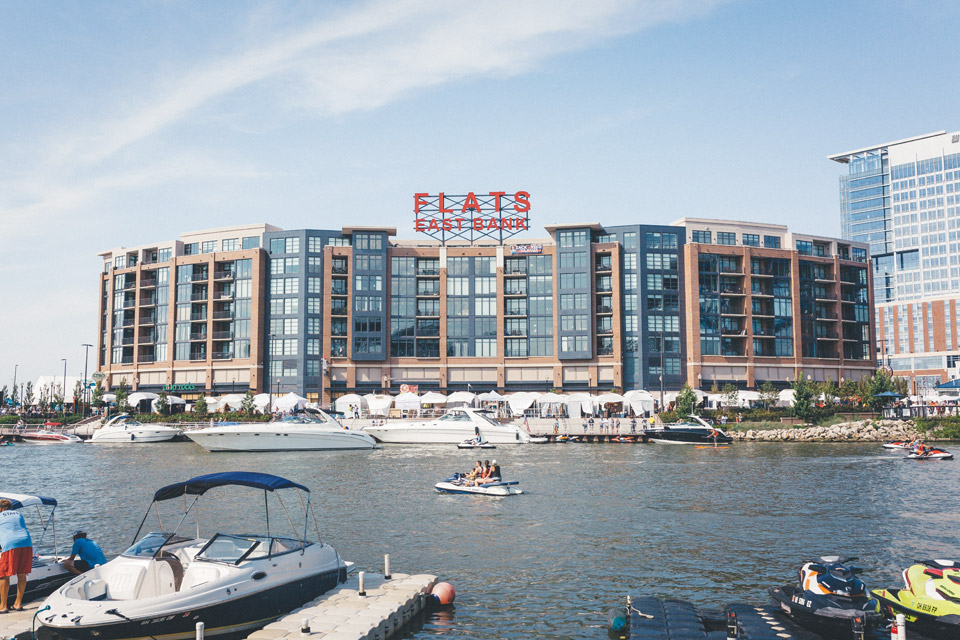 Cuyahoga River, Cleveland
This city along Lake Erie embraces both banks of its riverfront as a hot spot for dining, entertainment and recreation.
As the Cuyahoga River snakes toward Lake Erie, winding below historic bridges and past industrial sites, it tells the story of Cleveland. The waterway that's today shared by freighters, sailboats and kayaks alike looks far different than it did in 1969, when a photo of a river fire drew national attention and spurred the creation of the Clean Water Act.

After making its name as a nightlife destination during the 1980s and '90s, The Flats' east bank underwent a major makeover. Changes along the west side of the river were fewer but included the 2012 opening of the Greater Cleveland Aquarium in the Powerhouse building. The first phase of the new Flats East Bank arrived in 2013 with an office building, hotel and restaurant. A residential building followed as well as new entertainment venues and restaurants, such as Punch Bowl Social and Alley Cat Oyster Bar. Thanks to the Cleveland Water Taxi operated by Cleveland Metroparks, travelers can explore both sides of the river without moving their car.

"People are really starting to see the river as an asset," says Melinda Gigante, director of the neighborhood organization Flats Forward. "This is a renewed river with renewed interest in being near it."

Lindey's Lake House: Inspired by family trips filled with boating, bonfires and cozy meals on the porch, this waterfront restaurant embraces the lake life. Owner Rick Doody's menu spans cedar-plank salmon, organic fried chicken and Korean barbecue wings. Outside, get competitive with giant Jenga and cornhole while enjoying beers or cocktails on the large patio. Inside, garage-style doors roll up and allow diners to take in the Cuyahoga River. 1146 Old River Rd., Cleveland 44113, 216/727-0158, lindeyslakehouse.com

Collision Bend Brewing Co.: Brewmaster Luke Purcell creates a variety of tasty craft beers, from Lake Erie Sunset (a blood orange wheat ale) to C-Town IPA, that complement the brewery's wood-fired pizzas, entrees and more than 20 small plates. Hang out on the patio and watch as freighters navigate the river bend that inspired the brewery's name. Then, turn your sights toward Lake Erie to catch one of the city's best sunsets. 1250 Old River Rd., Cleveland 44113, 216/273-7879, collisionbendbrewery.com

Music Box Supper Club: This two-level entertainment venue rocks the West Bank with two separate performance spaces and great waterfront views. The near nightly entertainment includes nationally touring bands as well as local talent in a wide range of genres. The concert hall menu features salads and entree bowls (including the port-wine braised Music Box Short Rib), while the supper club menu spans burgers, tacos, steak, vegan options and more. 1148 Main Ave., Cleveland 44113, 216/242-1250, musicboxcle.com

Nautica Queen: With the blast of a horn, this excursion ship pushes off from the West Bank of the Flats. Whether you cruise along the Cuyahoga River or out onto Lake Erie, you'll catch views of the skyline, historic bridges and landmarks like the Rock and Roll Hall of Fame. Dining cruises take place most days in season and feature a buffet-style meal and music provided by a DJ. 1153 Main Ave., Cleveland 44113, 216/696-8888, nauticaqueen.com

---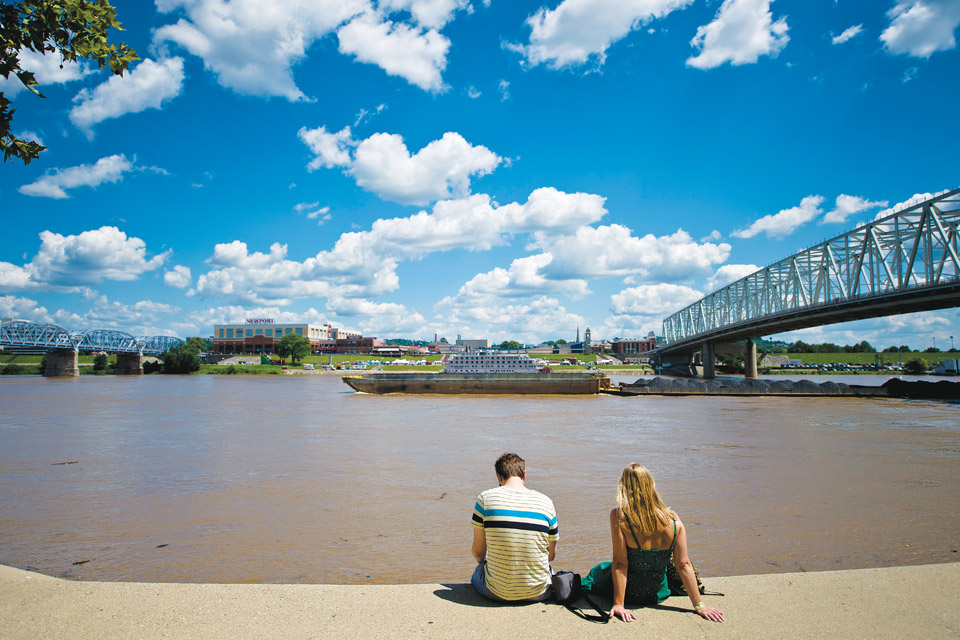 Ohio River, Cincinnati
The Queen City celebrates its rich river history with a sprawling and beautiful public park and entertainment district.

The 45-acre Smale Riverfront Park stacks up in tiered layers of grass and stone. It's easy to get lost in the landscape of pathways and public art that draws travelers to the base of The Banks neighborhood along the Ohio River — the part of Cincinnati where the city began.

What started as a frontier outpost in 1788 grew into a hub for traders by the 1830s, and boatyards in the area churned out 30 steamboats a year during the two decades that followed. River flooding and the rise of railroads led locals to move inland, and the city and its residents became less connected to the river.

That was until 2008 when ground was broken on Smale Riverfront Park after 11 years of planning. It was built in phases with the first opening in May 2012 and the last completed in July 2015.

"People like being able to get right down to the edge of the river," says Steven Schuckman, division manager of planning, design and facilities for Cincinnati Parks. "It's the region's new front door."

Stretching from Great American Ball Park to Paul Brown Stadium, the park serves as a riverfront focal point — filled with pathways, picnic spots and porch swings — and offers a great start to a day of exploring.

The Purple People Bridge: Only pedestrians and bikes are welcome on this 2,670-foot bridge that links Cincinnati and Newport, Kentucky. Built in 1872 and used for both automobile and rail traffic, the structure had fallen into disrepair by the 1990s. In 2001, Newport received $4 million from the state to paint and restore the bridge. The half-mile walk offers great views of the Ohio and Kentucky waterfronts. Accessible just south of Yeatman's Cove, Cincinnati 45202, purplepeoplebridge.com

Moerlein Lager House: Christian Moerlein Brewing Co. began making beer in Cincinnati's Over-the-Rhine neighborhood in 1853. The brewery still operates a taproom there, but those looking to take in a brew and a waterfront breeze opt for Moerlein Lager House along the river. Floor-to-ceiling glass windows offer great views from the inside, but don't miss the wraparound patio big enough for you and nearly 100 of your closest friends. 115 Joe Nuxhall Way, Cincinnati 45202, 513/421-2337, moerleinlagerhouse.com

Great American Ball Park: Those who want to take in a Reds home game and a waterfront vista should opt for tickets in section 525 — an upper-deck, behind-home-plate perch that offers full-field views of the game with the Ohio River as a backdrop. Any baseball fan will enjoy the on-site Cincinnati Reds Hall of Fame and Museum, which celebrates the heritage of baseball's first professional team. 10 Joe Nuxhall Way, Cincinnati 45202, mlb.com/reds

Sawyer Point Park & Yeatman's Cove: These side-by-side parks cover a mile of riverfront. Check out the National Steamboat Monument — a 60-ton replica of the original paddlewheel from the American Queen riverboat. Those looking for a reprieve from the summer heat can do so at Armeleder Memorial Sprayground at Yeatman's Cove, near the Serpentine Wall, a series of steps running between the parks and the river that act as a floodwall. 705 E. Pete Rose Way, Cincinnati 45202

---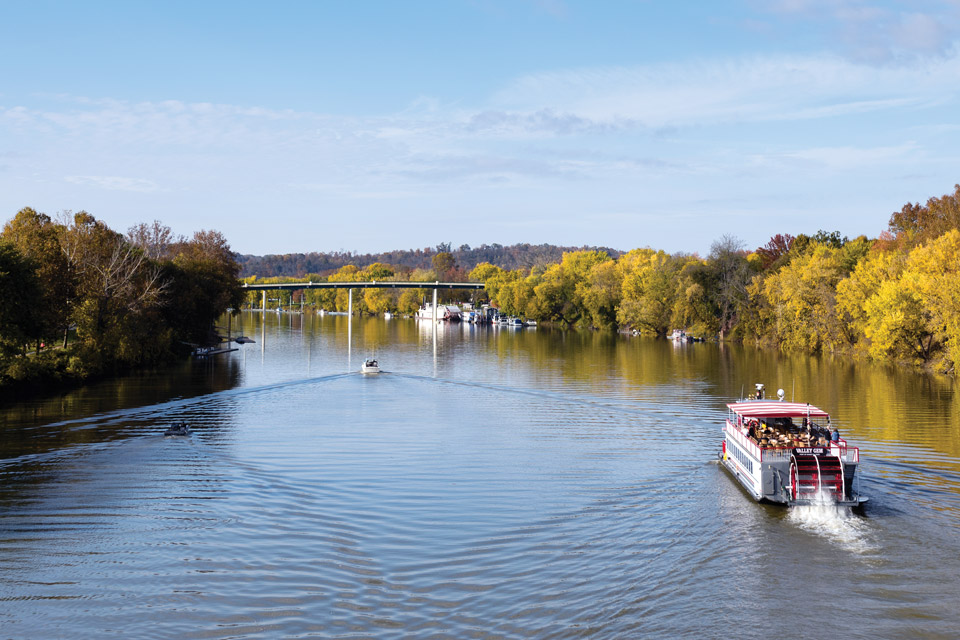 Ohio River & Muskingum Rivers, Marietta
This confluence of two rivers is the focal point of this historic town that offers insight into America's westward expansion.

Standing outside the historic Lafayette Hotel, near where the Ohio and Muskingum rivers meet, it's easy to see what attracted the Northwest Territory's earliest settlers. Many were veterans of the Revolutionary War and some are still here, buried at Mound Cemetery — the final resting place of more Revolutionary War officers than anywhere else in the U.S.

History runs deep in Marietta due to its past as the first permanent organized settlement in the Northwest Territory. The members of the Ohio Company who lived here resided at Campus Martius — a civilian stockade built between 1788 and 1791 not far from the mouth of the Muskingum River. Today, Campus Martius Museum tells the story of those settlers, and visitors can take a guided tour of the original home of Gen. Rufus Putnam, the superintendent of the Ohio Company. His restored residence rests on its original location, within the museum's walls.

"There's a certain beauty and attraction to the water," Campus Martius Museum and Ohio River Museum historian Bill Reynolds says of Marietta. "A lot of people say it is a riverboat town, and it was at one time."

The town's location also attracts adventure-seekers, with Marietta Adventure Co. renting kayaks and mountain bikes to those who want to explore the rivers or ride the more than 20 miles of single-track trail accessible from downtown.

Valley Gem Sternwheeler: The best way to soak in Marietta's riverfront vibe is taking a 90-minute excursion ride on the Valley Gem Sternwheeler. The paddlewheel-powered vessel departs from a dock near the Ohio River Museum and offers a relaxing and fun glimpse into a bygone era. After heading south on the Muskingum River, the Valley Gem heads out onto the Ohio River, providing great views of both the Ohio and West Virginia riverfronts. 601 Front St., Marietta 45750, 740/373-7862, valleygemsternwheeler.com
Harmar Bridge: This former railroad bridge now serves as a pedestrian connection between downtown Marietta and Harmar Village, a historic neighborhood originally established as Fort Harmar in 1785. The 828-foot rotating bridge can still turn as it once did to let riverboats pass through, although that function is now only demonstrated periodically. Keep an eye out for the locks bearing couples' initials hanging from the bridge. From downtown Marietta, accessible at the end of West Butler Street, Marietta 45750
Ohio River Museum: This small museum along the Muskingum River offers an ode to the Ohio River and the various boats that have traversed it, featuring a variety of artifacts focusing on the steamboat era. Don't miss the guided tours of the W.P. Snyder Jr., a 1918 towboat permanently moored behind the museum that was the epitome of innovation when it took to the water — complete with electricity, a refrigeration system and steam-powered power steering. 601 Front St., Marietta 45750, 740/373-3750, mariettamuseums.org
Boathouse BBQ: If you want lunch with a great view of the mighty Ohio River, this is the place to go. Located south of Harmar Village, the casual Boathouse BBQ serves tasty barbecue that can be dressed with a variety of fun house sauces ranging from Blueberry BBQ to Gold Rush. Inside seating is available, but we suggest requesting a patio spot, so you can check out the river traffic gliding by. 218 Virginia St., Marietta 45750, 740/373-3006, boathousemarietta.com