Travel
3 Romantic Hotel Getaways
These three creative and comfortable hotels offer a welcoming place to stay as well as nearby shopping, dining and entertainment options for making the most of your time together.
February 2019
BY Rachel Cagle, Sally Kershner and Rich Warren | Photo courtesy of St. Paul Hotel
February 2019
BY Rachel Cagle, Sally Kershner and Rich Warren | Photo courtesy of St. Paul Hotel
St. Paul Hotel, Wooster
This boutique hotel mixes old and new in a luxurious and historic property in the heart of downtown.
One doesn't expect to discover a luxury boutique hotel like one you'd find in New York City or Chicago on the doorstep of Ohio's Amish Country. Yet the St. Paul Hotel in downtown Wooster has been delighting couples looking for a getaway since 2011 with beautiful rooms and rustic touches that speak to the property's long history.
"The hotel is a very nice mix of the old and the modern since the building itself was a complete redo, except for historic things they saved," explains manager Brenda Smith, adding that the hotel was originally built in the early 1900s and operated through 1972 prior to the revamp that's transformed it into what it is today. "[It] made for some really beautiful rooms with exposed brick walls and original stairwells."
Guests are greeted by an 8-foot-tall stained glass window depicting the hotel's namesake saint, which has been repurposed here as just one of the ways historic touches are juxtaposed against the hotel's contemporary style. The lobby features an original tin ceiling from the early 1900s, the hallways are decorated with black-and-white photographs of scenes from Wayne and Holmes counties, and the hotel's Grand Suite has a sliding steel fire door that dates back more than a century.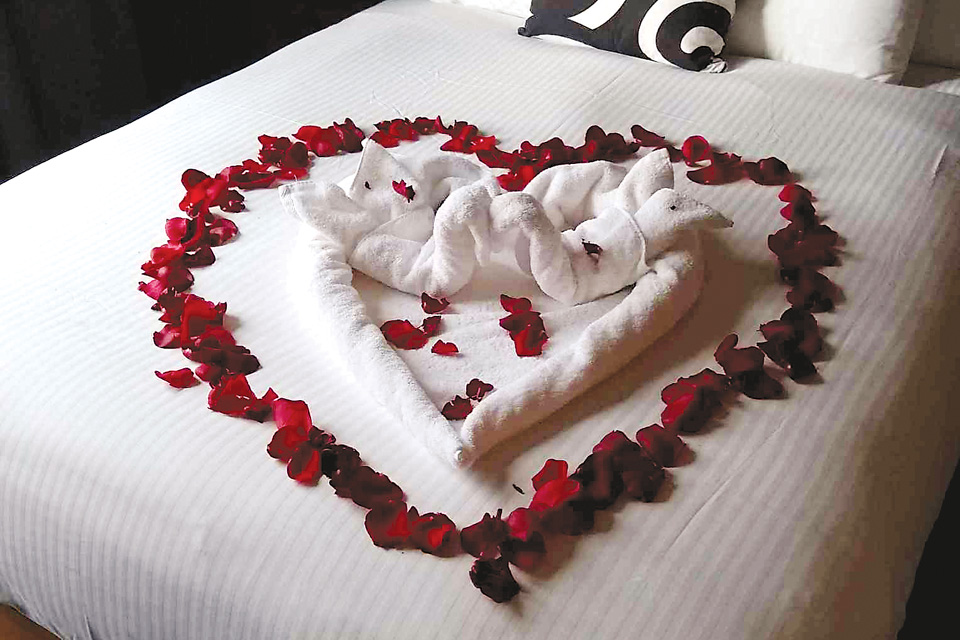 "The black walnut furnishings are all custom built for the hotel," says Smith. "And one of the special amenities that I think people really love about the hotel is our in-room continental breakfast we bring in the morning."
Guests can select the breakfast to arrive at any time, and they can also put in their request for evening chocolate chip cookies, brownies, popcorn, chocolate candies or chocolate-covered strawberries, which make a couple's getaway even sweeter. New Year's Eve and Valentine's Day guests can opt for champagne and strawberries upon arrival.
The hotel has a total of 16 rooms, including corner suites that offer a great view of downtown Wooster. Those who want the posh treatment should opt for the Grand Suite, which features a private patio and hot tub, but all rooms come with rainforest showerheads, heated bathroom tiles, plush towels, mini refrigerators, flat-screen televisions, Keurig coffee-makers and complimentary soft drinks and water.
"We have people stay with us from all over the world, and most, if not all, people are not expecting this hotel in Wooster," Smith adds. "When they come in, they are really surprised in all the best ways." 203 S. Market St., Wooster 44691, 330/601-1900, stpaulhotelwooster.com
NEARBY FINDS
Broken Rocks Cafe & Bakery
Enjoy an upscale-yet-casual meal at this contemporary cafe and bakery known for its stone-baked pizzas, steaks, pastas, sandwiches, burgers and salads. There's also a menu of handcrafted cocktails, and the restaurant's wide-open floor plan lets diners get a glimpse behind the scenes. The popular downtown spot is also connected to Rox Gastropub.123 E. Liberty St., Wooster 44691, 330/263-2949, brokenrockscafe.com
Blue Spruce Boutique
Opened in 2016 by a mother-and-daughter duo, this eclectic lifestyle shop offers a little bit of everything, from cozy apparel and handmade jewelry to vintage home decor and baby clothes and gifts. The rustic and charming space coaxes shoppers to linger as they browse the wide mix of items for sale. 116 E. Liberty St., Wooster 44691, 330/601-0100, bluespruceboutique.co
---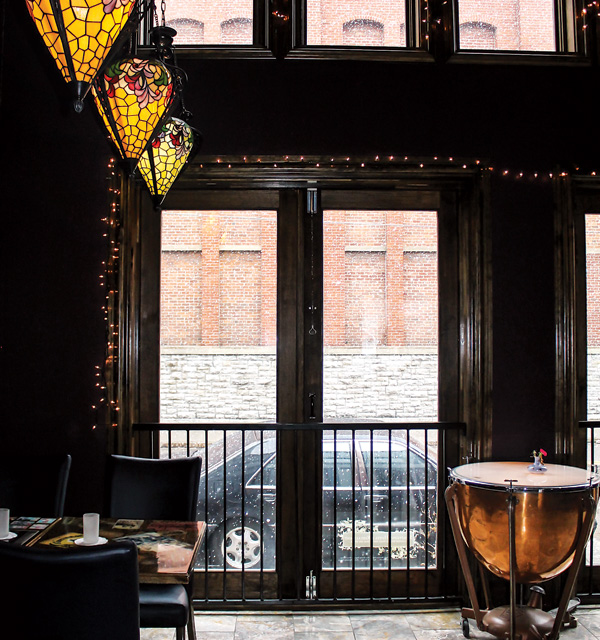 Symphony Hotel • Cincinnati
This nine-room boutique hotel gives music and theater lovers a front-row seat to the city's cultural offerings.
Sitting adjacent to the Queen City's iconic Music Hall, the Over-the-Rhine neighborhood's Symphony Hotel hits all the right notes for those seeking a romantic interlude. The boutique hotel has nine rooms — each named for a different composer — brimming with musically themed knickknacks.
There's a clarinet in the Aaron Copland Room (a nod to the composer's Clarinet Concerto) and a magnificent porcelain lampstand bearing Wolfgang Amadeus Mozart's likeness in the room named for him. Antique furniture that seems transported from the Old World creates a cozy ambience perfect for snuggling.
On the ground floor, an elegantly appointed restaurant serves gourmet, three-course meals to patrons who frequently pop next door to Music Hall afterward to enjoy a concert by the Cincinnati Symphony Orchestra or performances by the city's opera, ballet or pops orchestra. The restaurant's new American cuisine is purpose-fully light to prevent showgoers from nodding off after a heavy meal.
Later in the evening, a second crowd arrives at the hotel to enjoy live jazz by noted Cincinnati musicians in a lounge area that's also replete with musical ornamentation and swanky Tiffany-style teardrop chandeliers. The full bar in the lounge serves local beer, a large selection of bourbons and craft cocktails and specialty martinis.


Amenities for couples include champagne or flowers that can be ordered online in advance. Entire wedding parties filling the hotel's rooms offer testament to its allure as a romantic destination. Others find the property itself a perfect getaway.
"Some couples come here for the weekend and never leave," says Keith Gavigan, the hotel's manager. "They don't have to."
The property's owner, Karen Blatt, spent the two years prior to the hotel's 1996 opening renovating what for five decades had been the private townhouse of German lithographer Peter Ehrgott. His son, Lewis Ehrgott, was a conductor at Cincinnati's long-running May Festival and also gave music lessons on-site. The Italianate structure built in 1871 had good bones to it, like nonworking fireplaces in every room and a huge bas-relief of an angel in what is now the restaurant.
A former fashion designer in New York, Blatt searched tirelessly for interesting and striking objects to fill the space, even creating some of her own, like the many collages of music playbills, programs and photos under glass on table tops or serving as wall ornaments.
"Nothing is cookie-cutter here," Blatt says. "We've got designer shower curtains, and even the salt and pepper shakers on each table are one of a kind." 210 W. 14th St., Cincinnati 45202, 513/721-3353, symphonyhotel.com
NEARBY FINDS
Cincinnati Shakespeare Company
Besides world-class music, live theater is another entertainment option close to the Symphony Hotel. The Cincinnati Shakespeare Company offers works by the Bard as well as other stage classics. Shows are presented in the six-row Otto M. Budig Theater, and all seats at the thrust-stage venue are fewer than 20 feet from the stage. 1195 Elm St., Cincinnati 45202, 513/381-2273, cincyshakes.com
Sundry and Vice
For a nightcap, stop in at this West 13th Street cocktail bar featuring a turn-of-the-20th-century apothecary theme. Look for the sign above the entrance reading "Tinctures, Tonics, Remedies and Elixirs" as well as the old apothecary bottles in the window, many with their potions still inside. The menu spans creative house cocktails in addition to classic American concoctions. 18 W. 13th St., Cincinnati 45202, 513/721-8423, sundryandvice.com
---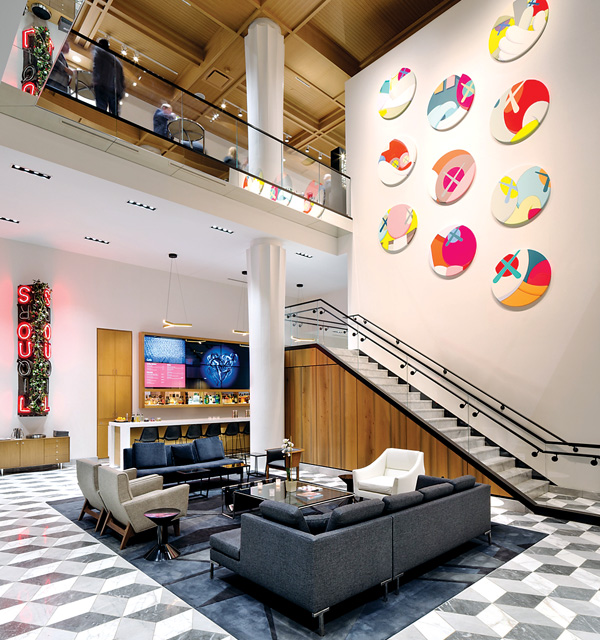 Le Méridien Columbus, The Joseph
Art collector and developer Ron Pizzuti conceived this boutique hotel located in the heart of the Short North Arts District.
Columbus' Short North Arts District comes alive in the evening. Visitors browse the small shops and pop into galleries to admire the latest works before heading off to their dinner reservations. Couples who book a stay in one of the deluxe executive suites at Le Méridien Columbus, The Joseph can take in a birds-eye view of the bustle below through floor-to-ceiling windows while sipping a glass of champagne.
The hotel opened in January 2015 thanks to art collector and real-estate developer Ron Pizzuti's desire to provide Columbus with a hotel the capital city deserved. Named in honor of Pizzuti's father, the luxurious boutique hotel has a total of 135 spacious rooms and 10 suites (including three executive and one presidential). It also features Amish-built wood furnishings, a round-the-clock fitness center and the Soul at The Joseph — a coffee bar by morning, pub by night. The hotel is also connected to The Guild House, an artisan eatery Pizzuti conceived with Columbus restaurateur Cameron Mitchell.
"The Guild House believes food should first and foremost be nourishment," says Jason Mack, general manager of The Joseph. "So, fresh ingredients are valued over overcomplicated recipes."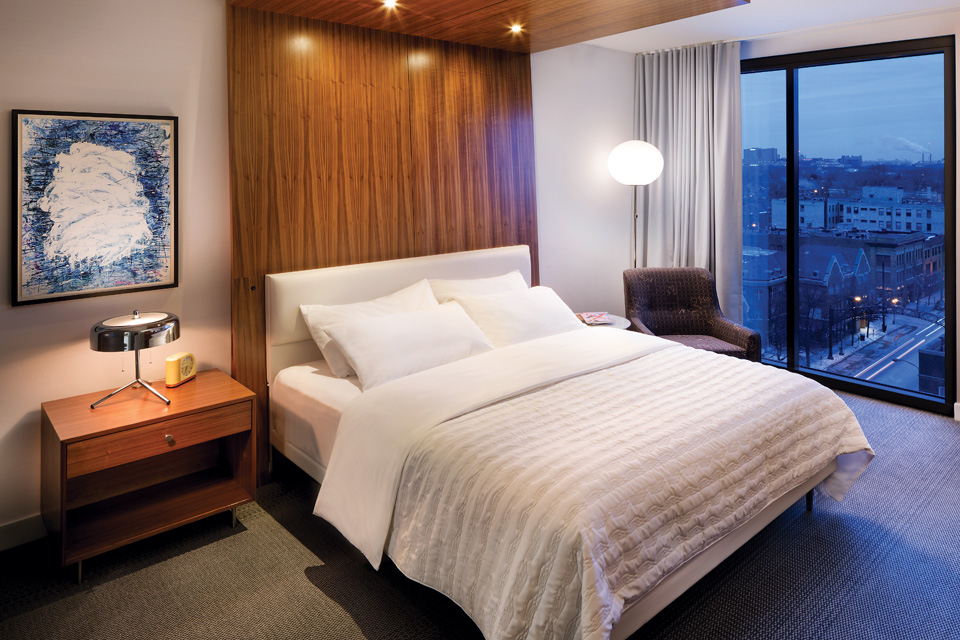 The Weekend Romance Package provides couples with special perks such as valet parking and a champagne toast at check-in. Couples also receive a pair of complimentary drinks at Soul at The Joseph and rose-petal-turndown services. Urban explorers may want to opt for the Let Us Guide You package, which offers discount cards for Short North retailers as well as specially priced spa services following a day of being out and about.
Guests looking for pampering can find it by scheduling a treatment in one of the hotel's private spa suites. The stone-and-marble-clad rooms offer services ranging from facials and body scrubs to massages. Every treatment comes with a period of relaxation afterward so guests can further unwind before continuing on with their day.
Beauty abounds throughout The Joseph's hallways thanks to 500 pieces of art, many of which are from Pizzuti's personal collection. Hotel guests also receive complimentary access to the Pizzuti Collection, a nonprofit gallery located down the street next to Goodale Park.
"We joked that the hotel was built to house the overflow of the owner's growing art collection," Mack says with a laugh. 620 N. High St., Columbus 43215, 614/227-0100, lemeridiencolumbus.com
NEARBY FINDS
Marcella's
This Cameron Mitchell restaurant serves classic Italian fare in a lively atmosphere. The menu encourages sampling Italian wines, meats and cheeses before indulging in pizza, handmade or imported pasta and specialties such as risotto del giorno and seared salmon. 615 N. High St., Columbus 43215, 614/223-2100, marcellasrestaurant.com
The Candle Lab
It doesn't get much more romantic than candlelight. This shop offers a wide selection of soy candles and wax tarts as well as an option to pour your own candles with combinations of more than 120 scents. Shoppers can craft body lotion and room-spray scents as well. 751 N. High St., Columbus 43215, 614/915-0777, thecandlelab.com