Travel
3 Great Getaway Stays
Whether you prefer a Tuscan-inspired vineyard, a nature-infused hotel or a resort-style escape, these three destinations offer plenty to do without ever leaving the property.
March/April 2021
BY Nicholas Dekker and Marisa Palmieri Shugrue | Photo by Sabrina Hall Photography
March/April 2021
BY Nicholas Dekker and Marisa Palmieri Shugrue | Photo by Sabrina Hall Photography
Gervasi Vineyard
Those looking for luxurious accommodations and a wealth of food-and-drink experiences will find them at this 55-acre, Tuscan-inspired estate in Canton.

As you drive under the archway leading into Gervasi Vineyard, it is clear the care taken in creating a taste of Tuscany in Stark County. To your left is a vineyard — one of two here. Soon signs appear, guiding visitors to the property's mix of food-and-drink experiences and luxurious overnight accommodations.

Situated on 55 acres in Canton, Gervasi Vineyard opened in 2010 as a winery and tasting room. Over the years, it has grown into an estate that has become a destination for couple's getaways and weddings as well as a place known for its cuisine, wines and spirits.

"The minute you arrive, we want people to feel like this is somewhere special," says Scott Swaldo, Gervasi Vineyard's general manager. "People come here and say, 'I can't believe I'm in Ohio, I can't believe I'm in Canton,' and that's by design."

Gervasi added The Casa, a 24-room boutique hotel, in 2019, following the addition of The Villas, luxurious four-room Tuscan suites, in 2011. The Casa's two wings surround a landscaped patio, fire pit and pond. Its suites have vaulted ceilings, comfortable king beds, beautifully tiled showers, gas fireplaces and heated floors. Each room also has its own private veranda with views of the pond, and stays include a fresh breakfast — ordered at check-in and brought to your door each morning in a rustic wooden wine box.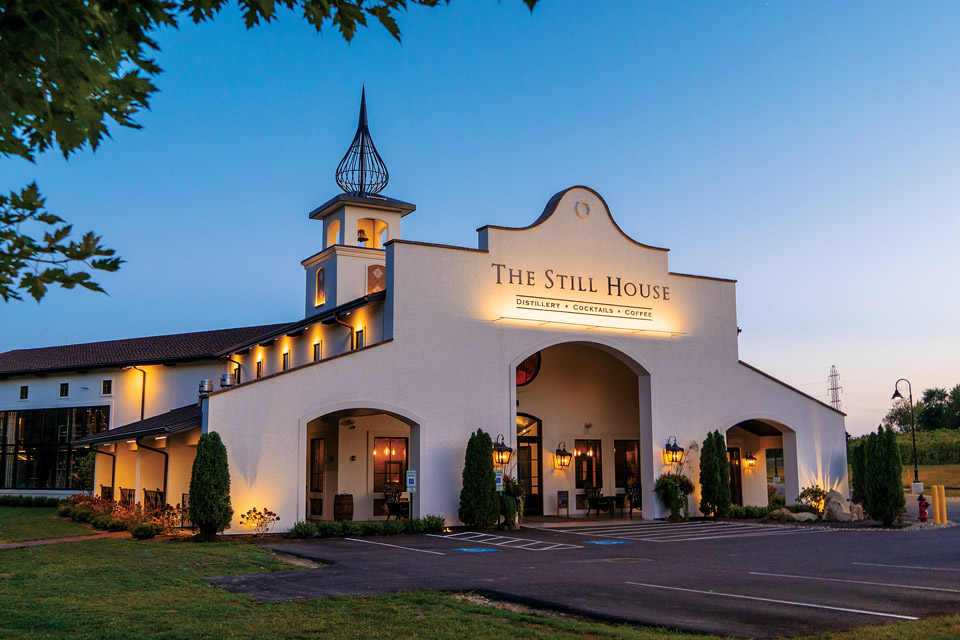 The unveiling of The Casa coincided with the opening of The Still House, a Tuscan mission-style cocktail bar and distillery that showcases Gervasi's made-on-site vodka, gin and bourbons. Try the Wrath of the Bean, concocted with house bourbon, Grand Marnier, Fernet Branca, house cold-brew coffee and coffee ice cubes — all served from a French press billowing with dry-ice steam.

Gervasi Vineyard's restored 1820s barn houses The Bistro, which serves expertly prepared classics like house-made pierogi, rich mushroom ravioli, steaming bowls of mussels and decadent specials like scallop risotto. The lineup is complemented by a robust selection of the vineyard's reds, whites and artisan Italian wines. Tasting flights are a good way to experience them, from the crisp Lascito to the rich Truscano to the fruity Zin Zin.

"Our menu is created with an overarching Italian theme to fit with our Tuscan escape," says Swaldo, adding there are some modern influences on the menus at The Crush House, The Still House and The Piazza. "Italian food often isn't complicated but instead focuses on really fresh, quality ingredients."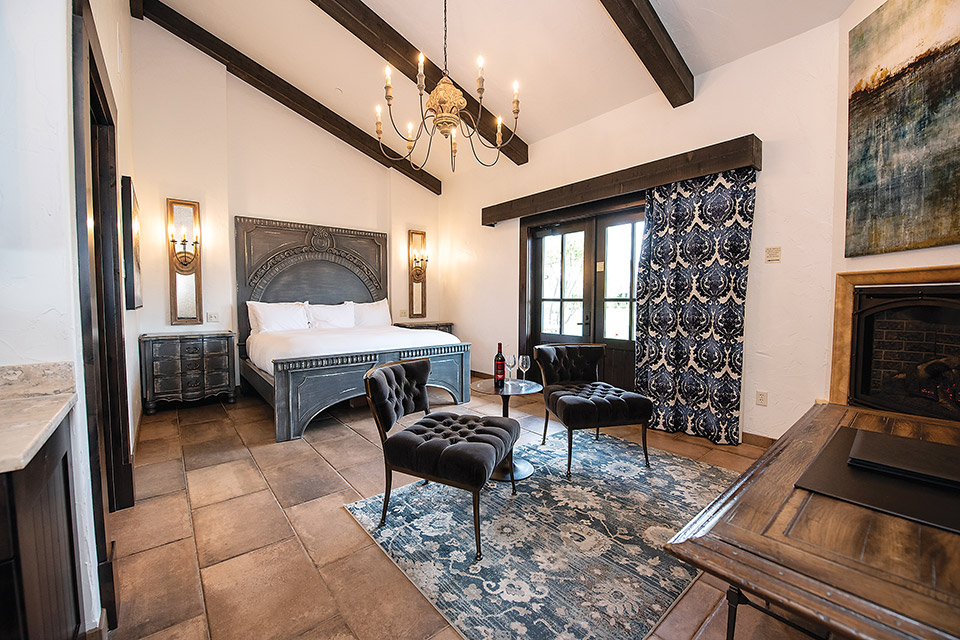 The Crush House offers a two-tiered restaurant and tasting room with glass walls looking into the wine-production space. A large bar curves throughout the main floor and balcony seating offers an elevated view of the room. The menu spans sandwiches, pastas and inviting appetizers, like risotto cakes and fresh burrata.

Visitors will also want to visit the Marketplace gift shop and explore the property's pathways that connect the estate's structures with its many natural features: ponds, creeks, woods and vineyards.

"Our motto is 'Celebrate life,' " says Swaldo. "We want guests to feel they've escaped somewhere special."

1700 E. 55th St., Canton, 330/497-1000, gervasivineyard.com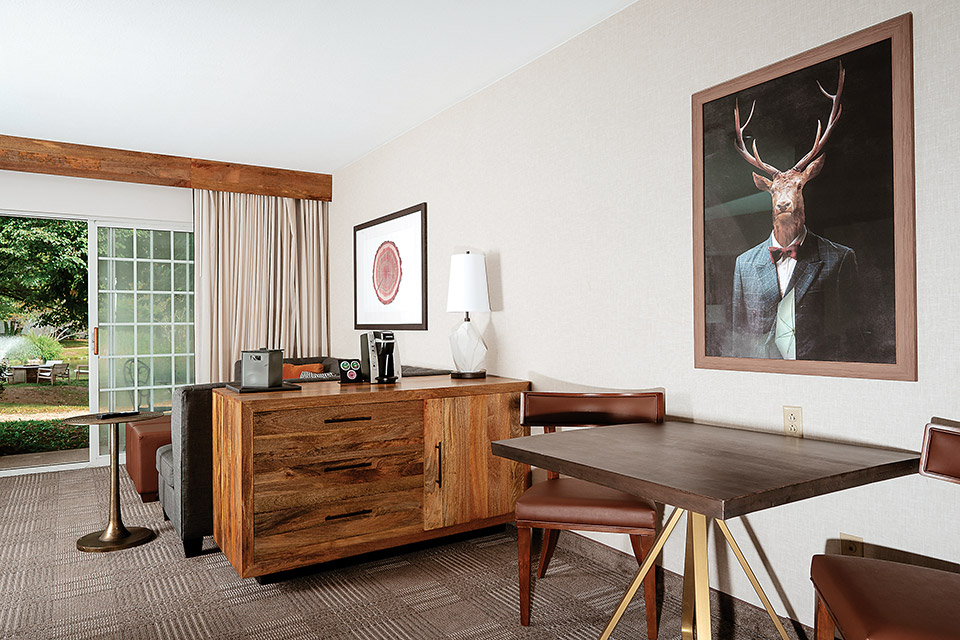 Cherry Valley Hotel
This Newark property underwent a massive $20 million overhaul during 2019 that has remade it into a nature-focused getaway perfect for families and couples alike.
Newark's Cherry Valley Hotel embraces the hues and shapes of nature. From its curving, color-coded hallways with names like the Red Hare and the Jade Owl to its alcoves with cozy chairs, the place marries a modern flair with a lodge-like feel. Edison bulbs glow softly in the lobby chandeliers and two fireplaces blaze across from each another — one powered by gas, the other offering the pleasant aroma of a wood fire.

First built as a conference center in the early 1990s, the property underwent a $20 million overhaul during 2019. The result is a modern destination with event, dining and relaxation spaces. The most notable landmark from the property's past, the CoCo Key Water Resort, is now the 45,000-square-foot Ohio Event Center.

"We're not your cookie-cutter hotel," says general manager Brian Black. "There's nothing like it in the area. … You can come out and let your kids swim, maybe have dinner and a couple cocktails."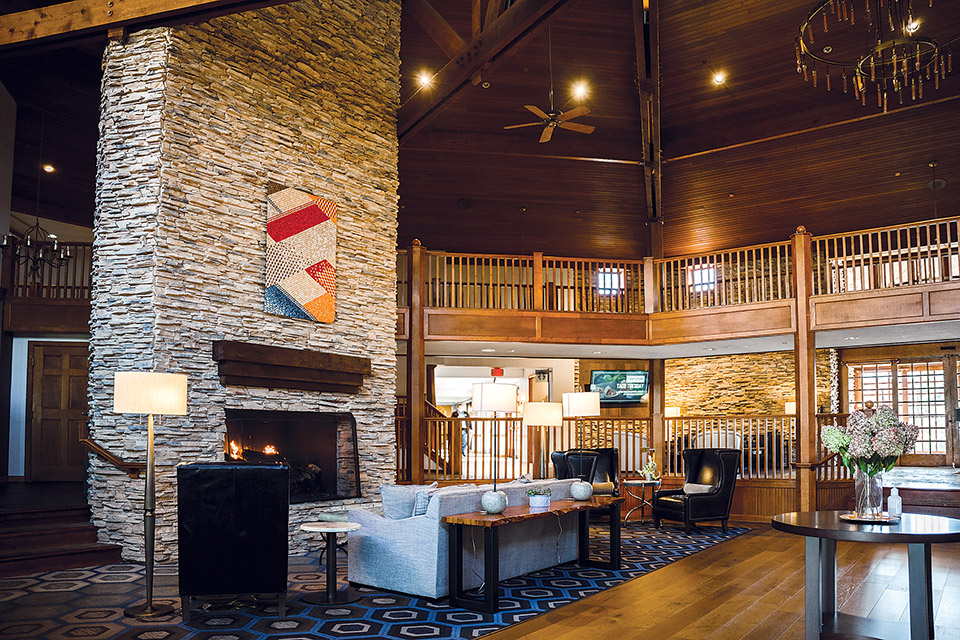 Cherry Valley Hotel's guest rooms are appointed in comforting creams, browns, blues and grays. As if to remind you not to take your stay too seriously, rooms feature formal portraits of deer dressed in suits. Many of the hotel's rooms and suites, as well as its indoor pool and hot tub, face the property's central courtyard. More aptly named an arboretum and botanical garden, the space has ample seating as well as a pond, gazebo and fire pit. A stone path winds around the courtyard, and string lights illuminate the space once evening falls. Scheduled to open late spring 2021, the hotel's renovated spa will provide additional on-site comforts like massages, facials, manicures, pedicures and more.

"We're creating a one-stop shop, to be able to come in and get a couples massage or a wrap, then have dinner," Black says. "We love having the spa for brides and bridesmaids to get their makeup done, or have a massage the day before the wedding."

When it is time to eat, Cherry Valley Hotel has a variety of options. The Granville Pantry offers a full-service coffee and tea counter with snacks, fruit and breakfast sandwiches, while the casual Lobby Bar serves a pub menu ranging from fish and chips made with Lake Erie walleye to wings and Cuban sandwiches.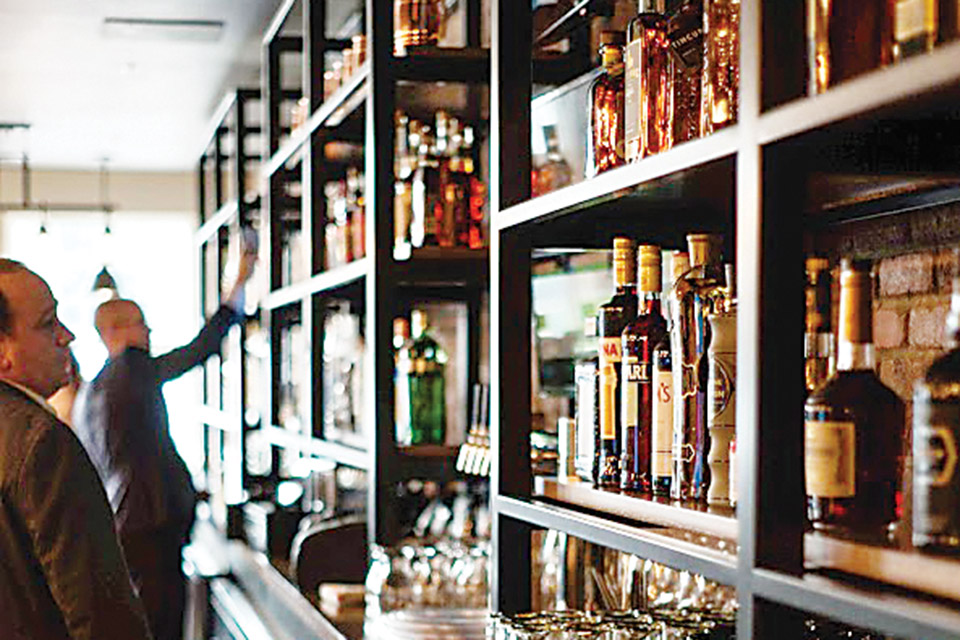 The Craftsman Kitchen & Terrace, located directly off the lobby and featuring a full bar, blends dark wood accents with the bright openness of an expansive courtyard patio. In warmer weather, sliding windows fold open onto the terrace. The restaurant's lineup of elevated American fare spans burgers and pizzas to freshly made pastas and filet mignon.

Located next to the entrance to the Ohio Event Center, the one-room O&E Taphouse — named for the Ohio & Erie Canal that once crossed Licking County — sports a light-industrial vibe, with a brick-lined bar, metal fixtures and exposed bulbs glowing overhead. It serves up bar snacks like pork belly sliders and pepperoni flatbreads alongside cocktails, wine and a selection of 15 beers with an emphasis on Ohio brews.

"It's such a unique property," says Black. "We get more and more calls from locals who just want to get away for a day or two. We're trying to be that getaway not far from home."

2299 Cherry Valley Rd. SE, Newark 43055, 740/788-1200, cherryvalleyhotel.com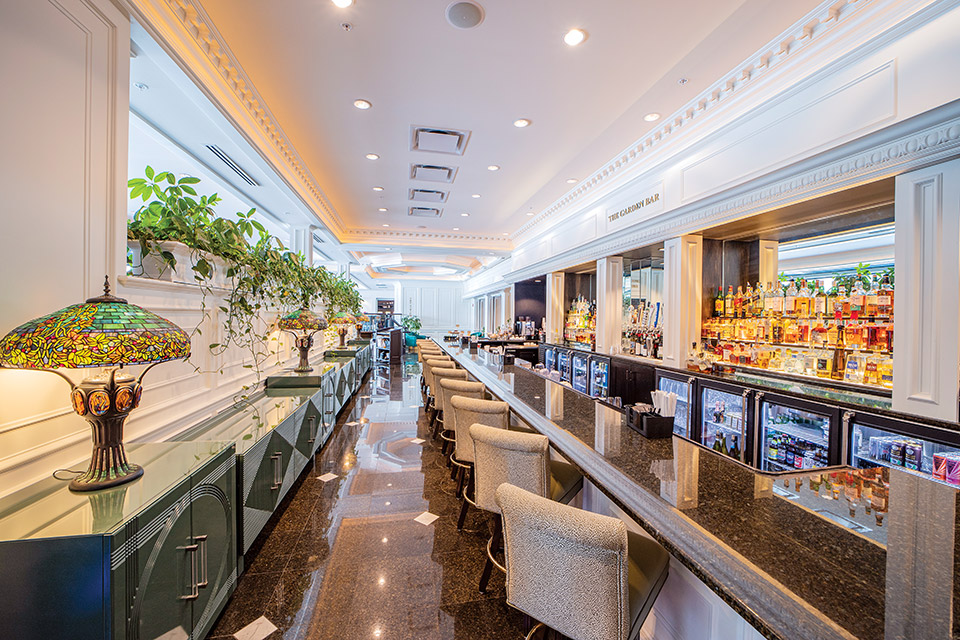 The Grand Resort
A massive $30 million renovation of this Avalon Golf & Country Club property brings a wealth of on-site offerings and experiences, whether you want to be active or pampered.

Just past The Grand Resort's lobby and through the wine bar's wall of glass doors, steam rises off the blue-lit Roman bath. The 20-by-40-foot outdoor pool is always heated to a therapeutic 90 degrees, practically inviting guests to take a dip.

"It's heated to the perfect temperature," says general manager Kelli Denman, "and open year-round."

The 132-room hotel, part of the Avalon Golf & Country Club group and formerly known as the Avalon Inn, changed its name to The Grand Resort in 2019 to reflect such upgrades. CEO Ron Klingle has invested more than $30 million in the Warren property since taking ownership in 2014. Renovations include an expanded lobby and the addition of the Atrium restaurant, a wine bar, a full-service spa, the Roman bath, a resort pool, and a cigar store and smoking lounge. (A med spa is scheduled to open later this year.)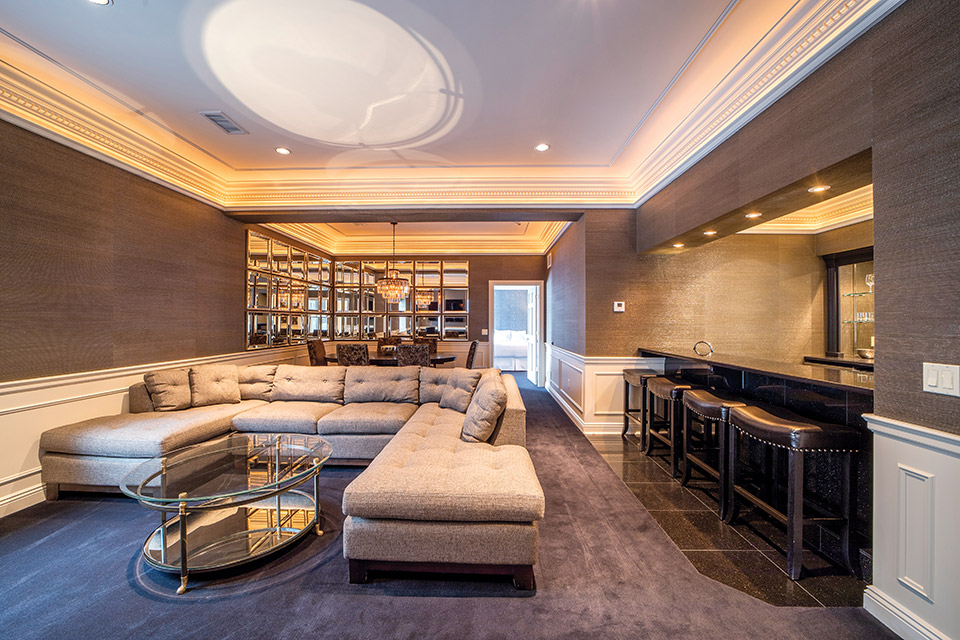 Guest rooms were part of the renovations, too — each with simple, inviting decor in warm neutrals and metallics. The Grand Resort offers 16 room types to choose from, including multiple suite options that feature a wine refrigerator, an extra half bath, a seating area and a kitchenette.

The centerpiece of the property is the outdoor pool complex, surrounded by a white colonnade and a tiered veranda with three private cabanas and the Roman bath at the heart of it all. The resort's country club affiliation also provides access to four golf courses, including Avalon Lakes — all within a 40-minute drive and accessible via free shuttles. There is also a golf simulator for off-season visitors, an indoor pool, a recreation center and indoor tennis and racquetball courts on the property.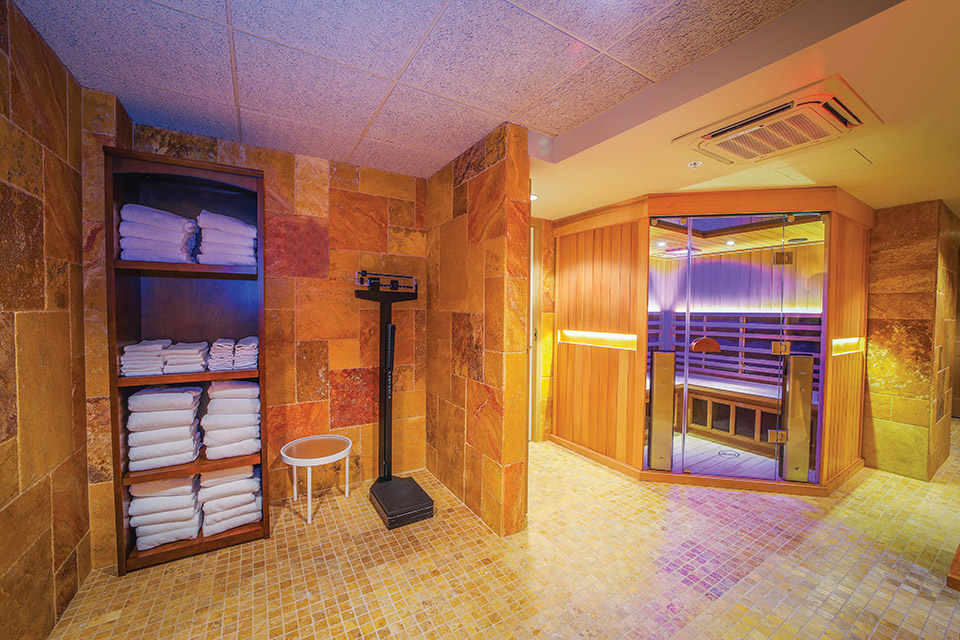 The new Grand Spa & Salon is a welcome respite for guests seeking rejuvenation. Wrap yourself in a robe and enjoy a glass of wine or complimentary refreshments in the candle-lit relaxation area while you await your services. Offerings include traditional facials, massages, and hair and nail services, as well as specialty treatments like the Vichy shower — a horizontal, eight-head shower experience combining full-body exfoliation and massage, designed to detoxify and revitalize your skin. A private spa suite with a whirlpool and fireplace is available for overnight or daytime accommodations.

When it's time for a meal, on-site options range from casual to fine dining. Choose Gatsby's for classic American-style fare and craft cocktails in a mahogany dining room setting. The Garden Bar, The Lobby Bar and The Pool Patio menus offer bar bites, salads, burgers and pizzas, as does The Atrium, which also serves a range of entrees. The Wine Cellar features tapas and a wine-on-tap system that affords wine connoisseurs the chance to sample one- or three-ounce pours of high-end wines.

"We're finally ready to showcase ourselves to the community, showing we have it all right in a lot of people's backyards," says Denman. "We're hoping we'll become someone's perfect little vacation spot."

9519 E. Market St., Warren 44484, 330/856-1900, thegrandresort.com