Travel
| Amish Country
Ohio's Amish Country: 6 Counties to Explore this Season
Eat, shop and get away from the hustle and bustle by visiting these six picturesque Ohio counties that offer a taste of rural living.
March/April 2022
BY Lisa Galek | Photo courtesy of Holmes County Chamber of Commerce & Tourism Bureau
March/April 2022
BY Lisa Galek | Photo courtesy of Holmes County Chamber of Commerce & Tourism Bureau
HOLMES COUNTY

Considered the heart of our state's Amish Country, Holmes County is home to the second-largest Amish population in the United States, making it a popular destination for travelers hoping to learn more about a simpler way of life.

"It's very tranquil and peaceful," says Ruth Schlabach, owner of Sheiyah Market in Berlin. "People feel like they can slow down in Holmes County."

A favorite place to stay in the area is The Barn Inn Bed and Breakfast in Millersburg. This historic barn turned resort is the perfect place to enjoy a quiet weekend away from it all. For breakfast, guests feast on a four-course, chef-prepared meal made each morning with locally sourced foods and some Amish-inspired recipes. Accommodations range from a standard room to a luxurious king suite with a fireplace and Jacuzzi.

For owners Gene and Michelle Rowland, who took over in 2017, The Barn Inn Bed and Breakfast is more than a place to sleep — it's an experience. They can help visitors plan excursions into Amish Country or just stay indoors and enjoy some quiet time at the inn.

"Our guests come here to get away from a lot of the noise that's going on right now in the world," says Gene Rowland. "They get refreshed and renewed."

A 10-minute drive away, Sheiyah Market in Berlin is a must-shop location for visitors to Holmes County. The space was originally a working dairy barn but was converted into a smaller shop in 1988. Today, it is a 55,000-square-foot shopping complex featuring four unique stores. Sheiyah Style Boutique offers clothing and accessories. The Village Gift Barn features transitional home decor, while Country Gatherings focuses on primitive and farmhouse home decor. Finally, The Gardens carries houseplants and everything you need to decorate outdoors. Travelers can also grab a cappuccino or smoothie at the new Buggy Brew Coffee Co. The sprawling campus offers beautiful outdoor spaces with scenic views, quaint walking paths and family-friendly play areas. Despite its size, Sheiyah is known for its outstanding customer service.

"Our designers will work with you," says Schlabach. "They'll help you decorate your mantel […] or put together an outfit for a special event."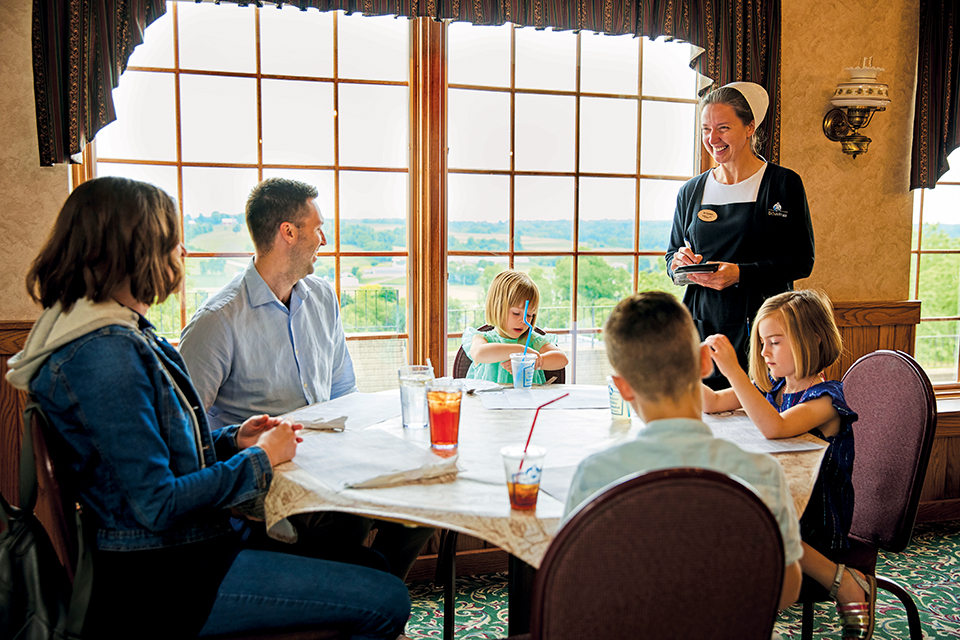 Another 10 minutes of travel east on state Route 39 brings you to Der Dutchman in Walnut Creek. The same Mennonite family has owned this chain of seven restaurants since 1969. The Walnut Creek location is the original flagship restaurant, and it seats over 400 guests. Diners can expect genuine Amish kitchen cooking in a homey, rural setting with lots of natural light streaming in through the windows.

"There's this wonderful view of the valley to the north," says Vicki VanNatta, public relations coordinator at Der Dutchman. "Many people come, and they want to sit by the windows to see that beautiful view."

As far as food, the broasted chicken is a home-cooked favorite because it's breaded and pressure-fried to give it a tender, crispy taste. Pies, cookies and cake rolls are bakery bestsellers, too. Der Dutchman also has locations in Berlin and Sugarcreek.

• Sheiyah Market: 4755 St. Rte. 39, Berlin 44610, 330/893-2648, sheiyahmarket.com
• The Barn Inn Bed and Breakfast: 6838 County Rd. 203, Millersburg 44654 330/674-7600, thebarninn.com
• Der Dutchman: Various locations, dhgroup.com

Stop Here, Too!
From stylish furniture to fun farm animals, here are some other great Holmes County spots.

Amish & Mennonite Heritage Center: Visit to learn about the faith, lifestyle and culture of the area's Amish and Mennonite communities. Docent-led tours happen every 30 minutes. 5798 County Rd. 77, Millersburg 44654, 330/893-3192, behalt.com

Boyd & Wurthmann Restaurant: What began as a small grocery store in the 1930s now houses a home-style restaurant. Be sure to order a slice of pie. 4819 E. Main St., Berlin 44610, 330/893-4000, boydandwurthmann.com

Hershberger's Farm and Bakery: It is a bakery, produce store and market, too, but the fun (and adorable) farm animal petting area shouldn't be missed. 5452 St. Rte. 557, Millersburg 44654, 330/674-6096, hershbergersfarmandbakery.com

Holmes County Open Air Art Museum: Walk the Inn at Honey Run's 1-5.-mile nature trail that showcases art installations that are nestled within the natural environment. 6920 County Rd. 203, Millersburg 44654, 330/674-0011, innathoneyrun.com

Homestead Furniture: Visit the Hershberger family's beautiful showroom and work with designers to create a stylish piece for your home. 8233 St. Rte. 241, Mount Hope 44660, 866/674-4902, homesteadfurnitureonline.com

***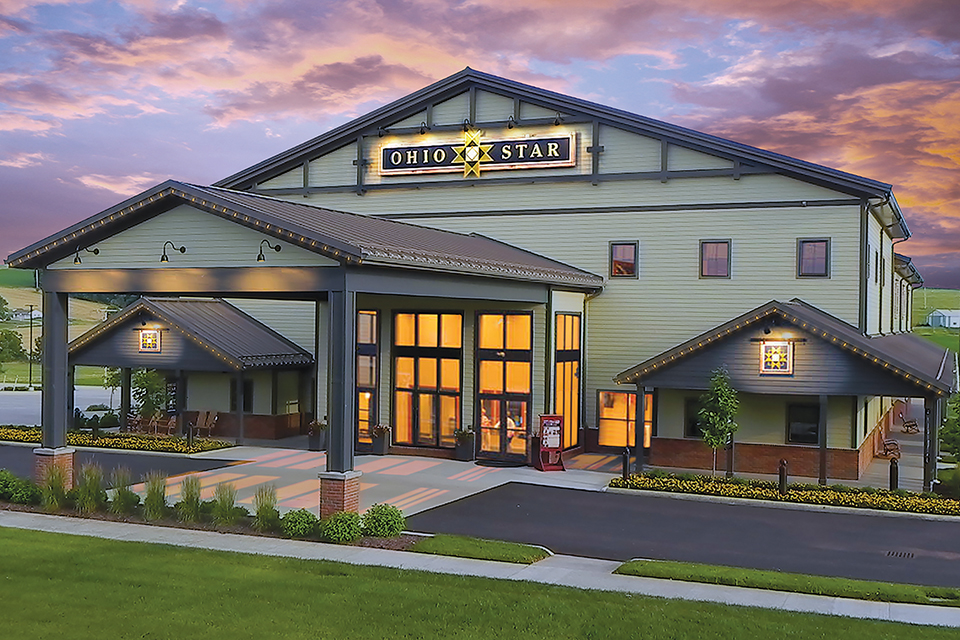 TUSCARAWAS COUNTY

Bordering Holmes County on the east, Tuscarawas County and its town of Sugarcreek draws travelers who are interested in visiting "Little Switzerland of Ohio." Settled by Amish families as well as Swiss and German immigrants, cheesemaking was a way of life here, giving the town its distinctive Alpine-style appearance and nickname.

Broad Run Cheesehouse just outside Sugarcreek has long been known for its cheese and remains a family-owned and -operated business. Visitors can also stop by the adjacent Han's Place, named in honor of cheese house founder Hans Schindler. The winemaking facility, tasting room and cafe offers a large outdoor patio and boardwalks that climb the hillside to seating areas.
Just 2 miles west, travelers will find Der Dutchman's Dutch Valley campus. The destination provides the opportunity to eat, shop, relax and be entertained. In addition to Dutch Valley Restaurant, Dutch Valley Market and Dutch Valley Gifts, the site is also home to the Carlisle Inn Sugarcreek and the Ohio Star Theater. The theater offers a lineup of family-friendly stage productions and musical acts throughout the year. Broad Run Cheesehouse: 6011 Old Route 39 NW, Dover 44622, 330/343-4108, broadruncheese.com; Dutch Valley: 1343 Old Route 39, Sugarcreek 44681, dhgroup.com; For information about other destinations in Tuscarawas County, visit traveltusc.com.

***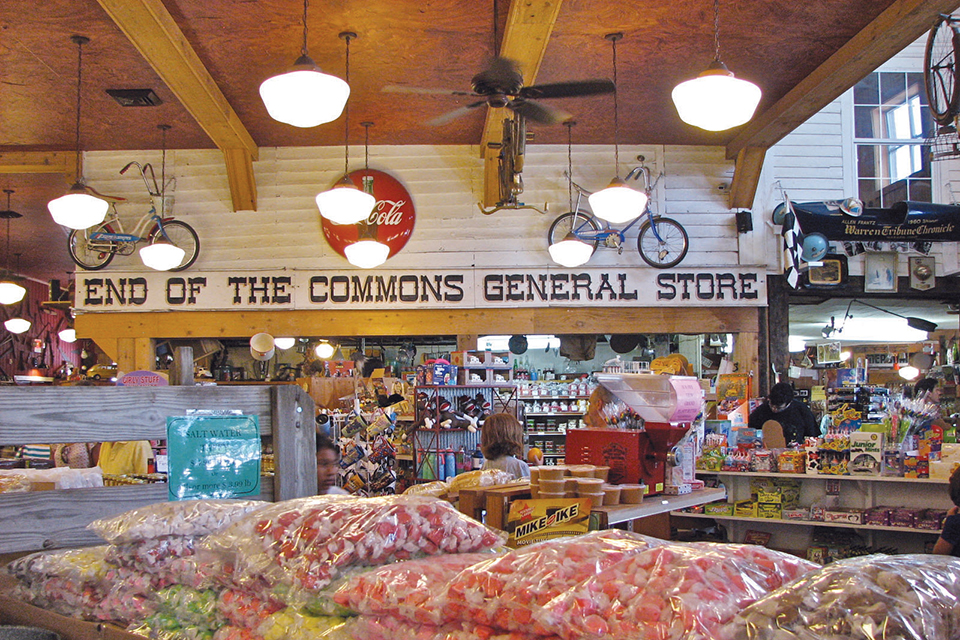 TRUMBULL COUNTY

Located on the northeastern edge of Ohio, Trumbull County's rural areas include the small pre-Civil War town of Mesopotamia, located near the Geauga County border. The area is home to some folks from the Middlefield community, the world's fourth-largest Amish settlement.

"It's a historic village," says Patty Krejca, owner of Between Two Rivers Trading Co. in Mesopotamia. "There's a lot of different landmarks and a cemetery with some unusual tombstones."

Visitors to Between Two Rivers Trading Co. shouldn't expect a traditional consignment shop when they walk inside. Instead, the eclectic store features work by over 50 local artisans and craftspeople. The business opened in 2014 with just eight artists displaying their work. Today, customers can shop for interesting items like restored stained glass lamps, soaps and candles made by local artisans or live-edge wood furniture.

"We have unique items. Most of it is one of a kind," says Krejca. "Because we're all working artists, if somebody wants something in a different color — in jewelry or beads or stained glass — we can make it for them." Pets are welcome to come inside, too. Ask to see Tom Tom, the store cat, when you stop in to visit.

Nearby at End of the Commons General Store, travelers can enjoy a pleasant trip down memory lane.

"We're the oldest continuously operating general store in Ohio," says Peter Schaden, owner of End of the Commons. "The general store was built in 1840 and has never closed."

Years ago, locals would come to the store to pick up everything from food to mail. (You could even order a casket.) Today, the top shelves of this 12,000-square-foot shop are filled with nostalgic memorabilia and antiques — 90% of which were sold in the store at one time or another. Customers are drawn to the sentimental feel at End of the Commons General Store, from the creaky wooden floors to the selection of old-time penny candies and glass soda pop bottles. Another bestseller is the handmade fry pies stuffed with fruity fillings and coated in a sweet vanilla glaze.

Want to learn more about Amish daily life while you're in the area? Consider booking a trip with Ridgeview Tours. The operation provides cultural tours for groups of 25 people or more. Go on a guided excursion to experience an Amish wedding dinner or a real buggy ride.

"The number one specialty I have is teaching people about Amish culture," says Sharon Grover, owner of Ridgeview Tours. "People really appreciate learning about a culture that's actually in the United States, maybe an hour drive from their house."

Grover has been leading tours more than two decades. She says visitors are most interested in the ways Amish communities live without electricity and Amish schooling, which typically goes up to eighth grade. Ridgeview is also a working, 101-acre farm, but it is only open to the public for limited hours during the strawberry season in June.

• Between Two Rivers Trading Co.: 4367 St. Rte. 87, Mesopotamia 44439, 330/885-0005
• End of the Commons General Store: 8719 St. Rte. 534, Mesopotamia 44439, 440/693-4295, endofthecommons.com
• Ridgeview Tours: 5488 Kinsman Rd., Mesopotamia 44062, 440/221-1441, ridgeviewtours.com

***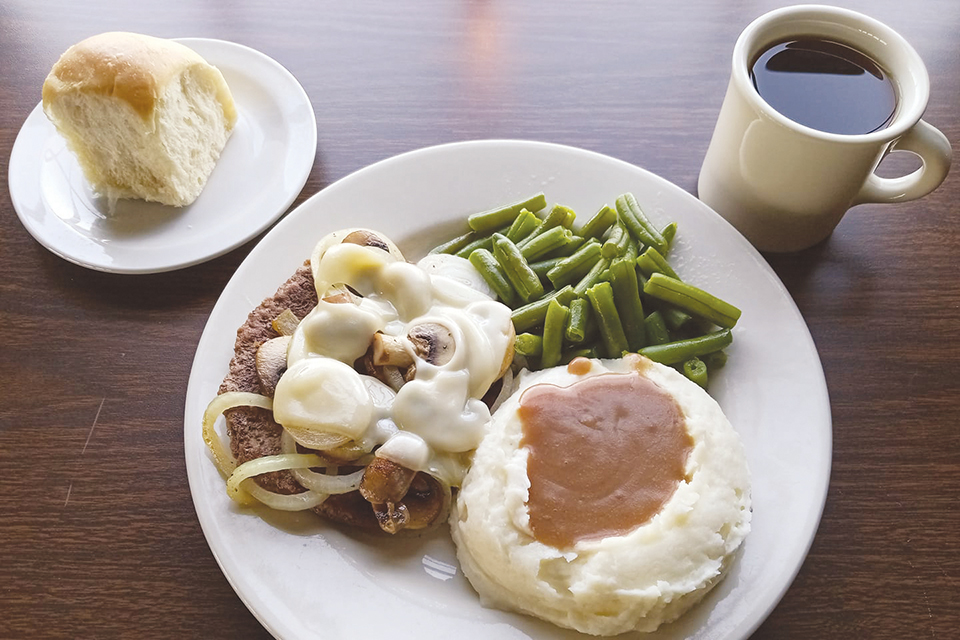 GEAUGA COUNTY

With the fourth-largest Amish population in the nation, Geauga County is home to great food destinations. If you're already visiting nearby Trumbull County (read more on page 129), add these stops to your itinerary since they're just a five-minute drive down the road.

Mary Yoder's Amish Kitchen in Middlefield serves traditional comfort foods at reasonable prices. The place is known for its fried chicken and mashed potatoes. Take home some fresh-baked bread, pies or desserts from the bakery. Or browse the gift shop to find a fun souvenir.

Less than 3 miles down the road at Middlefield Original Cheese Co-Op, shoppers can browse a variety of cheeses at this charming shop and factory in one. Milk is processed into locally made cheeses like Monterey Jack, colby or mild cheddar. The Store also stocks cheese, meats, crackers, nuts, jellies and jams. Mary Yoder's Amish Kitchen: 14743 N. State St., Middlefield 44062, 440/632-1939, maryyodersamishkitchen.com; Middlefield Original Cheese Co-Op: 16942 Kinsman Rd., Middlefield 44062, 440/632-5567; For information about other destinations in Geauga County, visit destinationgeauga.com.

***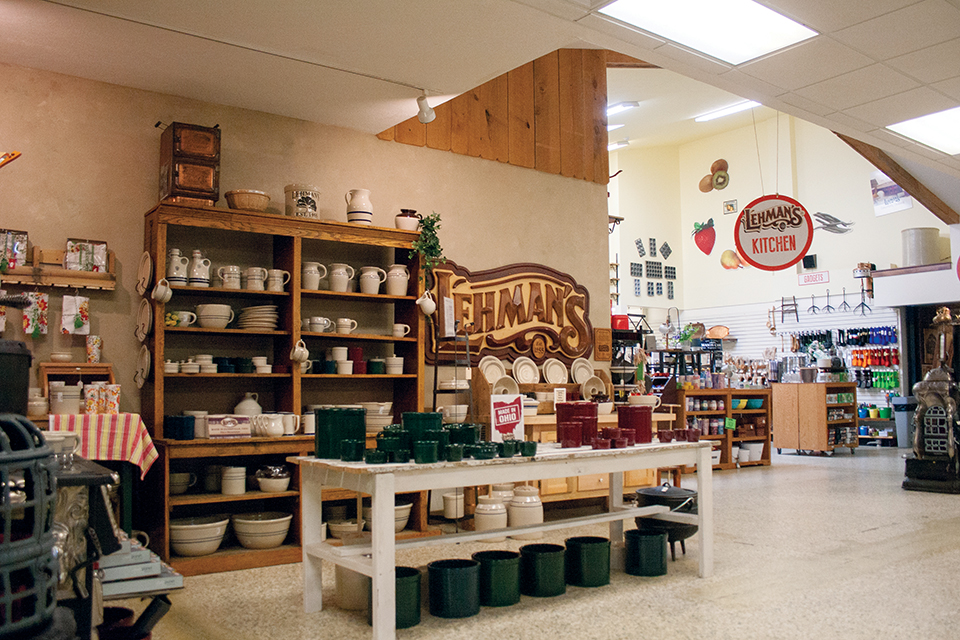 WAYNE COUNTY

Just north of Holmes County, travelers cross into Wayne County, where they can enjoy the sights of rolling hills, picturesque farms and one-of-a-kind locations that make the area a draw for tourists. When traveling through Ohio's Amish communities on the weekends, do keep in mind that most businesses are closed on Sundays.

"They want to give their employees time to go to church," says Glenda Lehman Ervin, director of marketing for Lehman's. "That's just something that's important in this area."

Ervin's farther, Jay Lehman, founded Lehman's in the community of Kidron in 1955. Today, it is a sprawling 40,000-square-foot market that feels like 10 stores in one. Lehman's, which started as a small business serving locals, is dedicated to preserving tools and techniques of the past and now focuses on a wide range of nonelectric items, ranging from gardening supplies to gas-powered refrigerators.

"What we want to do is help customers take the next step on their journey to a simpler life," says Ervin. Customers include those who want to be more self-reliant by learning new skills like soap- or candle-making. Lehman's also offers products for folks who want to depend less on electricity or live off the grid. If you're visiting on a weekend, sign up online in advance for classes on do-it-yourself topics that include cheesemaking and beekeeping. If you're planning to explore the whole complex, expect to spend several hours browsing the store's extensive offerings.

Across the street from Lehman's, enjoy a peaceful getaway at The Storybook Inn of Kidron. This 1900s farmhouse was fully updated and renovated to open for overnight stays in March 2021. The rooms are themed and decorated to reflect favorite stories from childhood, such as The Chronicles of Narnia, Anne of Green Gables and Alice in Wonderland. The space is perfect for large family reunions, family vacations or anniversary getaways.

Visitors rent the entire inn, which sleeps up to 10 people and has a keyless entry. There are three bedrooms and two bathrooms, including a rain shower. The full kitchen has everything you need to prepare a meal during your stay.

"We usually provide a loaf of bread that I get from a local bakery down the road," says Toni Studer, co-owner of The Storybook Inn of Kidron. "Just to give guests a little touch of Amish Country."

Visitors can also relax on the large front porch, which has Amish-made seating and a beautiful view of the road to watch buggies roll past.

Drive 10 minutes north on Kidron Road to U.S. Route 30 and you'll find the Dutch Kitchen in Dalton. The new owners renovated the original 1858 Victorian-era restaurant, giving the interior a modern farmhouse-style makeover. With the updates, visitors will find an expanded buffet with double the space for hot soups and fresh salad bar options. The restaurant still offers all your favorite comfort foods in a family-friendly setting.

"We've got home-cooked type foods," says Delight Howells, director and owner at Dutch Kitchen. "It's something people crave but don't really make so much anymore at home."

• Lehman's: 4779 Kidron Rd., Kidron 44618, 800/438-5346, lehmans.com
• The Storybook Inn of Kidron: 4680 Kidron Rd., Kidron 44618, 330/828-1126, thestorybookinnofkidron.com
• Dutch Kitchen:14278 Lincoln Way E., Dalton 44618, 330/683-0530, dutchkitchen.net

Stop Here, Too!
From jams and jellies to pies and cakes, here are a few other great Wayne County spots.
J.M Smucker Co. Store & Cafe: Step inside the white wooden barn and browse a variety of Smucker's fruit spreads, peanut butter, kitchen accessories, apparel and custom gift baskets. 333 Wadsworth Rd., Orrville 44667, 330/684-1500, jmsmucker.com

Troyer's Home Pantry: Dating back to the early 1960s, this bakery and coffee shop makes tasty pies, rolls, cakes, cookies and breads. Wooster and Apple Creek locations; troyershomepantry.com

Marshallville Packing Co.: Choose from a line of old-world sausages and meats, including fresh locally raised beef, pork and chicken, at this family spot founded in 1960. 50 E. Market St., Marshallville 44645, 330/855-2871, marshallville-meats.com

***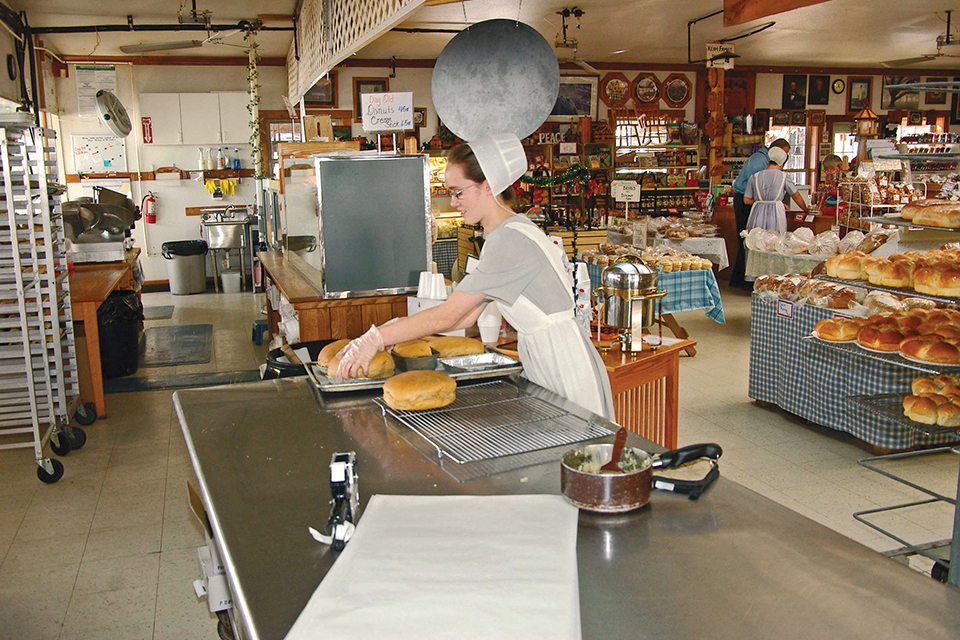 ADAMS COUNTY

Near the southwest border of Ohio, Adams County is home to the Wheat Ridge Amish community. When Amish families first settled in the Appalachian foothills of southern Ohio in the 1970s, they opened several stores that would eventually become must-visit local attractions.

Miller's Bakery, Furniture and Bulk Foods in West Union features three large buildings where travelers can browse for a little bit of everything. Miller's furniture store covers 34,000 square feet and offers traditional Amish-built furniture, from solid oak and cherry tables and chairs to quilt racks and bread boxes. The bakery features treats such as fruit pies, fresh breads and turnovers. Customers can shop for favorites like deli sandwiches and Amish steel-cut oats in the bulk foods area.
Just 15 minutes away is Yoder's Furniture, Bakery and Bulk Foods (formerly known as Keim Family Market and Deli) in Seaman. While this market is a bit smaller than Miller's, it has a little bit of everything. It's a great place to enjoy a deli sandwich or some fresh baked goods. In addition, Yoder's offers an excellent selection of outdoor furniture, including Adirondack chairs, wooden sheds and play sets. Miller's Bakery, Furniture and Bulk Foods: 960 Wheat Ridge Rd., West Union 45693, 937/544-8524; Yoder's Furniture, Bakery and Bulk Foods: 2621 Burnt Cabin Rd., Seaman 45679, 937/386-9995; For information about other destinations in Adams County, visit adamscountytravel.org.