Travel
| Amish Country
Mrs. Yoder's Kitchen, Mount Hope
Gloria Yoder opened this popular spot in 1994, drawing Amish regulars and tourists alike with a menu of time-tested classics and creative new dishes.
September 2017
BY Rich Warren | Photo by Cody York
September 2017
BY Rich Warren | Photo by Cody York
As you enter Mrs. Yoder's Kitchen, take note of how both Amish straw hats and baseball caps hang side by side near the door. It's a small detail but a telltale one, a perfect illustration of how both Amish and "English" folks flock here by the hundreds to enjoy cuisine that itself is also a blend of both Amish and non-Amish offerings.
The traditional Amish fare on the menu includes fried chicken and beef pot roast — the latter seasoned and roasted all night on low heat. There's also Wedding Steak, a local favorite made of hand-formed and lightly browned ground beef baked in a mushroom sauce.
The produce used to make stuffed peppers, tomato salad and broccoli slaw couldn't be fresher. After all, it's purchased just down the street at the Mount Hope produce auction. And of course, all kinds of fresh pies are on hand, with the peach, blackberry and blueberry flavors of summer soon to give way to fall favorites such as pumpkin custard.
But take a closer look at the buffet, and you'll find a variety of items not typically found in other restaurants in the area: think bourbon short ribs and Japanese-style chicken thighs.
The fare on the lunch and dinner buffets changes daily depending on the mood of the cook, and the surprises include seasonal specialties like dandelion gravy over mashed potatoes, served with a hard-boiled egg. It's so popular that people call from out of state to see when it's offered.
Of course, the buffet is just one option. There's a whole menu of other selections, and be forewarned, the sheer variety of tasty food at Mrs. Yoder's Kitchen ensures a dining room that's often filled to capacity.
But here's a secret: If you don't mind dining with others, you can frequently be seated in the corner at The Local Table, where you could rub elbows with everyone from Mrs. Yoder's sister-in-law to a truck driver from Minnesota to an usher at Progressive Field in Cleveland. Many days, you may even meet Gloria Yoder herself, who has operated the restaurant since it opened in 1994 and is the brains behind its culinary concoctions.
"I was always interested in cooking. My mom was a meat and potatoes kind of cook, but I wanted to try new things all the time," Yoder explains.
Raised in Mount Hope, where she was one of the few "English" students in the largely Amish elementary school, she loved the mix of cultures inside her community and always hoped to open a restaurant there.
"When we opened, they called me a crazy woman to build such a large restaurant in such a small town, but now we pack them in from near and far," she says.
Yoder shudders when she recalls some of the cooking mishaps of her early years, like flavorless grilled chicken breasts and mashed potatoes with huge lumps. But she and her dozen or so cooks have refined recipes over the years to make sure every one of them now has just the right touches of flavor — like the wee bit of cheese that's used to thicken the restaurant's potato soup. Yoder listens to her patrons, too.

"A lot of the dishes on our menu are there because customers asked for them," she says.
Yoder is always looking for new ideas, either at local potlucks or from customers who often send them to her unsolicited.
"If you send me a recipe and I end up using it, I'll give you a free meal," she says with a chuckle. But with her flair for culinary experimentation, don't be surprised if Yoder's version of your dish is better than your own. Mon.–Sat. 7 a.m.–8 p.m.; 8101 St. Rte. 241, Mount Hope 44660, 330/674-0922, mrsyoderskitchen.com


ORDER THIS
We asked Gloria Yoder to share some of her customers' favorite dishes.

Mrs. Yoder's Chicken
Breaded and deep-fried in a pressure cooker, this chicken features top-secret spices that keep customers coming back. Want to know what they are? "Come work in our kitchen," Yoder says.
Cabbage Casserole
Yoder refers to this dish as a "happy accident," and it's a recipe that has evolved over the years. The dish is basically steamed cabbage with a blend of sauces and spices that — you guessed it — are also a carefully guarded secret.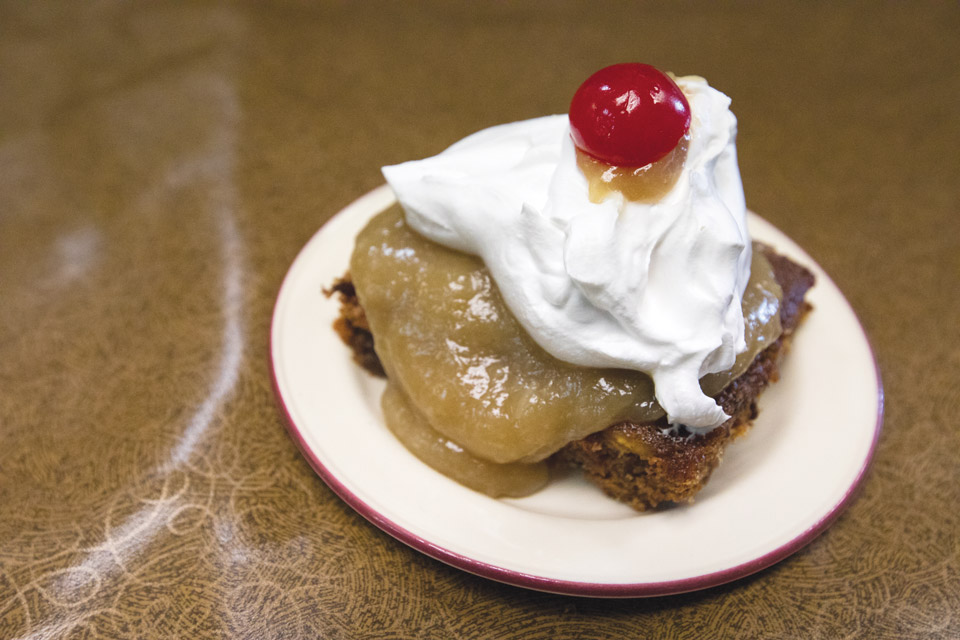 Date Nut Pudding
Yoder says she had to decipher the "pinches of this and bits of that" in her grandmother's original recipe for this dish that's served with brown sugar sauce and real whipped cream. "No calories, of course," she adds.