Travel
| Amish Country
25 Places to Go in Amish Country
From markets to restaurants to shopping, check out these 25 must-visit spots in Ohio's Amish Country.
September 2016 Issue
BY Staff & Contributors | Photo by Thom Sivo
September 2016 Issue
BY Staff & Contributors | Photo by Thom Sivo
Breitenbach Wine Cellars
This winery in the rolling hills of Tuscarawas County offers a quaint rural respite.

Visitors first spot Breitenbach Wine Cellars' purple barn peeking through the trees as they traverse Old Route 39, a twisting country road that carries them toward Duke Bixler's charming European-style winery.

"Our heritage is German — the name 'Breitenbach' is the name of the stream that runs through our farm, and it means bright or broad stream," says manager Anita Davis, Bixler's daughter. "We just wanted it to be similar to what people would find in Germany."

The "Der Marktplaz" sign above the door greets visitors to a store stocked with more than two dozen red, white and fruit-based wines, which are cold-fermented in the traditional German style. Although Roadhouse Red — a sweet red made from a blend of American and French hybrid grapes — remains a staple, the Dandelion Wine is an annual favorite.

Crafted from Davis' great-grandmother's recipe, the wine involves an extensive creation process. Dandelion blooms are harvested in early April and soaked in hot water to create a tea. After the liquid is fermented, honey and citrus are added to deepen the flavor. (Due to its seasonal nature, it's also a wine that is only available for on-site consumption.) "The dandelion wine is very special because there are only a few wineries in the country that make [it]," explains Davis.

Breitenbach Wine Cellars' cafe is open to guests 11 a.m. to 3 p.m. every day except Sunday, and the light menu of salads and wood-fired pizzas are a great lunch option for Amish Country visitors.

"In the beginning, people would just taste, buy a bottle and leave," says Davis. "And now … they stay for a while." 5934 Old Route 39 NW, Dover 44622, 330/343-3603, breitenbachwine.com

***

Swiss Village Bulk Foods
Whether you're looking for freshly ground peanut butter or a bag of cinnamon bear candies, Swiss Village Bulk Foods is the place to fill your pantry. Opened in 1980 by Mose and Erma Miller, the couple's son Dustin now owns the shop, which boasts 3,648 feet of shelf space. In addition to the dry goods, spices, mixes, dried fruit, candies and nuts, the store also sells nitrate-free deli ham, gluten-free products and organic foods. Although Swiss Village Bulk Foods has grown much since its beginnings, one thing has remained consistent: The store offers an average of 12 items to sample daily, from favorites such as apple butter to fresh salsa. "Some people come in and say they had lunch here with our samples," says manager Elsie Hershberger. 309 S. Broadway St., Sugarcreek 44681, 330/852-2896, swissvillagebulkfoods.com

Troyer's Country Market
The roots of Troyer's Country Market reach back to 1959, when Jonas Troyer began selling products out of the back of his station wagon. In 2006, the family opened this market, which sells premium deli meats and cheeses alongside jarred goods bearing the Amish Wedding Foods label. "Pickled beets, bread and butter pickles, any type of pickle [or beet] you'd ever want," market manager Dave Vogt says when discussing the line. "And it is canned in downtown Millersburg." Locally grown produce is another draw here, but Vogt says the market's most popular item is its ice cream. "We make it in the same building we sell it," Vogt says. 5201 County Rd. 77, Millersburg 44654, 330/893-3786, troyerscountrymarket.com

***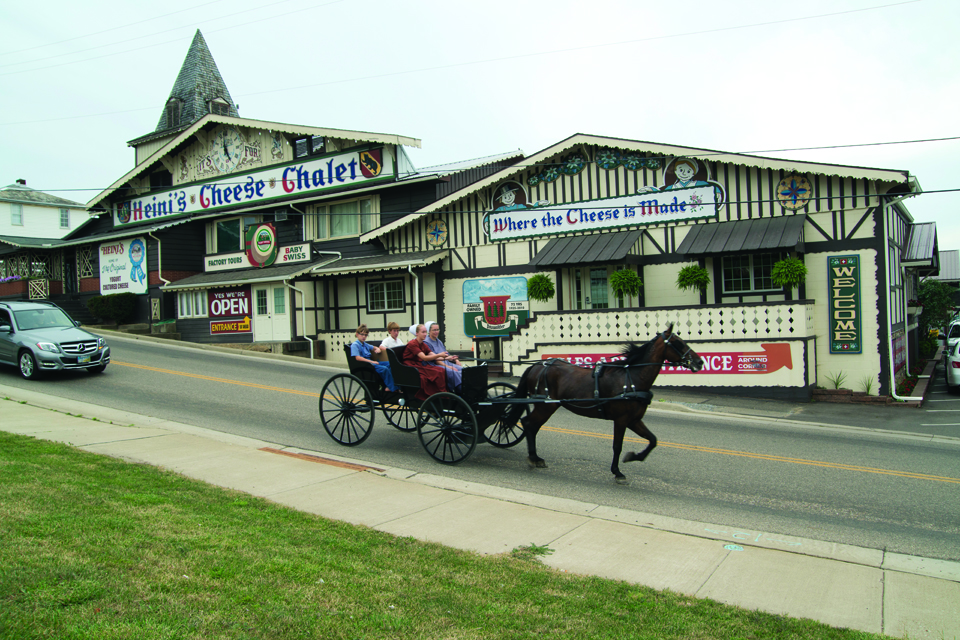 Heini's Cheese Chalet
A trip to this Holmes County landmark is a must for the cheese lovers in your life.
Bombay Curry and Ghost Pepper are not your usual cheese flavors, but visitors can find them among the dozens of creative and quirky varieties at Heini's Cheese Chalet. From staples such as Country Gold Colby to delicacies like White Cheddar Blueberry, rows of cheeses fill the tasting room, and visitors can try most of them before buying.
"Cheese is such a good platform for different flavors from cultures all over the world," says co-owner Lisa Troyer.
Over the years, Heini's has prided itself on creating award-winning cheeses. The Lacey Baby Swiss remains a best-seller, while the Smoked Salt Yogurt Cultured Cheese was crowned the Ohio State Fair Reserve Champion over the summer. You can try the variety at the chalet, where the rows of cheese cases include bowls filled with tiny cubes that customers are invited to sample.
"When you're introducing new items, you need to be willing to share an experience with people," says Troyer.
Visitors can learn about and observe the cheese-making process on weekday mornings except Wednesday, and a massive mural that spans the length of one of the chalet's walls traces the history of cheese over the course of human history. But the samples are what have folks lined up with toothpicks in hand.
"It's all about having a lot of fun with food," says Troyer, "and there's a real fellowship basis for it, because when people get together to enjoy each other's company, food is always such a big part of that."
6005 County Rd. 77, Millersburg 44654, 330/893-2131, heinis.com

***

Coblentz Chocolate Co.
Rows of hand-dipped truffles, caramels and clusters fill the Coblentz Chocolate Co.'s elegant, Victorian-style storefront. Since 1987, the Coblentz family has embraced the Amish culture's emphasis on home and faith to grow their small business into a thriving operation. "If we can educate the customer in some small way about how chocolate is made or where it comes from, that's our goal," says owner Jason Coblentz. Guests can watch the chocolate-making process in the viewing gallery, and kids can stay busy in the play space. Candy offerings rotate with the seasons, with pumpkin commanding autumn and peppermint reigning over winter. Delectable creations such as sea-salt-chocolate-covered caramel put a new spin on old favorites, but the shop's hardwood candy cases and tin ceiling serve an air of nostalgia with your candy fix.
4917 Walnut St., Walnut Creek 44687, 330/893-2995, coblentzchocolates.com
Guggisberg Cheese
From the architecture to the cuckoo clocks for sale, this shop pays homage to the Swiss heritage of founder Alfred Guggisberg, who came to the U.S. and opened his shop in 1950. He developed his famous Baby Swiss — a cheese that is milder than traditional Swiss cheese — during the 1960s. However, Guggisberg's Premium Swiss has been garnering accolades as of late, taking first place in the "rindless Swiss-style cheese" category at the 2016 World Championship Cheese Contest in Madison, Wisconsin. If one of the many cheeses doesn't tempt you, the shop also stocks Swiss-themed T-shirts, deli meats and candies.
5060 St. Rte. 557, Millersburg 44654, 330/893-2500, babyswiss.com
Miller's Bakery
The aroma of fresh cookies and tarts lingers in the breeze outside Miller's Bakery, making your arrival at this out-of-the-way spot a little sweeter. Inside the small bakery, breads, pies, candies and dried noodles line the shelves, and apple fritters and raisin bars pack the bakery cases alongside oversize cookies in flavors such as molasses and snickerdoodle. Seven varieties of cheese tarts get a case of their own, and all of the shop's baked goods are made fresh six days a week. "We mix everything by hand in order to keep the home-style tradition — the flavor, the texture," says owner Jonas Miller. "If you do it by hand, every product, every cookie is different because it's from scratch."
4280 Township Rd. 356, Millersburg 44654, 330/893-3002
***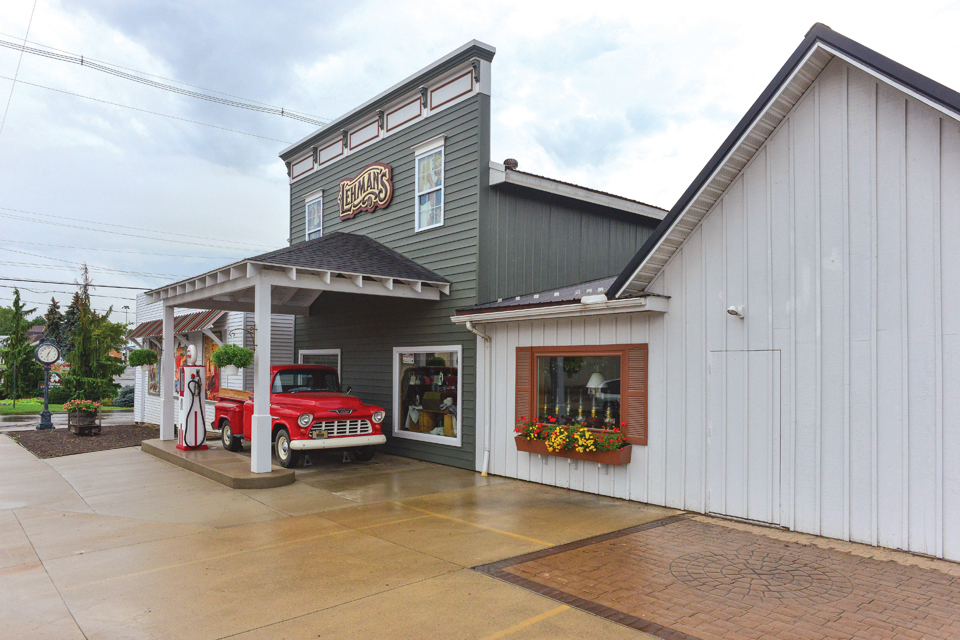 Lehman's
For more than 60 years, Lehman's has embraced simpler times with a hardware store filled with nonelectric items.
In 1915, A.B Sommers opened his Kidron, Ohio, store stocked with a variety of items that didn't require electricity. Four decades later, Jay Lehman bought the business and featured products that the local Amish community needed to maintain their lifestyle.
"If there are no butter churns, then nobody is churning butter," says Glenda Lehman Ervin, Jay's daughter and Lehman's vice president of marketing. "He also really appreciated the simple, reliable solutions the products provided."
As other shops of the time similar to Lehman's began selling more modern products, Jay stayed with his original concept, which carried him through the decades to follow. Today, Jay is still very involved with the store's day-to-day operations, and the business has grown into a Wayne County destination. It stocks an incredibly diverse array of old-fashioned products. (Yes, you can even still buy a butter churn.)
But whereas the customers during the 1950s were more frequently Amish families, today the store caters to people intrigued by the wares but often unfamiliar with them. "Who is left to teach these skills that have lasted hundreds of years but places like Lehman's?" says Glenda.
Many visitors arrive from out of state, and even for those who make the trip via tour bus, the store stocks products such as nostalgia candies and Amish baskets that are easy to transport. With the store's exposed wooden beams and nearly quarter-mile-long series of showrooms that lead guests from the kitchen to the toy section to the workshop, just visiting is an experience.
"It's what you would expect from an old-time general store located in the largest Amish community in the world," says Glenda.
4779 Kidron Rd., Dalton 44618 (GPS directions), 800/438-5346, lehmans.com

***
The Original Holmes County Flea Market
Celebrating nearly 30 years in Holmes County, the first incarnation of this flea market was located in Walnut Creek before moving to Berlin in 2009. The new, 50,000-square-foot market is filled with 300 vendor spaces and local products are favored, with goods ranging from flavored pork rinds to leather wallets. "A lot of what you might be looking for in Holmes County, you can get right here," says manager Andrea Fowler. Visitors can munch on Auntie Anne's pretzels or Omahoma Bob's Barbeque while taking in the food court's mural featuring scenes from the Amish countryside.
4550 St. Rte. 39, Berlin 44610, 330/893-0900, holmesfleamarket.com
Miller's Dry Goods
An Amish Country staple since 1965, this small business — located in two houses that stand side by side — started as a place to purchase fabrics and lotions. Over the years, it's blossomed into a quilting haven, whether you want to make your own or purchase one of the Amish blankets on display. If you've never tried quilting, the store can set you up with a kit that includes everything you need. "You could just pick up a kit and a pattern and you would be able to make a project," says owner Naomi Miller. "Usually, we have one on display so you can see what your finished project will look like."
4500 St. Rte. 557, Millersburg 44654, 330/893-9899, millersdrygoods.com
***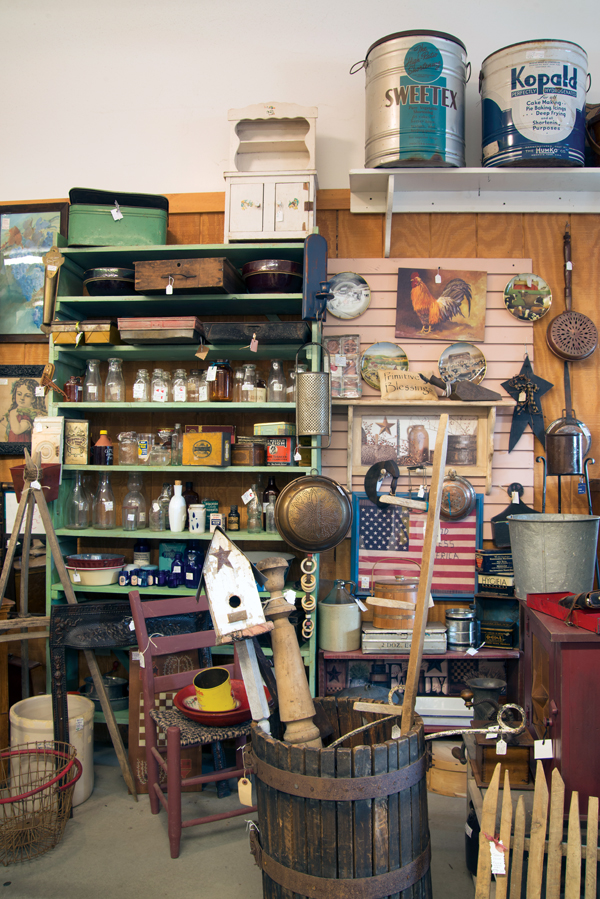 Berlin Village Antique Mall
A treasure trove of vintage finds awaits visitors to this 26,000-square-foot store in the heart of Berlin.
If you don't see something that interests you at Berlin Village Antique Mall, just take a few more steps. The two-level antiques oasis has an incredibly diverse mix of vintage finds — from Currier & Ives dinnerware to Atari 2600 video games to old-school knick-knacks and curiosities.
"Some vendors try to focus on one specific item that they collect or they like to sell, like farm tools, big furniture, things like that," says Phyllis Debnar, who owns the business with her husband, Lee. "There is some really nice primitive furniture. There are a lot of the new shabby-chic kinds of things."
Where the Berlin Village Antique Mall now stands was once the site of the Berlin House Restaurant, which the Debnars bought in 1986. But its location in an old home and the work required to bring the property up to code, as well as the gradual widening of the road that runs past it, led the couple to tear down the structure to build their antique mall, which opened in 2002.
"At the time, there was only one other antique store in the area," Debnar says. "We have some people who have been here since the day we opened. It has been a fun adventure."
Vendors rent a space in the two-level antique mall, label their items with prices and the staff at Berlin Village Antique Mall do the rest. Some vendors rent as many as four or five spaces, and there is a waiting list of people who want to sell there.
"We have a lot of tourists visit, but we have a lot of people that are just antique collectors," Debnar says. "They come back maybe once a month. We know them right away when they come in. That's one nice thing about having a manager who has been here a long time."
4774 U.S. Route 62, Berlin 44610, 330/893-4100, berlinvam.com
***
Homestead Furniture
The Hershberger family opened Homestead Furniture more than 26 years ago, selling their wares out of a chicken coop. But with Barbara Hershberger's vision and Ernest Hershberger's experience in custom cabinet-making, the company blossomed into an elegant furniture showroom with thousands of offerings. Guests can order custom products and even schedule a factory tour to see some of the Amish craftsmen who make the store's high-end furniture. "All of our hardwood furniture is either built by us or within a 30-mile radius of us," says Codi Mast, who coordinates events and marketing for Homestead Furniture. In addition to the impressive showroom and factory, visitors can check out Gardens at Homestead, where guests can stroll through an arboretum featuring tree varieties used in the company's furniture.
8233 St. Rte. 241, Mount Hope 44660, 866/674-4902, homesteadfurnitureonline.com
Walnut Street Antiques
When Dale Sorchy and Barb Champion purchased their storefront, they knew that picturesque downtown Wooster was the right place to grow their antiques shop. Sorchy's knack for collecting has manifested itself in an expansive selection of high-end furniture, lighting and traditional antiques, as well as vinyl records, pinball machines and other nostalgic finds. Everything on display is owned by the store, allowing Sorchy to carefully cultivate the collection. "It's all about what I run across, and if I think it's cool, I just buy it," he says. The store is also meticulous when it comes to quality and cleanliness. For example, every vinyl record is checked for scratches before being put on sale.
132 N. Walnut St., Wooster 44691, 330/264-3030, walnutstreetantiques.com

***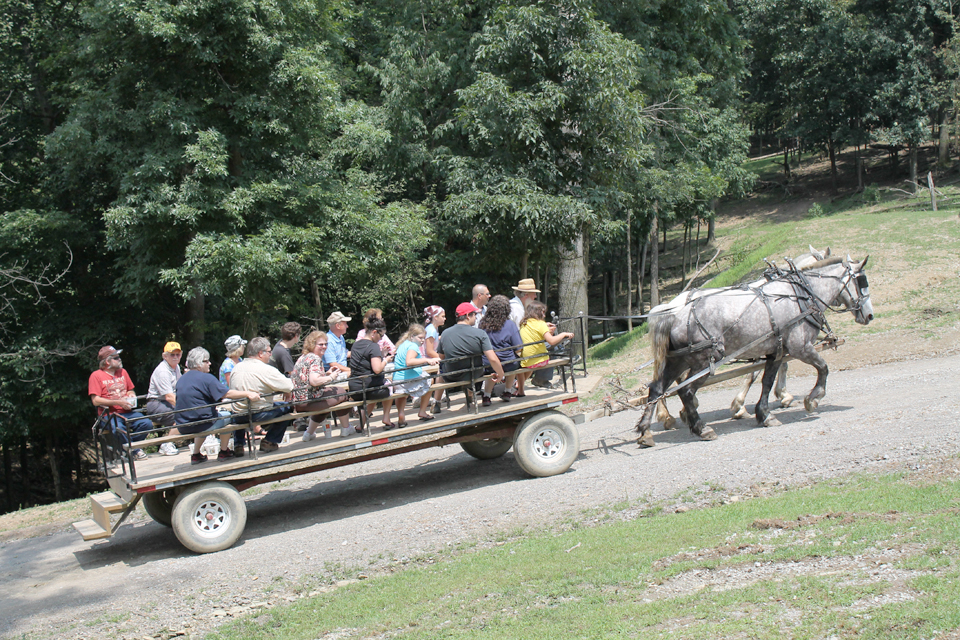 The Farm at Walnut Creek
This 120-acre attraction offers guests up-close encounters with a variety of exotic animals.
Your idea of an Amish Country farm probably involves grazing cattle and horses munching on hay. But the 500-creature menagerie residing at The Farm at Walnut Creek also includes four giraffes, six lemurs, seven bison, a dozen water buffalo and a multitude of other animals from around the globe.
"This is the only Amish working farm with exotic animals in the state of Ohio," says Pedro Guzman, who handles marketing for the 120-acre attraction that opened 10 years ago. "Our goal is to not only educate people about animals they don't see every day but also about the way farming is done in the county."
Visitors are invited to take an hour-long driving tour of the grounds or board a horse-drawn wagon driven by an Amish farmer. Both options afford guests the opportunity to hand-feed animals with farm-sanctioned provisions and give affectionate pats on the noses.
"The animals who live here are not predators, so they get along with each other," Guzman says. "Since they grew up on the farm, they're used to seeing humans and have no fear of them."
The farm also features a pair of homes that reflect the Amish way of life. Inside, artisans are hard at work canning, quilting and baking, while answering questions about their culture.
"We hope visitors to our farm will learn something new and have fun while they're doing it," Guzman says.
As seasons change, so do the special events. The Fall Festival, which will be held Oct 7, 8, 10, 14 and 15, offers visitors the chance to pick their own pumpkins, enjoy a barbecued chicken dinner and navigate a straw maze.
Visit website for pricing; 4147 County Rd. 114, Sugarcreek 44681, 330/893-4200, thefarmatwalnutcreek.com

***
Alpine Hills Museum
This museum in downtown Sugarcreek offers insight into the community's Swiss roots, cheese-making history and Amish heritage. Three exhibits on the first level offer visitors a look inside an Amish home, an early cheese-making operation and an 1800s-era Amish newspaper that is still published locally to this day. "We want you to feel like you get to step back into time," says curator Kelly Engstrom. Upstairs, artifacts detail the town's history, and the basement features early firefighting equipment, a traveling photography cart and an Amish buggy used by a local family for more than 50 years.
Open April through October; 106 W. Main St., Sugarcreek 44681, 330/852-4113, alpinehills.webstarts.com

Schrock's Heritage Village
The roads that traverse Ohio's Amish Country span a number of counties, but if you're looking for a one-stop shop that exemplifies what the region has to offer, check out Schrock's Heritage Village's 50-acre site. You can take a seasonal ride in an Amish buggy, get holiday shopping done at the Tis the Season Christmas Shoppe and watch candles being made at Quail Hollow Candle Factory. "It's not like going into a town where you walk in one or two stores and feel like you've seen the whole town," says owner Jo Ann Schrock-Hershberger. "Every shop is different."
4363 St. Rte. 39, Millersburg 44654, 330/893-3051, amishfarmvillage.com
***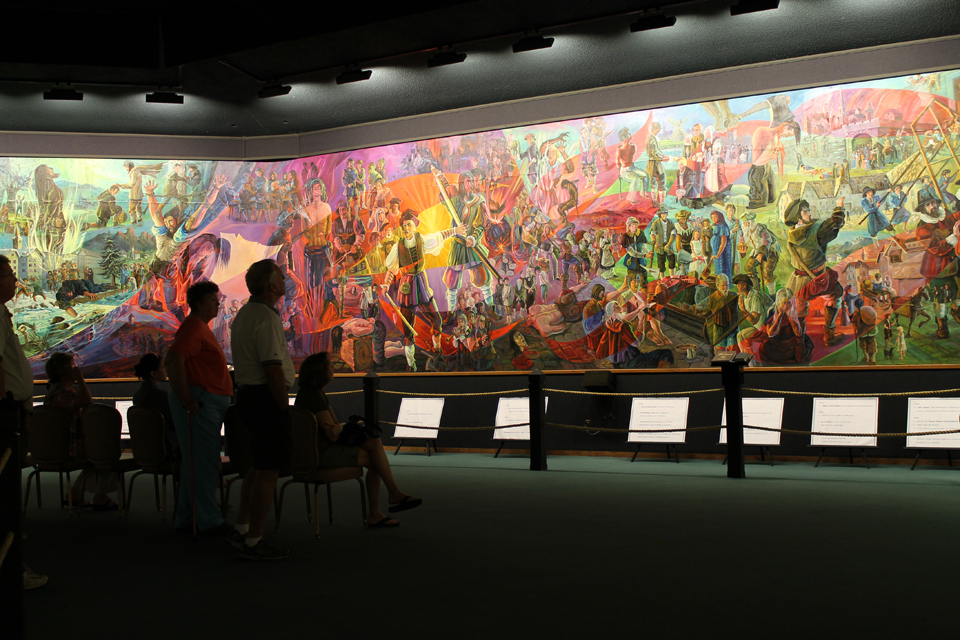 Amish & Mennonite Heritage Center
A 265-foot-long cyclorama painted by artist Heinz Gaugel shares the history of the Amish and Mennonite people.
It's not a stretch to say that history surrounds all who enter the Amish & Mennonite Heritage Center. For more than 25 years, the complex has educated tourists about the faith, lifestyle and culture of the Amish and Mennonite communities.
And although the barn and 1820s one-room schoolhouse on the property are must-see attractions, it's the 10-foot-tall-by-265-foot-long cyclorama that's clearly the focal point. It took painter Heinz Gaugel 14 years to complete his 360-degree history lesson of the Amish and Mennonite people. Dedicated in 1992, the Behalt (which means "to keep" or "to remember") mural illustrates the group's Anabaptist beginnings in Switzerland in 1525 and continues through to present day.
Mennonite and Amish docents lead daily tours while describing the times of peace and persecution both groups have experienced throughout their existence.
"There are 1,264 historical figures represented in the cyclorama," says executive director Marcus Yoder, who is Mennonite. "They include Menno Simons, who founded the Mennonites in the 1530s, and Jakob Ammann, a 1690s religious leader whom the Amish are named for."
Gaugel, who was born in the Swabian Alps region of southern Germany and was forced to fight in Hitler's army during World War II, immigrated to Canada in the 1950s. Upon visiting Holmes County for the first time in 1962, he felt an immediate kinship with the Amish.
"This is the perfect place to start your visit to Amish Country," says Yoder, "because it allows you to get a more realistic view of the Amish and Mennonite community, rather than the commercialized view."
5798 County Rd. 77, Millersburg 44610 (GPS directions), 330/893-3192, behalt.com
***
Amish Country Theater
Even if you have just devoured a plate of fried chicken and noodles, save room for an after-dinner belly full of laughter. The 320-seat, barn-themed Amish Country Theater in Walnut Creek offers comedy variety shows such as "Kickin' Chicken" and "Somewhere Over the Silo" Tuesdays through Saturdays. Bluegrass bands and ventriloquists keep the performance moving and audience members can even meet the actors after each performance. "There's a lot of stuff going on in people's lives, and sometimes they need to come out and laugh as a family," says co-owner Jeff Conn. Even Christmas and New Year's shows draw impressive crowds, and groups of 20 or more can take advantage of the Country Courtyard, a barn-themed banquet space.
3149 St. Rte. 39, Walnut Creek 44687, 888/988-7469, amishcountrytheater.com
Ohio Star Theater at Dutch Valley
Amish Country starts powering down around 5 p.m., which means there aren't a lot of nightlife options once the sun sinks. The Ohio Star Theater at Dutch Valley was created to help fill that void by offering faith-based, family-friendly shows at the Carlisle Inn Sugarcreek. The 187-seat theater opened in 2012 (a 500-seat venue will be completed in 2017) with clean comedy acts and a slate of humorous productions. The election-season-themed "Josiah for President" runs through Nov. 8, and "Mennonite Girls Can Cook" opens Sept. 13. The theater-in-the-round setup makes for lots of great seats. "You have a lot more front-row seats and seats closer to the stage," says theater manager Kristina Schlabach.
1357 Old Route 39 NE, Sugarcreek 44681, 855/344-7547, dhgroup.com

***
Der Dutchman
Authenticity is at the core of Dutchman Hospitality, whether you're dining in Walnut Creek or at one of its two other Amish Country restaurants.
A Holmes County favorite for more than 40 years, Der Dutchman is now one of Dutchman Hospitality's five Ohio eateries (with three of them located in Amish Country). And, no matter if you visit the Der Dutchman in Walnut Creek or the Berlin Farmstead Restaurant down the road, the local chain always delivers the down-home flavor.
"We focus on giving them that special day, that little extra, and I think that's what brings people in," says Amanda Hershberger, who orchestrates food-quality control for the company. "And I think that's why our company has grown. … It's a big family."
Each location makes its food from scratch, with all fruit pie fillings and dressings prepared at a central kitchen to ensure consistency. The Walnut Creek restaurant is arguably the most authentic — boasting the highest number of Amish employees — and each site is granted the liberty of putting their own spin on the staple recipes.
Home-style broasted chicken, noodles over mashed potatoes and roast beef keep the crowds lining up, and the restaurants' chefs often use local and seasonal produce when available. But the creamed chicken over mashed potatoes has become an Amish Country classic in its own right.
"It's a very hearty meal," says Hershberger. "It's very filling, and it's something that people would have had long ago. People just love it."
If you're not sure what to order, the Barn Raising Buffet is a safe bet. Available Monday through Thursday from 3 to 8 p.m., it's packed with Amish favorites such as mashed potatoes loaded with butter and a smorgasbord of country meats, including ham and turkey. Comfort is a hallmark of not only the food here, but the entire experience.
"People come in to get away from the busy work life," says Hershberger. "Having the comfort food that we're offering them … brings joy to their life for that little bit of time that they're here."
Visit website for information about other locations; 4967 Walnut St., Walnut Creek 44687, 330/893-2981, dhgroup.com
***
Boyd & Wurthmann Restaurant
A green counter with nine stools is a reminder of this Berlin restaurant's beginnings as a grocery store. The counter was installed in the 1940s, after Dale Boyd and Herman Wurthmann bought Hummel's Market and started serving sandwiches to hungry shoppers. Since then, Boyd & Wurthmann has been serving up big helpings of Amish-style cooking at fair prices and in an inviting atmosphere. "We try to make people feel like locals," says general manager Benson Beachy. Hot roast beef with white bread and gravy is one of the restaurant's most popular items, but the desserts are a big draw here, too, as evidenced by the lengthy list of pies: peanut butter cream, peach, strawberry and usually more than a dozen others depending on what fruit is in season. "A lot of people really look forward to the pies," says Beachy. "They almost always get a piece, and a lot of people order whole pies to go."
4819 E. Main St., Berlin 44610, 330/893-3287, boydandwurthmann.com
Cindy's Diner
The spot next to the Berlin Village Antique Mall finds a way to do Amish Country eats just a bit differently by serving barbecue alongside comfort food favorites in a 1950s-style diner. Owner Cindy Iams, who was raised Amish before leaving the order at age 18, says the range of options is part of what customers find appealing about her restaurant. "We have a lot of people come in and say, 'Oh, we're so glad you serve American food,' " says Iams. That means barbecued pulled pork resides on the same menu as roast beef piled between two slices of white bread and doused with Amish Wedding gravy. That dichotomy even extends to the decor. The entry of the diner has checkerboard flooring and vinyl records hanging from the ceiling, while the back part of the restaurant offers a cozier, country feel.
4774 U.S. Route 62, Berlin 44610, 330/893-3400,
cindysdinerberlin.com
Hartzler Family Dairy
After you've had your fill of mashed potatoes and broasted chicken, stop in Wooster for a sweet treat. Hartzler Family Dairy's ice cream shop has a reputation for funky flavors and delicious ice cream. "When people make their rounds through this area, we're one of the places they do stop," says general manager Paul Sommers. "They drink our milk from the grocery store ... but they found out they can come down here." Grab a scoop of exotic creations like coconut almond fudge or down-home concoctions such as Cowboy Crunch: butter pecan ice cream with toffee chunks and chocolate swirl. All of the ice cream is made on-site at the dairy and packed without air for a creamy and rich consistency.
5454 Cleveland Rd., Wooster 44691, 330/345-8190, hartzlerfamilydairy.com
Mrs. Yoder's Kitchen
Gloria Yoder opened this Mount Hope spot in 1994, bringing a menu lineup that includes unusual country delicacies such as old-fashioned fried mush, stuffed pepper loaf and cabbage casserole (steamed cabbage mixed with a mushroom sauce and onions, topped with a crouton mixture). But the dish that keeps people coming back over and over is the marinated, hand-breaded, pressure-fried chicken. "That's what everybody raves about," says owner and manager Trent Yoder, Gloria's son. "Even when I go on vacation, it's good to get a bite of that chicken when I get back." Local Amish families make up a significant portion of the restaurant's clientele, meaning you can rest assured the food on your plate would be right at home in an Amish kitchen.
8101 St. Rte. 241, Mount Hope 44660, 330/674-0922, mrsyoderskitchen.com

***
Rebecca's Bistro
This spot offers breakfast and lunch fare inspired by fresh and local seasonal ingredients.
What started as a knack for entertaining turned into a full-time business when Rebecca Miller and her husband, Jim, opened their restaurant 15 years ago.
After purchasing an early 18th-century home in Walnut Creek, the couple crafted a menu that veered from the home-style cuisine for which the region is known.
"I didn't know how the response was going to be, because it was so different," recalls Miller. With three rooms and the capacity to seat 50 guests, the restaurant manages to feed hundreds of visitors daily while maintaining a personal feel. Whether you're in for a quick morning breakfast or a lunchtime escape from gravies and noodles, the historic charm and modern cuisine provide something different.
"It begins to feel like you're at my house as opposed to a commercial restaurant," adds Miller. "It's very small, but very quaint."
Options are inspired by the fresh and local seasonal ingredients available and include light yogurt parfaits and pastries, as well as decadent favorites such as apricot-stuffed French toast and a customer-favorite grilled cheese: pepper jack and provolone toasted on cranberry walnut bread and slathered with cherry butter.
That level of detail doesn't stop with the ingredients either. Rebecca's Bistro prides itself on sophisticated presentations, with touches such as an orange twist and parsley flake dusting on your plate.
"Our food presentation is different from a lot of other restaurants," explains employee Wilma Miller. "We know that people eat with their eyes first."
4986 Walnut St., Walnut Creek 44687, 330/893-2668, rebeccasbistro.com