Travel
| Amish Country
Dutch Valley Restaurant, Sugarcreek
Dutchman Hospitality's Tuscarawas County location offers entertainment, comfort and shopping alongside its Amish Country favorites.
September 2017
BY Jim Vickers | Photo by Cody York
September 2017
BY Jim Vickers | Photo by Cody York
Dining at a Dutchman Hospitality restaurant is an Ohio Amish Country rite of passage. As you belly up to a plate full of deep-fried chicken or slow-cooked roast beef served alongside mashed potatoes and noodles, you experience the comfort-food rush usually reserved for the holiday dinner table. Here, inside the spacious Dutch Valley Restaurant on a late July day, that's just known as lunch.

With a large dining room that can serve up to 600 patrons during peak times, it's difficult to envision Dutch Valley as anything but the bustling operation it is today. But, the roots of Dutchman Hospitality, the restaurant's parent company, stretches back to a 75-seat eatery that Emanuel Mullet, Dan Lehman and Bob Miller opened in nearby Walnut Creek in 1969.
"Tourism was nothing in Holmes County in 1969," explains Mike Miller, Dutch Valley Restaurant's operations manager. "They wanted a good place for people to come eat and to share the Amish and Mennonite recipes that have been passed down. Really, that's just wholesome comfort food — stuff that, after you're done working on the farm all day, is going to fill you up, nourish you and keep you going."
Today, the mashed potatoes, noodles, roast beef, stuffing, green beans and creamed corn are all nods to the restaurant's roots. But, over the years, Dutch Valley has also branched out into other fare, even offering lighter options such as a strawberry poppy seed salad for those who aren't up for a 2,000-calorie meal.
For Miller, the challenge is sourcing as many local ingredients as he can, while keeping up with the huge number of visitors that walk through Dutch Valley's front door. Today, Dutchman Hospitality has five Ohio locations and one in Sarasota, Florida, which collectively serve around 2.5 million guests each year.
"We were farm-to-table before farm-to-table was a term," Miller says. "Now, our struggle is trying to feed 2.5 million people a year ... There's just not enough local food to do that, but the whole concept drives how we buy, how we procure and how we set our menu."
That means the restaurant purchases as much produce as it can from a nearby auction in Mount Hope, serves only certified Angus beef and sources chicken from Gerber Poultry, located a short drive away in Kidron.
"The chicken is all natural, no antibiotics. It probably costs us twice as much as we could buy lesser quality chicken for, but we think it's the right thing to do," says Miller. "We try to buy high-quality ingredients, prepare them using recipes that honor our traditions and share that with people."
Then, there's dessert — a smorgasbord of sugary options that range from oversize cookies to big doughnuts to decadent pies.
But the restaurant is only part of the draw at Dutch Valley, which also has an on-site bakery, food market, gift shop and hotel, as well as the new Ohio Star Theater, which presents musicals featuring professional actors and live music. The way Miller sees it, Dutch Valley is a destination in and of itself, making it a great place to unplug and relax while exploring the surrounding countryside.
"People still want to disconnect from city life a little bit and escape to the country and see the rolling hills and see the leaves changing and feel true hospitality," Miller says. "We hear that a lot, where people come in and say, 'It wasn't just your restaurant, it's the whole area. Everyone is so nice and polite.' It makes us feel proud when people say that." Mon.–Sat. 7 a.m.–8 p.m.; 1343 Old Route 39, Sugarcreek 44681, 330/852-4627, dhgroup.com


Order This
We asked Mike Miller to share a few of Dutch Valley Restaurant's most popular offerings.

Old-Fashioned Roast Beef: This Amish Country staple ties back to Dutchman Hospitality's early days and is made with high-quality meat, according to Miller. "All of our beef is certified Angus beef," he says.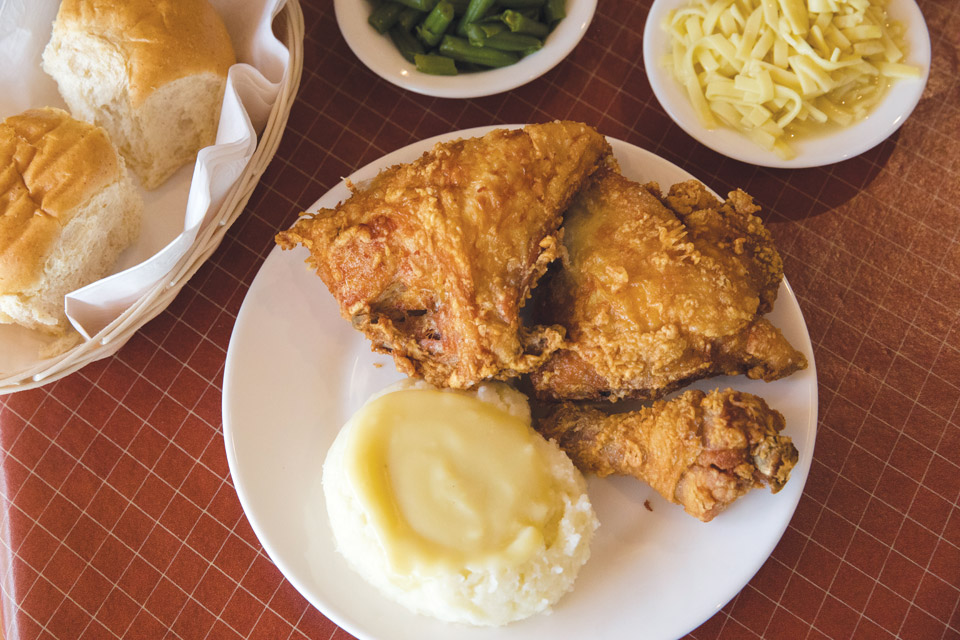 Broasted Chicken: "It's pressure cooking — you're deep-frying something but under very high pressure," Miller says. "It keeps the inside of the chicken moist, but you get that nice crisp coating on it."

Peanut Butter Pie: "It's vanilla pudding with what we call 'peanut butter crumbs,' which is confectioner's sugar mixed with peanut butter," Miller says. The treat is topped with whipped cream and more peanut butter crumbs.