Sponsored
Discover Seneca Caverns
Embrace treasures, family fun and learning something new during this underground adventure.
Before you hear, "Are we there yet?" you will be there! Seneca Caverns is the place for family fun, learning something new, and creating lifelong memories. Plus, you may go home with your own gemstone treasure! You never know what you will discover!

Way back, before any of us were born, two boys and their dog were hunting. The dog was running after a rabbit and whoomp! The dog and rabbit disappeared! The two boys ran after them and double whoomp — the boys disappeared, too! The group had fallen through a crack in the surface of the earth and landed in the first level of the now-famous Seneca Caverns.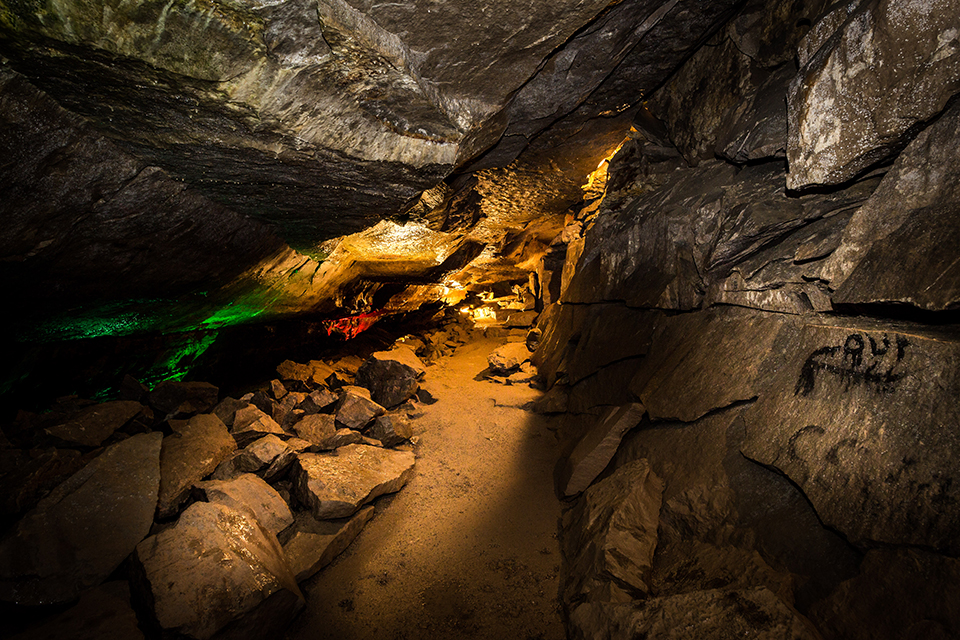 Seneca Caverns boasts at least 13 underground levels, and seven of them are open for the public to explore. Cool natural rock steps and formations show us what happened under the surface of the earth. Through the ages, rocks and slices of earth shifted and a grand opening became cleared so we can see underground to the "rooms" in the cave below.

Digging out the mud in the first cave layer took several years as bucket after bucket of mud and clay were dug out by hand and carried to the surface. Right now, all of us can travel down seven layers, 110 feet below the surface of the land, walking on natural stone stair steps, ducking under pieces of rocks, and seeing different inscriptions on the walls of Seneca Caverns.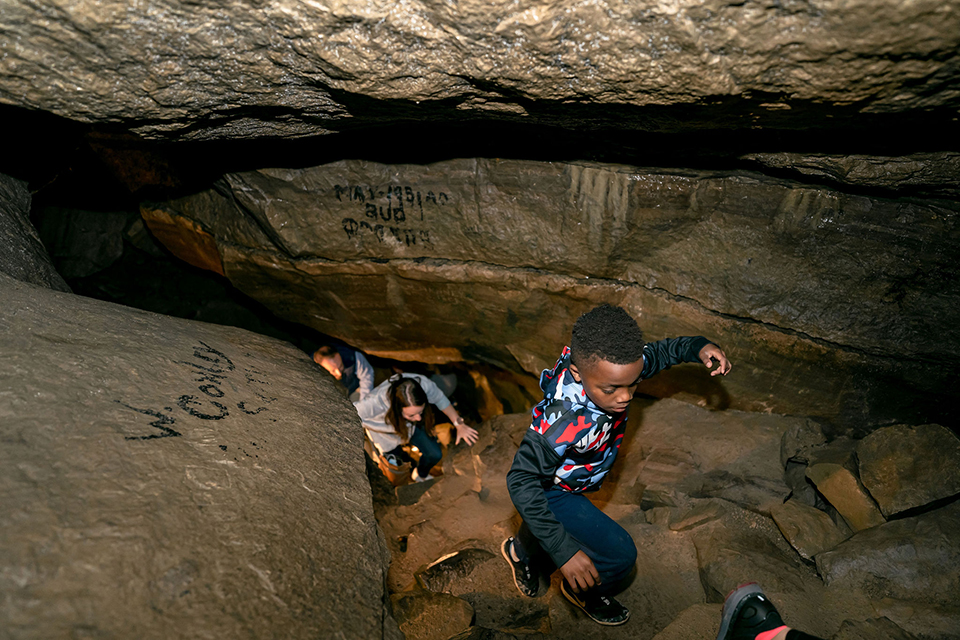 What stops the present day explorers of all ages from entering Level 8? It is filled with a crystal clear, flowing river called Ole Mist'ry River. Back then, folks didn't spell like us — what they meant to say was Old Mystery River. Why do you think it's a mystery? The first explorers probably didn't expect to find a river underground. Where does it start and where is it going? When you visit Seneca Caverns, you will be able to make up your own answer!

The cave is always exactly the same temperature of 54 degrees, so you will need a light jacket when you visit. Because of moisture in Seneca Caverns you will need to wear comfortable shoes to walk through all the levels. (There is a lot of walking!) Strollers will not fit in the caverns, and carrying a small baby is not recommended because of the low ceilings in areas on the path. Your tour guide will tell you everything you need to know for a fun time with us.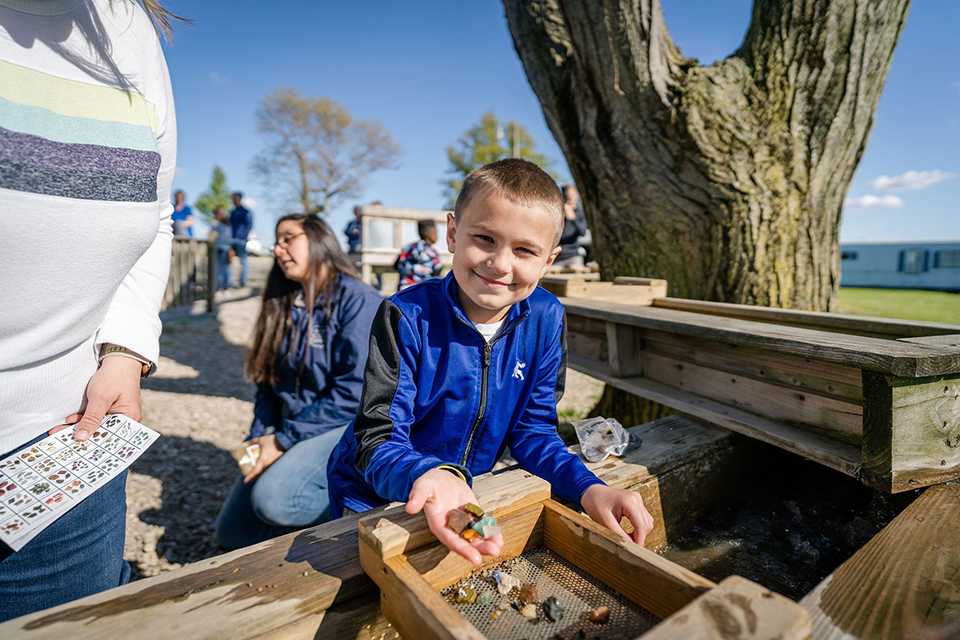 Equally as fun is experiencing sluicing for treasures! You can visit the amazing gift shop and choose a bag of treasures to dip into the water of our sluice. (Sounds like juice!) Children and adults alike enjoy moving their screened box back and forth to wash away the sand and find gemstones, fossils, arrowheads, and occasional surprises from their gemstone bag. Pretend you are mining for diamonds and gold! You can also enjoy a clean, shaded picnic ground to look closely at the treasures you find in your sluice bag.

Located just over one hour from Toledo and Cleveland, Seneca Caverns is open every day, rain or shine, now through Labor Day. The hours are 9 a.m. to 7 p.m. and the last tour leaves at 6 p.m. Feel free to check the Seneca Caverns website at senecacavernsohio.com for ticket prices, directions, fun details and off-season hours. You can share pictures of your family and the treasures you find on our Facebook page. Call 419-483-6711 for more information.

Seneca Caverns creates lasting memories of a fun family trip. Put Seneca Caverns in your navigator. It's a trip you'll want to make more than once!
Visit us at 15248 E. Township Road 178, Bellevue, Ohio, 44811