Sponsored
Start the Year with an Ohio State Park Adventure!
Winter may be here, but northeast Ohio has plenty of beautiful lodges and cabins to keep you warm!
Main image: Punderson State Park by Laura Watilo Blake
When temperatures drop and snow starts to fall, a weekend getaway might seem like a distant dream. As it turns out, the dream is just a short drive away at state parks located throughout northeast Ohio. Bundle up and enjoy the beautiful frosted landscape with snowy hikes or sledding adventures. Then return to the warm fireplaces and cozy comforts of park lodges and cabins.
Visit in the winter to see the lodges decked out for the holidays and experience Ohio's beautiful landscape in a new way. From the elegance of Punderson Manor Lodge to the rustic charm of the Mohican region, Ohio's state park system offers a range of lodging styles, landscapes and recreational activities.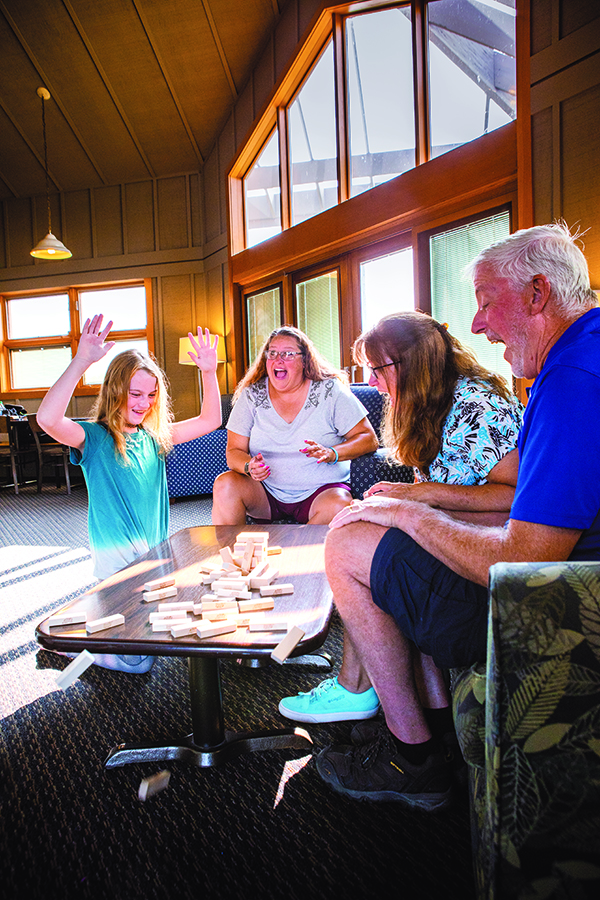 Maumee Bay Cabin by Laura Watilo Blake
Plan Ahead: It's never too early to start planning. The Ohio Department of Natural Resources (ODNR) recommends booking cabin reservations several months or more in advance, whereas lodges allow for more spontaneity. Visit ohiostateparks.gov to start planning. Take advantage of winter specials — especially midweek deals. Visit the Great Ohio Lodges website, greatohiolodges.com, for vacation discounts.

Lakeside Luxury
Beach days aren't exclusive to summer — just swap your swimsuit and sunglasses
for a warm coat and gloves. With quiet beaches and ice crystals shimmering along the shore, the Lake Erie landscape is just as stunning in winter. Maumee Bay State Park, just 20 minutes from Toledo and normally bustling with activity in warmer months, welcomes you with serene shoreline views.
Walk along a lakeside path and spot snow drifts and ice dunes, instead of sand dunes. Keep your eyes out for snowy owls perched on the golf course. These feathered winter visitors are easy to spot, even for the youngest birders, and are most often seen in January and February.
According to Maumee Bay naturalist Lauren Broddrick, mammals are surprisingly active in cold weather as they hunt for food. Watch for full-antlered deer and muskrats along the boardwalk and Storybook Trail, both of which are perfect for short hiking excursions.

"It's really fun to identify animal tracks in the snow," Broddrick says. She recommends investing in a field guide or watching tutorials on the ODNR Field Notes YouTube Channel.
Warm up after a day of winter walking with a relaxing soak in the Maumee Bay Lodge hot tub. The Water's Edge Restaurant, with its view of Lake Erie and specials for kids, is an ideal dining spot. In the evening play board games by the fireplace or rent a movie in your room. For a more secluded getaway, stay in a deluxe cottage and watch snow fall from the privacy of your own porch with views of the frozen marsh.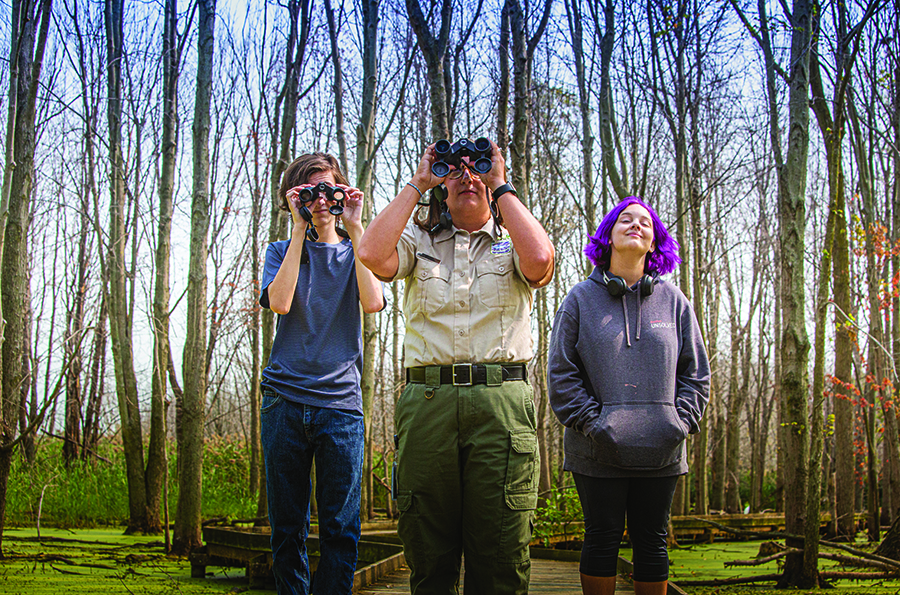 Maumee Bay Marsh by Laura Watilo Blake
Lake Erie Birding Trail: Even in Winter, Maumee Bay is a hotspot for birders. Many species, like dark-eyed juncos, are easy to spot on bare branches and against the bright white snow. Learn more by visiting ohiostateparks.gov and choosing the "Go & Do" menu.
More to see: Travel further east along Lake Erie for more ice-glazed beauty. Lighthouse tours are closed in the winter, but the picturesque Marblehead Lighthouse makes a perfect backdrop for a holiday family photo. Try snow biking and other winter sports at The Lodge at Geneva-on-the-Lake, where rentals are free for overnight guests.

Relax and Rejuvenate
If cabin fever has you craving a change of scenery, Punderson State Park in Newbury is the place to visit. The lodge, a cozy English Tudor-style manor, has the atmosphere of a quaint bed and breakfast. Charming historic décor personalizes the rooms in the original portion of the manor. Around the holidays, wreaths and garlands dress the lodge for the season. Furnished two-bedroom cabins are also available for a comfortable escape into nature. Make a reservation in the elegant Cherry Dining Room, which offers gorgeous views of the 150-acre glacial lake and serves the best of comfort foods. It's the perfect setting for a romantic weekend.
Outside your door, snowy adventures await. Punderson State Park is nicknamed "Ohio's Winter Playground" — and for good reason. The park's massive sledding hill beckons thrill seekers with an exhilarating ride. In 2022, riders can look forward to new features, like a mechanical tow rope that will bring you (and your sled) back up to the peak, so you can ride again and again.
Adventure continues on trails that become snowmobile courses and paths for cross-country skiing and snowshoeing when conditions are right. For a more relaxing trek through the winter landscape, walk along the boardwalk and take in the beautiful countryside. Warm up in front of the lodge's roaring fireplace, or head back to your cozy cabin for a cup of hot cocoa.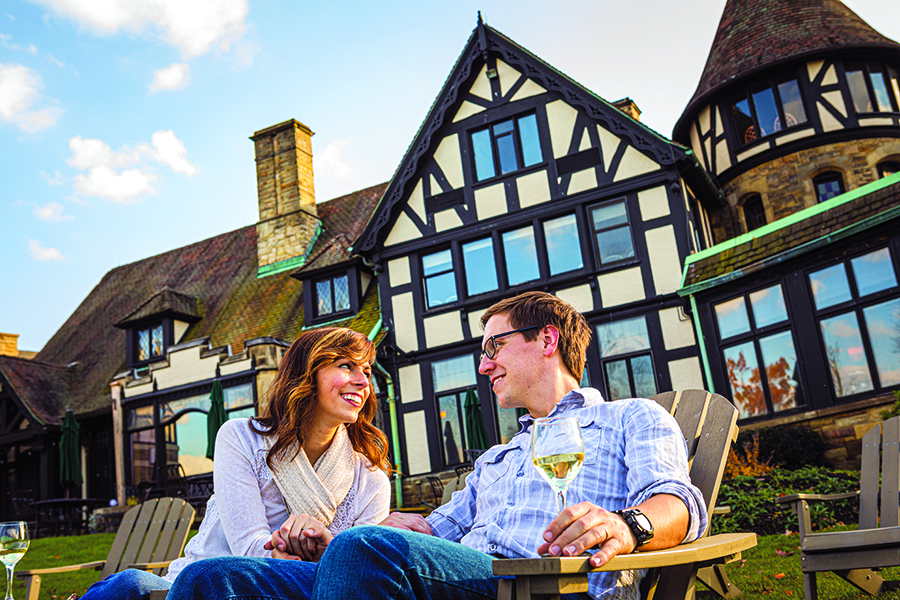 Punderson Manor State Park Lodge by Laura Watilo Blake
Know Before You Go: Visiting a park for the first time? Check out the park's Facebook page or visit ohiostateparks.gov. Always dress for the weather with lots of layers. Don't forget to wear proper foot attire to keep you warm and provide traction on potentially icy trails.

Bring Balto Along: If your furry friends love the snow as much as any sled dog, they're welcome to join you at Ohio State Park trails and picnic areas. A number of deluxe cabins also offer pet-friendly units. Remember, family pets are not welcome at nature preserves or inside buildings.

More to See: Try your luck with ice fishing at Mosquito Lake State Park in Cortland or Pymatuning State Park in Ashtabula County. Stay in a cozy cabin at Pymatuning for respite after a long day on the ice. From frozen waterfalls to ledges draped with snow, Nelson-Kennedy Ledges State Park in Garrettsville is a beautiful place for winter hikes.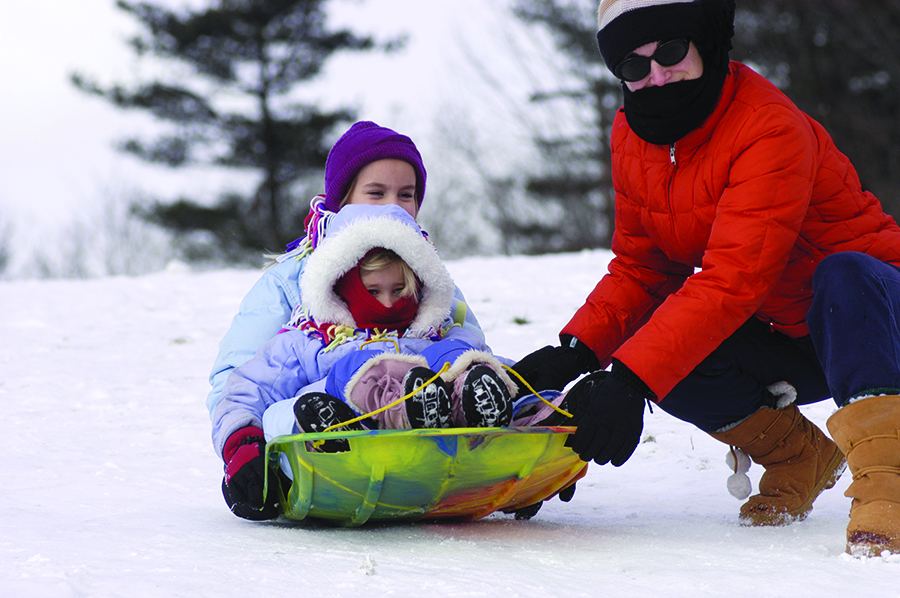 Mosquito Lake State Park by Ohio Department of Natural Resources
Festive Fun
Nestled in the rolling hills of Pleasant Valley, Malabar Farm State Park is a winter wonderland. The working farm once belonged to 20th-century writer Louis Bromfield. The "Big House," Bromfield's home, sits on a hill near livestock barns. Plan your visit around the holidays when festive cheer fills the house. Candles illuminate evergreen wreaths hanging in windows and garlands twist around the porch.
Inside the house, time-period decorations fill the 32 rooms. Malabar Farm State Park manager Jenny Roar says of the traditional décor, "It's like taking a step back in time." Poinsettias line the double staircase leading up from the entryway, and red ribbons are tied in neat bows along the railing. Next year, take a candlelit tour of the house while a live pianist or violinist fills the air with holiday notes. Before you go, check the events calendar at ohiostateparks.gov for tour availability.
The "Big House" isn't the only draw of this park; there's lots to see around the property. Walk along one of the all-season trails and enjoy snow-covered pastures, peaceful forests and natural caves lined with icicles. You can even book an overnight visit and stay in a 1940s maple syrup log cabin.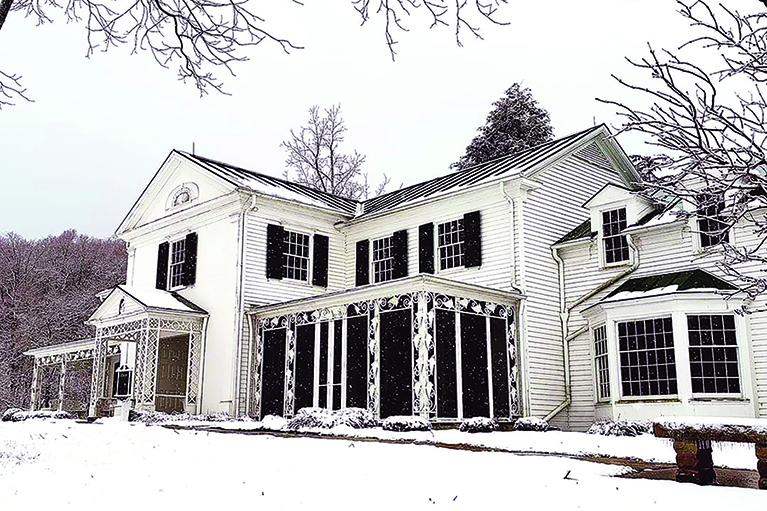 Malabar Farm by Great Ohio Lodges
Leave No Trace: Visitors are encouraged to minimize their impact on Ohio's natural landscapes. Practice "carry in, carry out" when waste receptacles aren't available.

More to See: Just a short drive away, you'll find more lodging at Mohican State Park. Private cabins along the banks of the Mohican State Scenic River are perfect for a wintry escape. The rustic lodge, warmed by its glowing fireplace and twinkling lights, welcomes overnight visitors with a variety of amenities for a memorable stay. Venture outdoors and hike through beautiful hemlock forests past waterfalls frozen into natural ice sculptures.