Sponsored
Five Ways to Explore Ohio's Appalachian Country
Here are five distinct road trips to see just some of what you'll find in Ohio's Appalachian Country!
Travel along waterways through vast woods and hilly terrain to experience Ohio's Appalachian Country. The region stretches from the shores of Lake Erie to the banks of the Ohio River and is home to an eclectic mix of culture, arts, natural wonders and cuisine. Explore these 32 counties to find some of Ohio's earliest settlements, Ohio's first capital, the largest Amish population in the world, ancient earthwork formations, gorgeous state parks and more.

The region was created when vast glaciers, all but flattening the rest of the state, carved the land into a rugged mix of rocky hollows, rolling foothills and breathtaking vistas that today enchants sports lovers, foodies, history buffs and explorers alike.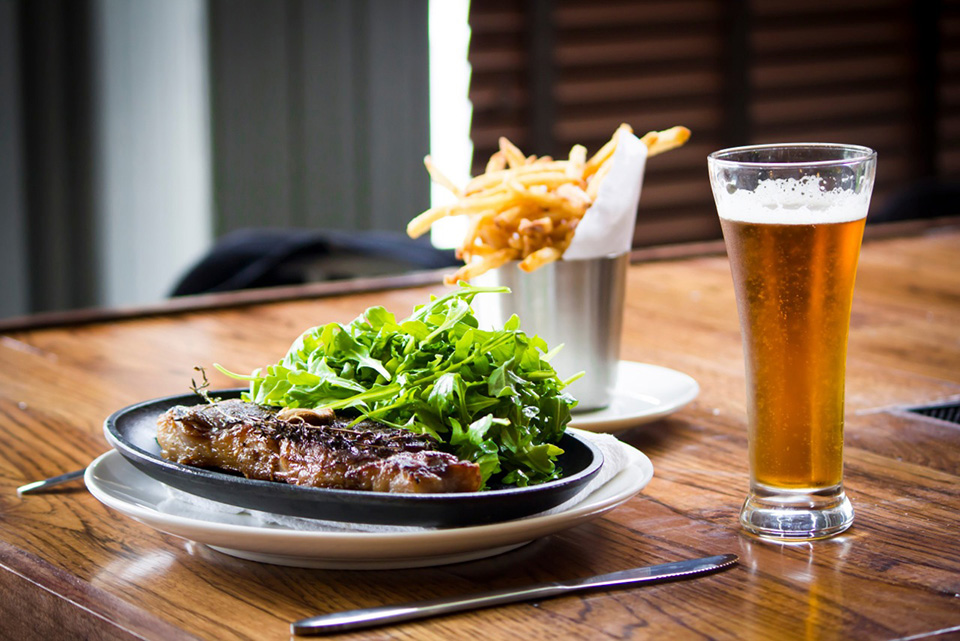 Rennick Meat Market
OHIO WINE COUNTRY
Stop: With more than 30 wineries, Ashtabula County earns its nickname of Ohio Wine Country. The breezes off Lake Erie and the rich soil left behind by the glaciers that carved out the Great Lakes make this area prime for grape growing. Many of the vineyards are family-owned and family-run, like the third-generation Kosicek Vineyards. Pull up a chair and enjoy tastings in unique settings like South River Vineyard's former church, Old Firehouse Winery's working Ferris wheel and Laurentia Winery's log-cabin style tasting room. Taste a wide variety of vintages at Debonné Vineyards, Ferrante Winery and Grand River Cellars Winery.

Stay: Sip on wine overlooking Lake Erie and enjoy locally sourced cuisine at the cozy Lakehouse Inn Winery or relax in the solitude of the woods from the comfort of your own romantic, luxury cottage at Vineyard Woods.

Eat: Indulge in hearty comfort food inspired by the historic butcher shop that once took up residence at Rennick Meat Market. Sample farm-to-table takes on old favorites like shepherd's pie and rib ragu at Crosswinds Grille at The Lakehouse Inn or nosh on a homemade pizza pie in a dining room fashioned from a historic covered bridge at Covered Bridge Pizza.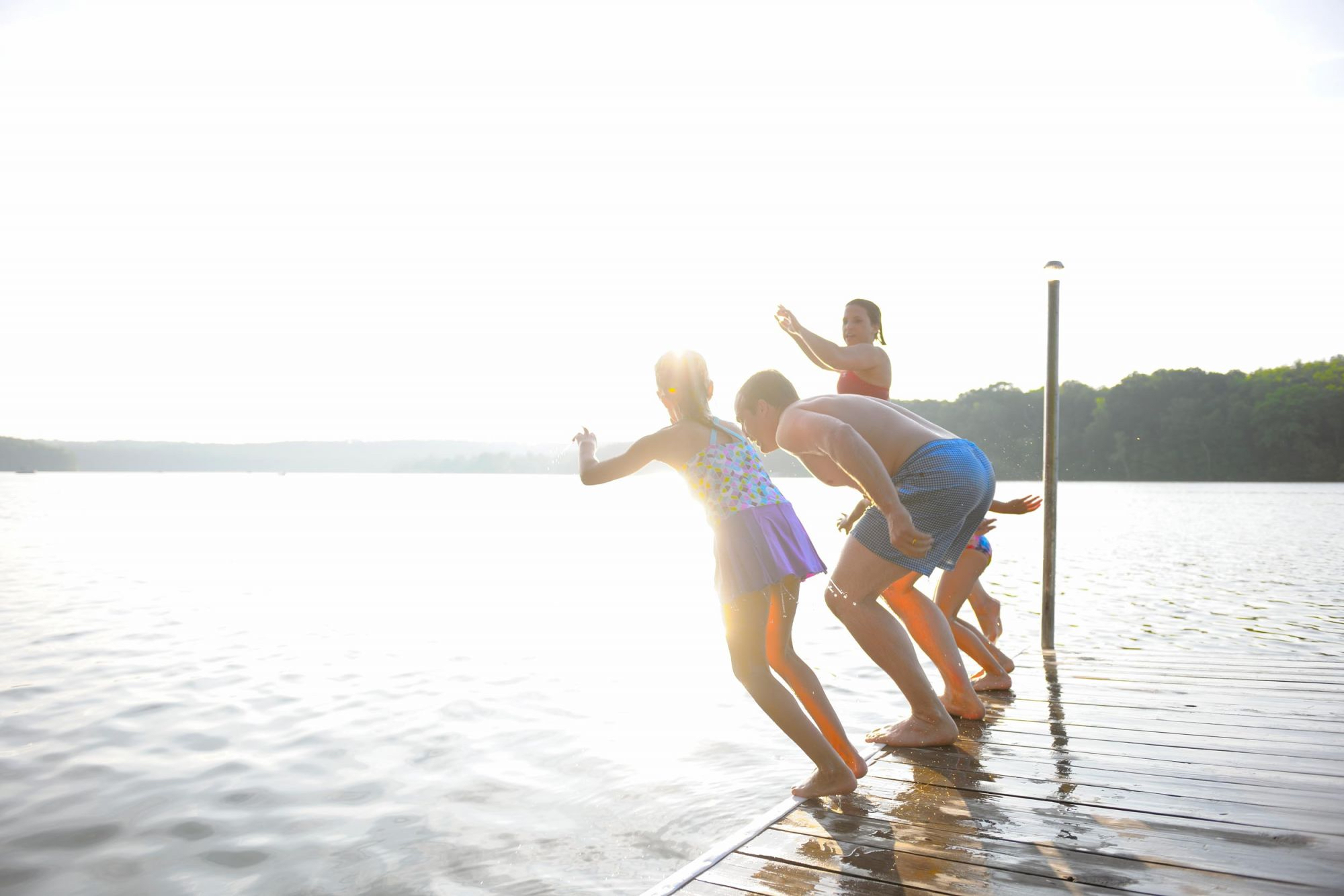 Atwood Lake
Along the way:
• Taste the culinary traditions of Italian families who settled in this area, as well as delicacies unique to the region like Italian greens and Chicken Française, at more than 50 sites along the Italian Food Trail in Trumbull County.
• Step back in history with the nation's 25th president at the McKinley Memorial Museum in Niles and a leader of the women's suffrage movement at the Harriet Taylor Upton House in Warren.
• Pamper yourself with some spa services and take a soak in the luxurious new Roman bath at The Grand Resort in Warren.
• View one of the nation's premier collections of American art, including works by Norman Rockwell and Georgia O'Keeffe, at The Butler Institute of American Art in Youngstown.
• Sail, swim or cast a line at Atwood Lake near Dellroy. Rent a boat to fish or spend the day on the water.
• Step back in time at Schoenbrunn Village, a 1772 Moravian mission that was Ohio's first European settlement, in New Philadelphia.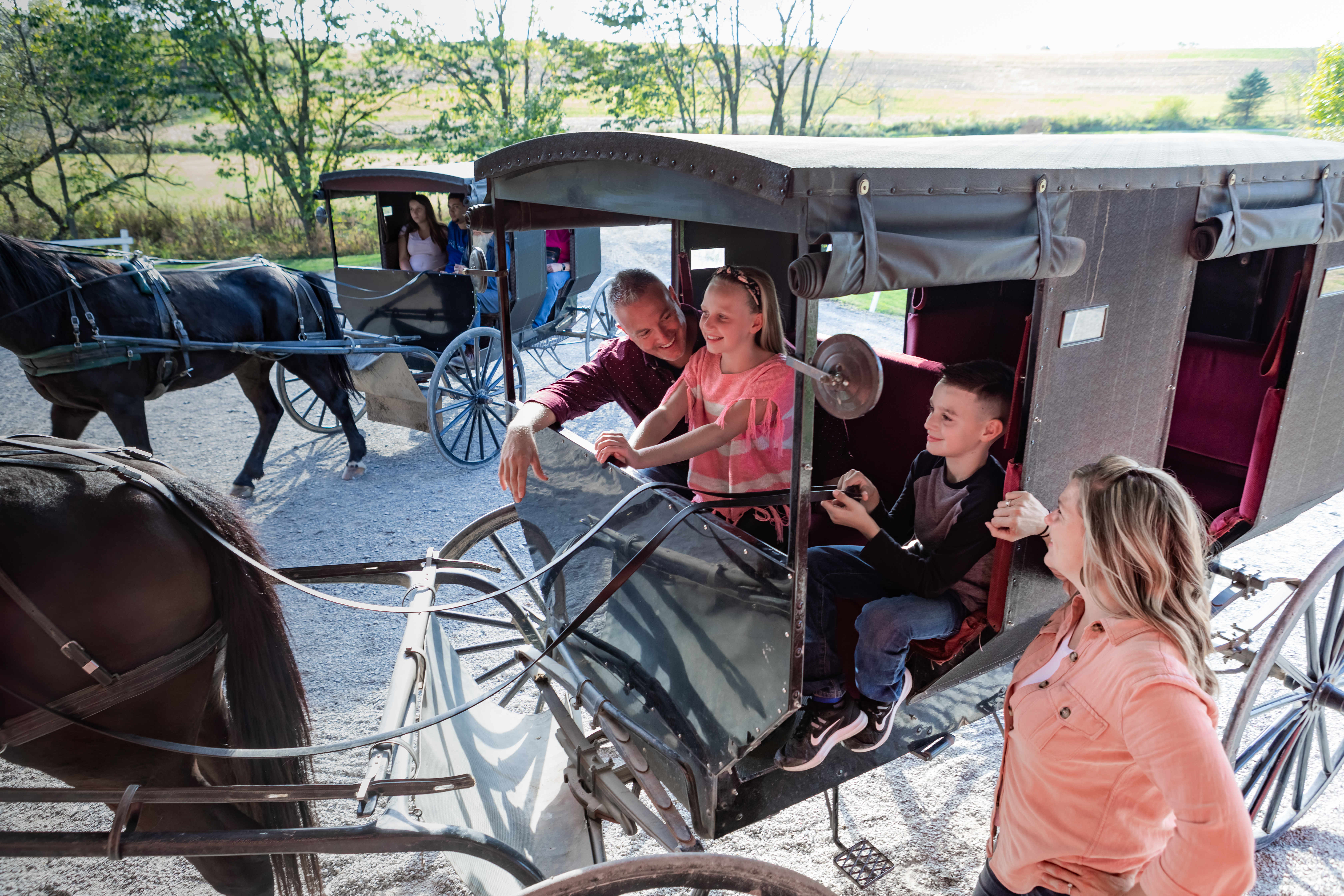 Yoder's Amish Home, photo credit: Laura Watilo Blake
AMISH COUNTRY
Stop: Life takes a slower pace in Ohio's Amish Country, where the rustic red barns and farms of the world's largest Amish population are nestled in the breathtaking hills and valleys. Get the full experience by touring the farm at Yoder's Amish Home, learn about cheesemaking (and taste the finished product) at Guggisberg Cheese, sip dandelion wine at Breitenbach Wine Cellars and take a fun selfie at the world's largest cuckoo clock in Sugarcreek.

Stay: Relax in the peace and quiet of the countryside from a unique "hillside honeycomb" or a cozy cabin at the Inn at Honey Run. Take a stroll though its Open Air Art Museum, which combines nature and art.

Eat: Pull up a chair at the counter for Amish-style diner fare at Boyd & Wurthmann Restaurant, share authentic Swiss and Austrian meals at Chalet in the Valley or take in an Amish-themed show or musical during your meal at the Ohio Star Theater.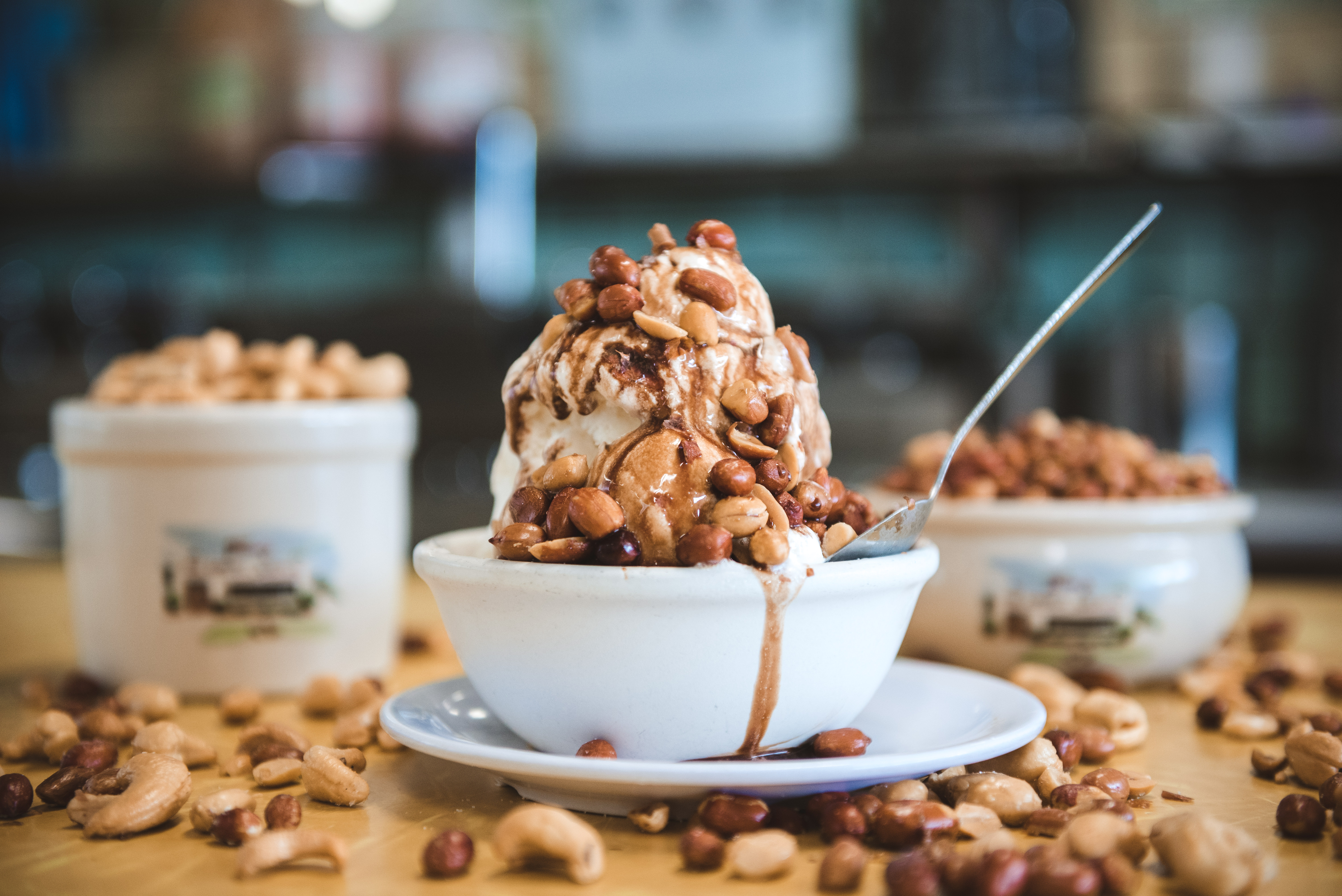 Tom's Ice Cream Bowl, photo credit: Beth Flick
Along the way:
• Check out fine arts from around the world (and beautiful local pottery) at the Zanesville Museum of Art and grab a cone afterwards at Tom's Ice Cream Bow.
• Shop for antiques and take a horse-drawn canal boat ride at Historic Roscoe Village. Look for more one-of-a-kind finds along the Coshocton Antique and Unique Shopping Trail.
• Sleep in a luxury yurt and wake up to the sounds of nature at The Wilds in Cumberland, where you can take an open-air safari tour to see exotic animals on the wide-open ranges.
• Marvel at the detail of the handcarved folk art by "The World's Master Carver" at Ernest Warther Museum and Gardens in Dover.
• Explore the art of Appalachia at stops along the Ohio Art Corridor, including sculptures outside Alan Cottrill Sculpture Studio in Zanesville.
• Take in the view and enjoy a four-course breakfast at the Inn at Dresden.
• Order barbecue fresh from the smoker at Cid's Smokehouse Grill in Senecaville.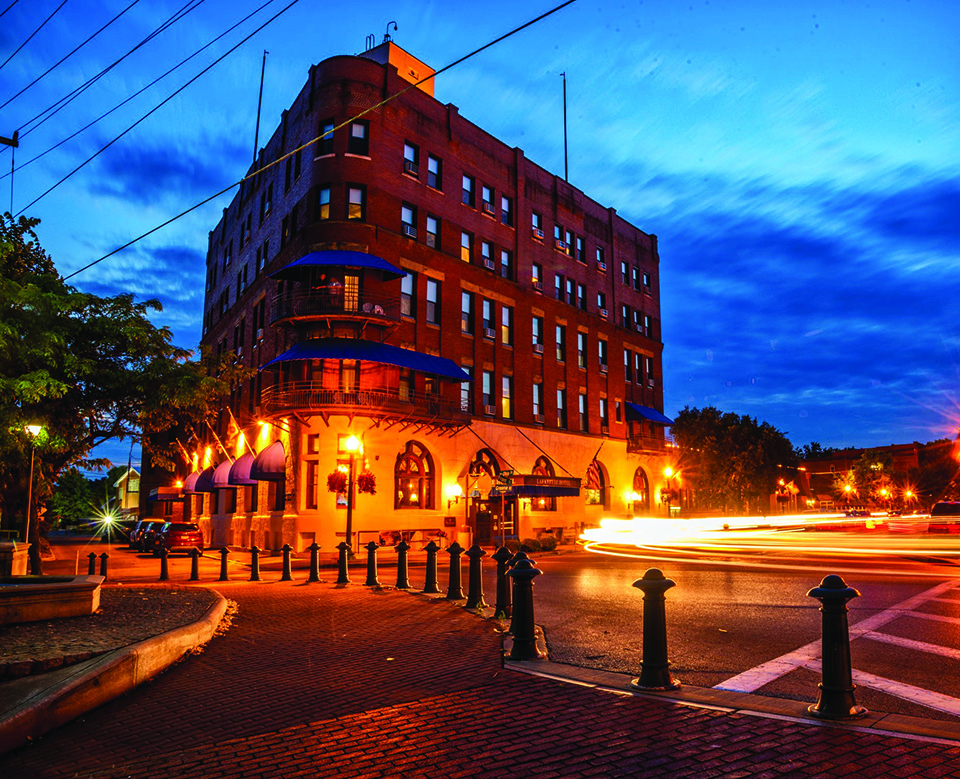 Lafayette Hotel
OHIO'S FIRST AND FINEST
Stop: Marietta's river-town history and charm will take you back to the simpler time depicted in David McCullough's latest bestseller, The Pioneers. Learn the backstory at the town's many museums, including the Ohio River Museum and Campus Martius, where artifacts and an original structure from that era can be seen.

Stay: The century-old Lafayette Hotel is a Marietta landmark situated right on the confluence of the Ohio and Muskingum rivers. Pick up one of the phones in the lobby to hear local history and be sure to ask for a room with a balcony overlooking the river.

Eat: Grab a gourmet burger or some bucatini bolognese at The Galley, before listening to a concert at the connected Adelphia Music Hall. Take a walk to admire the historic mansion and have dinner inside one at Buckley House, a Victorian-style home with porches upstairs and down.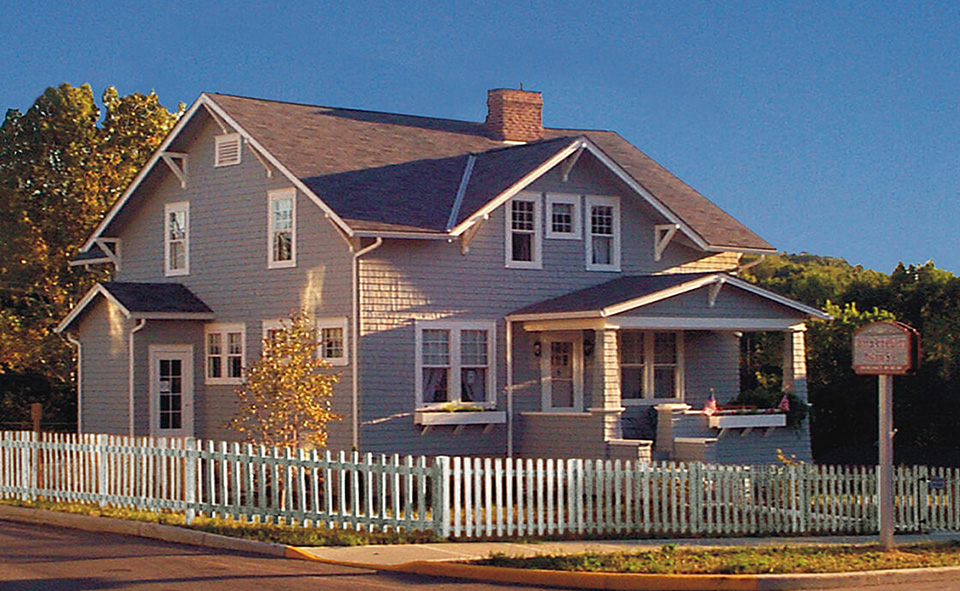 John & Annie Glenn Museum
Along the way:
• Hitch a ride on an authentic riverboat queen along the Ohio and Muskingum rivers on the Valley Gem Sternwheeler in Marietta.
• Explore the life story of Ohio's beloved space pioneer and senator at New Concord's John & Annie Glenn Museum.
• Enjoy bluegrass or gospel music or share a laugh with "country comics" at the Ohio Valley Opry in McConnelsville.
• Enjoy a different wine every week of the year with the 52 selections at Belpre's Unicorn Wine Guild.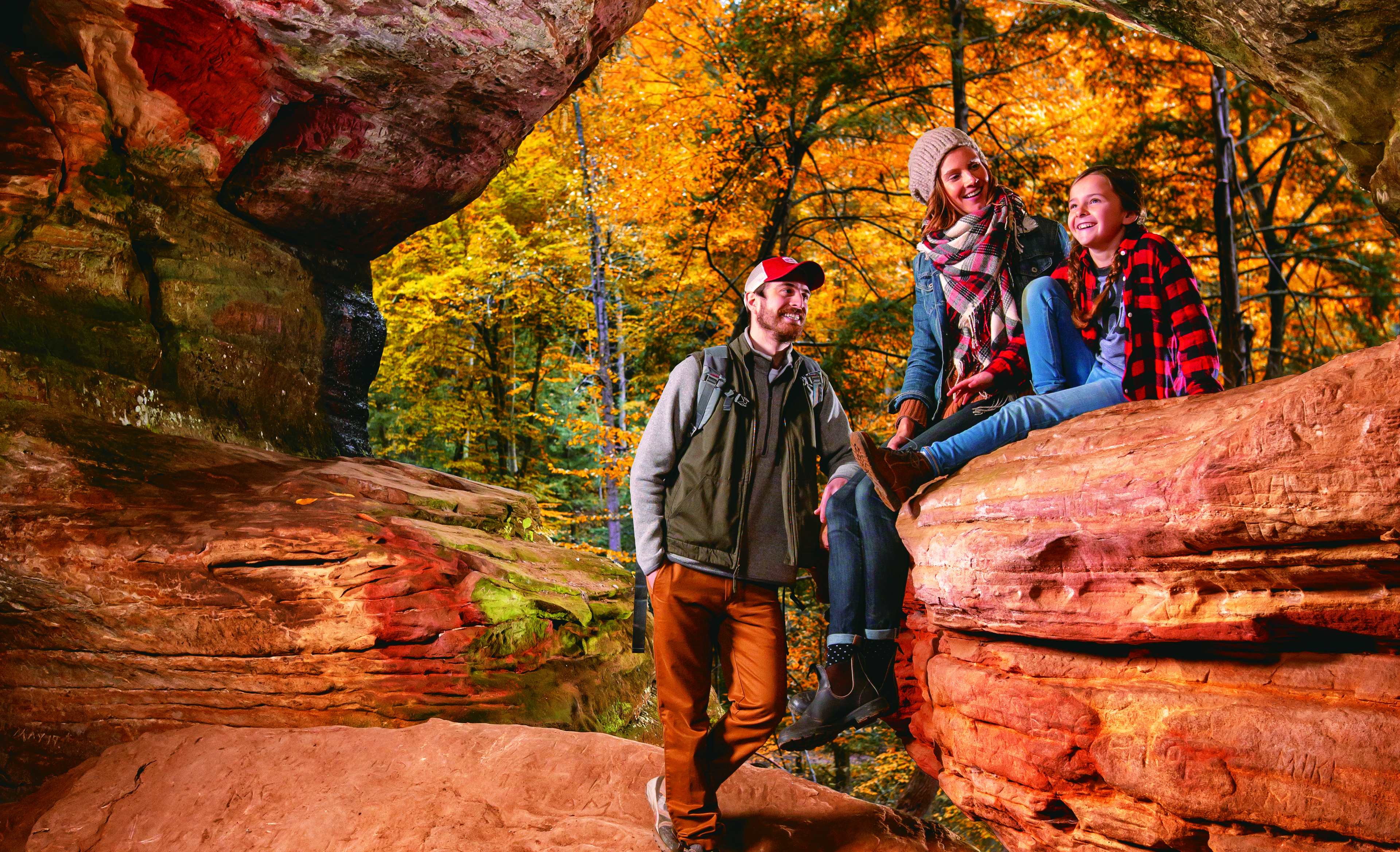 Rock House
HIKE THE HILLS
Stop: Take a hike in one of Ohio's most picturesque (and popular) natural spaces: Hocking Hills State Park. Must-see highlights include Rock Bridge Nature Preserve and the caves, outcroppings and waterfalls at Ash Cave, Old Man's Cave and Rock House. Thrill-seekers will love the mountain biking trails at Lake Hope State Park or zip lining at Hocking Hills Canopy Tours, while nature-lovers can let their hearts take wing in the butterfly-filled gardens at Butterfly Ridge.

Stay: Get away from it all in rustic luxury at Cherry Ridge Retreat, a 140-plus acre private resort in New Plymouth, or choose a cottage for the family or romantic cabin for two at the Chalets in the Hocking Hills.

Eat: Savor some new tastes with flights of wine at Hocking Hills Winery or indulge in family-style comfort cuisine (and a slice of pie) at the Olde Dutch Restaurant. In January, enjoy the region's heartiest eats on the six-day Hocking Hills Comfort Food Cruise.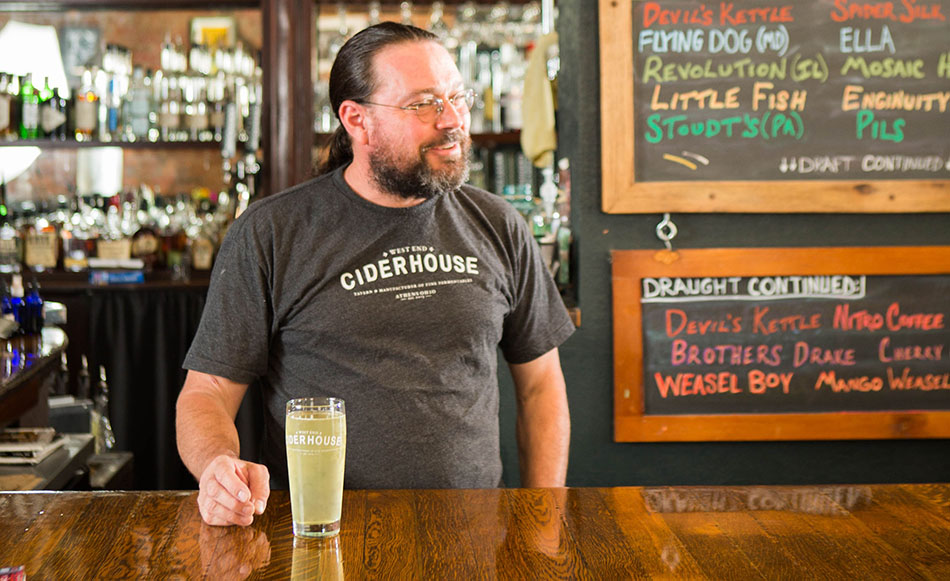 Athens Ciderhouse, photo credit: Laura Watilo Blake
Along the way:
• Overnight like royalty at the hilltop Ravenwood Castle with themed rooms and a medieval flair.
• Examine stone carvings from Ohio's ancient peoples at Leo Petroglyph in Ray.
• Enjoy a home brew (or two) at the craft breweries and a cider house along the 21-mile Brewed on the Bikeway trail.
• Take an art tour through the region with stops in Athens at PassionWorks Studio that sells artwork created by developmentally challenged artists, and the Dairy Barn Arts Center, where touring exhibits include the biennial Quilt National.
• Enjoy Athens' notable food and beer scene, starting with locally sourced foods at the employee-owned Casa Nueva, known for its seasonal salsas. Sip sustainably crafted, house-made beer at Jackie O's Pub & Brewery or choose from nearly a dozen grilled all-beef hot dogs at O'Betty's.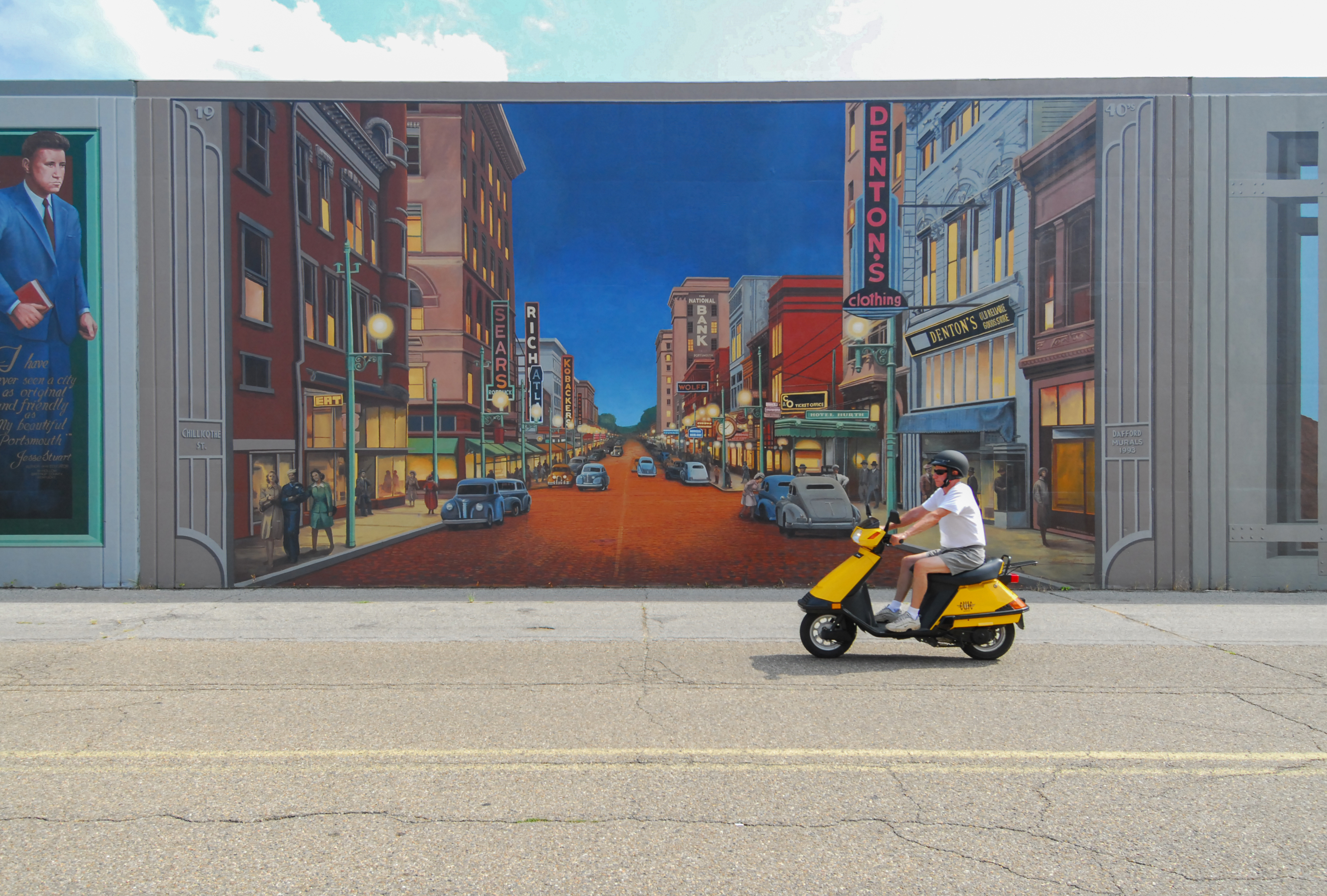 Portsmouth Floodwall Murals, photo credit: Ohio Images
HISTORY MAKERS
Stop: Time travel through centuries of history — from the prehistoric era all the way up to the Civil War and beyond — along the counties bordering the Ohio River. Don't miss the 33 sites along the self-guided Clermont County Ohio Freedom Trail. Make your own trail to see historic aircraft at Batavia's Tri-State Warbird Museum, Ulysses S. Grant's Birthplace in Point Pleasant, the hilltop home of abolitionist John Rankin in Ripley that was a major stop on the Underground Railroad, the 2,000 years of local history depicted in the Portsmouth Floodwall Murals and Ohio's historic crown jewel, the ancient Serpent Mound in Peebles.

Stay: Nestle down in the rolling foothills, away from the hustle and bustle of traffic and the noise of technology at Murphin Ridge Inn in West Union. Sit on a rocking chair on the front porch of the bed & breakfast and take in views of the surrounding woods and farmland.

Eat: Taste test handcrafted beers — including small batches made in-house — at the Little Miami Brewing Company in Milford or grab a pretzel-bun sandwich and some sweet-and-savory treats at Country Crust Bakery in Bainbridge.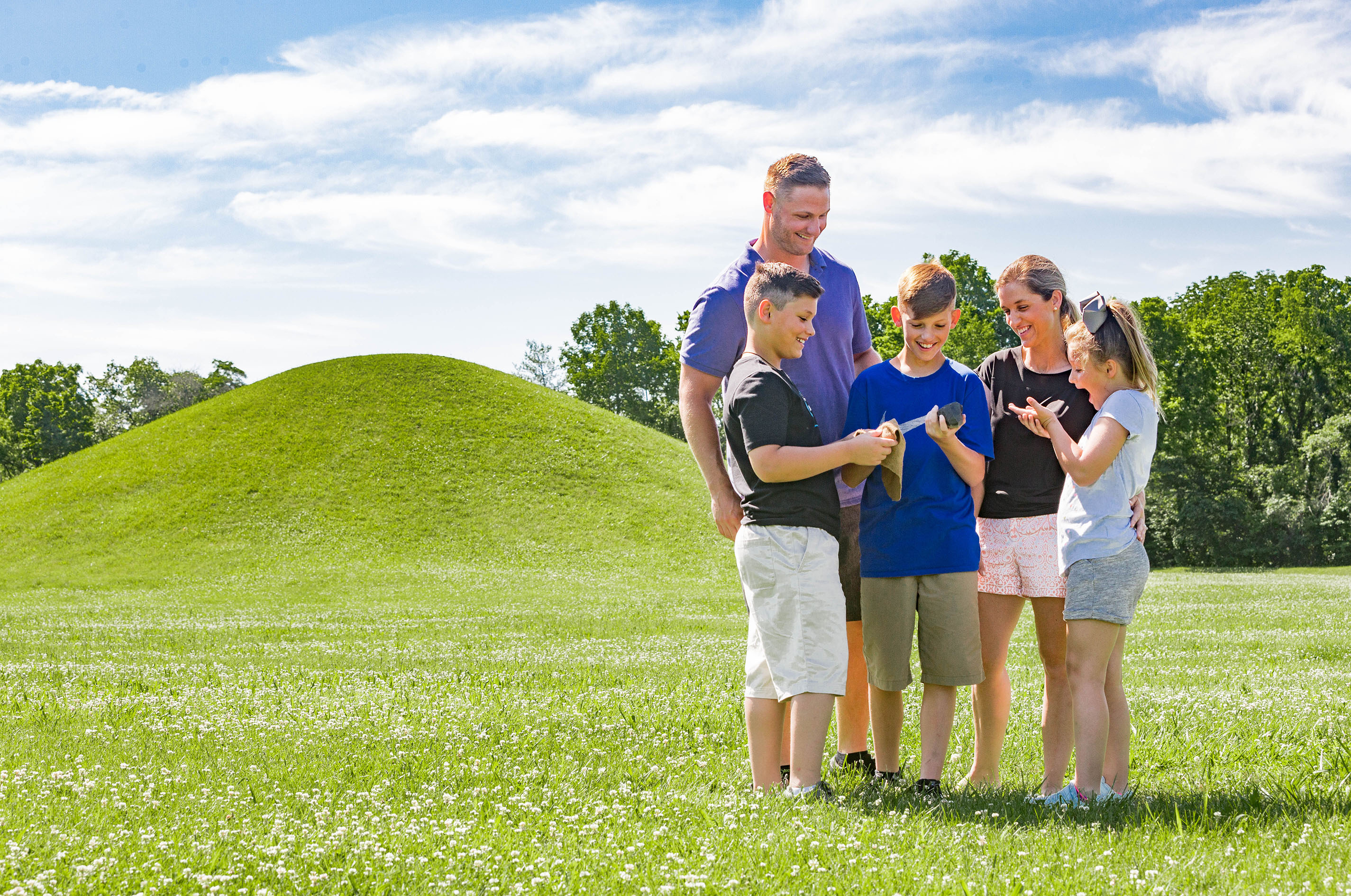 Hopewell Culture National Historical Park, photo credit: Laura Watilo Blake
Along the way:
• Take a walk on the wild side — and buy food from 70 countries — at Jungle Jim's International Market in Fairfield.
• Enjoy the murals and informative exhibits at Highland Nature Sanctuary's museum in Bainbridge, then wonder at the wild flowers in the Rocky Fork Gorge.
• Follow the path of fleeing slaves in Ripley from the Ohio River uphill to the Rankin House, home of Underground Railroad conductor John Rankin.
• Paddle a rowboat on the lake or compete in a round of disc golf at Shawnee State Park and Lodge in Portsmouth.
• Marvel at ancient earthworks shortlisted to become an UNESCO World Heritage site at Hopewell Culture National Historical Park
Plan your trip at Ohio.org!