Sponsored
From House to Home
Homestead Furniture's design experts provide valuable design guidance for every room.
Whether you know exactly how you'd like your home to look or are struggling to visualize it, designers at Homestead Furniture are well-versed in listening, guiding and delivering. With an endless array of customization options, the Homestead brand doesn't strive for one signature look; their quality pieces thoughtfully reflect the wants and needs of each customer. Homestead designer Ty Hamsher likes to think of Homestead as a circle, not a box — open, well-rounded and serving the customer with excellence. "We are set up so that in terms of style, design and quality, we have the ability to furnish every room in your entire home," says Ty.

The designers at Homestead Furniture are experts at walking their clients through the process so that they come out with furniture they love. From initial ideas to finishing touches, they help customers curate the rooms that make up a home.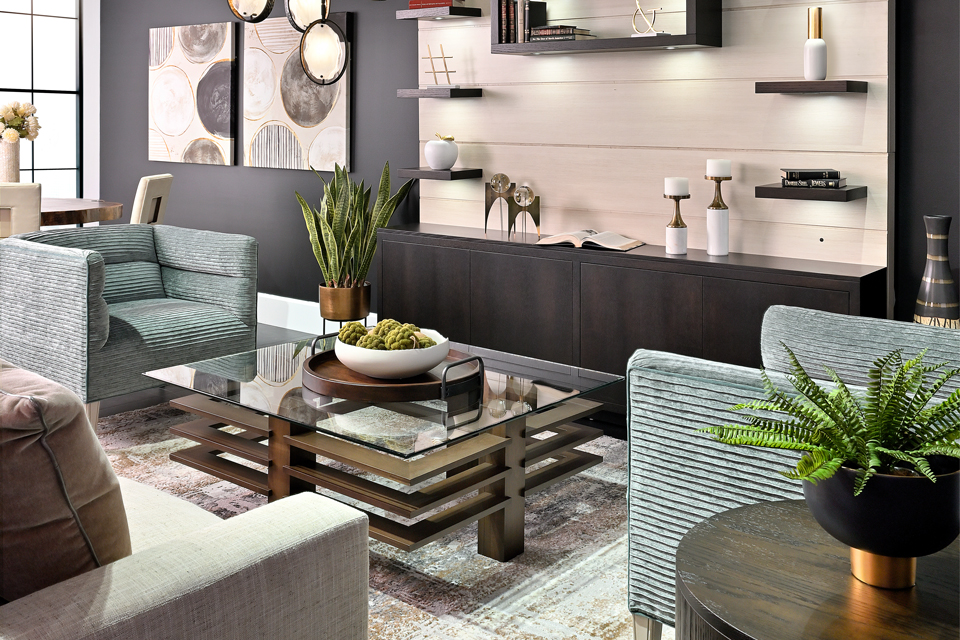 New & Now
Trends are constantly shifting — sometimes lasting no longer than a month or two, while others stick around for a few years. Color is the biggest changing trend that Homestead designers have noted as of late. While whites and grays have been dominant for years, there has been a shift towards expression through color — particularly organic colors, like greens and earthy brown tones. Fortunately, whether you keep up with what's trending or not, Homestead will guide you in building a timeless look that is perfectly "you."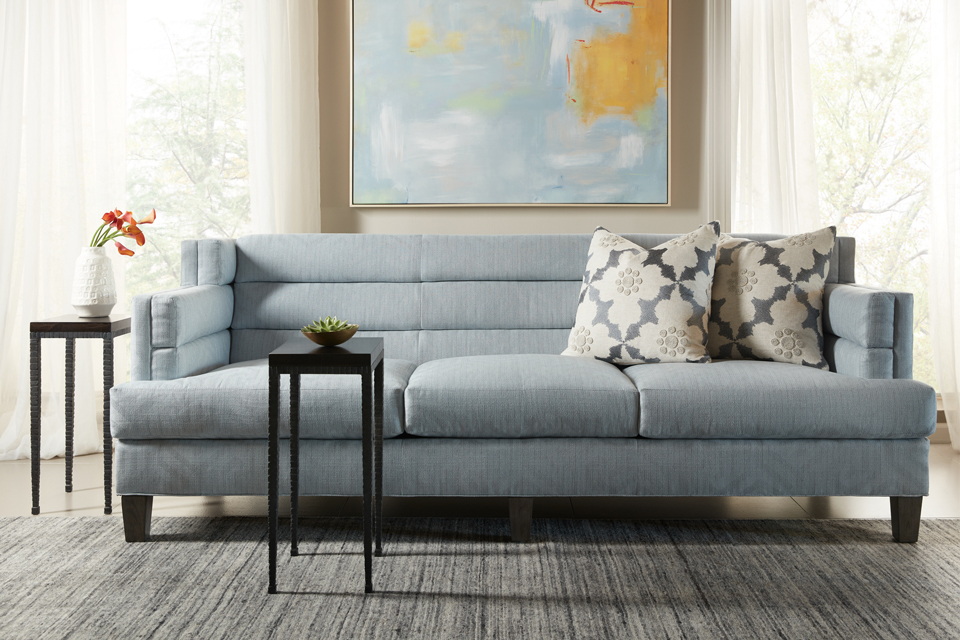 Living Room: Sit back and relax
Whether you seek a family room with a big plushy couch to lounge in or a more formal living space for entertaining, you'll be able to find everything you need at Homestead. For those who aren't quite sure what they're looking for, meandering through the expansive 40,000-square-foot showroom will provide plenty of inspiration. Once you find those pieces that really catch your eye, the designers can easily help you style a living room around those special elements.

Personality is key to making a living room stand out. Take accent chairs, for example — having fun with fabric patterns or diamond tufting can go a long way in creating a space perfectly suited to you.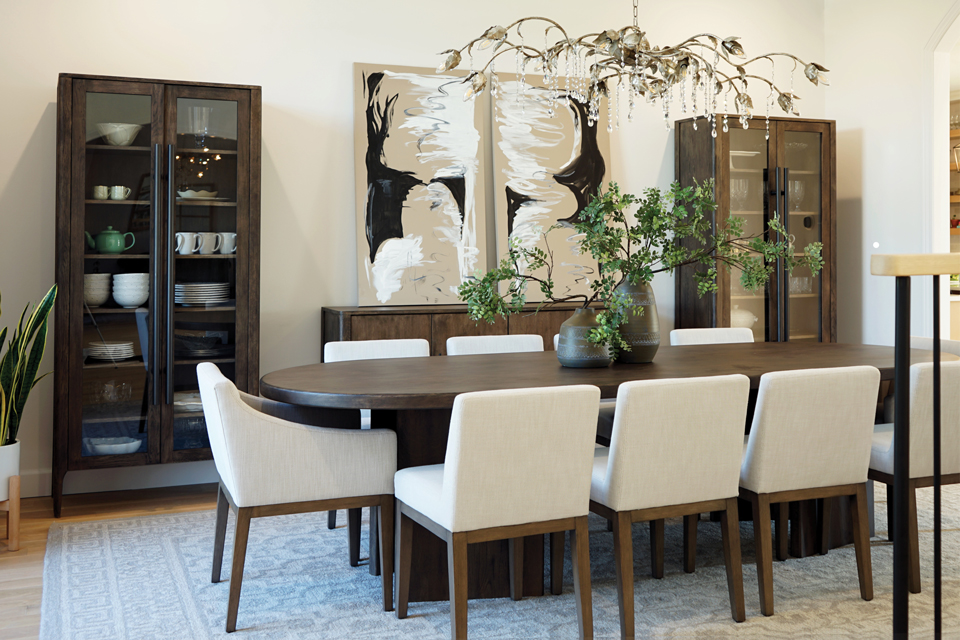 Dining Room: Gather together
Homestead Furniture is known for its show-stopping live edge tables, which are one of a kind and can add endless intrigue to your dining room. While the tree's natural features might evoke a rustic feel, Homestead's designers have successfully worked these signature pieces into many different style categories, from mountain rustic to ultra modern.

Sideboards, buffets, and hutches in any number of colors and styles are other elements to consider that can pull a dining room together. Not only do these pieces add storage, but they can also inject warmth and style into a room where so much togetherness happens.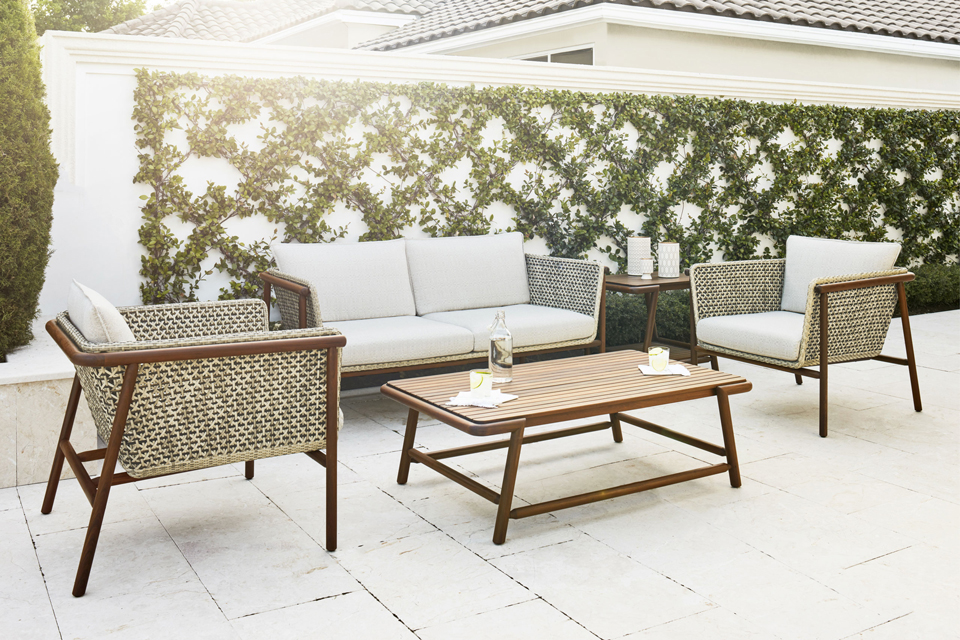 Outdoor Space: Fresh Air
The versatility of an outdoor space is unmatched. It can be a personal retreat from the world, a social area to enjoy with friends or a place to linger over family meals in the summertime. Homestead has a huge selection of outdoor furniture that will fit perfectly into whatever vision you have in mind for your outdoor living space. Midwesterners concerned about fickle weather patterns, for instance, can turn to Homestead's lines specifically made to last in any conditions. Wicker reinforced with aluminum wires and ipe (EE-pay) wood, a dense, mildew-and water-resistant hardwood, are two of their most durable options. But even if these don't pique your interest, all of Homestead's pieces — especially those meant for the outdoors — are the highest quality and built to last.

"We have been around for long enough to know that you get what you pay for, and a typical furniture store's quality just doesn't compare." -Sandy & Larry McCoy, Homeowners in Delaware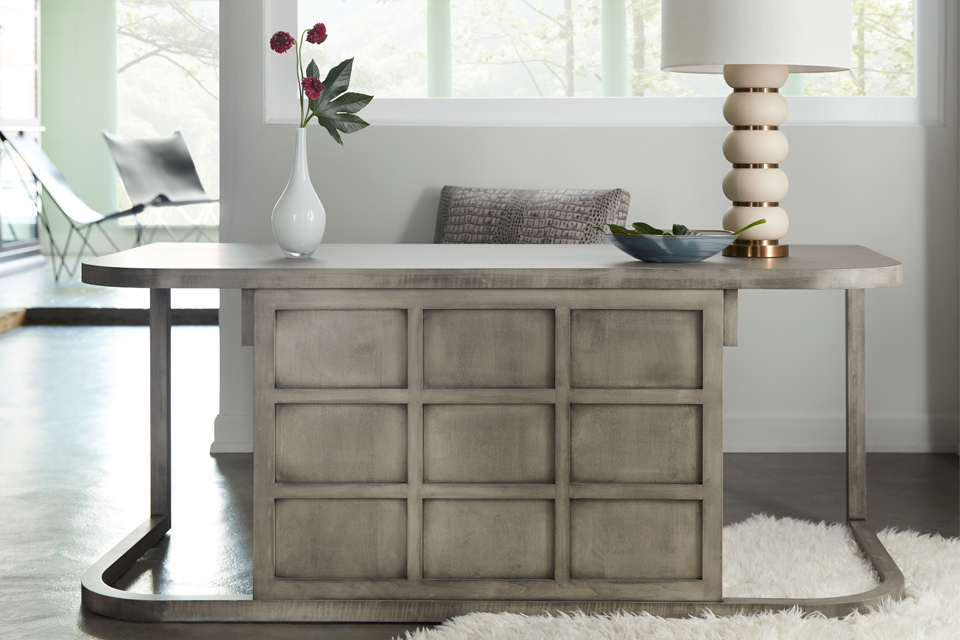 Home Office: Way to Work
With more people working from home now than ever, a home office has quickly become one of the most important rooms in the house. Homestead designers know that it's crucial for those working from home to have a dedicated office space — not just a cleared off kitchen table — for optimal focus and productivity. Whether you want to tie your office into the overall style of your home or desire a more traditional work environment, Homestead can make it happen.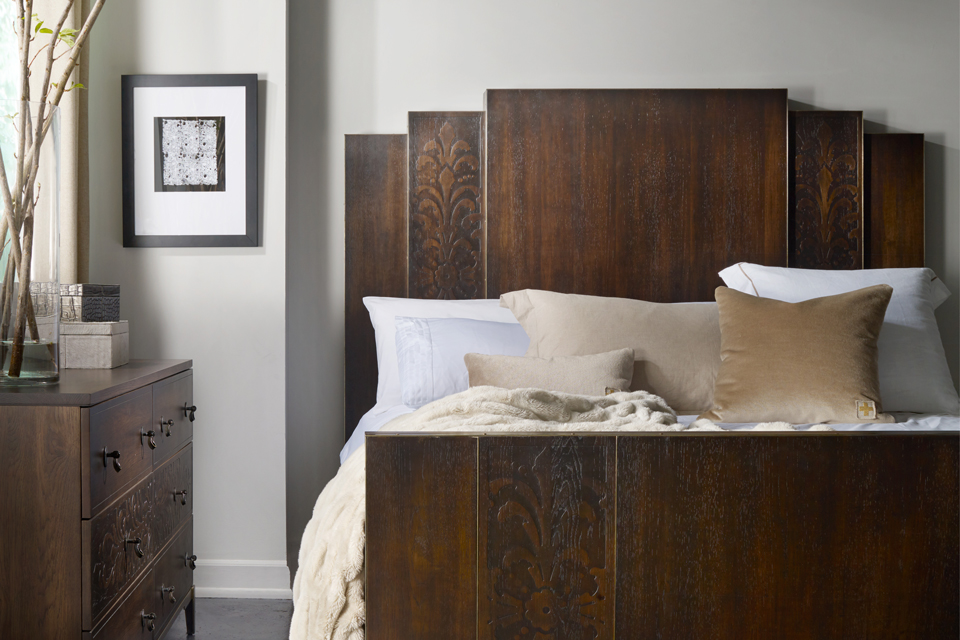 Bedroom: Call it a Night
A bedroom is arguable, the most personal space in the home. Lately, it's been all about the coziness factor. Not only are people leaning more towards casual browns, beiges, and natural wood tones but they are also mixing it up by opting for individual pieces of furniture instead of matching bedroom sets. To pull off the eclectic look, it's important to still capture that cohesive feel throughout a room. Homestead makes it easy to achieve the perfect blend; many clients opt to incorporate the same color in different styles, or the same style in different colors.

For larger bedrooms, consider bringing in a swivel chair or two, an end table and a lamp to create a second, more private living area to unwind in. If you have a specific look in mind, any of Homestead's designers can sit down and sketch it out with you.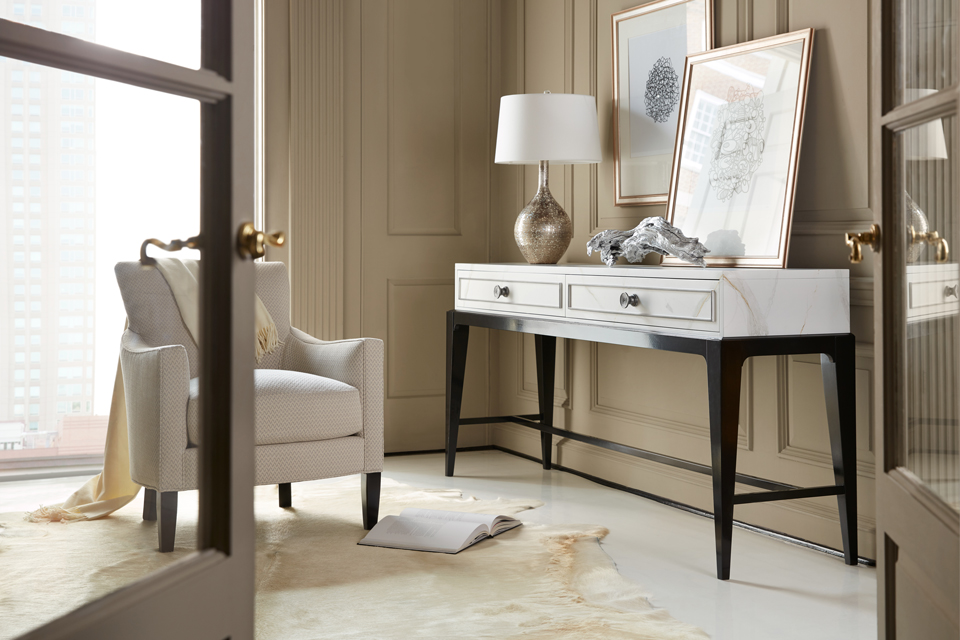 Amish Craftsmanship Meets Luxury Design
Did you know high-end design is completely within reach? Quite literally, too, when you visit Homestead Furniture. After talking to you about your needs and wants, the designers will often draw up a sketch right in front of you. The options for customization are endless, from multitudes of leather and upholstery options to over 3,000 stains, colors, and wood finishes. Whether it's a single timeless heirloom or a one-of-a-kind, full-home project, Homestead's seasoned designers will bring it to life. After coming up with something that you're excited to own, the design is sent to Homestead's on-site manufacturing facility, where it's assembled by craftsmen and checked for quality. Before long, you'll be enjoying your new furniture in the comfort of your own home.

At the end of the day, client satisfaction is the top priority for Homestead's design team. "Shopping for furniture should be a fun experience," says Ty. "We're here to help the customer get the vision they want. When all the furniture makes it to their house, we want it to feel like home." Schedule an appointment or just drop in Monday through Saturday to make your dream home a reality.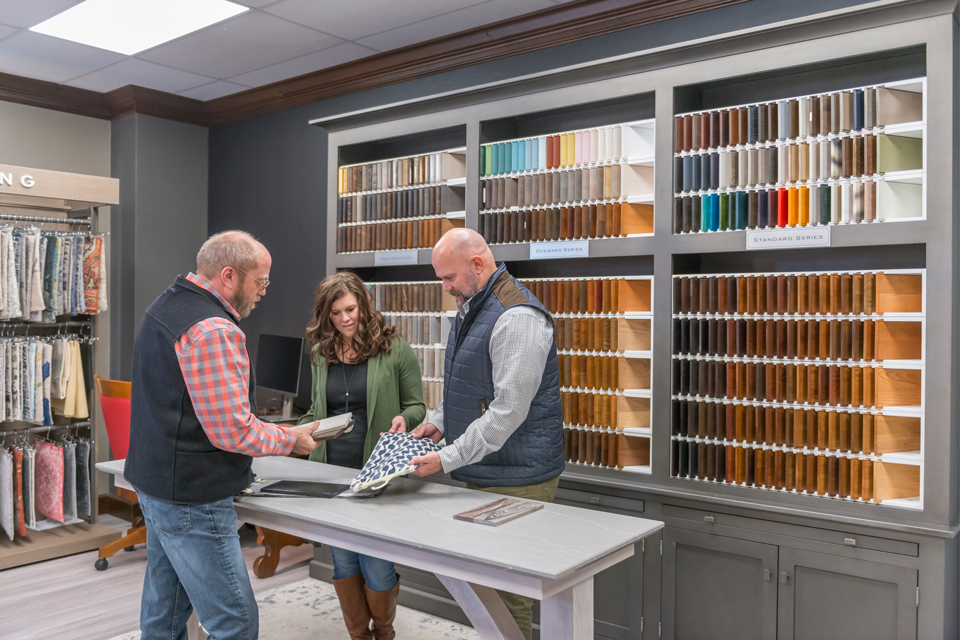 How We'll Help
1. Call or schedule online: Work with our design consultants or bring your own.
2. Gather and bring your inspiration: Images, catalogs or blueprints. We'll use these to develop stunning furniture that will perfectly fit your home.
3. We'll handle the rest: We'll help you design and personalize every aspect of your furniture.