Sponsored
Furnishing Our Dream Home
How one couple outfits their entire home to fit their style with the help of Homestead Furniture
When Jeff and Cecilia Sprouse were building their dream home in Wheeling, West Virginia, in 2019, they knew if they filled their home with furnishings from a typical big-box retailer, it would end up looking like that store, and wouldn't be reflective of their own sense of style.

"It was brand new," Cecilia says of the 6,000-square-foot, contemporary-style home. "Our thought was we wanted furniture that was of very nice quality, and something that reflected our personalities as opposed to someone else's personality. We're not run-of-the-mill people; we like things that are outside the box".
Homestead enabled Cecilia and Jeff to produce one-of-a-kind results throughout their entire house. When they were finished, furniture they had spent years designing inside their heads had become realities. "It turned out better than I imagined it could have," Cecilia says. "The pieces Homestead made for us are definitely eye-catching and, more importantly, fit us and our style."
Beyond the furniture itself, the Sprouses were awed by their ability to one-stop-shop at Homestead. Rather than spending months trying to mix and match pieces from one store or another, they could achieve their distinctive home-design ideals in a mere afternoon at the Homestead showroom in Mount Hope.
And the finished product? Here's a glimpse: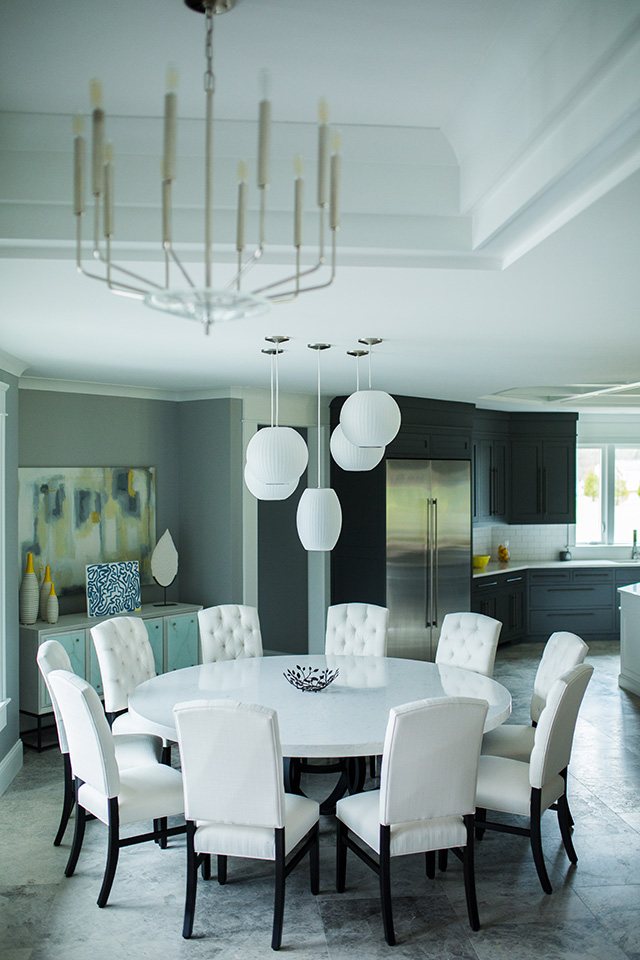 Dining Room
In the open-space design, everything flows from the circular dining room table. For example, the table is linked thematically to the kitchen countertops, which have the same quartz. "It's stunning," Cecilia says of the table, which weighs a whopping 1,300 pounds. "Everyone who comes to our home comments on it."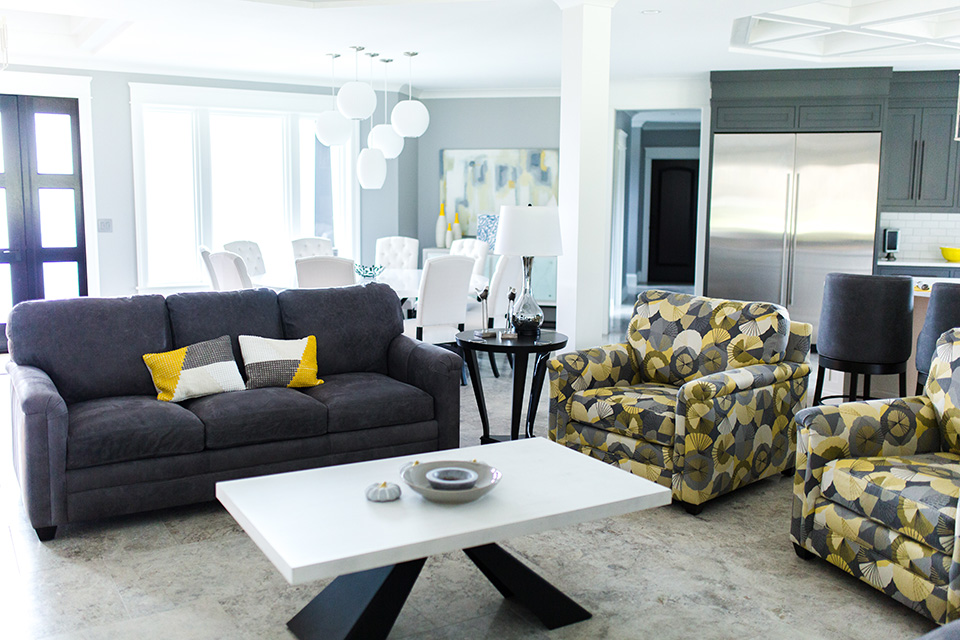 Living Room
Cecilia wanted leather for her living room sofas, and a lightbulb went on in her head when she saw a gray hide on the wall at the Homestead showroom. The leather is soft and inviting, but it's also tough enough to withstand just about anything. "I don't have any qualms whatsoever about our two youngest granddaughters being on the leather furniture. I know it's of such high quality, it will take the abuse of a four- and six-year-old," Cecilia says with a laugh.

Complementing those sofas are chairs covered with yellow-and-gray upholstery that captures the vibrancy of Cecilia's personality. "We have that fabric in our main living area and then in our little reading room on four kitten chairs," she says. "It's very pretty."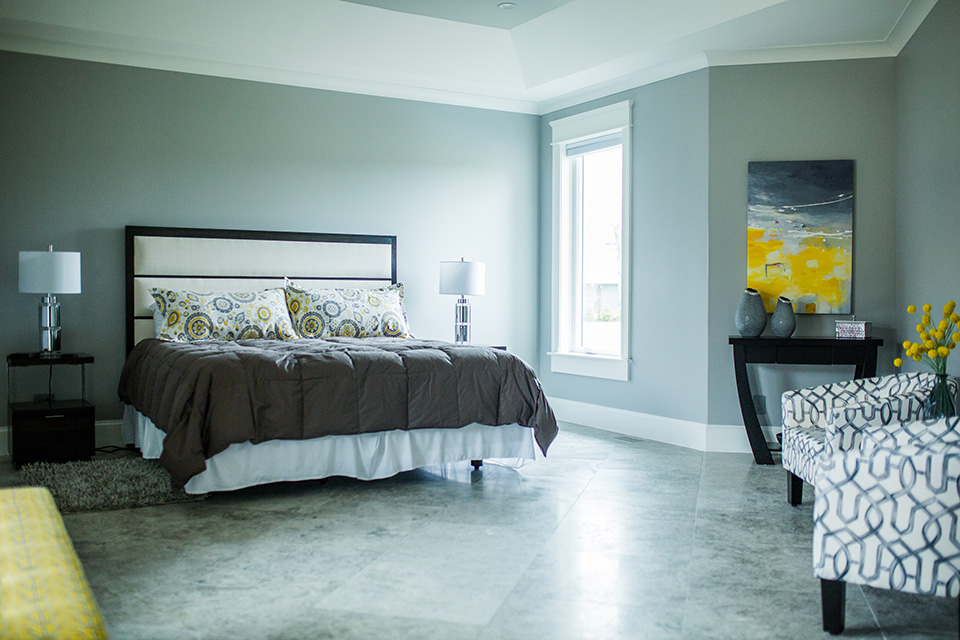 Bedrooms
The centerpieces of the bedrooms are, as one might expect, the custom bed frames. They create a sense of warmth that lends itself to a peaceful sleep.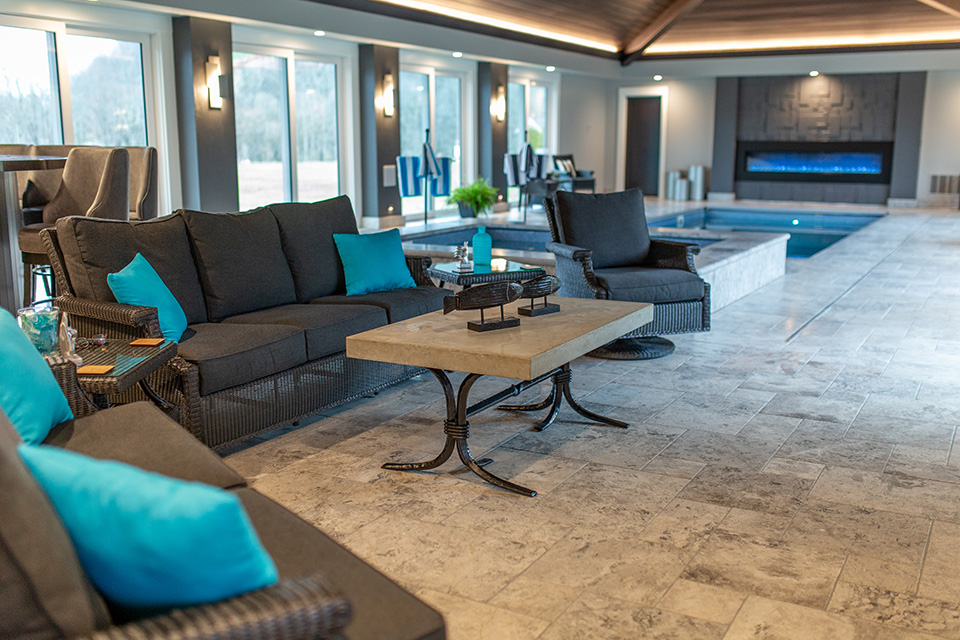 Pool Room
Bringing the outdoors in was key for the indoor pool room. Durable wicker furniture accomplishes just that.

The specially designed metal barstools, pub table and coffee table are sources of wonderment for Jeff, who says, "When I think of Amish Country, I think of woodworking. I didn't think of the metalworking. It's fantastic workmanship. They're commercial quality but made specifically to our style."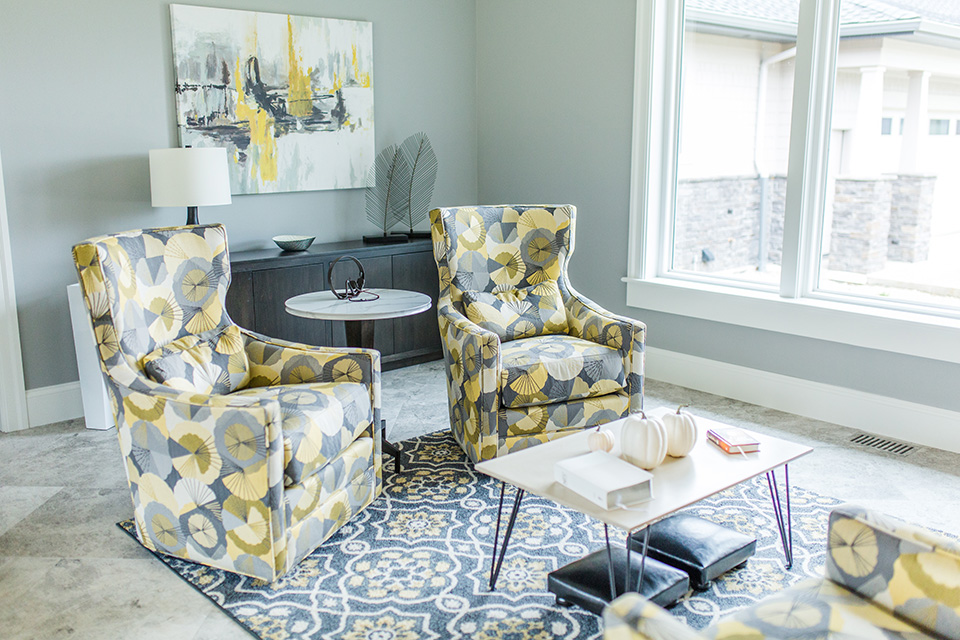 Accents
A variety of end tables and nightstands dot the house. Jeff is particularly fond of — and somewhat mystified by — the exquisite craftsmanship of the end tables.
"It's actually a wooden top, but they finished them with such a high-gloss glaze material that they look like marble," Jeff says. "I've never seen a wood product like that."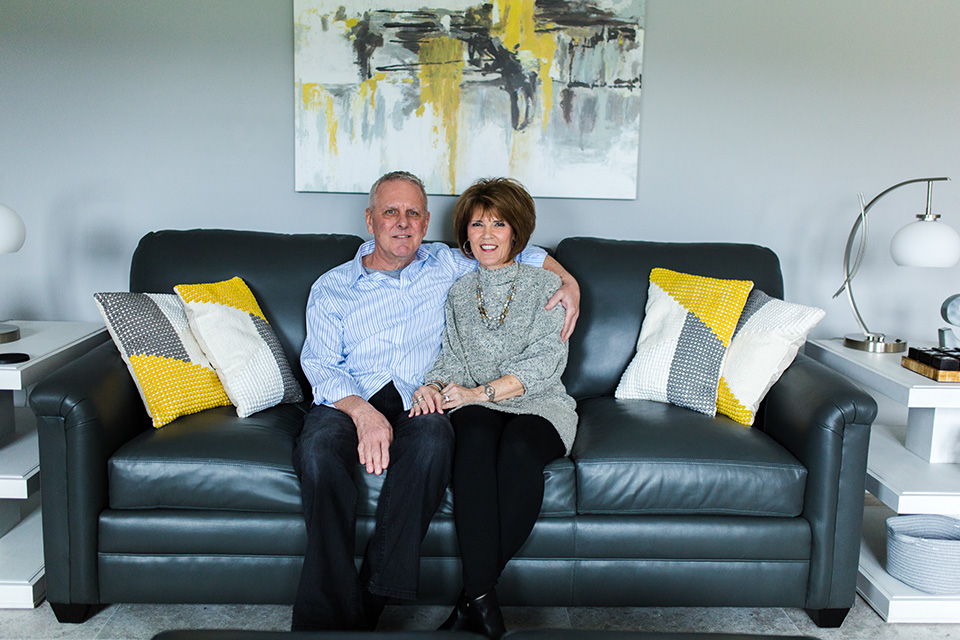 Homestead Furniture's handiwork blends together to create something that's more than a home for the Sprouses. It's an ideal achieved. Schedule your visit today at homesteadfurnitureonline.com.