Sponsored
Fall in Grove City, Ohio!
Looking for an autumn getaway that will be fun for all? A trip to the central Ohio community of Grove City offers a range of experiences and adventures.
Grove City, Ohio, offers big-city appeal and a small-town feel. The bustling Stringtown Road is the hub for hotels, and London Groveport road area is home to retailers and restaurants. Grove City's Historic Town Center offers its own selection of shops in a walkable area that's fun to explore. (This autumn brings the third-annual pumpkin trek, which encourages locals and travelers alike to embrace all things pumpkin and get a T-shirt for their efforts!) Adventurers will also find plenty to love here, whether it's paddling on the Big Darby Creek National Scenic River or getting some steps in at the 620-acre Scioto Grove Metro Park. Here's a preview of what you'll find in Grove City, Ohio, this fall. For more information about these destinations and others, go to visitgrovecityoh.com
Trapper John's Canoe Livery
Adventure and nature converge along the Big Darby Creek National Scenic River. Not only is the Darby home to more than 100 species of fish and 38 species of reptiles, but paddlers can explore up to 12 miles of river ecosystem through Trapper John's Canoe Livery. Five self-guided trips of varying lengths are available, although novices may want to consider visiting when the water is slower. The livery rents canoes and kayaks only when water conditions allow. Rentals include all equipment, a ride back to the livery and paddling advice. For more information, visit trapperjohnscanoeing.com.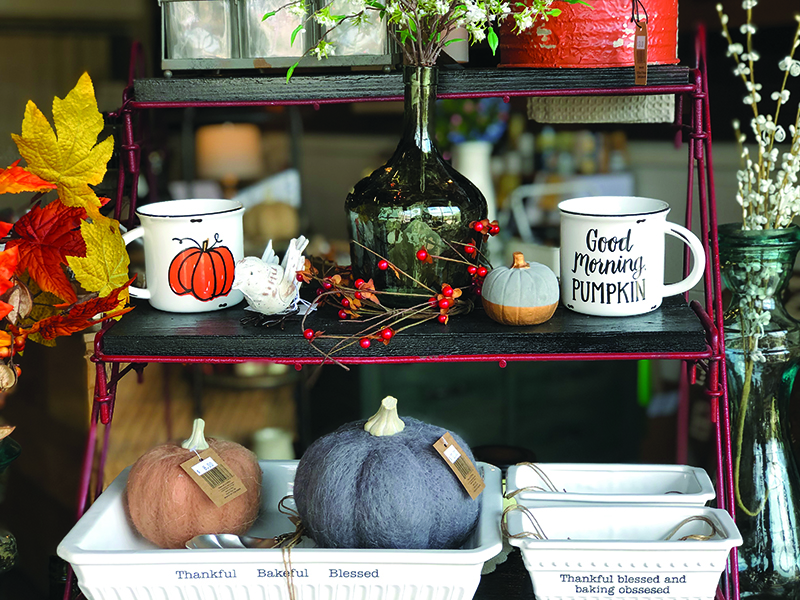 Pumpkin Trek
Come September, the slow shift from summer to autumn elicits thoughts of apple cider, falling leaves and, of course, pumpkins. This year, 18 Grove City businesses are celebrating the spirit of fall with the third-annual Grove City Pumpkin Trek, a three-month-long citywide exploration of everything pumpkin. The Farm Table on 62, a boutique that specializes in home decor, art and other local goods, has participated in the trek each year. Potential trekkers can print out or pick up guides at any participating Grove City business. Each stop will stamp your guide if you buy one of their pumpkin-themed goodies, be that a jar of local pumpkin butter from The Farm Table or a pumpkin beer to complement an Ohio beef burger at Grove City Brewing Co. Collect a total of nine stamps and contact the Grove City Visitors Center to arrange curbside pick-up of your free limited-edition T-shirt. For more information, go to visitgrovecityoh.com/pumpkin.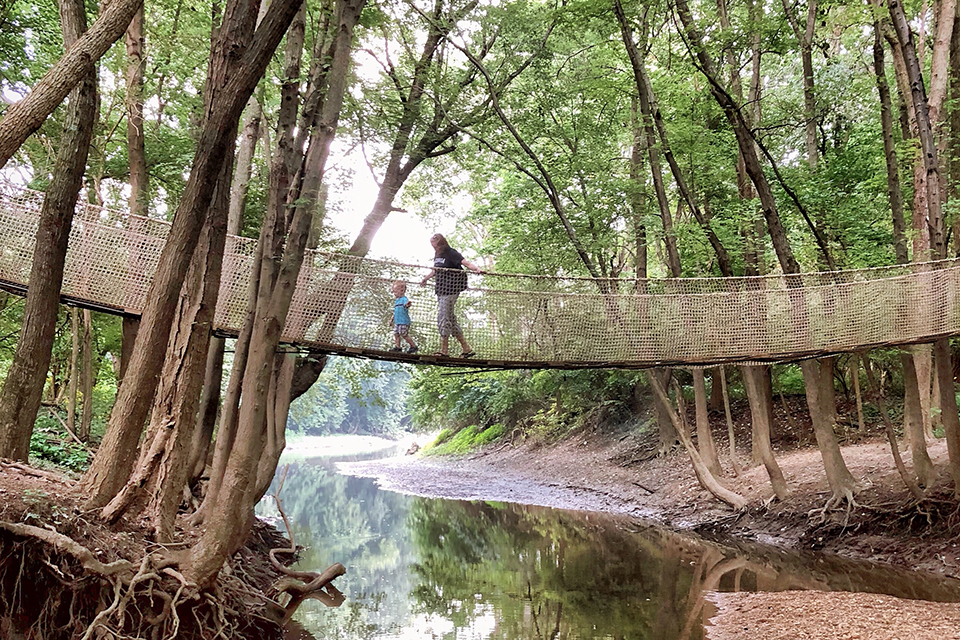 Scioto Grove Metro Park
The 620-acre Scioto Grove Metro Park, just a 10-minute drive from Grove City's center, welcomes around 500,000 visitors each year. The park is home to a classic archery range and a 3D range, complete with 12 foam animal targets. Backpackers, bikers and dog walkers are all welcome to explore the park's six main trails, including the 1.8-mile long REI River Trail. This trail also offers a gently swaying — but very safe — suspension bridge that takes hikers across Grant Run. For more information, visit metroparks.net.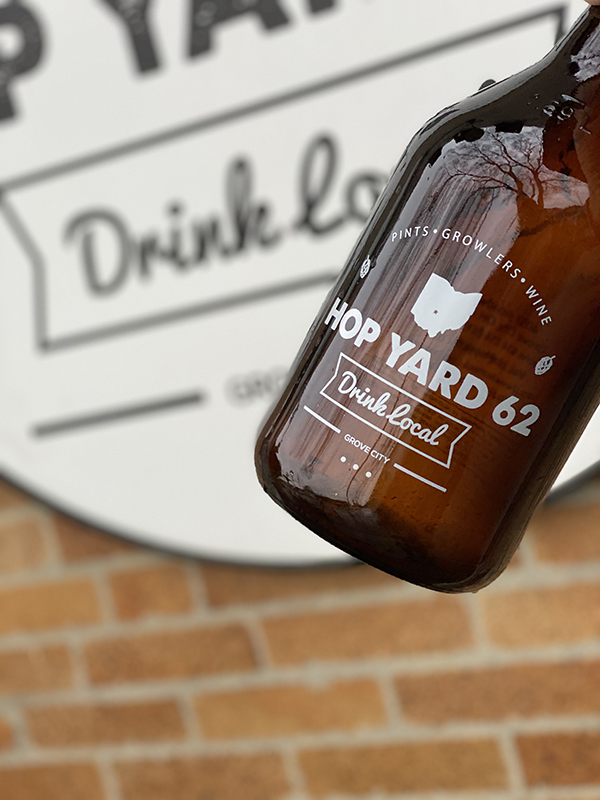 Grove City Town Center
Grove City Town Center is home to over 30 local businesses, making it the perfect place to explore brick-and-mortar shops and sample an array of food and drink. The Town Center is also the site of special events ranging from bourbon tastings to art festivals. Downtown Grove City is easily walkable and features a mix of stores, boutiques and eateries. Visitors can pour their own candles at The Chandler and browse rooms of antiques at Country Hearth Primitives. Garden Bar serves up healthy fuel like cold-pressed juice and salads and Hop Yard 62 works closely with other central Ohio breweries to offer 21 craft beers on tap. Hint: Both are on the Pumpkin Trek! For more information, visit heartofgrovecity.org.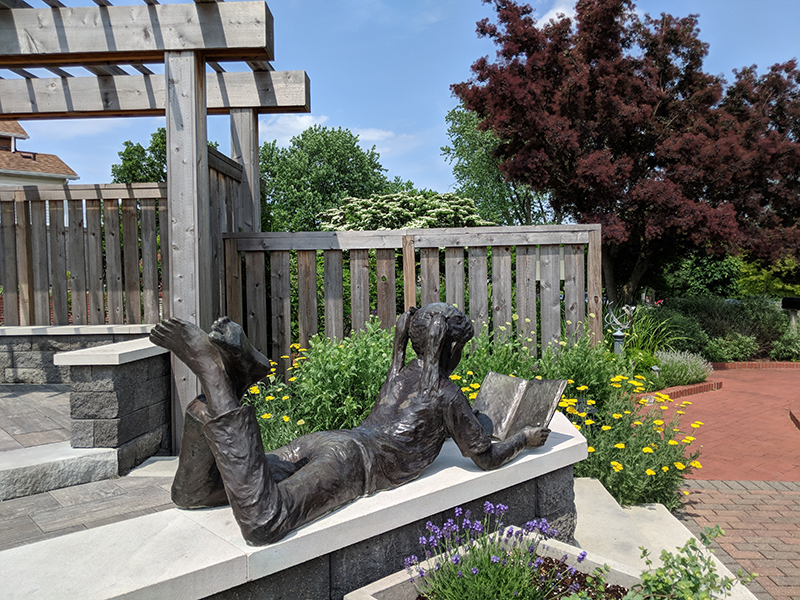 Gardens at Gantz Park
Local farmer and landowner Adam Gantz built his Grove City farmhouse during the mid-1800s. Today, it overlooks an eclectic garden of 500 different herbs from around the world, and the Gardens at Gantz Park has become a destination for both family fun and individual meditation. Along with a rain garden, fairy garden and cutting garden (to name just a few), the gardens of yesterday, today and tomorrow each add a piece to the history of herb gardening. Self-guided garden tours are available, or call ahead to schedule a guided tour. For more information, visit grovecityohio.gov.
For more information about these and other fall destinations and adventures in Grove City, Ohio, go to visitgrovecityoh.com. To read the editorial feature about Grove City, Ohio, that appeared in the Sept./Oct. issue of Ohio Magazine, click here.