Sponsored
Great Ohio Road Trips | Lakes and Parks of the Muskingum Watershed
Explore the Muskingum Watershed Conservancy District's sites across Ohio for camping, swimming, boating and more summer fun.
Each lake offers a full-service marina with boat rentals. For more information, visit mwcd.org.
Charles Mill Lake and Pleasant Hill Lake | Richland and Ashland counties
Picturesque lake-view campsites as well as primitive spots nestled in the woods are both available at Charles Mill Lake. In addition to more than 450 campsites, the park has a swimming beach and a 10-horsepower-limit lake for kayaking, fishing or taking a leisurely cruise on a pontoon boat.
Pleasant Hill Lake, located about 13 miles south, features both premium campsites (including ones for travelers who want to bring their horses) and luxury log cabins with outdoor hot tubs. Nearly 60 miles of equine trails, which hikers can use as well, are located in the region with 8 miles accessible from Pleasant Hill Lake Park's equine camp area.
Additional trails are available nearby at Malabar Farm State Park and Mohican State Park/Forest. The unlimited-horsepower lake is a draw for speedboaters and water skiers, and the beach has an inflatable water park for kids.
Charles Mill Lake Park: 1277A St. Rte. 430, Mansfield 44903, 419/368-6885 (marina number 419/368-5951); Pleasant Hill Lake: 3431 St. Rte. 95, Perrysville 44864, 419/938-7884 (marina number 419/938-6488)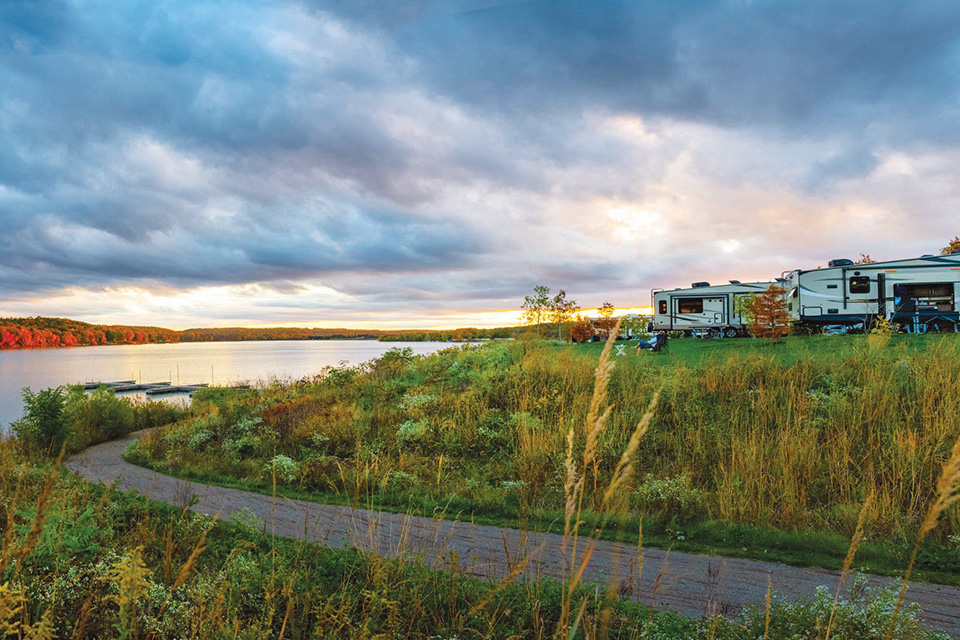 Atwood Lake and Leesville Lake | Carroll and Tuscarawas counties
Atwood Lake offers a sailing and pleasure-boating paradise with its 25-horsepower limit, but the on-the-water offerings are just part of the appeal.
There are also more than 500 campsites and nearly 6.5 miles of hiking trails within the park. There's also a swimming beach, an inflatable water park for kids, and food and drink at the Atwood Lighthouse Bistro, Atwood Dock Marina & Grill and Camp Store.
The quieter Leesville Lake, located less than 10 miles to the south, is one of Ohio's top lakes for muskie fishing. It has a 10-horsepower limit, camping and access to the statewide Buckeye Trail. Two privately owned marinas operate along the lake.
Atwood Lake Park: 9500 Lakeview Rd. NE, Mineral City 44656, 330/343-6780 (marina phone number is 330/364-4703); Leesville Lake: North Fork Marina & Campground, 2126 Azalea Rd. SW, Carrollton 44615, 330/627-4270; South Fork Marina & Campground: 4131 Deer Rd. SW, Bowerston 44695, 740/269-5371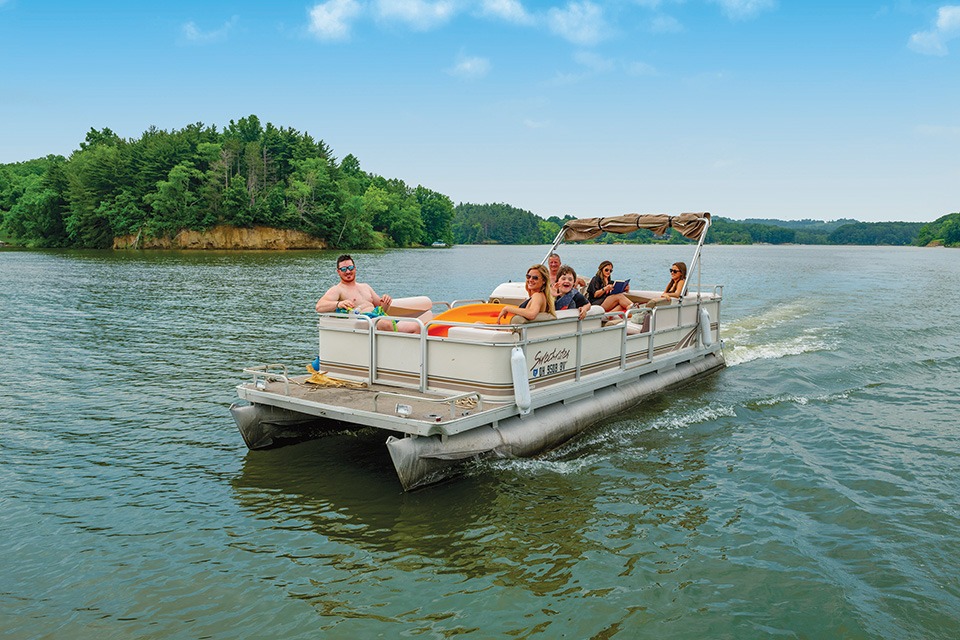 Piedmont Lake and Seneca Lake | Belmont, Guernsey and Noble counties
Muskie, bass and saugeye are plentiful at Piedmont Lake, and a 10-horsepower limit on boats makes for what has long been considered one of Ohio's best fishing lakes. Piedmont Lake offers a campground, rental cabins and a kayak launch at the marina that makes it easier for paddlers to get out on the water.
Seneca Lake, about 35 miles to the south, holds the distinction of being the state's third-largest inland waterway and draws boaters with its 3,550 acres of water surface and 399-horsepower limit.
It has more than 500 campsites, nearly 3 miles of hiking trails (including a junction with the Buckeye Trail), a swimming beach and waterfront dining at the Dockside Restaurant.
Piedmont Lake Marina & Campground: 32281 Marina Rd., Freeport 43973, 740/658-1029; Seneca Lake Park: 22172 Park Rd., Senecaville 43780, 740/685-6013 (marina phone number is 740/685-0015)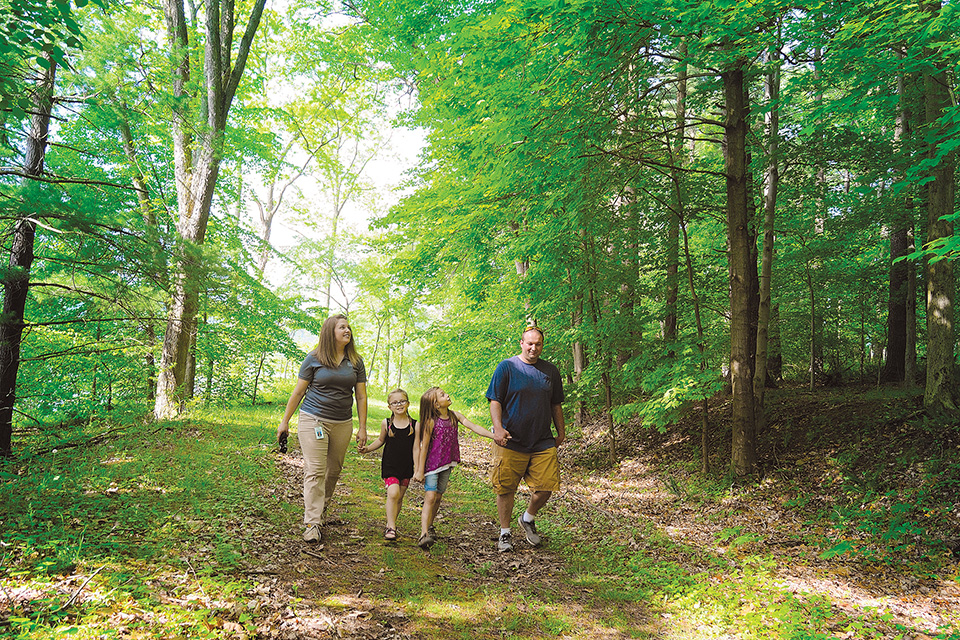 Tappan Lake and Clendening Lake | Harrison County
Tappan Lake allows a 399-horsepower limit that provides a great place for speedboating, water skiing and tubing. The park has over 500 campsites and vacation cabins, plus hikers can explore the park's more than 10 miles of wooded trails. (The Buckeye Trail also passes by the lake's western shoreline.)
Travelers can enjoy lakeside dining at the Tappan Lake Marina, which underwent a massive renovation completed in 2021. Less than 12 miles south, Clendening Lake — Ohio's largest undeveloped lake — offers the serenity of 40 miles of pristine shoreline.
A 10-horsepower limit on boats ensures travelers will enjoy peaceful days on a lake that offers an exceptional place to cast a line. A campground and cabins are located on-site.
Tappan Lake Park: 84000 Mallarnee Rd., Deersville 44693, 740/922-3649; Clendening Lake Marina & Campground: 79100 Bose Rd., Freeport 43973, 740/658-3691