Ohio Life
| Ohio Love
Best Of Ohio 2018
Discover new finds and learn about reader favorites in our roundup of the interesting, the unusual and the just plain fun.
January 2018
BY Staff & Contributors | Photo by Matthew Mohr
January 2018
BY Staff & Contributors | Photo by Matthew Mohr
Selfie Machine
Intrigued by how we use social media to share our personal images online, Matthew Mohr, an artist and associate professor at Columbus College of Art and Design, created an interactive tribute to our collective obsession. The sculpture, titled "As We Are," can be found at the Greater Columbus Convention Center, where it was installed in 2017. Visitors enter a photo booth where 29 digital cameras take their picture. After roughly three minutes, their head appears on a 14-foot-tall, 3-D metal sculpture illuminated by more than 850,000 LED lights. "When you see yourself on a 14-foot head, it's pretty intense," says Mohr. "It's going to reveal a lot of information that you don't really see on a regular basis. On that level, it's as we are, not as we hope to be. It's art respecting who we are instead of an ideal illusion." 400 N. High St., Columbus 43215, 614/827-2500, columbusconventions.com

General Store
The End of the Commons General Store in the Trumbull County village of Mesopotamia sells just about everything, but what it really stocks is nostalgia. "We try to bring a lot of childhood memories," says owner Peter Schaden. "If we do our job right, you go home and tell everyone about this place." Here, the penny candy is still a penny and treats from your childhood that you thought were gone, such as wax bottles, are among the offerings. Since 2014, the store has also been selling fry pies, an Amish Country treat made on-site in 10 flavors. "It's basically apple pie on the run," Schaden says. "We have people who buy anywhere from six to 50 at a time." Schaden's parents purchased the historic store, which dates back to 1840, in 1982. Although they made some additions, the vintage feel of the place remains. "We know it's the original attraction," Schaden says. "We don't want to mess with that." 8719 St. Rte. 534, Mesopotamia 44439, 440/693-4295, endofthecommons.com

***

Readers' Pick: Craft Brewery
Great Lakes Brewing Co.

Pat and Dan Conway have been churning out tasty brews since 1988, and their operation in Cleveland's Ohio City neighborhood is a must-visit spot for any beer lover passing through town. But grabbing a pint and a bite in Great Lakes' brewpub is just part of the experience. For $5, craft brew fans can reserve a space on a brewery tour, which comes with four 5-ounce pours and some insight into the brewery's focus on history, quality and sustainability. Above all, the tour is a good time, as we found out when we recently hopped on one.

Opening Act: The tour starts in Great Lakes' Beer Symposium, an inviting gallery-like space around the corner from the brewpub's main entrance that allows guests to sample their first brew. "There have always been samples on the tour," says lab tech and tour guide Sarah Russell. "We're very proud of what we do, we're proud of why we do it and for whom we do it." A brief video and displays teach guests about the brewery's history and philosophy, while enlarged versions of the mosaic-like labels that adorn Great Lakes' core beer line show the nods to local history and little surprises hidden within each one.

In Production: From there, the tour moves across the street to Great Lakes' always-humming production facility, which includes the requisite enormous steel vats and pallets of packaged beer. But there's some play among the work going on here. A tasting room in the upstairs of the facility offers a chance for guests to sample more beer and learn about local brewing history. "Being respectful of where we came from and honoring those other breweries and honoring those pioneers — I think it's integral to the whole process," Russell says. Keep an eye out for the knee-high stone letters that once adorned the facade of the Leonard Schlather Brewing Co.

The Finale: The tour finishes back in the Beer Symposium, where guests are free to cash in any unused wooden tokens for more samples before taking a spin through the brewery's gift shop. Along with a back wall of coolers filled with chilled six-packs, guests will find plenty of gear, growlers, glassware and other cool memorabilia to remember their visit. "What better way to enjoy one of our beverages than with glassware made specifically for it?" asks Russell. 2516 Market Ave., Cleveland 44113, 216/771-4404, greatlakesbrewing.com

See our full list of 2018 Best Of Ohio Readers' Ballot winners here.

***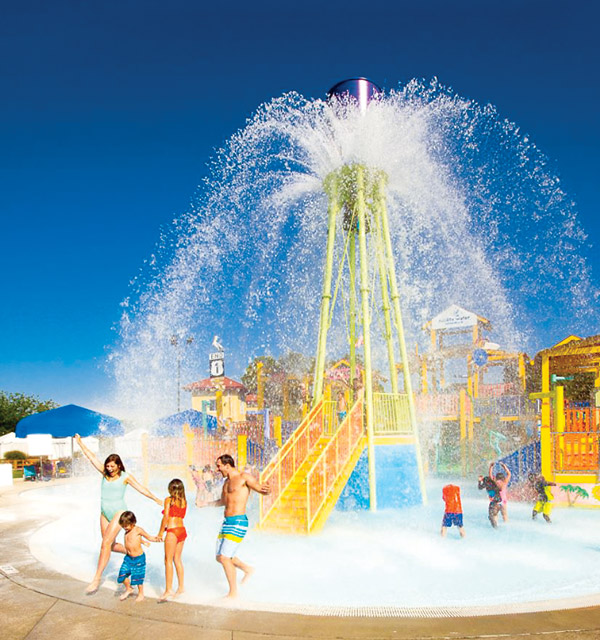 Water Tower
A loud bell sounds to warn that Typhoon Tower is about to erupt, sending 1,300 gallons of water rushing toward those standing 33 feet below. Those splashing in the shallow pool run toward the torrent, hoping to be doused by the world's largest erupting hydrostorm system. Built in 2016, Typhoon Tower is the newest addition to Sunlite Water Adventure, located at Cincinnati's historic Coney Island amusement park. "Our Sunlite Pool, the world's largest recirculating swimming pool, has been here since 1925, and it's an icon," says park president Rob Schutter. "But some people don't want to swim and there are little kids who aren't at a swimming age. Typhoon Tower, with 73 interactive play stations … makes it possible for all ages to have a good time." 6201 Kellogg Ave., Cincinnati 45230, 513/232-8230, coneyislandpark.com

Museum Move
When it was time to move from its former space along University Circle, the Children's Museum of Cleveland looked at 22 properties before finding its new home — and what a home it is. The former Stager-Beckwith mansion is one of the last remnants of the city's Millionaires' Row, where powerful industrialists including John D. Rockefeller once lived. The building had fallen into foreclosure and disrepair before the museum raised nearly $10 million to renovate it. "I feel like we saved the building and the building saved us," says museum director Maria Campanelli. The Children's Museum of Cleveland reopened in November 2017, with more parking and easy highway access. Although the 40,000-square-foot children's museum didn't bring any of its former exhibits with it, the place retains a familiar feel. "We tried to reimagine the concepts in a different way," Campanelli says. 3813 Euclid Ave., Cleveland 44115, 216/791-7114, cmcleveland.org

***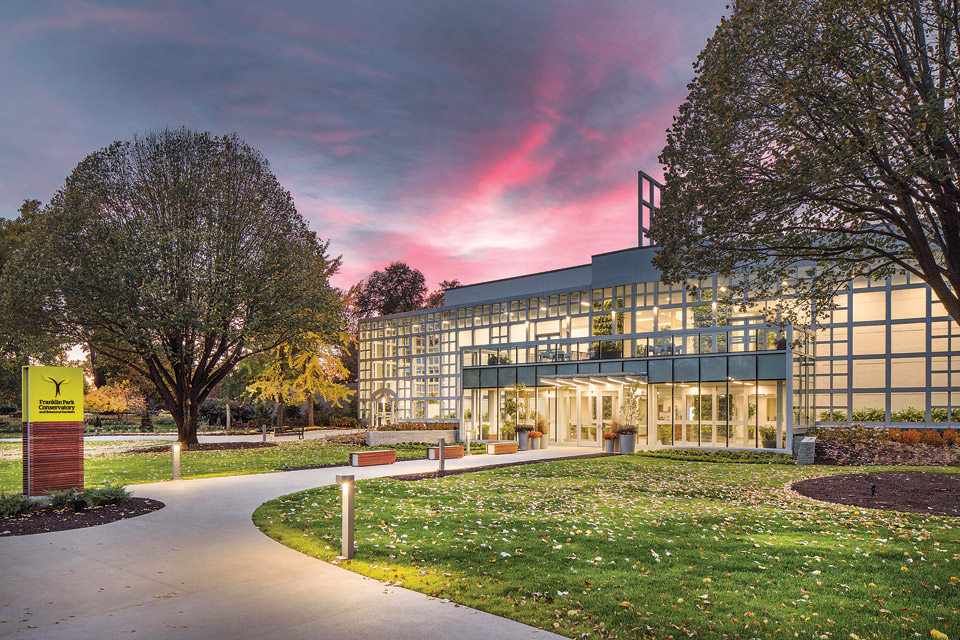 Readers' Pick: Botanical Garden
Franklin Park Conservatory and Botanical Gardens

Ask Bruce Harkey, president and CEO of Franklin Park Conservatory and Botanical Gardens, to describe the Columbus landmark, and his favorite response is to quote a line he overheard a child say several years ago: "This is heaven under glass." Built in 1895 and listed on the National Register of Historic Places, the horticultural and educational institution showcases 400 plant species native to the Himalayas, rainforest, desert and Pacific Islands. "Anyone at any age can find something to be inspired by when they come here," Harkey says. "From the plant collections to the flowers to all the exhibitions we do, it's a celebration of the natural world."

Special Effects: In 2008, renowned light artist James Turrell created "Light Raiment II" for the 122-year-old John F. Wolfe Palm House. The permanent installation, comprised of 7,000 computer-controlled LED lights, bathes the Victorian structure in shifting hues. "When the sun sets and the lights come on, it appears as though the Palm House is filled with a fog that has a really, really subtle light in it," Harkey says.

Sea of Glass: Franklin Park is home to 78 installations by glass artist Dale Chihuly. Famous for his intricate sculptures, Chihuly often draws inspiration from shapes and colors of nature — which, says Harkey, makes his creations the ideal complement. "When people think of glass art, they usually think of small items and Christmas ornaments," Harkey says. "But Chihuly takes his pieces to a much larger level." Harkey's favorite is the 17-foot-tall "Sunset Tower," comprised of more than 650 pieces of orange, red and yellow glass that's a focal point in the Pacific Island Water Garden.

Kids Stuff: In May, Franklin Park Conservatory will unveil the Scotts Miracle-Gro Foundation Children's Garden, a 2-acre green space devoted to connecting the youngest visitors to the natural world. In addition to celebrating the Ohio landscape with touches that include a sandstone bluff and creek, the space will feature a studio where kids can create art with flowers, leaves and seeds. "This is going to be the best children's garden in the country," Harkey says. 1777 E. Broad St., Columbus 43203, 614/715-8000, fpconservatory.org

See our full list of 2018 Best Of Ohio Readers' Ballot winners here.

***

Yard Sale
Stretching more than 700 miles, U.S. 40 (also known as the Historic National Road) is steeped in museums, monuments and other gems celebrating our country's past. From dawn to dusk May 30 through June 3, it'll be filled with additional treasures to behold — and purchase. Founded by Dublin, Indiana, antiques dealer Patricia McDaniel, the 15th-annual Historic National Road Yard Sale features an eclectic assortment of goods from residents and businesses located along the byway. In Ohio, more than 500 vendors are slated to be stationed along the 228-mile route that passes through 10 Ohio counties — beginning in Belmont and ending in Preble — selling pottery, antiques, furniture, fresh garden produce and everything in-between. "The yard sale is truly a grassroots effort in each state," McDaniel says, "so you'll never know what you'll find around the next bend during the thrill of the hunt." 765/478-4809, oldstorefrontantiques.com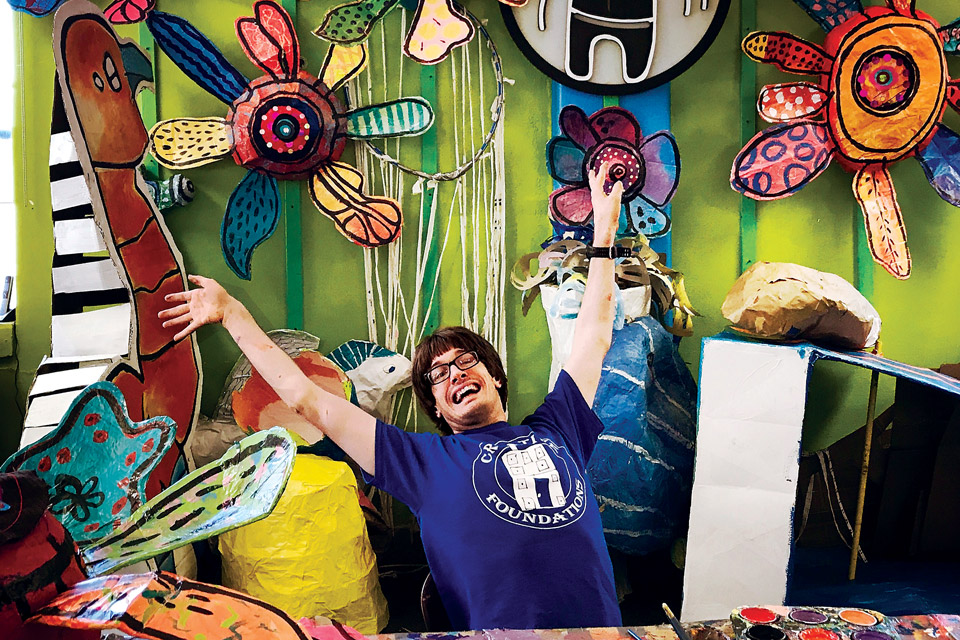 Art For a Cause
Athens' Passion Works Studio has supported artists with and without disabilities since 1998, and from the beginning it's been known for its Painted Passion Flowers. Crafted from upcycled newspaper printing plates and hand painted by those who work at the studio, more than 25,000 of the colorful aluminum sculptures have been sold for use as wall hangings or centerpieces. "We were passionate about creating a product that reflected our art aesthetics, but that could also create employment," says Patty Mitchell, director and founder of the studio. "The sculptures share the same shape and color palettes, but each is unique. Each one tells a different human story. A lot of Ohio University students get them when they graduate. You have to have a little piece of Athens with you no matter where you go." 20 E. State St., Athens 45701, 740/592-3673, passionworks.org

Classic Cabin
Spend a night at Coyote Creek Farm Bed & Breakfast in Hillsboro, and you get the distinct feeling Daniel Boone or Johnny Appleseed would feel right at home here. Located on Mark and Alice Wilson's 240-acre family farm, the secluded and rustic retreat is the perfect getaway for those looking to escape the modern world. "It's all repurposed," Alice Wilson says of the cabin that was constructed from old barn timbers dating back to the 1800s. "It's pieced together from several cabins, the flooring came from a cabin in West Virginia. There is just a lot of character in it." The lack of TV and Wi-Fi encourages guests to explore outside, but that doesn't mean the Wilsons skimp on comfort. A queen-size, pillow-topped bed awaits guests in the cabin's loft, while the bathroom features an oversize shower and claw-foot bathtub. "It's very rustic, but very comfortable," Wilson adds. 8871 St. Rte. 124, Hillsboro 45133, 937/393- 5166, coyotecreekfarmoh.com

***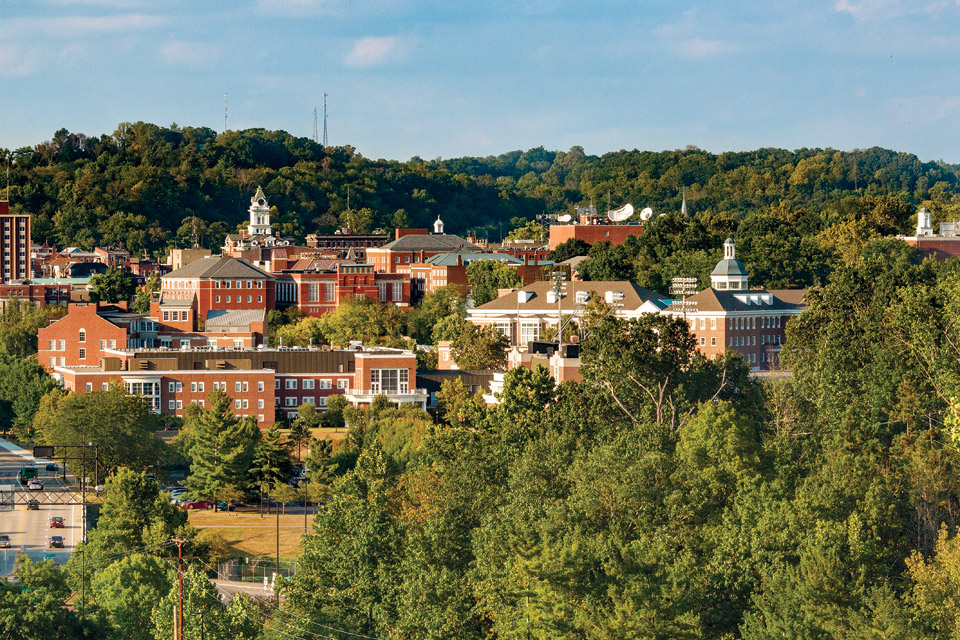 Readers' Pick: College Town
Athens, Ohio

Nestled among the lush hills and trees of Appalachia, Athens has welcomed students since Ohio University's founding in 1804. Today, the public university is home to more than 24,000 students during the school year, including former Ohio Magazine intern and journalism major Taylor Johnston, who is in the middle of her sophomore year. We asked Taylor to share some of her favorite finds in Athens.

Fuel Up: If you're looking for a quick bite to eat, be it breakfast, lunch or even dinner, Bagel Street Deli is a must. The menu features more than 70 "bagelwiches," including the Bobo, which has cinnamon, butter, sugar and honey on your choice of bagel. Bagel Street Deli is also home to Athens' annual Pickle Fest, an event where students and residents gather to see who can eat the most. 27 S. Court St., Athens 45701, 740/593-3838, bagelstreetdeli.com

Be Creative: Explore your artistic side at Beads and Things, a shop that stocks beads from around the world, ranging from glass to metal to gemstones. Open since 1990, the arts and crafts store offers all you need to create, even providing a work space and guidance. It is relaxing to sit down and mix and match colorful beads to make something you can wear or give to someone else as a gift. 8 N. Shafer St., Athens 45701, 740/592-6453, facebook.com/athensbeadsandthings

Get Cultured: The Athena Cinema opened in 1915 as The Majestic and is one of the oldest movie theaters in the country. Now operated by Ohio University's College of Fine Arts, it shows classics such as "Pulp Fiction" and "E.T. the Extra-Terrestrial," while also running independent films and locally produced works. Each year, the theater hosts the Athens International Film and Video Festival, where underrepresented filmmakers can showcase their work. 20 S. Court St., Athens 45701, 740/594-7382, athenacinema.com

See our full list of 2018 Best Of Ohio Readers' Ballot winners here.

***

Foot Golf
Some things just go great together: LeBron James and Dwyane Wade, chocolate and peanut butter, Wendy's french fries and Frosties. Thanks to Kickmaster Footgolf in Grove City, the nation's first-ever specially designed footgolf course, Ohioans can add another satisfying duo to that list. As its name suggests, footgolf combines the skills and techniques of soccer and golf and is played on a 9-hole outdoor course. "You're kicking the ball in the direction of the hole that's a 21-inch diameter cup," explains Deborah Silver Guzzo, co-owner of Kickmaster Footgolf. "Ours is a par 3, 4 and 5 — we're a little bit shorter than a regular golf course. The person who finishes with the fewest points wins, just like in golf." If footgolf isn't grabbing you, check out the other on-site attractions, such as huge dartboards, bubble soccer balls, a climbing wall for kids and more. 1700 Dyer Rd., Grove City 43123, 614/736-1470, kickmasterfootgolf.com

Creative Cocktail
The Guild House in Columbus has unleashed one of the most intriguing creations we've seen in a while with its Cocktail for Two. The drink arrives tableside inside a glass porthole, with ingredients such as pecan and apple shrub floating inside. "The ingredients and garnishes develop tableside … more flavors infuse the longer the cocktail is sitting inside of the porthole," says Grant Marsh, general manager at The Guild House. The Cocktail for Two lineup changes frequently, with past creations including green tea margarita (silver tequila, green rubius tea bags, marigold flowers and cactus leaves) and sangria punch (Bacardi 8 rum, sauvignon blanc, fresh muddled cherries and pineapple). The best time to visit is during The Guild House's daily 3 to 6 p.m. happy hour, where the normally $20 Cocktail for Two drops to $10. 624 N. High St., Columbus 43215, 614/280-9780,
theguildhousecolumbus.com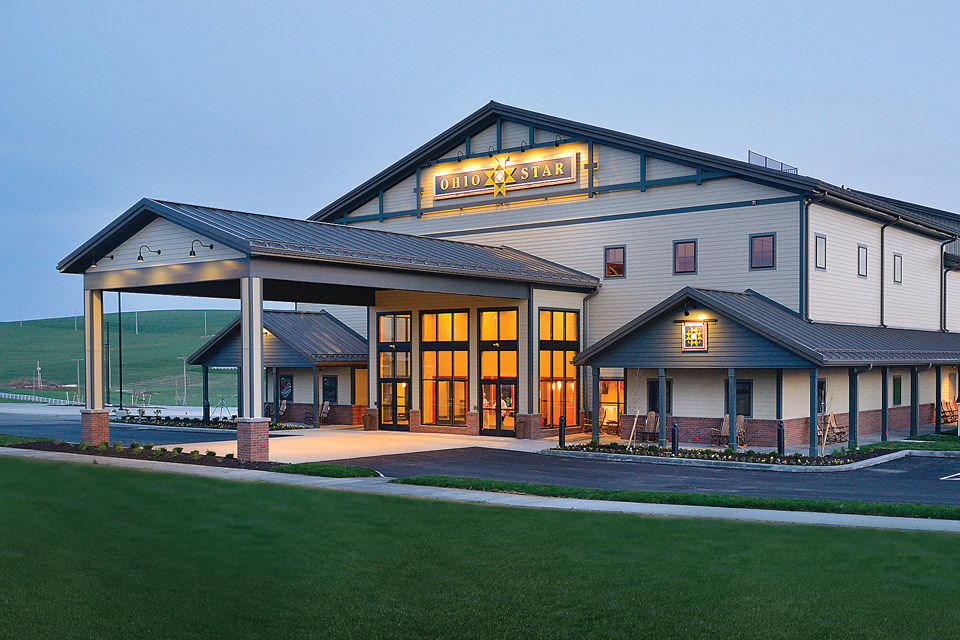 Amish Country Theater
Sugarcreek is known for postcard-worthy views of horse-and-buggies clopping through the countryside, as well as crafts and hearty meals made by the Amish who live in the area. The Ohio Star Theater, which opened in April, adds a contemporary chapter to the community's history: The 500-seat playhouse stages uplifting, family-friendly musicals, dramas, Southern gospel concerts and comedy acts presented by professional cast members from throughout the United States. "We wanted to create something people would enjoy in the evening," says Ohio Star Theater technical director Jace Hershberger. "They are Amish-faith-based shows, yet they're about issues everyone can relate to on some level throughout the course of their lives." 1387 Old Route 39, Sugarcreek 44681, 855/344-7547, ohiostartheater.com

Custom-Roasted Coffee
The idea behind Glass City Roasters began, appropriately enough, over a cup of coffee, when Jeff Bartlett and his three business partners came to an unavoidable conclusion. "We spent enough money on coffee that we realized we should start doing it ourselves," he recalls. So Bartlett, with his wife, Heather, and friends Brenden Johnson and Jennifer Bell, launched Glass City Roasters, filling a niche by offering coffee beans that are custom-roasted to their customers' specifications. "We could roast it and provide it that day," Bartlett says. "There wasn't anyone providing that in our area." Glass City Roasters started with 1-pound batches on the stove before building their own coffee roaster and selling their beans at local farmers markets. In November 2017, they opened a storefront in Toledo's Liberty Village. "We don't want to get too big," he says. "We just want to keep making awesome products and provide them in our neighborhood." 1535 Eleanor Ave., Toledo 43612, 419/787-7764, facebook.com/glasscityroasters

Beagle Bonanza
More than 400 beagles and their handlers from across the nation gather in Coshocton each spring for an annual competition that allows the dogs to show off their hunting skills. "You need a dog that is honest, accurate and who has speed," says Dave McVay, treasurer of the Coshocton County Beagle Club, which hosts the United Kennel Club Hunting Beagle National Championship each year. "And it's not always the best dog that wins. Sometimes you need a lucky break." This year's competition will be held April 13 and 14, and the public is welcome at the family-friendly event, which doesn't involve guns or the taking of game. ukcdogs.com/hunting-beagle-nationals, coshoctonbeagleclub.weebly.com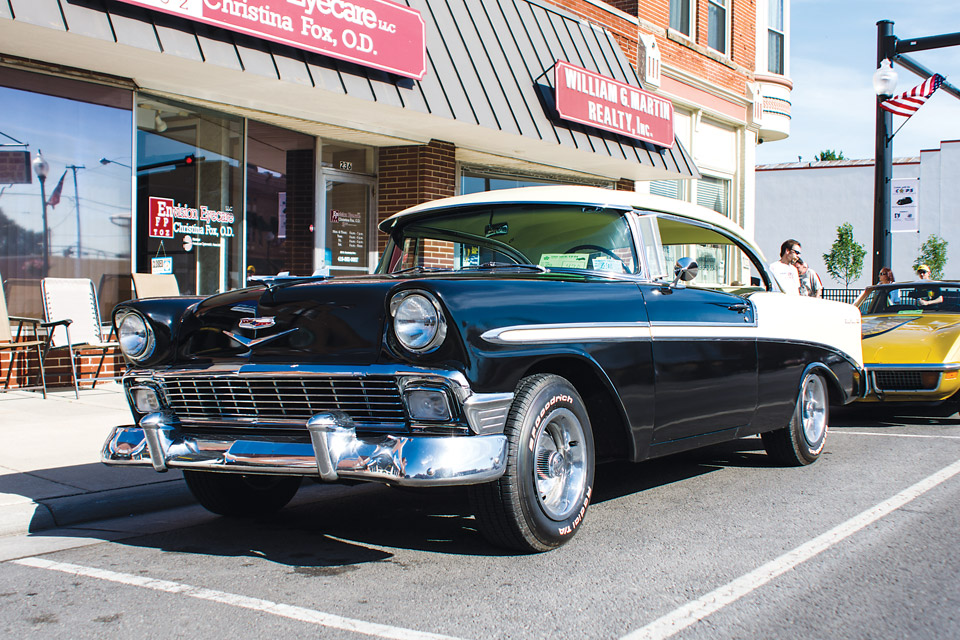 Cop Cruise-In
Mention police officers and cars in the same breath, and visions of tickets usually come to mind. But in Bucyrus, that pairing constitutes a gathering of between 400 and 500 autos — ranging from a 1962 Chevy Corvette to a 1932 Plymouth roadster to a 1967 Ford Mustang — for the town's Cruisin' with the Cops fundraiser. More than 5,000 tourists are expected to attend this year's fete on June 9, which includes trophy presentations and opportunities for participating drivers to strut their stuff in autos at least 25 years old. Proceeds, which totaled $12,000 last year, support community scholarships and sports teams. "It's a great celebration of classic cars with the added plus that drivers can cruise for seven blocks in these vehicles," says event organizer Lt. Tom Walker, president of the Bucyrus Fraternal Order of Police Lodge 68. "It looks like a scene that could be straight out of 'American Graffiti.' "Sandusky Street, downtown Bucyrus 44820, 419/562-1006, facebook.com/cruisinwiththecops

***

Readers' Pick: Casual Dining
Swig

House-made charcuterie and casual eats don't seem to go together, until you grab a seat at Swig in Perrysburg. There, co-owners Jim Hodulik and Tony Bilancini serve up sausages and hot dogs on a menu full of creative takes on bar-food favorites — all backed by a blackboard full of craft beers. "We came up with the idea of doing a charcuterie restaurant and, when we opened 9 years ago, it was a little ahead of its time for this part of the country," says Hodulik, adding that the original concept has grown to include other menu options. "Over time, we've just evolved." After bellying up to the bar on a recent visit to dive into a bowl full of Frankenstein Wings (we'll get to that in a moment), we talked with Hodulik and Bilancini about the origins of a few of their inventive offerings.

Frankenstein Wings: Served traditional style or in "chunks," chicken wings are tossed in hot garlic Parmesan sauce and ranch, then sprinkled with blue cheese crumbles, making for a big, gooey, delicious mess of flavors. "I'm a wing fanatic and one of the things you have to deal with being a wing fanatic is when you go to dip the wing into the ranch or blue cheese, your wing sauce ends up in it," says Bilancini. "I thought, Heck, let's mix it right in the sauce and then sprinkle it with blue cheese. Now, it's three birds with one stone."

Cleveland: This handcrafted frank features bacon, all-beef Coney sauce, shredded cheddar cheese and Stadium Mustard. Bilancini created it as a tribute to his northeast Ohio roots. "Out here a lot of folks are very Detroit [focused]," he says, adding that when it comes to Cleveland's long-running Bertman Ball Park Mustard versus Stadium Mustard debate, he falls squarely in favor of the latter. "We don't carry Bertman's. We go straight to Stadium Mustard."

7–10 Split: This dessert starts with deep-fried Twinkies as its canvas. Then, Bilancini piles on white-chocolate raspberry ice cream, salted caramel, marshmallow, whipped cream and sprinkles for a wonderfully over-the-top creation. "We are big fans of [the 1998 Joel and Ethan Coen film] 'The Big Lebowski' here, so we wanted to do a little bowling theme," Bilancini explains. "We asked ourselves, 'What would The Dude eat?' He'd eat the 7–10 Split." 219 Louisiana Ave., Perrysburg 43551, 419/873-6224, swigrestaurant.com

See our full list of 2018 Best Of Ohio Readers' Ballot winners here.

***


Retro Recreation
For most people, shuffleboard conjures images of retirees or a beachfront gathering during the summer. To Jim Miketo, it was an opportunity. He opened The Erie Social Shuffleboard Club and Bar, a year-round entertainment complex focusing on shuffleboard, in a strip plaza in Marblehead in 2015. He describes the decor, which was done by his wife Kari, as "retro vacationland," with striped awnings, nautical themes and capacity for up to 250 people. "The barriers for entry are very low," Miketo says when asked why he chose shuffleboard as a concept. "It's a game for everyone, and it allows you to be interactive." He even opened a second location, Forest City Shuffleboard Arena and Bar, in Cleveland's Ohio City neighborhood in 2017. 5686 E. Harbor Rd., Marblehead 43440, 419/960-7894, theeriesocial.com; Forest City Shuffleboard Arena & Bar, 4506 Lorain Ave., Cleveland 44102, 440/821-1578, forestcityshuffle.com

Global Cooking Classes
We're all for hopping on a plane to get a true taste of authentic cuisine from around the globe. But if that doesn't fit your schedule or your budget, you can always look to Dorothy Lane Market Culinary Center in Dayton for its lineup of cooking classes that focus on ethnic and regional cuisines from around the world. The center's instructors build many of the classes from interesting finds they uncover during their own trips to places like Italy, Spain and Thailand. "We just had a Spanish [class] because we went on a trip to the Basque area of Spain," says instructor Carrie Walters. There, she discovered pintxo (pronounced peen-cho), a Basque take on tapas served on top of a small toasted baguette or cissel bread, and then skewered. "We did one with a potato aioli with charred octopus," Walters adds. 6161 Far Hills Ave., Dayton 45459, 937/535-5696, dorothylane.com/culinarycenter

All-Natural Pet Treats
If Boots doesn't like it, the treat doesn't go into production. The rescued Maltese is an official taste tester for Miss Abbie's Pet Treats, an Oak Harbor-based, all-natural dog treat company established in 2013 by then-7-year-old Abbie Kramer and her mother, Beth. Boots, the family dog, has rejected about 15 ideas and tends to like treats with limited ingredients, giving a paws-up to the low-fat spinach ball. "This started as a way for Abbie to make money. We had a little mailbox for orders on our front porch that was soon overflowing," says Beth Kramer, a gerontologist who makes sure most of the treats are nutritious, although a little "indulgence in moderation" is acceptable. Beef bones are the best-selling item (200 to 300 pounds are sold weekly), followed by peanut and pumpkin treats. 419/250-0772, missabbiespettreats.com

Winemaker Experience
Growing up in North Kingsville, Scott Runyan and his future wife Katie admired the vistas of the Grand River Valley. So when they decided to open an upscale lodging resort, Geneva was an ideal location. Set amid 10 acres of vineyards, Vineyard Woods, which opened in May, features a 590-square-foot cottage tucked among oak trees and a three-suite villa with outdoor deck. This year, the couple is adding a new attraction: Rent-a-Row packages invite guests to stay at the vineyard in April and September, help pick pinot noir grapes at harvest, and then make wine from the fruits of their labors at Solon's North Coast Wine Club. (Once the wine is ready, guests get 24 or 48 bottles depending on the package.) "I got to see the six-month transformation of the vines from buds into big clusters of grapes and then into wine last year," Runyan says. "Katie and I knew we wanted to bring that experience to our guests." 740 St. Rte. 534, Geneva 44041, 440/624-3054, vineyardwoods.com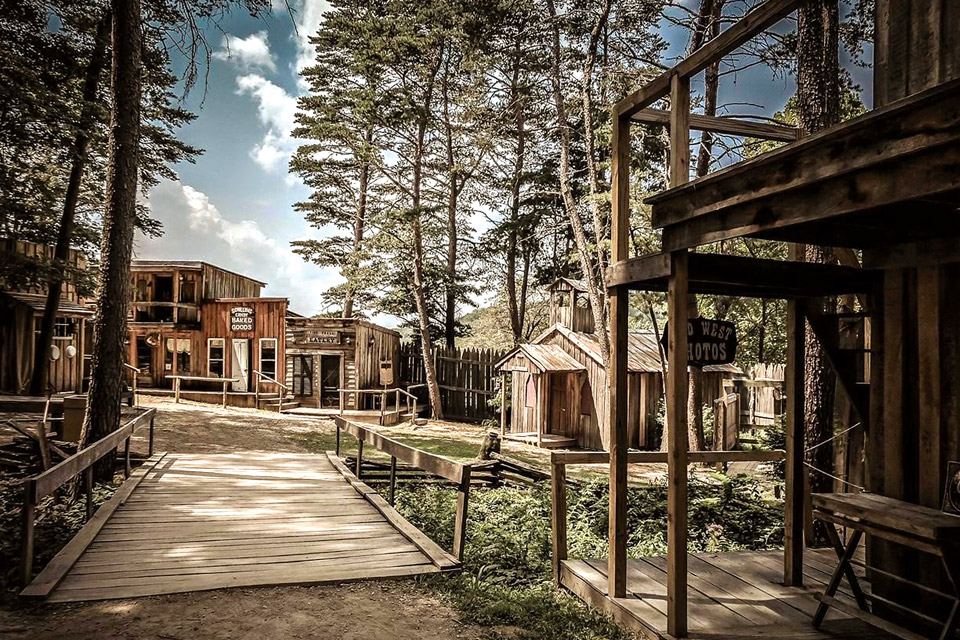 Old West Town
Dogwood Pass offers a slice of Old West living, right down to the brass bathtub pulled from an old saloon. "It's the authenticity of the things we have that make us special," says Mike Montgomery, who along with his wife, Sharlene, operates the replica Western town in Pike County. "We travel all over the country to buy things. We own an 1886 safe from a bank and a cash register with no buttons, just a lever." Dogwood Pass opened to the public in 2012 with just a saloon that was originally Montgomery's man cave. Since then, it has grown to encompass 30 buildings, including a jail, cigar shop, livery and, of course, the bath house. This summer, Montgomery plans to open a loom house that will showcase weaving demonstrations. Dogwood Pass also hosts special events and Wild West shows at its on-site theater. 722 Adams Rd., Beaver 45613, 740/835-1130, dogwoodpass.com

TV Tribute
Steve McVoy's first job was at a television repair shop in the 1950s, while he was still in middle school, and the fascination with TVs from that era stuck with him. "My collection started getting out of hand, so I thought it would be fun to open a museum," he says. Today, the Early Television Museum in Hilliard includes more than 150 sets, as well as vintage studio equipment, offering visitors a chance to appreciate what's now commonplace but was once cutting-edge. "They were clever in pushing the boundaries of technology," he says. "They had really primitive tools in comparison to today, and they made it work." Most of the collection is from the post-World War II era, but some pieces date to the 1920s. "Everyone thinks television started in the 1940s," McVoy says. "That's when it blossomed, but it goes way back before then." 5396 Franklin St., Hilliard 43026, 614/771-0510, earlytelevision.org

***

Readers' Pick: County Fair
The Great Darke County Fair

What started out in 1853 as an ice-cream social with prizes awarded for the best crops harvested in Greenville has morphed into The Great Darke County Fair, a nine-day fest that 179,943 people flocked to in 2017. Fair manager Brian Rismiller expects attendance at this year's fete, Aug. 17 through 25, to mirror that figure. "The fair added the term 'great' to its name within the first five years of its existence," says Rismiller, adding that the event, held on the 185-acre Darke County Fairgrounds, now includes 28 rides, 144 food vendors and 7,000 livestock exhibits. "We work hard to make sure people get their money's worth and want to come back again and again."

Sticky Situation: Since 1946, Myers Concessions has made cotton candy, taffy and caramel apples in the company food truck next to the grandstand. Third-generation family member Greg Myers continues that tradition by using 2,000 pounds of sugar to whip up treats during the fair for his bevy of eager customers. "The newest incarnation of the truck is equipped with windows so fairgoers can watch the taffy-making process," Rismiller says. "It's quite mesmerizing."

It's Showtime: Chicago, Styx, REO Speedwagon, The Beach Boys, Kenny Rogers, Josh Turner and Jo Dee Messina are just a few of the acts that have performed in the fair's 5,900-seat amphitheater. The show that enjoyed the largest draw was Lady Antebellum in 2010. The nearly 6,000 available tickets were snapped up in 2 1/2 hours and included standing-room-only space along the fence outside.

Giddy-up: For the last six years, eight standardbreds and their drivers from around the country have traveled to the Darke County Fair to compete in the 1-mile-long Gene Riegle Memorial Pace harness race. The contest is named after the late Greenville native, a celebrated horse-racing driver and trainer who was inducted into the Harness Racing Museum Hall of Fame in 1992. "Last year's winner received $42,000 in prize money," Rismiller says. "Pretty impressive for a county fair." 800 Sweitzer St., Greenville 45331, 937/548-5044, darkecountyfair.com

See our full list of 2018 Best Of Ohio Readers' Ballot winners here.