Ohio Life
| Live Well Ohio
Live Well Ohio: Feb. 2020
Three patients share how new discoveries in heart health have changed their lives for the better, and doctors offer insight into how to make small, positive changes to your diet.
February 2020
BY Kristen Hampshire | Photo by Istock
February 2020
BY Kristen Hampshire | Photo by Istock
New Directions for Heart Health
Three patients share their stories about how cardiovascular innovations are helping them live stronger lives.


Moving Forward
In 2016, Stephen Sroka was on stage in front of 800 people at a school in Medina when he collapsed.

"I coded right there — I had a cardiac arrest," says Sroka, 76, a motivational speaker and adjunct assistant professor at the Case Western Reserve University School of Medicine.

After the Lakewood resident's heartbeat was stabilized using an automated external defibrillator, Sroka was taken to the Cleveland Clinic, where the medical team inserted five stents into his heart and implanted a cardioverter defibrillator to prevent death from cardiac arrest.

Sroka had lived with atrial fibrillation (or irregular heartbeat) for years. "But I was one of those people who, unless I had a really bad case, was never [bothered] by it," he says.

A specific scan showed Sroka suffered from transthyretin amyloid cardiomyopathy, in which protein made in the liver abnormally accumulates to form amyloid fibrils. These then deposit in the heart, which causes it to malfunction.

"As amyloids deposit over the years, they ultimately make the heart thicker and more rigid," says Dr. Mazen Hanna, co-director of the Amyloidosis Center and a specialist in heart failure and cardiac transplant at the Cleveland Clinic.

The result ranges from shortness of breath to congestive heart failure. Amyloids also infiltrate the left and right atria, causing heart-rhythm issues. The average survival rate for patients with transthyretin amyloid cardiomyopathy was four years after diagnosis, and the only

treatment option was a heart transplant. This changed in May 2019 with the FDA approval of the drug Tafamidis, which stops or slows progression of the disease.

"It's a fatal disease," Sroka says, "but I have hope that other new drugs are coming around the corner that could turn this around."

---

A Healthier Beat

Five years ago, the treatments Jo Ann Badenhop received for heart disease would have been more invasive with greater risks for complications. But the retired nurse, who lives in Henry County, has benefited from two cardiac innovations: The Watchman (an implanted device designed to prevent strokes in atrial fibrillation patients without the need for long-term blood thinners) and a transcatheter aortic valve replacement, which stopped her aortic stenosis without the need for open-heart surgery.

Badenhop, 81, had previously taken blood thinners for 20 years to manage atrial fibrillation, an irregular heart rate and the leading cause of stroke.

"Prescribing anticoagulants is the standard of care to reduce stroke risk," says Dr. John R. Letcher, a cardiologist with ProMedica Physicians Cardiology in Toledo. "But it turns out that half the people on blood thinners can't tolerate the medications."

Calcium buildup had narrowed Badenhop's aortic valve, which made treatment challenging. During a visit with her physician, the retired nurse learned she was a candidate for the Watchman device. Implanted via catheter in the groin, the parachute-shaped device expands and closes off the heart's left atrial appendage, where clots can form.

Badenhop was also a candidate for transcatheter aortic valve replacement procedure, an alternative to open-heart surgery. Approved by the FDA for all patients in 2019, it stops the aortic stenosis restricting blood flow to and from the heart. During the procedure, a valve is placed into a stent, then inserted into the groin with a catheter. Once maneuvered up to the heart, the valve expands to form a balloon. The patient is left with a new valve inside of the old one, and the aortic stenosis is eliminated.

"The doctor told me to go home and live life," Badenhop says. "So that's what I'm doing."

***

Heartfelt Side of Cancer

New cancer medications are delivering hope, but the side effects of some drugs can harm the heart, which makes healing more complex. Such is the case for Kathy Dye, 60, who was diagnosed with breast cancer in 2000. After surgery, chemotherapy and radiation, the Chillicothe resident went into remission and did not need medication until 2005, when cancer was discovered in her left lung. After laparoscopic surgery to remove the cancerous tissue, her oncologist prescribed drugs for one year to keep the cancer from returning. But several years later, Dye developed a persistent cough.

"I knew something was wrong because I was coughing all the time, and if someone made me laugh, I couldn't stop coughing," she says.

Cancer was found in her bronchial tube, which required three rounds of radiation and the drug Herceptin for maintenance. The result: Dye developed cardiomyopathy, a disease of the heart muscle that makes it harder to pump blood. She was referred to Dr. Ragavendra Baliga, cardiologist and co-director of The Ohio State University Wexner Medical Center's cardio-oncology program.

"The biggest challenge we face is that medications we use for cancer can weaken the heart, and then it limits patients from getting more of the cancer drug," Baliga says. "So, we are there to help them balance that."

Baliga's physicians take a holistic approach, which combines exercise, meditation and other therapies and medications to address heart issues rising from cancer treatments. Now, Dye starts each day with meditation and swimming. She takes Herceptin and Perjeta, and she has an echocardiogram regularly. Dye manages her heart rate and hypertension with the beta blocker Coreg.

"You can't control [cancer]," Dye says. "But you can control your attitude toward it."

***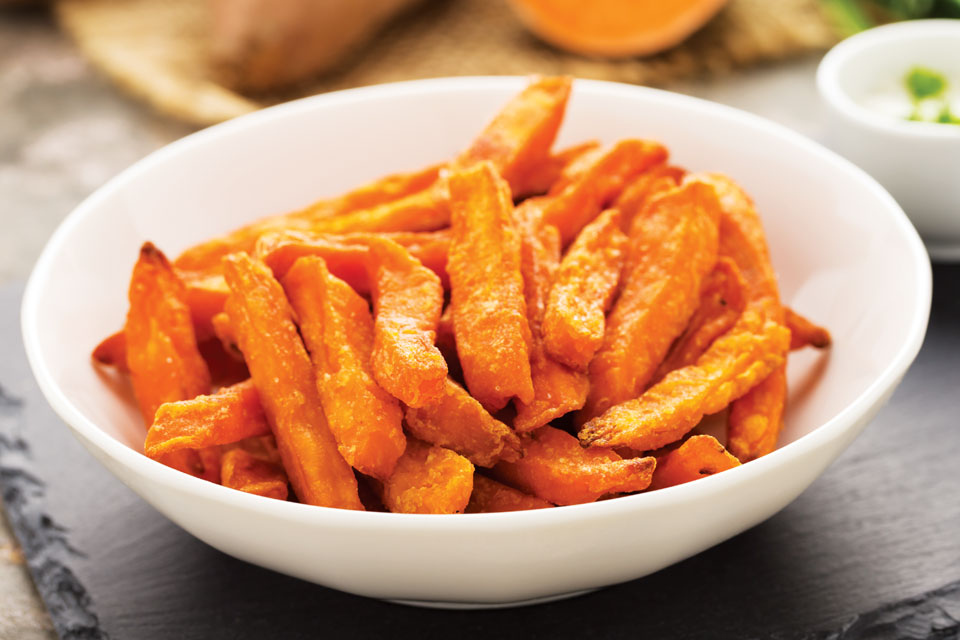 Eat This, Not That
Try these six heart-healthy substitutes for indulgent foods.
Can you have your cake and treat your heart, too? Probably not, as more evidence points to sugar as a dietary villain.

"For the past 50 years, the focus has been more on reducing fats in food, but there is more convincing data that fats are not as bad as sugar," says OhioHealth Marion Medical Campus cardiologist Dr. Venkatarama Gaddam.

You're better off dining on a lean steak than polishing off a chocolate-fudge sundae with whipped cream. Though, adds Dr. Joel Forman, a cardiologist at The Christ Hospital in Cincinnati, as far as heart health goes, the only proven diet to follow is Mediterranean, which is high in vegetables, fruits, whole grains, beans, nuts, seeds and olive oil.

"Eating unprocessed foods that come from nature or a mother — as in chicken, fish or eggs — is the most beneficial to your health," Forman says.

Here are six ways to substitute indulgences with satisfying, heart-healthy alternatives.

Eat This: Lean, grass-fed ground beef burger
Not That: Plant-based "burger"
"Enjoy every lip-smacking moment. At least you know what you are getting," Forman says, adding that plant-based "burgers" are not a healthier alternative. "Those are plant-based processed foods. A potato chip is a plant-based food, too."

Eat This: Thin-crust pizza with mozzarella cheese and vegetables
Not That: Deep-dish pizza with pepperoni
Pizza contains protein, carbs and "plants" if you build it right. "If pizza is within your quota of carbs and fat for the day, that's fine," Gaddam says. Make a healthier pie by slimming down the crust and trading processed meats for fresh vegetables.

Eat This: Benecol or olive oil
Not That: Butter
Plant stanol spreads help reduce the absorption of cholesterol in the gut and can contribute toward lowering LDL (or "bad") cholesterol levels. "In my own diet, I use Benecol on a sweet potato or wheat toast, and when cooking, I use olive oil, which is an unsaturated fat —as opposed to my grandmother's lard or bacon fat," Forman says.

Eat This: Sweet potato fries
Not That: French fries
Cut your own sweet potato slices, brush with olive oil, add a dash of salt, then broil for a crispy and healthier alternative to French fries. "Sweet potatoes have more fiber and fewer simple carbs than white potatoes," Gaddam says.

Eat This: Corn chips
Not That: Potato chips
"Potato chips should be the last option," Gaddam says, noting the saturated fat content, caloric density and lack of satiety. Corn chips are a healthier option.

Eat This: Seltzer water or unsweetened iced tea
Not That: Soda
What do you love about soda: the caffeine or the fizz? "If the answer is caffeine, natural sources like unsweetened iced tea with lemon or lime is perfectly healthy in modest amounts," Forman says. "If you like the fizz, try carbonated water or seltzer with a twist of lime."