Ohio Life
| Best Hometowns
Best Hometowns 2021: Centerville
This Montgomery County city boasts a wealth of recreation, family-friendly events, welcoming businesses and a strong sense of community support.
Nov./Dec. 2021
BY Ilona Westfall | Photo by Mathew Allen
Nov./Dec. 2021
BY Ilona Westfall | Photo by Mathew Allen
The cases at Bill's Donut Shop are filled with a delightful mix of shapes and flavors: rainbow sprinkles and glazed twists, peanut butter creme filled and massive cinnamon rolls. Children press their hands on the glass, trying to choose their treat. But many visitors know their favorite before they even walk through the door.
"We still do things the way mom and dad did them," says Lisa Elam Tucker, whose parents Bill and Faye Elam brought their beloved doughnut shop to Centerville in 1967. "And it's all done by hand. Our yeast doughnuts, we cut them by hand, twist them, roll them. The cake doughnuts, we fry all of those ourselves."
Bill's Donut Shop first opened at Franklin and Main streets before moving to its current location on Main Street in 1979. Now owned by Tucker and her brother, Jim Elam, the 24-hour spot has become a Centerville landmark.
"They've supported us now for nearly 60 years," Tucker says of the community. Her family's business gives back, too, by supporting T-ball teams, yearbooks, school events and more. "There are just so many ways people can get involved in the city to give back, and there's something here for everyone."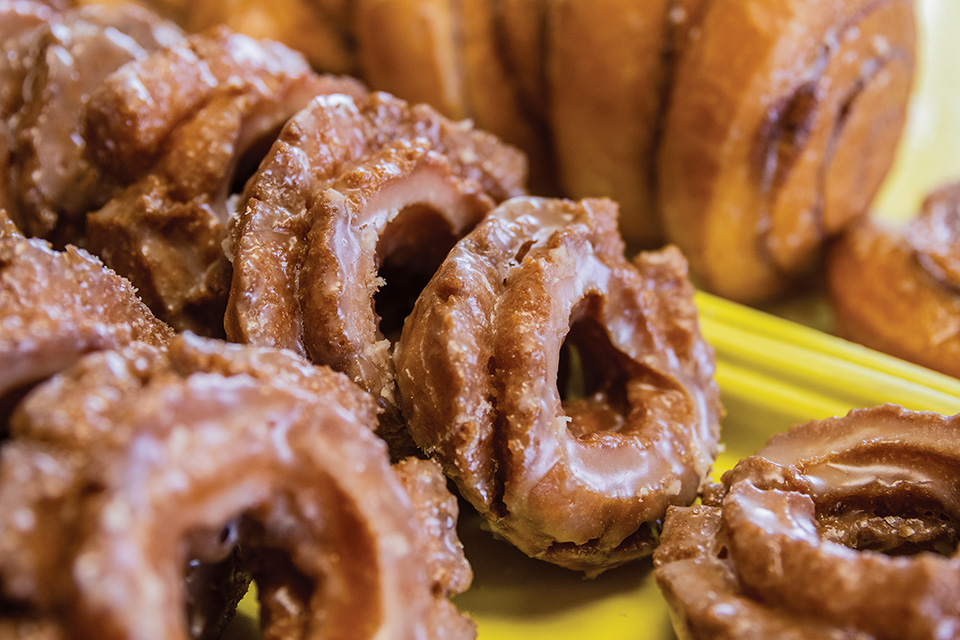 A core suburb of Dayton, Centerville covers 11 square miles and is home to nearly 24,000 residents. The Montgomery County town was first settled in 1796, before becoming a city in 1968.
"It became a stopping point between Dayton and Cincinnati," says Mayor Brooks Compton. "As Dayton developed with a significant manufacturing presence, the suburbs expanded."
Today, the town's major employers include Miami Valley Hospital South, Sinclair College – Centerville, Graceworks Lutheran Services and Centerville City Schools. The highly rated public school system enjoys success in athletics and academics alike, from the bowling team to women's cross country. Centerville High School clinched its first Division I boys basketball championship in March.
One event that draws residents together each year is the Americana Festival, featuring a parade, street fair, fireworks and more Fourth of July fun. The free summer concert series at Leonard E. Stubbs Memorial Park and Centerville Community Amphitheater is another local favorite, offering great live music, food trucks and vendors on Sunday evenings from June through August.
Spanning 60 acres, Stubbs Park is Centerville's largest city-operated park. In addition to the amphitheater, it provides playground equipment, walking trails, a disc golf course and an inline skating rink. It's also the home of a beautiful Veterans Memorial.
"Two years ago, we went through a concept map," says Michael Norton-Smith, Centerville's development director. "If we were to look at a cohesive park that we want to start hosting larger events at, how would we make tailored improvements to Stubbs?"
The city applied for state capital funding and, in 2020, was awarded $800,000 by the State of Ohio. Improvements to Stubbs Park have already begun and will include upgrades to the band shell as well as to audio and visual elements to help diversify the programming and events.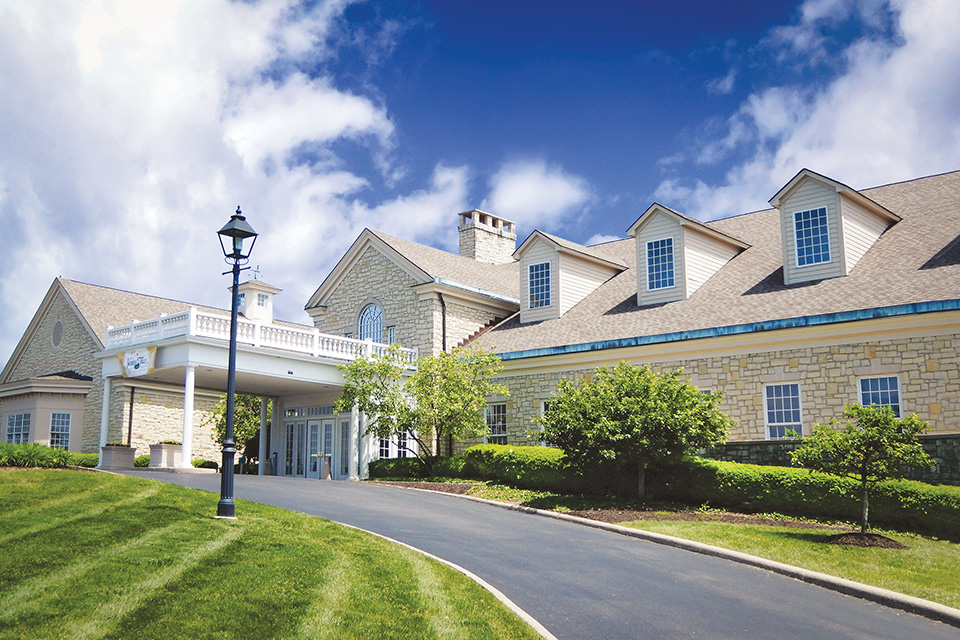 The Centerville-Washington Park District operates 51 parks spanning more than 1,000 acres, including spots like the 22-acre Activity Center Park, which features an all-access playground and splash pad. Oak Grove Park offers 102 acres filled with paved multi-use trails, soccer fields, baseball diamonds, an archery range and an off-leash dog park.
Recreational opportunities continue at The Golf Club at Yankee Trace, an award-winning municipal golf course with 27 holes of championship golf. It's been ranked in Golf Digest in the top 10 municipal golf courses in the country and is regularly voted the No. 1 golf course in the greater Dayton area.
Another award winner is Benham's Grove, which continues to receive notoriety as one of the best wedding and event venues in the region. Nestled on landscaped grounds, the refurbished 1800s Victorian homestead hosts functions from intimate meetings to large gatherings.
Nearby, the Walton House Museum features exhibits showcasing artifacts and relics of local history. Made of limestone, it's a perfect fit in Centerville, which has the largest collection of early stone houses in Ohio. Many are listed on the National Register of Historic Places and are found in the part of the city known as Uptown.
Architectural preservation is at the heart of this area. Centered along Main and Franklin streets, it's a hub for businesses, restaurants and boutiques. Mary Ellen Lee's shop Pieces of Style has been a Centerville staple for women's fashion and accessories for 14 years. April Desai opened Burgundy Chic Boutique in 2020. There, you'll find women's apparel and accessories, home decor and gifts, with one corner dedicated to Ohio makers and another featuring jewelry by local artist Anita Osterfeld.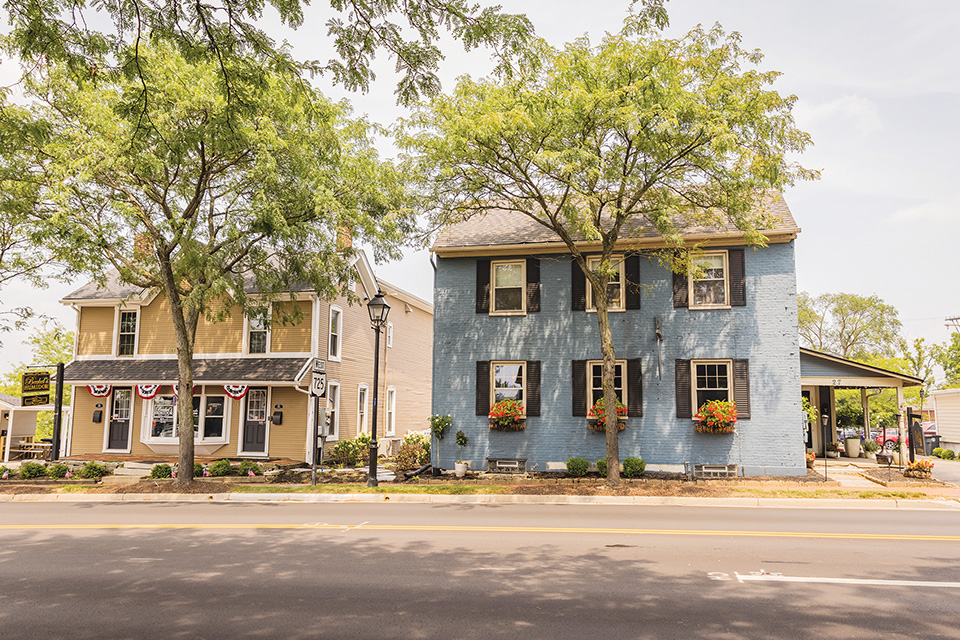 What started as a boots-on-the-ground business walk through Uptown in October 2018 has grown into one of Centerville's top projects. The Uptown Action Plan showcases the town's cooperation between the public and private sectors, with a multimillion-dollar concept plan to revitalize the area and make it a destination for businesses, residents and travelers alike. Part of that plan has also been to connect businesses with funding sources for property improvements.
"There was a need for a revitalization in the area and the community recognized that," Compton says, "and fortunately the city had great staff to take the lead and get that started."
Civic involvement trickles down to citizens, too, with residents dedicating time to service organizations, faith-based groups and community events. The volunteer-run City Beautiful Commission maintains a number of flower beds and promotes planting and preservation across the city. Centerville is also celebrating 35 years as a Tree City USA.
"Every year for Arbor Day, the mayor with school children from all the local schools, plants trees in the city," says assistant city manager Mariah Vogelgesang. One popular pick is the city tree of Centerville: a red horse chestnut, from the same family as the buckeye tree.