Ohio Life
Unique Ohio Weddings 2020
Three couples share a glimpse of their magical celebrations at interesting venues across the state.
January 2020
BY Sally Kershner | Photo by Mann & Wife Photography
January 2020
BY Sally Kershner | Photo by Mann & Wife Photography
Brenda & Seamus Szucs
Sept. 14, 2019, ThornCreek Winery
Photos by Mann & Wife Photography

Hoping to embody the atmosphere of their engagement trip to New Zealand, Brenda and Seamus Szucs tied the knot among the lush greenery of ThornCreek Winery in Aurora.
"We fell in love right away because of how much it reminded us of Hobbiton with all the little nooks and crannies," says Brenda. "The lights and gardens perfectly fit our personality."

The newlyweds exchanged vows within a sea of grass, as a bouquet of bright, jewel-toned roses and berries by The Red Twig popped against Brenda's delicate wedding gown. Having spent time traveling around the world together, Brenda and Seamus sought a destination where expansive green fields and outdoor spaces could complement their wedding theme.

"We wanted the wedding to feel festive and lively, so we hung Turkish lamps underneath the reception tent," says Brenda, adding that guests signed a globe to record the special day rather than a traditional guestbook.

Live music by the band Bluewater Kings inspired wedding guests to dance, and A Taste of Excellence Catering served Mediterranean cod, vegetable terrine and braised boneless short rib on tables swathed in velvet.

Vibrant plums and berries topped the tiered cake from Even Batter, and guests were served party favors from Peace, Love & Little Donuts — a nod to both Brenda's yoga career and Seamus' job as a police officer. ThornCreek's pet-friendly venue also allowed the couple to include their adopted dog Romney, who became the namesake of a specialty white wine sangria provided by the winery.

Guests were able to wander throughout the charming gardens, following twinkle-light paths and cozying up next to the outdoor fire pits around the reception tent as the night continued.

"With all the available spaces, it feels like you're in a different world," says Brenda. "You turn the corner and it always changes. It really was magical to walk through and experience."

---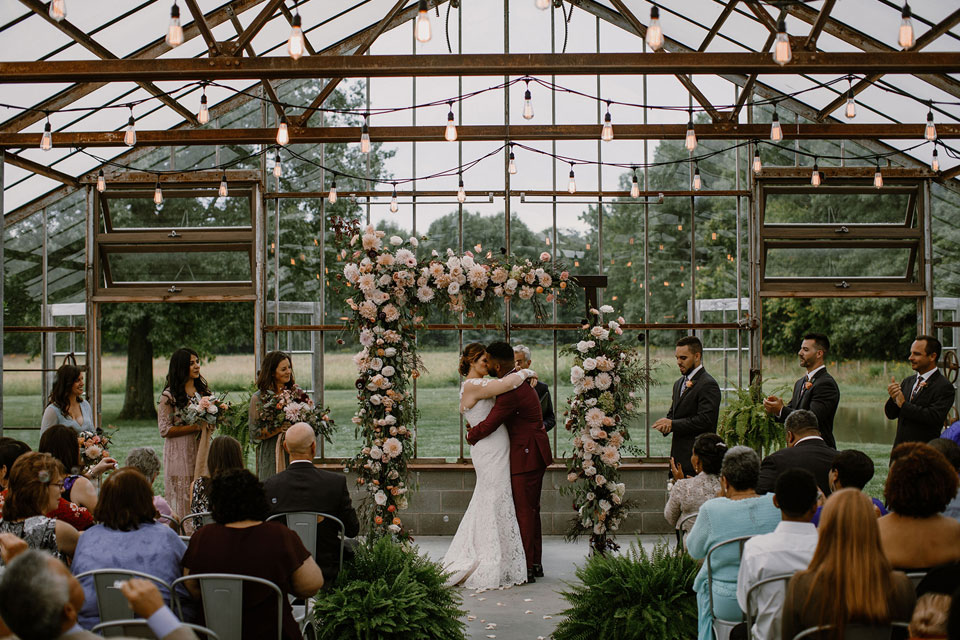 Cass & Marcus Willis
Sept. 7, 2018, Jorgensen Farms
Photos by Native Light Photography

Seconds after getting engaged against the backdrop of Barcelona, Cass Nela and Marcus Willis searched online to find their dream wedding venue closer to home, in the heart of Jorgensen Farms in Westerville.

The newly built Oak Grove reception space, which is located next to an open-faced greenhouse that has been there for years, allowed the couple to relive their adventures but with a personal touch.

"I grew up with my dad's own organic farm, so flowers were very important for our natural theme," says Cass, explaining her venue choice was encouraged by Jorgensen Farms' ability to provide flowers grown on-site.

Soft, muted tones of rose and burgundy appeared in the bouquets, and Edison bulbs hanging from the ceiling illuminated an arch of flowers as Cass walked down the aisle inside the greenhouse. The groom's stylish maroon suit and floral tie balanced the light green, blue and mauve shades of the bridal party's attire.

Guests were beckoned to reimagine the couple's travels to Bali, Greece and Barcelona as Simple Time Mixers provided custom tequila, cranberry and bourbon cocktails. Columbus bakery Short North Piece of Cake crafted a black, three-tier red velvet cake with gold leaves cascading down the side.

Pulling from her graphic design expertise, Cass lined every table with strings of light and painted place cards a fine gold to complement the contemporary, rustic atmosphere of the greenhouse. The floor to ceiling glass windows reflected an abundance of light.

"Everyone was shocked by how elevated in style the venue was, especially the greenhouse," says Cass. "Even though Marcus' family is from Ohio, they had no idea a place this special existed."

---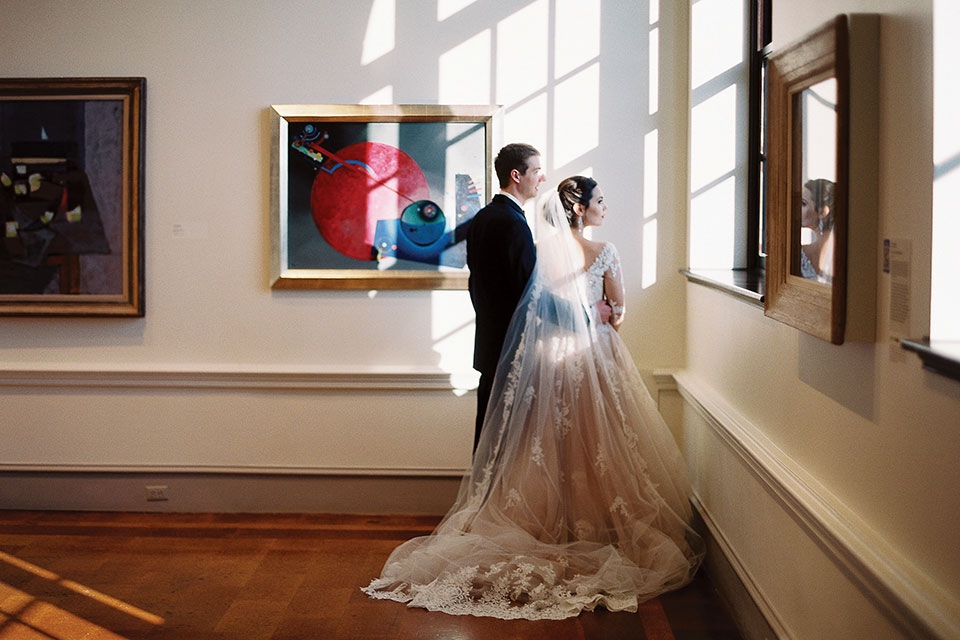 Alina & Zach Wertz
March 10, 2018, The Dayton Art Institute
Photos by Jenny Haas Photography

For Alina and Zach Wertz, paying homage to the city where they fell in love was key to making their wedding day truly special. The Dayton-based couple set their sights on the Dayton Art Institute for their ceremony and reception.

"We wanted to stay local to Dayton with all our vendors, because that is where we met and fell in love," says Alina, explaining how the idea of supporting the local community was just as important to the couple as a matching color scheme.
To capture the grandeur of the city's fine arts museum, Alina and Zach were photographed among the classical paintings, while a towering vanilla cake dripping in gold by Rachel Bakes & Co. embodied the elegant theme.

"The Institute is so magnificent, there is nothing else to match it," says Alina. "We didn't need any additional decor because it was so grand."

Combining creamy, off-white and blush roses and ranunculus, Sherwood Florists hung flowers above the couple as they exchanged vows in the museum's Great Hall. The groom's childhood best friend officiated the ceremony, during which the couple clutched customized, dusty blue vow books that had "her vows" and "his vows" printed on them.

"We wanted everything to feel glamorous and make it as much of a fairy tale as possible," says Alina, adding that the cavernous space and tall marble columns of the Italian Renaissance-style building helped achieve that result. The bridal party added a pop of color with long, red gowns.

As guests explored the venue, the wedding party gathered on the museum's steps with photographer Jenny Haas. A classic prime rib dish by Dayton's local Bernstein's Fine Catering was served during the reception held under the glass dome of the museum's Shaw Gothic Cloister. GMJL Productions filled the gallery with music, and the bride and groom showed off their ballroom dancing lessons during their first dance.

"The whole wedding was a dream," says Alina.