Ohio Life
Unique Ohio Weddings 2019
Three couples share the story behind how they found the perfect wedding venue and put their own stamp on the celebration.
January 2019
BY Sally Kershner | Photo by Tyler Rye
January 2019
BY Sally Kershner | Photo by Tyler Rye
Sara and Anthony DiMuzio | Sept. 1, 2018

For Sara and Anthony DiMuzio, there's nothing better than a classic white wedding. With the emphasis on keeping things clean, neutral and floral, the bride and groom looked to the historic and effortlessly elegant Peter Allen Inn & Event Center in Kinsman.

"We didn't want to take anything away from the venue," Sara says of the Federal-style inn. Enclosed by lush greenery and open, grassy fields, Sara and Anthony embraced their natural surroundings by adding minimalist elements of wood and flowers. "We wanted the venue and surrounding nature to speak for itself at our wedding."

The couple shared vows underneath a wooden arch that was constructed earlier that morning by Sara's family. The florist wrapped the arch in delicate white flowers prior to the ceremony. The graceful atmosphere was complemented by live violin and cello music as Sara walked down the aisle.
"The way the venue is set up, there was so much movement allowed for our guests," Sara says of the property's appeal. "After the ceremony and reception, they would walk in the gardens and see all the flowers, it was beautiful."

Built in 1821, the historic former home carries the legacy of Kinsman's first doctor and his grandson, Dudley Peter Allen, one of the founders of what is now University Hospitals in Cleveland. When the house went up for sale in 2008, Dick and Rhonda Thompson purchased it, having experience renovating properties in the area. It took three years and 25 contractors to restore the structure to its current level of grandeur.

The couple's 200 guests enjoyed an outdoor dinner seated in cushioned, wooden chairs at muted-champagne-linen tables, where soft bouquets of baby's breath and ivory-colored garden roses rested in vases. Two gas fire pits added to the ambiance underneath string lights, and partygoers spent a cozy evening under the stars as they strolled through the flower beds. A stone courtyard connected guests to the large white tent where dancing took place.

"The guests were amazed by the venue," says Sara. "The whole time everyone kept coming up to us and saying that this was the most beautiful wedding they had ever been to."

Vendors
Ceremony & Reception: Peter Allen Inn
Florist: Andrew Thomas Design
Cake: Peter Allen Inn
Photographer: Tyler Rye
Wedding Planner: Peter Allen Inn

---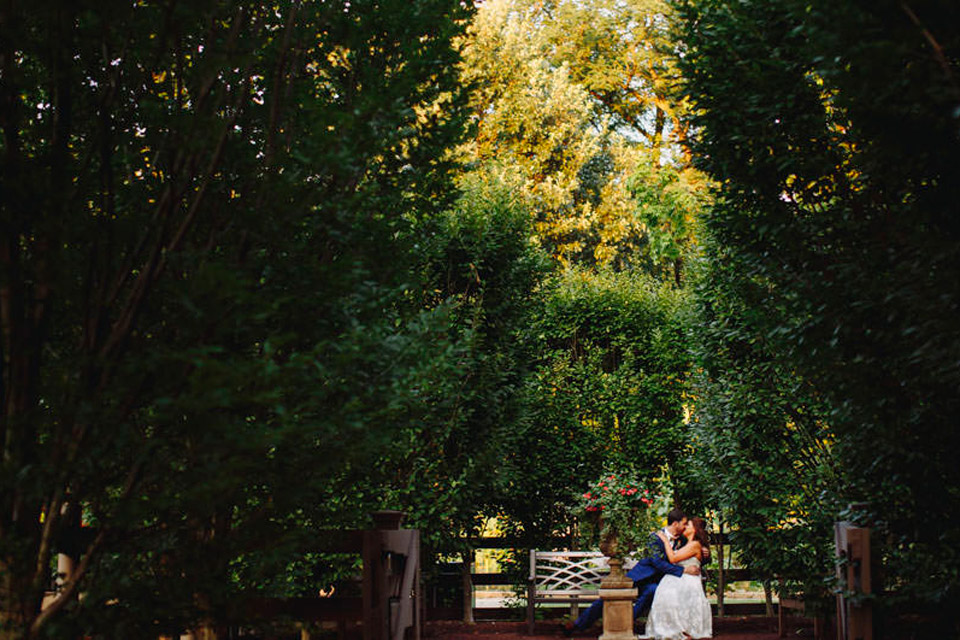 Ariel Shub and Gilad Rinkevich | Aug. 11, 2018

Ariel Shub and Gilad Rinkevich hoped to create an unconventional evening full of surprises. With family and friends flying in from as far away as Israel, Argentina, Australia, Europe and South America, the couple turned to the Wells Barn at Franklin Park Conservatory and Botanical Gardens to showcase the heart of Columbus.
"I grew up down the street from the conservatory, and I went over with my parents one day because we heard they had a barn, and we fell in love it with it," says Ariel. "We wanted our ceremony to be outside, and it has this rustic indoor space and people could utilize the gardens in the back."
An event rental space used for weddings as well as classes and demonstrations, the Wells Barn was constructed in 2015 using hand-hewn timber materials from a 200-year-old Richland County barn. Fitting with the Franklin Park Conservatory's mission, the surrounding landscaping incorporates an array of native Ohio species.
Outside the 12,000-square-foot barn, the couple wed beneath a chuppah, a canopy under which Jewish weddings are held. Rainbow-hued arrangements created by Galaxy Flowers hung delicately from each corner.
"We did not want a formal wedding at all," explains Gilad. "We wanted to keep things flowy and mingling because we had our friends from all over the world and our local friends and family, and we wanted them to get to know each other."
To keep up with the theme of color, brightness and fun, the couple utilized the Wells Barn's outdoor live-cooking station for part of the reception dinner, which allowed guests to watch as the chefs prepared their dinner. Neo-funk and soul band MojoFlo performed inside the barn. Ariel and Gilad opted for a salsa for their first dance to keep everybody moving on the wooden dance floor, before slicing into the crystalized geocake by Short North Piece of Cake, which featured two ceramic lovebirds that were gifted from the groom's family in Israel.
"The conservatory is all around, so guests were walking all over the gardens throughout the wedding," adds Gilad. "It really added to the magic and romanticism of it all."

Vendors
Ceremony: Franklin Park Conservatory and Botanical Gardens
Reception: The Wells Barn
Photographer: Derk's Works Photography
Florist: Flower Galaxy
Cake: Short North Piece of Cake
Wedding Planner: Garrett Hospitality

---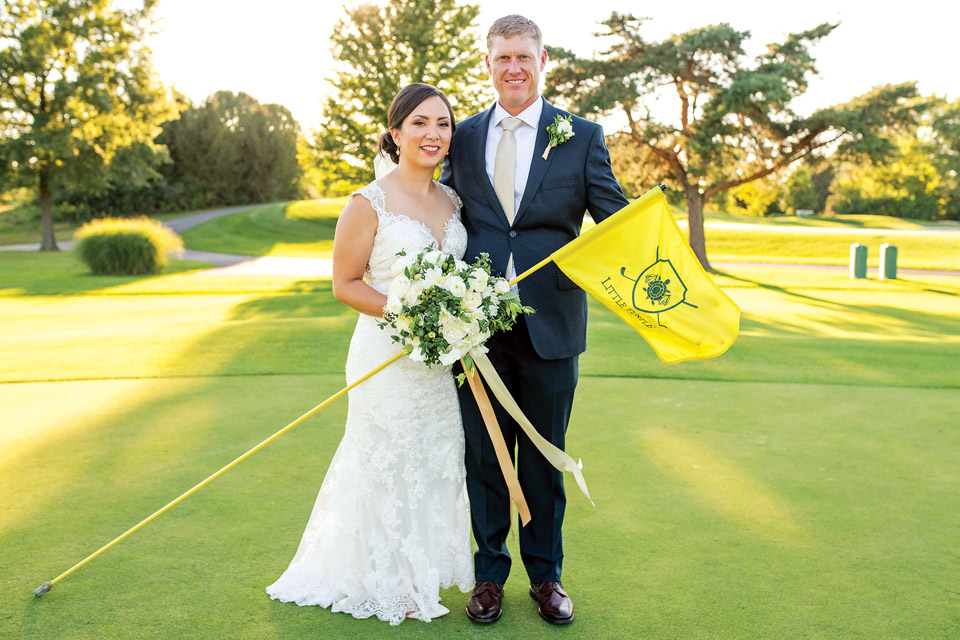 Doug and Tracy Spencer | Sept. 15, 2018

Usually it's love at first sight, but for Doug and Tracy Spencer, it was love at first putt. That's what happens when a golfer catches the eye of a professional golf instructor during a group lesson, and it was no surprise that these two hosted their reception at The Golf Club at Little Turtle in Westerville.

"We actually found the reception venue first. We were trying to stay away from the stereotype of a golf club, but everywhere we looked, I just wasn't feeling it," explains Tracy. "Then, Little Turtle kept popping up, and as soon as I walked in, I said, 'Oh my gosh, this is the match we were looking for.' "

The country warmth of the newly renovated clubhouse, exposed wooden beams and scenic view of the recently designed golf course pay homage to the groom's West Virginia origins, an element that was key to the couple's wedding theme.

"I wanted everything to be very simple and timeless, following our theme of classic rustic elegance," adds Tracy. "I said I wanted to be like Princess Kate in the country."

The open floor plan of the clubhouse's dining room provided plenty of space for the couple to pay respects to Tracy's Korean heritage by participating in traditional Korean wedding customs.

For the ceremony, simple white flowers and greenery adorned wooden pews. The towering ceilings, grandiose woodwork and impressive architecture of Liberty Presbyterian Church in the Columbus suburb of Delaware, which has been around for more than 200 years, resonated with the couple's ideal barn-church wedding.

The bridal party wore long burgundy dresses and held bouquets of ivory roses with red berries for accent. An outdoor stone courtyard enclosed by lush trees served as the backdrop as the newlyweds took photos.

"The church just fit who we were as a couple, and it was a gorgeous architectural place to be, and it felt so warm," says Tracy. "The venue allowed our relationship to be the focus of the day."

---

Cheers to Our Own
This fall, Ohio Magazine art director Rachael Chillcott and associate editor Hallie Rybka both tied the knot in downtown Cleveland. Here's how they made their big days special.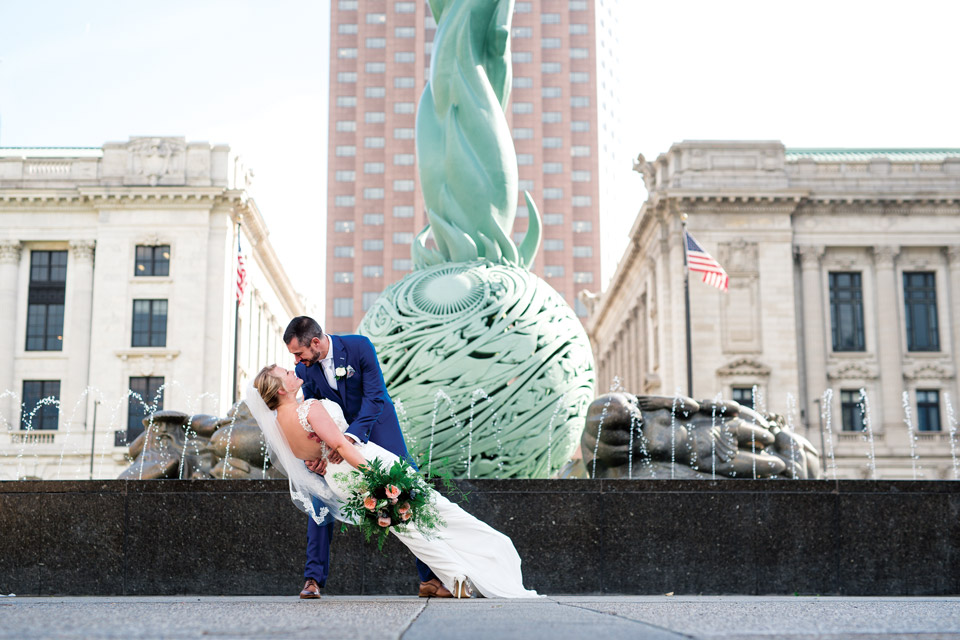 Rachael and Jayme Jirousek | Oct. 20, 2018

"What was most important to us was for our guests to have a memorable experience. From mini honey jars from Honeyrun Farm in Williamsport to retro video games from Games Done Legit, we made sure our reception was full of fun and personality. Our downtown riverfront view from Music Box Supper Club was amazing and made for a night to remember."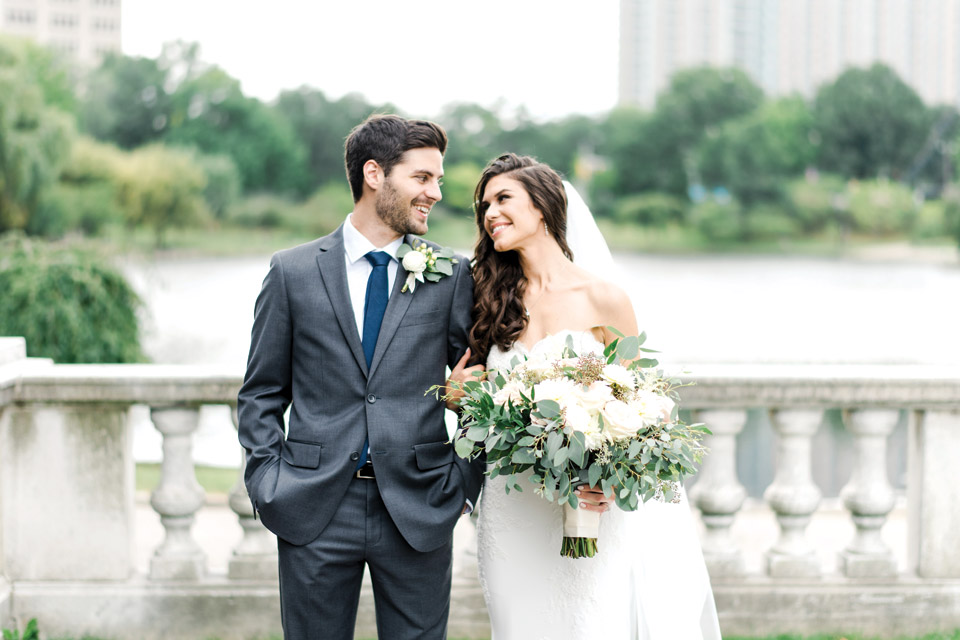 Hallie Rybka and Michael Ciuni | Sept. 7, 2018
"We were determined to have a very Cleveland wedding with an emphasis on fun. Windows on the River provided skyline views, The Budding Tree adorned our tables with lanterns and fluffy florals and Zack Bruell Events served an amazing dinner. Bumbles Bake Shop created our custom Ohio-shaped cookie favors, and the dance floor was packed all night long."