Ohio Life
'Ohio — Champion of Sports' in Columbus
An expansive exhibition organized by the Ohio History Connection showcases our state's contributions to excellence in competition.
March 2019
BY Jill Sell and Jim Vickers | Photo courtesy of Ragersville Historical Society
March 2019
BY Jill Sell and Jim Vickers | Photo courtesy of Ragersville Historical Society
The Ohio History Connection's new exhibition, "Ohio — Champion of Sports," shares the story of legendary athletes, teams, coaches and fans. Spanning 70 stories and 26 sports, the $1.2-million undertaking represents the largest-ever exhibition investment the Ohio History Connection has ever made. On view from March 16 through Sept. 7, 2020, at the Ohio History Center in Columbus, the exhibition tells the story of Ohio sports, the state's influence on American sports history and athletes who kicked, caught, batted, ran, swam, jumped and rowed their way to immortality. Here are some of the famous names featured and where they fit into our state's rich sports history.

March 29, 1867: Cy Young Born in Gilmore, Ohio
Born on an Ohio farm, Denton (Cy) Young went on to become one of baseball's greatest pitchers. When he retired at age 45, he had won 511 games and played for five teams, including the Cleveland Spiders. Each year, the Cy Young Award is given to two Major League Baseball pitchers — one in the American League and one in the National League.

Oct. 25, 1869: John Heisman Born in Cleveland
John Heisman was one of the leading college football coaches of his time, but he was also vital to the sport's evolution by advocating for the forward pass and the game being split into four quarters. After his career, he became the director of New York City's Downtown Athletic Club, where each year since 1935 college football's best player is awarded the Heisman Trophy.
Oct. 8, 1890: Eddie Rickenbacker Born in Columbus
The son of Swiss immigrants, Eddie Rickenbacker was a top race-car driver as a young man before volunteering for World War I. After initially serving as Gen. John Pershing's staff driver, Rickenbacker joined the 94th Aero Pursuit Squadron, where he earned the
nickname "Ace of Aces" for shooting down 22 airplanes and four balloons.

---

1907: Alta Weiss Makes Her Semiprofessional Baseball Debut
This pioneering pitcher was born in Ohio in 1890 and became a star of her day, inspiring the generation of All-American Girls Professional Baseball League players to follow during the 1940s and '50s.
Alta Weiss originally wore a long, wool skirt over her bloomers as she delivered spitballs, fastballs and knuckleballs to opposing batters. But the attire seriously hampered her style, so she switched to extra-wide bloomers — early culottes that could pass as a skirt. When you were 17 years old and playing baseball in the early 1900s, women's uniforms simply didn't exist.

Born in Berlin, Ohio, in 1890, Weiss made a name for herself playing in local pickup games across Ohio for the Vermilion Independents (a male, semipro team) and later the Weiss All-Stars (a Cleveland-based semipro team owned by her father).

Weiss' baseball career began in 1907 with the Independents as a chance opportunity. She was vacationing with her family in the Ohio lakeshore town of Vermilion and playing baseball with some boys from town when the community's mayor noticed that she struck out player after player. The mayor connected Weiss with the manager of the Independents, who at first did not want a female on his team, but he quickly changed his mind after seeing Weiss play.

"City teams were a source of local pride at that time," says Leslie Heaphy, associate professor of history at Kent State University's Stark campus and board vice president for the Society for American Baseball Research. "The mayor and manager put winning above her gender. Alta's being on the team wasn't just publicity driven. Winning was a goal. Every woman who played at that time, and there weren't a lot, opened doors for other women."

Weiss was so popular that special train trips from Cleveland to Vermilion were arranged for adoring fans. She played for the Vermilion Independents for a year until Weiss All-Stars was formed in 1908. While playing for that team, she donned a dark-colored uniform to stand out from her male teammates who all wore white.

"Alta was incredibly talented," says Heaphy. "She played until the early 1920s [and] became one of the role models for the All-American Girls Professional Baseball League teams during the 1940s and '50s that became much more famous."

Weiss used her baseball earnings for medical school and graduated from Starling Medical College, a predecessor to The Ohio State University College of Medicine. Some considered Weiss an eccentric in her later years, but Heaphy says the fact that she played baseball and became a doctor in that era would have branded any woman as unusual.
"Alta [proved] women have the skills and abilities, not just for athletics," she adds, "but careers as well."

---
Aug. 16, 1936: Derby Downs Opens in Akron
After originating in Dayton in the 1930s, the All-American Soap Box Derby moved to Akron in 1935. The hillier terrain was a better fit for a competition in which kids face off in gravity-powered cars they build themselves. In 1936, Akron city officials opened a permanent facility for the race known as Derby Downs.

August 1936: Jesse Owens Wins Four Gold Medals in Berlin
Ohioan and Ohio State University track star Jesse Owens won four gold medals in the 1936 Olympics in Berlin, Germany (100 meter, 200 meter, 4X100-meter relay and the long jump). Above all, he defied Adolf Hitler, who hoped the games would prove his theory of Aryan superiority, and left Berlin a hero.
July 5, 1947: Larry Doby Breaks American League Color Barrier
Less than three months after Jackie Robinson became the first African-American player to break Major League Baseball's color barrier by joining the National League's Brooklyn Dodgers, Larry Doby did the same for the American League, making his debut with the Cleveland Indians. Today, he's immortalized with a statue outside Cleveland's Progressive Field.

May 1976: First PGA Memorial Tournament Hosted in Columbus
Columbus native and PGA legend Jack Nicklaus bought property near Dublin in 1967 with plans to open a golf course. Muirfield Village Golf Club was finished six years later. In 1976, the course hosted its first PGA Tour event: the Memorial Tournament. Nicklaus won the tournament in 1977, and it continues today, drawing some of the sport's biggest stars.

1971-77: Toledo Troopers Win Seven Consecutive National Championships
Between 1971 and 1977, the Toledo Troopers claimed seven consecutive titles in the fledgling National Women's Football League. Over the team's nine seasons between 1971 and 1979, the Troopers lost only four of 68 games played, often beating teams by 30 points or more. In 1983, the Pro Football Hall of Fame named the Toledo Troopers the winningest pro football team ever.

---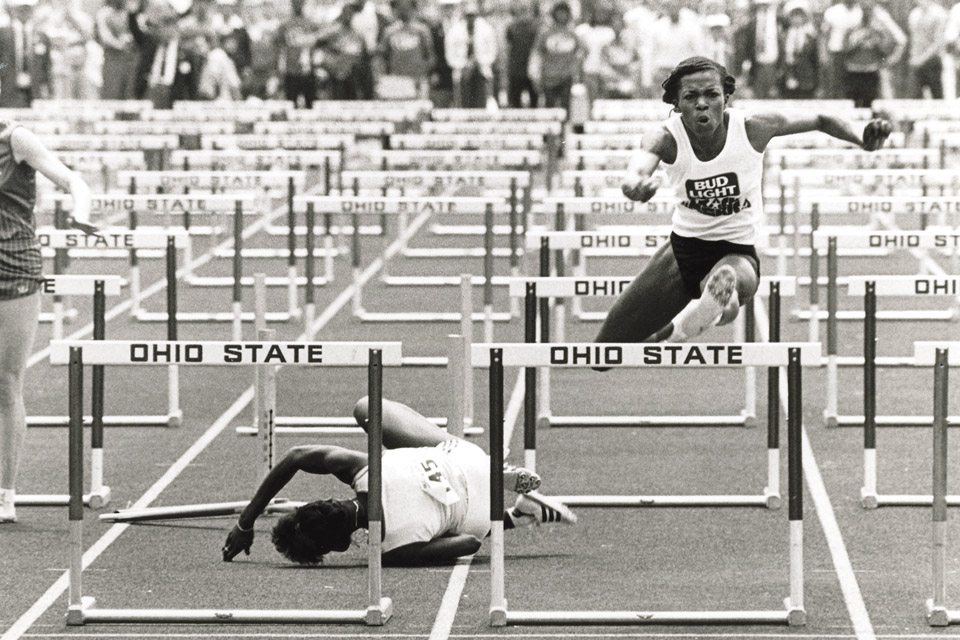 1977-80: Ohio State Track Star Stephanie Hightower Goes Undefeated
The Ohio State track star went undefeated in Big Ten competition in the 60-meter dash, 60-meter hurdles and 100-meter hurdles. Today, she is president and CEO of the Columbus Urban League.

Stephanie Hightower doesn't see hurdles as obstacles, but as challenges to be conquered. That includes the ones used in track competitions and the intangible ones she has faced as a leader in national and international sports governance, and more recently, in fighting for family advocacy in Columbus.

A track star at The Ohio State University from 1977 to 1980, Hightower was undefeated in Big Ten competition in the 60-meter dash, 60-meter hurdles and 100-meter hurdles. (She praises Ohio State for fully embracing Title IX, part of the federal Education Amendments passed in 1972 that increased athletic opportunities for women.)

A world-record holder in the 60-yard hurdles, Hightower was denied her Olympic debut at the 1980 Moscow Games because of the U.S. boycott. She was an alternate for the 1984 team.

"You never get over missing the Olympics," says Hightower, who was born in Louisville, Kentucky. "As an athlete, you want to compete. But I know God had something else planned for me, and I can't complain about the opportunities I was given."

As her feet slowed down, Hightower's mind raced on. She became USA Track & Field president and board chair in 2008 and holds other high-level positions with the International Association of Athletics Federations. She has also held team-management positions at world championship and Olympic events.
Currently, she is president and CEO of the Columbus Urban League, helping people find self-sufficiency. Hightower was also the 2018 Phyllis Bailey Career Achievement Award recipient, an honor given by the Women's Varsity "O" Alumnae Society of The Ohio State University to female letter winners who, through their careers, have contributed honor to the university.
"This award has sentimental meaning to me," says Hightower. "Phyllis Bailey was the first female athletic director of OSU, and she was my [director]. She was tough as nails on me, but I was one of her problem children in the late '70s.

"She always urged me to do better in my classes. I think doing well in school is something that is important for all young women athletes to realize. Advocating for your community, which I do and will continue to do, is also important and I have tried to live as an example."

---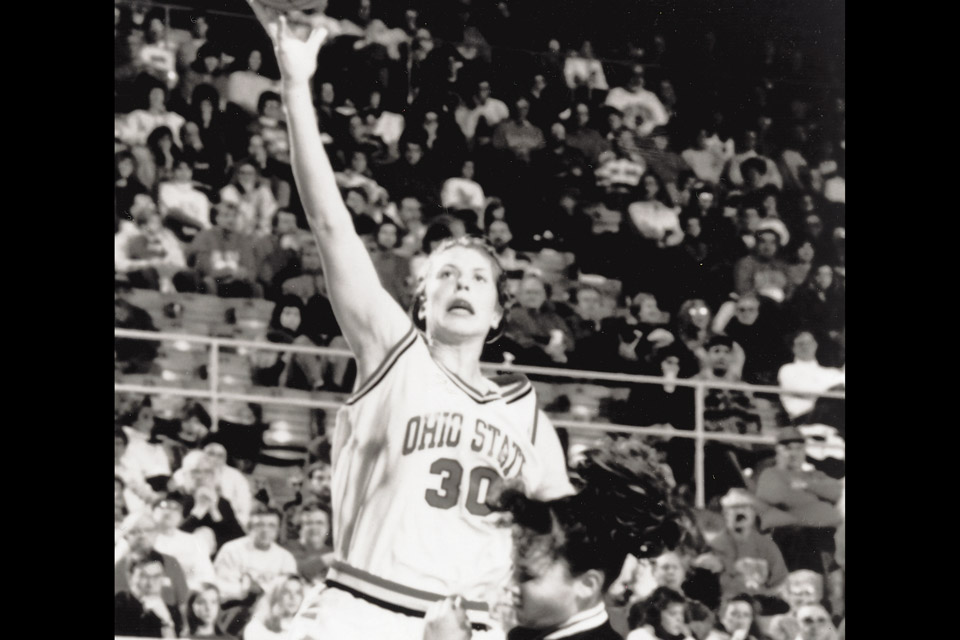 Jan. 21, 2001: Ohio State Basketball Star Katie Smith's Number Retired
After helping lead her team to the NCAA Championship game her freshman year, this Ohio State University basketball star went on to shatter both collegiate and professional records prior to her career in coaching.

The stats and accomplishments are astounding: Between 1999 and 2013, Katie Smith scored 7,885 points during her time in the American Basketball League and the WNBA, at one point making her the leading scorer in women's professional basketball. She also earned three gold medals during the 2000, 2004 and 2008 Olympics and was enshrined in the Naismith Memorial Basketball Hall of Fame in 2018.

That all followed an amazing collegiate basketball career at The Ohio State University where, after helping lead her team to the NCAA Championship game as a freshman, she went on to break the women's Big Ten all-time scoring record. In 2001, Ohio State retired her No. 30, making her the university's first female student athlete given the honor. And let's not forget the Logan native also led her hometown high school team to the Division I state basketball championship game in 1992.

"Basketball and my life are intertwined," says Smith. "It was never on my radar to [play] professional basketball, but it created my life."

Staying motivated, keeping a competitive edge and remaining in top physical condition are still priorities for Smith, who began playing basketball in fifth grade. Today, she is the head coach for the WNBA's New York Liberty, a position she took in 2018 after three years working in assistant coaching roles for the team. That same year, team owner James L. Dolan and Madison Square Garden announced the team was for sale and moved the franchise to Westchester County Center in White Plains, New York, for the 2018 season. In January, an investment group led by Brooklyn Nets minority owner Joseph Tsai purchased the team.

Smith balks slightly when being called a pioneer in her sport, although she modestly agrees she has been a "good" basketball player all her life and that parlaying her passion into a sports career has influenced others.

"Because of basketball I have become a role model for some young women," she says, "first by playing and now by coaching. At this point [with the Liberty], we now have to figure out how to move forward."

---

July 11, 2014: LeBron James Returns to the Cleveland Cavaliers
With one simple phrase — "I'm coming home" — Akron native LeBron James returned to the Cleveland Cavaliers and pledged to deliver a championship to a city that had not seen one in more than five decades. On Father's Day, June 19, 2016, he made good on his word and shouted another phrase that will live on: "Cleveland, this is for you!"

Visit the Ohio History Connection website for hours, admission and more information about the exhibition. Ohio History Center, 800 E. 17th St., Columbus 43211, 614/297-2300, ohiohistory.org