Ohio Life
The Life and Legacy of Bill 'Mr. Christmas' Hixon
For decades, Bill Hixson has been synonymous with this time of year, from designing his own line of glass ornaments to helping decorate the White House.
December 2017
BY Jill Sell | Photo by Kevin Kopanski
December 2017
BY Jill Sell | Photo by Kevin Kopanski
Thousands of Santa Claus ornaments hang from Christmas trees or rest in tissue-paper-lined boxes. Then, there are the hundreds of angels — some playing harps, others with gossamer wings. But artist Bill Hixson isn't looking for any of those. The 88-year-old owner of Hixson's in Lakewood is hunting for hedgehogs.

The small mammal isn't exactly up there with candy canes and nutcrackers when Christmas decorations come to mind. But Hixson — an artist, educator and floral designer — wants to show off the blown-glass ornament he designed. Without too much trouble, he finds the critter in his 8,000-square-foot store crammed with what seems like zillions of ornaments, glittery stars, bells and red and green garland and bows, as well as antiques, Japanese art and old-fashioned candies.

Hixson explains that there's a fable tied to the hedgehog that served as the inspiration behind his creation.

"A housewife was chasing a hedgehog in the kitchen and wanted to hit him with her broom," Hixson says. Knowing that no housewife would smash her porcelain teapot, the animal hid inside.

"But the housewife was smart and put the teapot on the stove," the artist continues. "The hedgehog's head immediately popped out."

He reveals two ornaments, one of a lone hedgehog and another of the creature peeking out of a teapot. Hixson explains that the animal is symbolic of mischief, enterprise and magical powers, and the artist shares some of those traits as well.

He once instigated an artificial-snow fight in the White House with first lady Barbara Bush and one of her grandchildren while at the residence decorating a Christmas tree. Hixson is also an internationally known florist who established one of the biggest schools of floral design in Japan, teaching Western methods with an Asian flair. He also helped improve and promote OASIS Floral Foam — that green material used in flower arranging — created by Smithers-Oasis, a wholesale floral supplier in Kent.

"Bill has a magical combination of creativity, enthusiasm and fearlessness," says Denise Patterson, director of corporate marketing for Smithers-Oasis. "If he wonders if something can be done, he doesn't wonder too long. He tries it."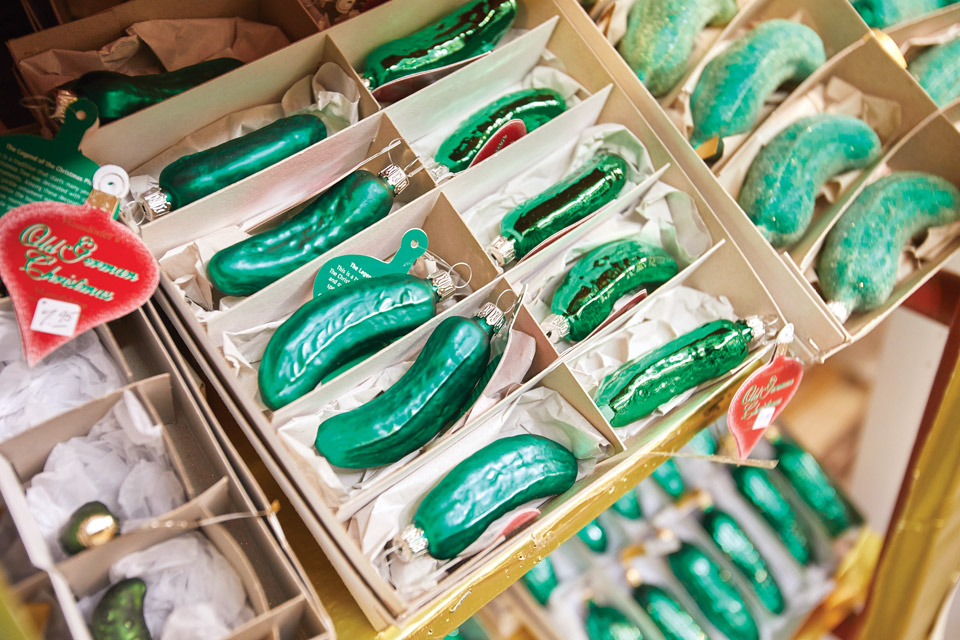 At the same time, Patterson adds, Hixson isn't reckless, nor is he blind to the people, events and opportunities that have helped him along the way.

"I can't imagine that there are many people who have decorated the White House and, years after the administration has moved on, still exchanges personal notes with the former first lady," Patterson adds, "but Bill does."

Hixson is humble about all this, at times even reluctant to talk too much about many of his experiences.

"I started writing my autobiography, but I threw it away and decided to start over," he says. "There were just too many 'I dids' in it. The next one will be more about the people who helped me."

Hixson opened his Lakewood store in 1953, and it's been in its current location since 1959. It's an enchanting place that delights young and old. His path to becoming "Mr. Christmas," a nickname he's earned over the years, started when he was born in his parents' home in the city of Berea on April 8, 1929.

From a young age, he gravitated to plants and took horticultural courses in high school. Later, he worked for local flower shops before opening his own. In 1959, he founded a floral design school and was soon teaching students from across the United States.

One of those students was Nancy Clarke from Dayton, who became floral director for the White House in 1985. She invited Hixson to be part of a team of volunteers who help decorate the president's home each year for Christmas. But Hixson has also designed ornaments for the first families, beginning with the Reagans.

Inside the store, Hixson proudly displays photos of himself with first ladies Hillary Clinton and Laura Bush. He says he once told Laura Bush that the "good luck, prosperity and forward motion of the country" during the administrations of Ronald Reagan, George H.W. Bush, Bill Clinton and George W. Bush were due to his hiding particular glass ornaments on the Christmas tree in the White House's Blue Room each year: a pickle, a pig and a frog — symbols that represent good luck, prosperity and progress, respectively.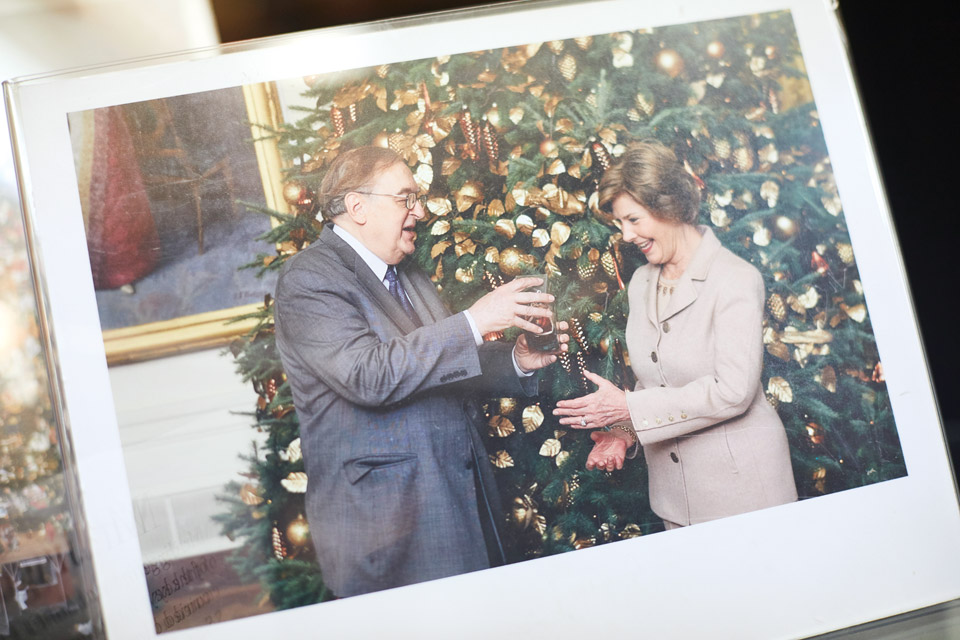 "I'm Scotch, Irish, English and 50 percent Russian," Hixson says. "I am a good storyteller and like to tell the stories about the meanings of ornaments. I think I got that from the Irish part of me."
Hixson's passion for the holiday led him to research the stories behind the items that we've used to decorate our trees for generations, and his focus on ornament design began with a buying trip to Germany in the 1970s. He purchased glass roses and made connections with traditional European glassblowers whose families of fifth- and sixth-generation craftsmen still provide Hixson with much of his glass ornament inventory.

"I soon found out if I paid $600 for a mold, I could have the glassmakers create special designs," says Hixson, who still does ornament sketching along with a few members of his staff and his "lifetime business partner" Eunice Sowiak, who joined the operation in 1963.

"My wife collects Bill's glass ornaments, and we have a Bill Hixson Christmas tree," says Jeff Forinash, a Kris Kringle lookalike from Ashtabula, who has played Santa Claus in Hixson's store for decades. "You have a special responsibility when you are Santa. You are dealing with children's memories. Bill respects that ... Christmas has become so commercial in so many ways, but not to Bill. There won't be many Bill Hixsons to come around anymore."

Matthias Burke works for Hixson, but also considers him a friend and mentor. He first visited the store as a child, was hired on at 15 and has been there 22 years.

"Bill is smart, wise and passionate about what he does, but he's a kid at heart," says Burke. "He always makes sure a kid who comes to the store gets something, even if it's just a little treat."

Talk to Hixson for a bit and that inner kid starts to appear. Surrounded by the wonderland of decorations his store contains, he recalls his belief in Santa as a child and how he and his older brother received Christmas stockings filled with apples (and a tangerine if it was a good year), candy and a single toy.

"My best Christmas was the year I was 8," Hixson recalls. "My brother got a BB gun, and I got a flashlight. It was great. I could read books under the covers at night in bed."

Hixson's is located at 14125 Detroit Ave., Lakewood 44107. For more information, call 216/521-9277 or visit hixsonsinc.com