Ohio Life
John Herzig's Famous Endings Museum
The Dover funeral director collects memorabilia from services held for celebrities and historical figures.

January 2018
BY Vince Guerrieri | Photo by Ken Blaze
January 2018
BY Vince Guerrieri | Photo by Ken Blaze
It all started with John Herzig buying an autograph of former heavyweight boxing champion Joe Louis nearly two decades ago. The signature arrived at his front door along with an unexpected throw-in: a program from Louis' 1981 funeral at Arlington National Cemetery in Virginia, where the boxer was buried with full military honors.

"I don't think he even knew I was a funeral director," Herzig says of the seller. "That's how all the craziness started. None of this was planned."

Today, his collection consists of around 2,500 items, from funeral programs to other memorabilia related to the lives and deaths of famous people. He's got a lantern that hung on the horse-drawn carriage that carried Abraham Lincoln's body through Albany, New York, and a head block used in the embalming of outlaw Jesse James.

His Marilyn Monroe display includes a note handwritten by her ex-husband Joe DiMaggio, who was supposedly on the verge of remarrying her at the time of her death, listing those invited to her funeral. Then there's the marker that once hung on the crypt of Humphrey Bogart at Forest Lawn Cemetery in California (it was replaced after it oxidized too quickly).

As word of the collection spread, Herzig began receiving items from fellow funeral directors. He says there are typically only a few who handle services for celebrities and other high-profile people.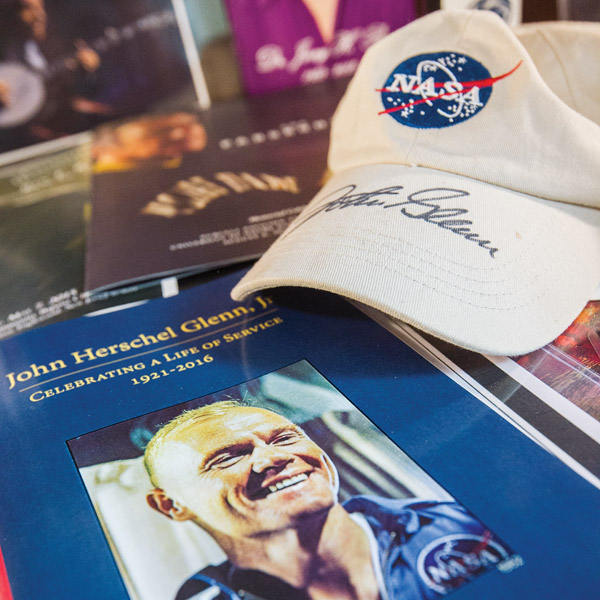 "Someone told me I should display it," Herzig says of his collection. "I thought, Who is going to be interested in this besides me? But I'll try it."

When the bus tours that pass through Tuscarawas County began stopping at the funeral home, Herzig decided it was time to dedicate more space to his collection. So, in 2015, he started turning a former showroom for caskets and urns into his 700-square-foot Famous Endings Museum. Even after constructing the special room, Herzig estimates he's only got about 10 percent of the items he owns on display.

"Let's face it, a lot of people feel uncomfortable coming to a funeral home," he says. "In most cases, they want to come in, pay their respects, but they don't want to stay around. Since we put this museum in, it's kind of taken away the negative vibe of the funeral home."

***

In designing the room that would house his collection, Herzig looked to Museum Acrylics in nearby New Philadelphia, a company that has done work at institutions throughout the United States, including Chicago's Field Museum, the Detroit Institute of Art, the Rock & Roll Hall of Fame and the Pro Football Hall of Fame. Yet, Herzig's project offered company owner and designer George Laurence the opportunity to try something new.

"Typically, we're just subcontractors," he says. "We don't usually design. I saw the room, and I've been doing this long enough that I could see what I wanted to do. John isn't a museum professional, but he knew what he wanted, and I turned it into something neat."

The walls are decorated with floor-to-ceiling photos that wind along the room's edge and serve as a visual guide to guests as they move through the museum. A vintage photo of Elizabeth Taylor represents actors and actresses, and a historic photograph of Jackie Robinson marks the portion dedicated to athletes. An image of Ronald and Nancy Reagan denotes an area featuring items from the funerals of U.S. presidents and first ladies, while a photo of Theodor "Dr. Seuss" Geisel represents the portion highlighting writers and artists.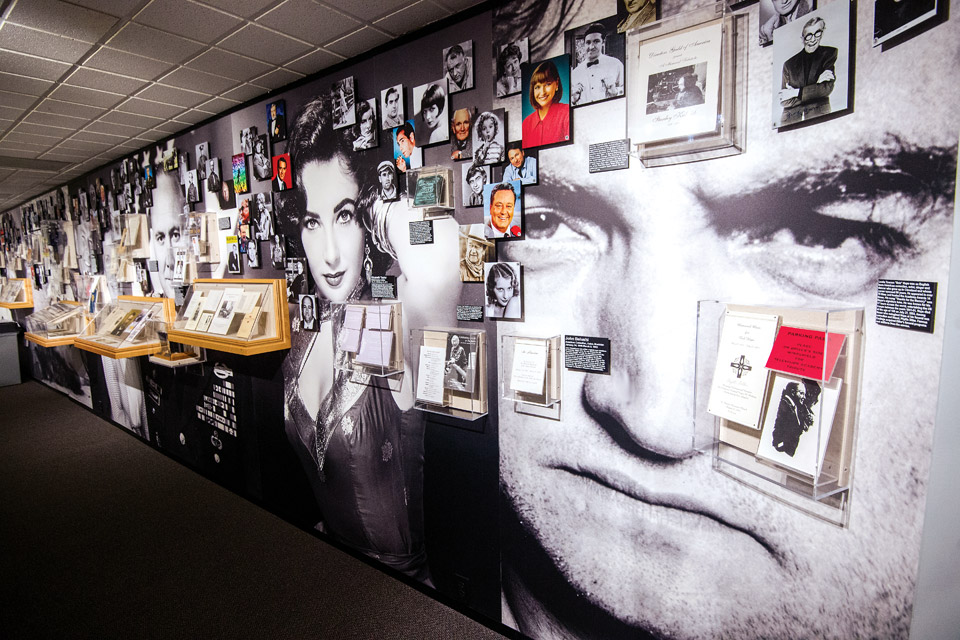 Within each mural are a series of displays of framed funeral programs or shelves holding materials themselves — from the shells used in the artillery volley at Dwight D. Eisenhower's funeral to autographs Herzig has collected, like those of disc jockey Casey Kasem and Disney child star Annette Funicello.

Laurence was even able to get a bit of immortality for one of his relatives: His grandfather Rodolphe Laurence invented the rotary shaft solenoid valve, an electronically controlled fluid distributor that has multiple uses in transportation and industry. His name and picture are on the inventors' wall at Famous Endings.

As far as Herzig is concerned, guys like Rodolphe Laurence are exactly the kinds of people the funeral director wants to commemorate.

"I get more of a kick out of collecting things from people whose names aren't well-known, who've used their talents to change the world," he says.

Wilson Greatbatch is another such example. The Buffalo, New York, native served in World War II and went to college to be an engineer on the G.I. Bill. He held more than 150 patents, but was best known for inventing the cardiac pacemaker, a model of which is mounted next to his funeral program.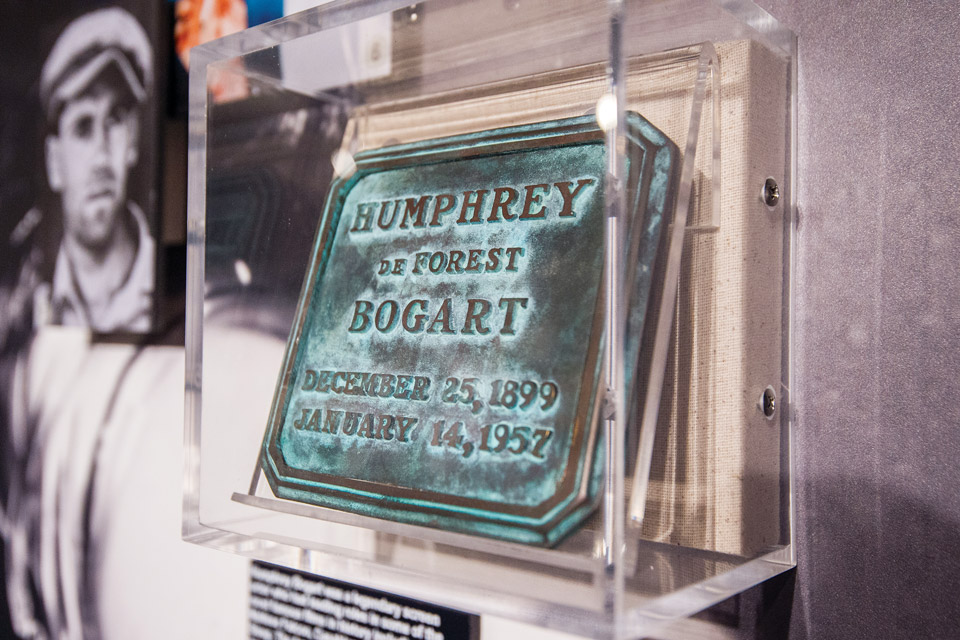 "I always point him out on the tour," Herzig says. "Now, think about the hundreds of thousands of lives he's prolonged, and people don't even know who he is. … Stephanie Kwolek is the lady that invented Kevlar. A lot of people don't know who she is. Millard Fuller started Habitat for Humanity ... These are people who should be honored and recognized."

There's also a program from the funeral of the inventor of the pink flamingo lawn ornament, Don Featherstone, and the quote on it seems like something the inventor of the pink flamingo would say: "Don't take life too seriously; you're not getting out of it anyway."

***

The majority of Herzig's collection is programs from memorial services, but it also includes other items that were given away as tokens at celebrity funerals. In many cases, these pieces offer glimpses into the personalities of those they celebrate.

At ventriloquist Shari Lewis' funeral in 1998, guests received a miniature replica of Lamb Chop, her most famous character. Guests at the memorial service for James Doohan — Scotty in the original "Star Trek" — got a flashlight so they too could "beam people up."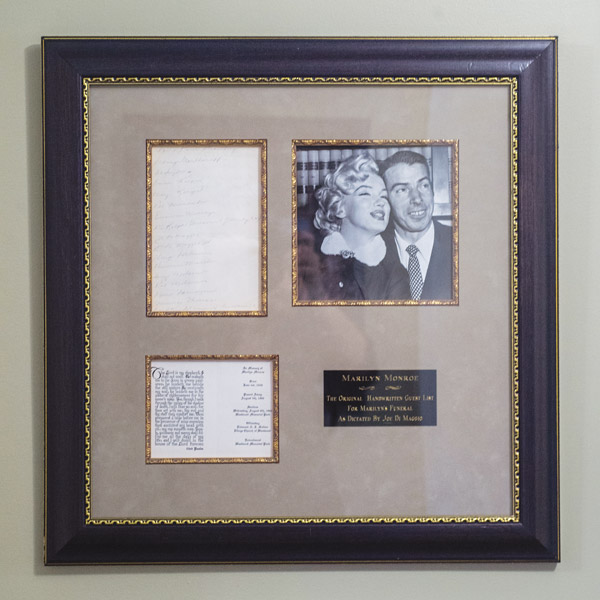 There's a cookie with a caricature of Rodney Dangerfield from the comedian's funeral, along with a memorial card featuring his signature red tie, and actor Leslie Nielsen printed tissue packages for his own service that bear the words, "Stop crying!!! This is supposed to be a fun night. Love and laughs, Leslie." Actor Abe Vigoda's funeral program includes his final line in "The Godfather."("Can you get me off the hook for old time's sake?")

Herzig purchased many of the items through eBay and traditional auction services, but as the legend of what he is doing grew, the collection began to take on a life of its own. Correspondence with someone he'd outbid for a funeral program for Hollywood animal trainer Frank Inn led to Herzig getting a funeral program for Higgins, better known as Benji from the eponymous series of movies.

Then, when Herzig mentioned during an interview that he had nothing from "Superman" actor Christopher Reeve's funeral, he received a memorial program soon thereafter. (No luck so far with the others he mentioned: Ed Sullivan, Gilda Radner and Cleveland journalism legend Dorothy Fuldheim.)

Funerals for heads of state are defined by years of tradition, and that raw grief can be seen in Herzig's newspaper clippings chronicling Abraham Lincoln's death, the mourning star displayed for President William McKinley and the vests worn by attendees of President James Garfield's funeral that identified them as representing the city of Akron.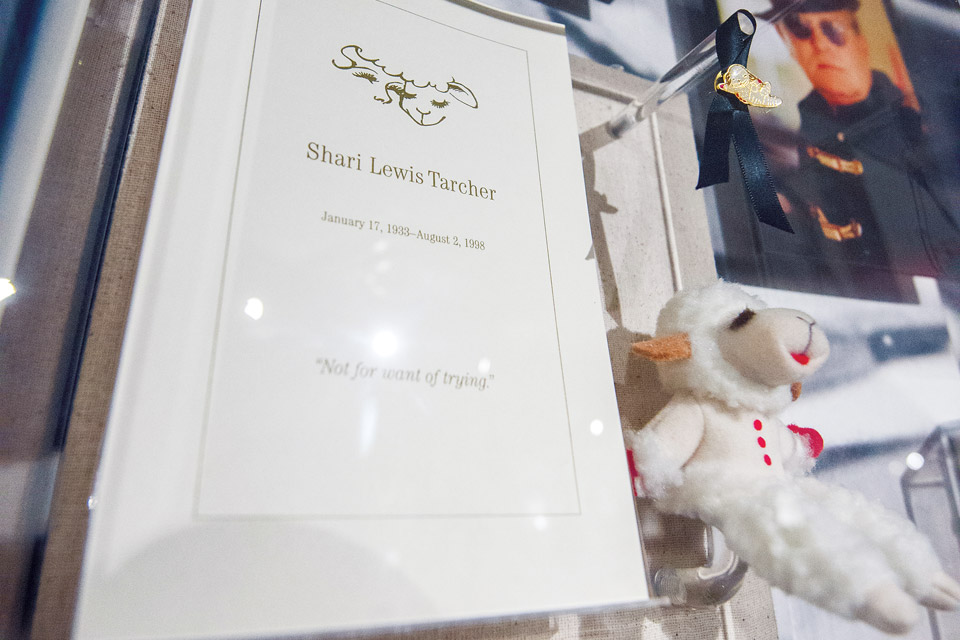 When President Franklin Roosevelt died, Life magazine photographer Ed Clark took a picture of Navy musician Graham Jackson, in tears, playing "Goin' Home" on his accordion. Herzig has the accordion. "We're 99 percent sure," he cautions, "but I haven't been able to get it verified."

Taking in the collection, it's easy to see why he draws out-of-towners who want to see it. It's all been a bit of a surprise to Herzig, who is merely interested in documenting the final chapter of some of society's famous names.

"I did it for my own enjoyment, and it just turned into something," he says. "If we quit giving the tours tomorrow, I'd still be doing this. … I've always enjoyed learning people's life stories."

Famous Endings Museum is located at Toland-Herzig Funeral Home, 803 N. Wooster Ave., Dover 44622. The museum is open Monday through Friday from 9 a.m. to 5 p.m. For more information, call 330/343-6132 or visit tolandherzig.com.