Ohio Life
How Mark Klaus Created Medina's Castle Noel
Artist Mark Klaus has turned his passion for Dec. 25 into an attraction packed with authentic Christmas-movie memorabilia.
December 2014 Issue
BY Jill Sell | Photos by Ken Blaze
December 2014 Issue
BY Jill Sell | Photos by Ken Blaze
The gentleman sporting the perfect white beard and silky red suit with black pinstripes extends his hand as one of his guests lands at the bottom of a long, twisty red slide. With a graceful flourish, he helps the exhilarated, smiling woman rise to her feet. "We made the slide so everyone — kids and adults — could enjoy it," he explains. "We want everyone to feel like they are a kid again."

The slide descends from Santa Klaus Mountain, located inside Castle Noel in downtown Medina. It's instantly reminiscent of the department store slide Ralphie made famous in the classic 1983 film "A Christmas Story," and this particular incarnation delivers guests to the bottom faster than you can say, "I triple dog dare you." Even Gov. John Kasich zoomed down the slide during a visit this fall.

The oldest person to take the plunge so far has been a 97-year-old woman whose photo hangs on a wall inside Castle Noel, a nostalgia wonderland that takes up half a city block on Medina's historic Public Square and overflows with an impressive collection of Christmas-movie memorabilia.

The main building is the former Medina United Methodist Church, which Mark Klaus (yes, that's his real name) has been transforming for more than a year. "Castle Noel is the accumulation of everything I have done," says the 51-year-old, who lives in Medina County with his wife, Dana. "This is my whole life."

Klaus grew up in Seven Hills and credits his father and late mother for his passion for Dec. 25. Castle Noel is a tribute to them, he says, referring to his father as the original Clark Griswold, the character played by Chevy Chase in "National Lampoon's Christmas Vacation."

"Our house was magical and always decorated inside and out at Christmas. Although it wasn't open to the public, all our neighbors, family and friends would stop by," recalls Klaus, whose mother was a USO big band singer in the 1940s. "For two years after I stopped believing in [department store] Santas, I faked it so I wouldn't hurt my mother."

Starting in elementary school and extending through high school, Klaus passed out candy canes to classmates on the last day of school before holiday break. Later, he dressed up as Santa at Christmastime but figured kids were too smart to think he was the real Kris Kringle. So Klaus performed what he calls "Santa run-bys," where he would bolt through yards in his neighborhood at appointed times so the children who lived there could get just a glimpse of the jolly old elf.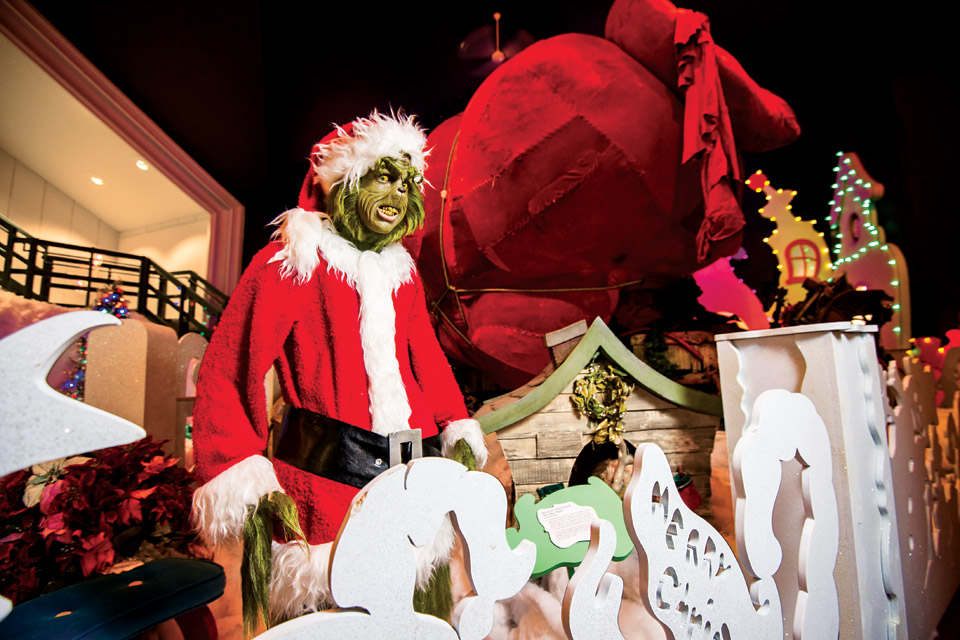 Klaus had always shown artistic talent as a young child, and by the time he was a young man, he was crafting Christmas ornaments and amazing figurines — Santas, angels and Nativity scenes from clay and other materials — with incredible detail and precision. Eventually, he caught the eye of Goebel, QVC, HSN TV and other distributors who have made the Mark Klaus name synonymous with Christmas decorations and white, high-quality, cold-cast porcelain figurines.
"Sculptured faces are important to me, even if the figure is so tiny you can't see its face without a magnifying glass," says Klaus, a self-taught artist, who also sells his artwork at Castle Noel. "When I am working on a new piece, I have to sit down and calm myself. I have to lower my blood pressure, because even a heartbeat will cause some movement, and I have to be able to control every tiny touch."
A career highlight for Klaus was creating the official ornament for the Times Square Millennium Celebration. By 2002, his nationally known reputation and successful art career allowed him to indulge in another passion — collecting authentic Christmas movie props and costumes. (His favorite Christmas movie? "Santa Claus: The Movie," released in 1985 and starring Dudley Moore.)
Today, Castle Noel has what Klaus bills as the world's largest privately held collection of its kind. There are movie posters and vintage LP Christmas records ranging from Elvis to Glen Campbell to The Carpenters gracing the walls of Castle Noel, but other items on display are truly unique.
There is the Grinch's larger-than-life sleigh used in the 2000 movie "How the Grinch Stole Christmas," as well as a complete whimsical bedroom set from Whoville. Will Ferrell's costume from the 2003 film "Elf" is on display, and Cousin Eddie's made-to-look-rusty RV from "National Lampoon's Christmas Vacation" is parked in a courtyard behind the museum.
In addition, Castle Noel also presents mesmerizing animatronic window displays (think scenes from "The Nutcracker") from Bloomingdale's in New York City and other famous department stores. Last Christmas Eve, Klaus slipped on ice and broke his back, but didn't want to miss an opportunity to buy another extraordinary window display, so he convinced his doctor to fortify him with steroids and allow him to travel flat on his back in a car to New York City just after the holiday.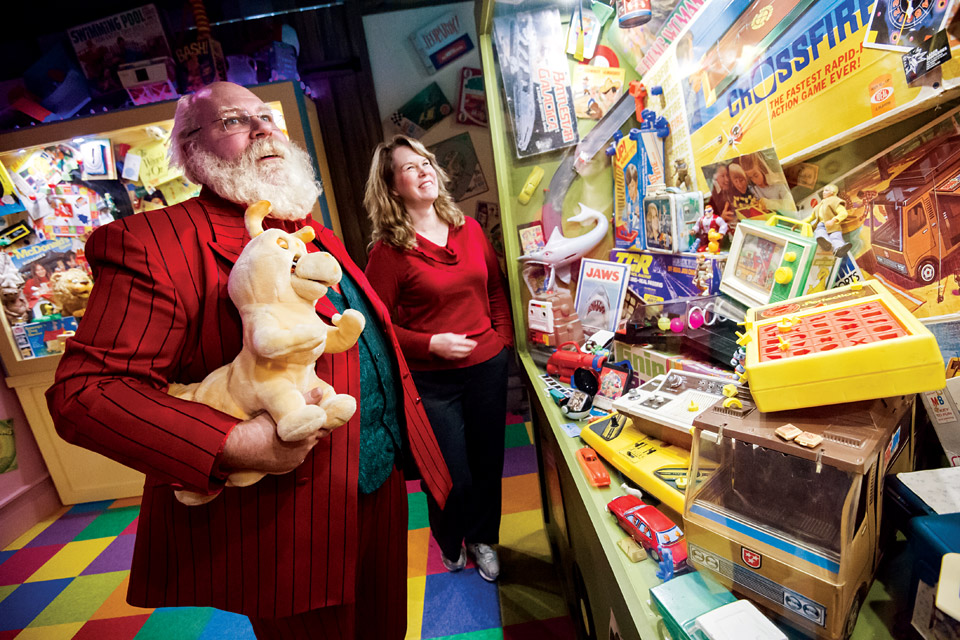 "I hobbled into the store and must have looked pretty bad," recalls Klaus. "But I am tenacious. I'm a dreamer, but also a doer. I wanted that display."
Klaus has been at Castle Noel almost every day since it opened a little more than a year ago. He always finds time to talk with children who show him their Christmas gift lists or with elderly people who want to reminisce about their favorite childhood toy that Santa brought them decades ago. Klaus believes the hired Santa who sits high on his throne on Santa Klaus Mountain listening to the requests of good little girls and boys is "a great Santa, one of the best."
But that doesn't mean he can fool every kid. One little boy whispers, "I know he's not the real Santa," following his trip down the slide.
"Really? How do you know?" asks his mother.
The boy just points to Klaus, who happens to be walking through the room and past a magnificently decorated 25-foot-tall Christmas tree. "Because I see the real Santa over there."
Castle Noel is located at 260 S. Court St., Medina 44256. Admission is $16 for adults and children 3 and up (under 3 free). Reservations are required for groups. (Order tickets online to save $1 each.) For museum hours and more information, call 330/721-6635 or visit castlenoel.com.