Ohio Life
Travel
Best of Ohio 2016
We've once again searched the state for new finds and time-tested favorites. Plus, the votes are in for our readers' ballot categories.
January 2016 Issue
BY Staff & Contributors | Photo by Cody York
January 2016 Issue
BY Staff & Contributors | Photo by Cody York
Aquarium Renovation
The Toledo Zoo Aquarium dates back to the mid-1930s, when the Works Progress Administration built the structure along with the zoo's Reptile House, Amphitheatre, Museum of Science and Aviary. In 2012, the aquarium closed its doors for a $25.5 million upgrade and reopened last May with 178,000 gallons of water and 3,000 sea creatures, including sharks, moon jellyfish, seahorses and rays. "People just love the aquarium. If they complain at all it's just because on busy days you can't take a stroller inside," says executive director Jeff Sailer. "It's a resounding success." 2 Hippo Way, Toledo 43609, 419/385-4040, toledozoo.org

READERS' PICK: Historic Site
At a height of 352 feet, the Perry's Victory and International Peace Memorial honors those who fought in the Battle of Lake Erie during the War of 1812. The Doric column is also a symbol of the peace that has endured between the United States, Canada and Great Britain ever since. "We hope [people visit] to discover Ohio's rich history and our nation's fledgling journey of liberty and justice," says Barbara Fearon, the site's superintendent. Everyone is welcome to explore the renovated memorial's lower landing. For a small fee, visitors can take the elevator to the tallest open-air observation deck operated by the National Park Service. Open daily May 21–Oct. 3 and weekends through Oct. 26. 93 Delaware Ave., Put-in-Bay 43456, 419/285-2184, nps.gov/pevi

Maker Space
Dust flies as saw meets wood, and the clanging of a hammer on anvil rings out. The Columbus Idea Foundry is filled with heavy-duty tools and big ideas. "We are a brick-and-mortar representation of what's called the Maker Movement," says CEO Alex Bandar. The more than 300 members have access to the 65,000-square-foot workshop, which maintains tools and offers classes ranging from 3-D printing to woodworking to robotics to artisanal crafts. "It's easier than ever to take an idea out of your head and hold it in your hand," Bandar says. 421 W. State St., Columbus 43215, 614/653-8068, columbusideafoundry.com

READERS' PICK: Ohio Landmark
More than 90,000 tourists visit the 154-year-old Ohio Statehouse each year to explore the history at every turn. The marble tiles in the rotunda are the same ones President Abraham Lincoln's coffin rested upon as he lay in state there in 1865. During the 1870s, Gov. Rutherford B. Hayes commissioned paintings of those who preceded him — a tradition that continues today. And, as it has for 109 years, a bronze likeness of William McKinley keeps watch at the High Street entrance, commemorating the four years he spent living across the street while governor. "The building gleams like a Classical-age temple," says historic site manager Chris Matheney. 1 Capitol Square, Columbus 43215, 614/752-9777, ohiostatehouse.org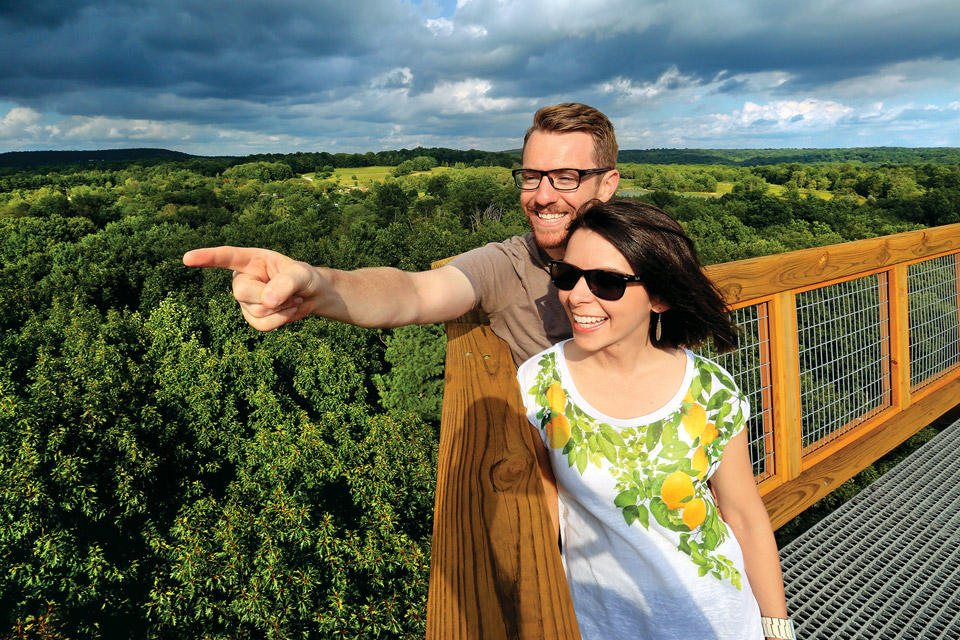 Treetop View
This fall, Holden Arboretum began inviting its visitors to make like Tarzan and explore the treetops with its new 120-foot Kalberer Family Emergent Tower and 500-foot-long Murch Canopy Walk. The latter offers guests views of the forest floor from up to 65 feet in the air. "In the first six weeks that the structures were open, more than 55,000 people visited the arboretum, an increase of more than 20,000 from that same time last year," says Roger Gettig, the arboretum's director of horticulture and conservation. The new structures were assembled from wood cut and prepared in North Carolina. "Think of Tinker Toys," Gettig says, "giant Tinker Toys." Although both structures are currently closed for the season, they will reopen April 1. 9550 Sperry Rd., Kirtland 44094, 440/946-4400, holdenarb.org

Baseball Landmark
Long after the teams that called League Park home left (and the city of Cleveland tore most of the ballpark down in 1951), the venerable venue was still appreciated by hardcore sports fans and Cleveland history buffs. But to many, it was just a vacant lot on Lexington Avenue. Then, in August 2013, the city reopened League Park with a $6.3 million renovation, including a new artificial turf field available for rent. The only building remaining from the original park — the former home to the Cleveland Indians' ticket office — now houses the Baseball Heritage Museum. "League Park has always been hallowed ground," says museum director Morris Eckhouse. "It's historic regionally and nationally, and it's a terrific combination of a historic site and museum." 6601 Lexington Ave., Cleveland 44103, 216/789-1083, baseballheritagemuseum.org

READERS' PICK: State Park
Spend a little time at Hocking Hills State Park and one quickly understands its allure. State park naturalist Pat Quackenbush maybe put it best when once talking with us about how visitors can get a flavor of both Canada and Tennessee in a single day. "If you're down in a gorge, it's going to remind you a lot of [Canada]," he said. "But when you come out of the gorge into the hills ... you go into a Smoky Mountains-type hardwood forest." That diversity, as well as the incredible rock formations, waterfalls and views throughout the more than 2,300 acres, makes it a treasure of the Ohio State Parks system. Those who haven't visited before should start at Old Man's Cave before hitting the winding roads that provide easy access to the park's premier sites. parks.ohiodnr.gov/hockinghills

Home Brew Shop
Mike Armour opened his Sandusky storefront in 2011 and quickly outgrew his 700-square-foot space. Today, Home Brew Ohio covers 10 times that area in catering to the needs of those who want to make beer or wine at home. "We are at the point now where we have become a destination," says chief operating officer Paula Collier. First-time visitors are amazed at the variety, from the hops and malts to bottles and kegs. Employees help newbies find their way and return customers expand their knowledge. "We make sure that when you leave, you not only have the right equipment, but you have a kit of ingredients that is appropriate for your skill level," Collier says. 6512 Milan Rd., Sandusky 44870, 419/502-9019, homebrewohio.com

Hotel Art
Le Meridien Columbus, The Joseph is a boutique hotel, not an art gallery. You wouldn't know that as you step into the lobby from High Street, though. Vibrant, round canvases filled with bright cartoon images decorate the space, but there are also 600 prints by Ohio artists populating the mezzanine and guest rooms. "Ron Pizzuti juried a show for the Ohio Art League a few years ago," says Linda Gall, interim director of the Joseph Editions gallery, "and he was so impressed with that artwork that, at the opening reception, he promised when he built his hotel, he was going to include Ohio artists." The selected artists traveled to New York to work with a master printer. Because prints were made in editions of 50, a guest can call or visit the nearby Joseph Editions to purchase one to take home. 620 N. High St., Columbus 43215, 614/227-0100, lemeridien columbus.com/unlock-art

READERS' PICK: College Town
During the academic year, the town of Oxford, Ohio, triples in population to 21,000 as students return to Miami University. The college's acclaimed curriculum and beautiful campus has long drawn students hoping to make their mark on the world, including Speaker of the House Paul Ryan and Uber head of global operations Ryan Graves. But it's not just what's happening on campus. It's also the shops and small-town atmosphere along High Street in Uptown Oxford that round out the experience. "There are a lot of fun places, a lot of fun bars and restaurants that all cater to the college crowd," says Gary Franks, co-owner of Bagel & Deli, a local favorite half a block from campus that's been open since 1975. "Oxford is the quintessential college town." enjoyoxford.org

Down-Home Breakfast
The sign in the window promises folks will "Enter as a Customer, Leave as a Friend," and that actually happens at Pearl's Diner in Logan. Locals and tourists alike stop by Sandy and Rick Watrous' eatery to indulge in its menu of comfort food. Although the bill of fare is subject to whatever Sandy has a hankering for, biscuits and gravy, taters and cornbread and chili make frequent appearances. "Most of the recipes I follow were my mommy's and grandma's," says Sandy, who named the business after her mother. "Potato cakes, mush, grits — we serve a lot of dishes most restaurants don't want to bother with anymore." 12906 St. Rte. 664 S., Logan 43138, 740/385-3663

Art Guild
The 30-plus members of the Athens Art Guild include photographers, potters, fiber artists, wood turners, jewelry-makers and more. Those who want to be part of it have to apply, but the organization is always welcoming new members. "We are a pretty laid-back group. It's not like some groups that are very competitive," says guild secretary Space Welch, owner of Space Cadet Soaps. "We all get along and are here for each other." Members sell their wares at Athens-area art shows, farmers' markets and at its biggest event, Athens Art Guild Annual Holiday Shoppe, which celebrated its ninth year in December. athensartguild.org

READERS' PICK: Beer Festival
More than 650,000 beer connoisseurs congregate in Cincinnati each year for Oktoberfest Zinzinnati. The celebration, which has grown to be America's largest Oktoberfest since it began in 1976, showcases German music, food and beer — 2,000 barrels of it to be exact. "We've grown from 62 beers in 2014 to 108 last year," says Patrick Sheeran, vice president of programs and downtown council for the Cincinnati USA Regional Chamber, the organization that hosts the event. "What started as a small block party 40 years ago has turned into an event where people can come together to embrace their shared passion for history, culture and beer." This year's fest will be Sept. 16–18; Corner of Fifth and Vine streets, Cincinnati 45202, 513/579-3111, oktoberfestzinzinnati.com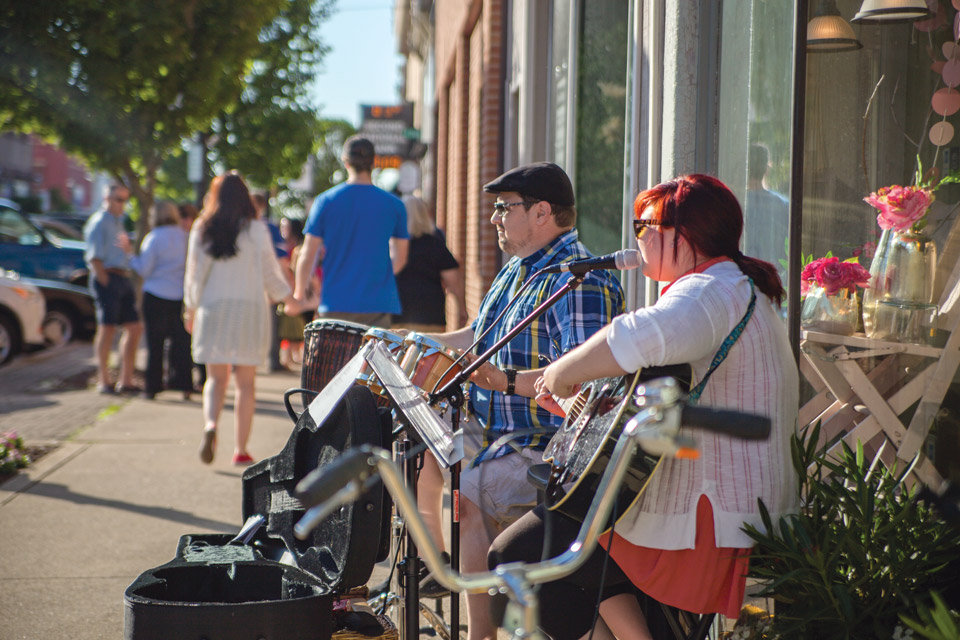 READERS' PICK: Main Street
Greenville's Main Street is home to small businesses and national brands alike. Blue Bow Boutique coexists alongside Merle Norman Cosmetics. The KitchenAid Experience Retail Center is located just down the street from the Countryside Bike Shop. You get the impression anything one might need could be found here. "The fact that we have constantly had a group working since the 1970s has truly helped our downtown continue to be successful," says Amber Garrett, executive director of Main Street Greenville. Third-generation owner Dave Marshall will celebrate The Bootery's 100th year in business in 2016. "[People] are learning to shop smaller stores to get better quality," he says. mainstreetgreenville.org

Craft Cidery
As autumn fades, the flavors of fresh, crisp apples live on in the hard cider varieties produced by Columbus' Mad Moon Craft Cidery. Owners Peter and Sally Moon opened the place in October 2014 and have since perfected the recipe for their Unglued Caramel Apple hard cider. Featuring Sally's homemade caramel and Mexican vanilla extract, this semi-sweet concoction is guaranteed to bring back memories of gooey treats from Halloweens past. "We actually grind and press apples on-site," Peter explains. "That's the difference between us and mass-produced cider. We don't use concentrate or artificial sweeteners." facebook.com/madmoonhardcider

Inn Makeover
The opulence that the Granville Inn is famous for debuted in the summer of 1924, when it opened with a buffet on the lawn and dancing under the stars. That sumptuous atmosphere was enhanced last spring, when Dennison University finished a $9 million renovation that restored the structure to its original English-country-manor splendor. New touches include a refurbished Oak Room restaurant and a three-season patio. The inn's 36 guest rooms and three suites have also been refreshed with marble-tiled baths, flat-screen TVs and Wi-Fi. "We've breathed new life into it without sacrificing the historic charm," says general manager Sean Mulryan. 314 E. Broadway, Granville 43023, 740/587-3333, granvilleinn.com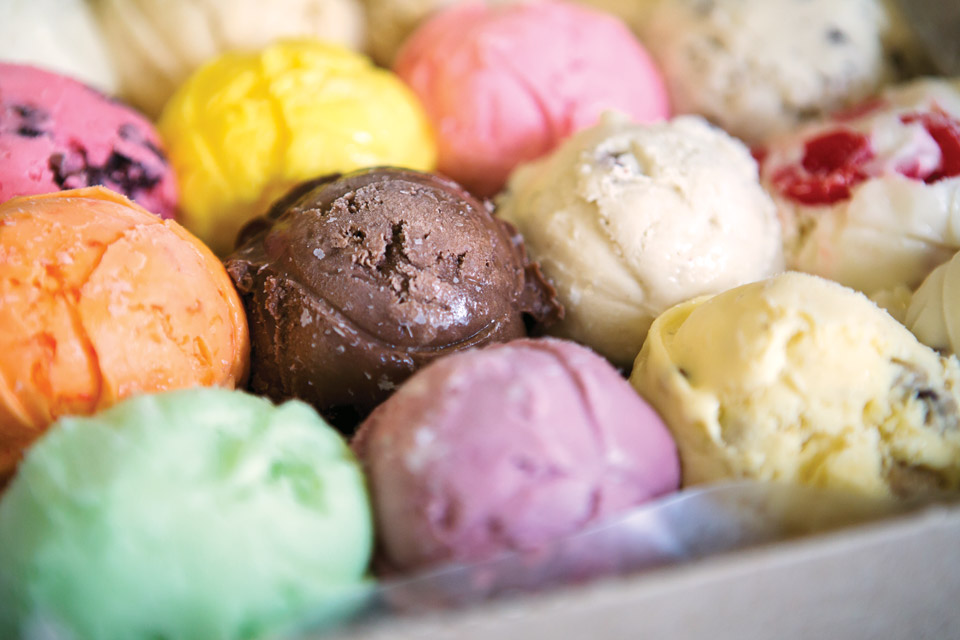 READERS' PICK: Ice Cream
Findlay's Dietsch Brothers serves more than 125,000 ice cream cones each year, plus 50,000 chocolate-covered ice cream bars. "Thirty-five standard flavors are available all year and another 25 are rotated throughout," says Natalie Beall, general manager of the company's east-side store. As delicious as the toffee caramel crunch and strawberry cheesecake are, Beall says vanilla is still the most popular flavor. The shop started as a confectionery in the 1920s and began selling mostly ice cream in 1937. "We still have an old-fashioned soda fountain and serve sodas, malts, milkshakes and sundaes," says owner Jeff Dietsch. 400 W. Main Cross St., 419/422-4474 (main store) and 1217 Tiffin Ave., 419/423-3221 (east store), Findlay 45840, dietschs.com

Vintage Diner
East Market Street in Warren is vastly different than it was 100 years ago, with one exception: The Saratoga. The restaurant has been in the same location for a century and owned by the Economos family for the past 80 years. Although the light fixtures have changed and the floor has been replaced, it still has a 1940s feel. "I think I'd be struck by lightning if I tried to change anything," says Chris Economos, who owns the place with her brother Eric. 129 E. Market St., Warren 44481, 330/393-6646, warrensaratoga.com

READERS' PICK: Independent Bookstore
Housed in two century-old buildings in Columbus' German Village, The Book Loft is a bibliophile's dream come true. The seven-level complex is filled with tome-packed nooks and crannies, and each of the store's 32 rooms has its own soundtrack keyed to the space (such as the soothing meditation music emanating from Psychology and piano sonatas greeting visitors to the Art section.) The store stocks more than 100,000 new books, all discounted 5 to 95 percent off the retail price. "People want to hold a book in their hand," says co-owner Carl Jacobsma. "And when they've finished it, they want to put it on a shelf or loan it." 631 S. Third St., Columbus 43206, 614/464-1774, bookloft.com

Historic Battlefield
In the summer of 1794, fighting between Gen. Anthony Wayne's Legion of the United States and Native American forces proved a pivotal battle in establishing U.S. control of what is now northwest Ohio. The Toledo metroparks purchased the 187-acre battle site in 2001, and this fall the park system opened its Fallen Timbers Battlefield to the public. Visitors can traverse the 1.6-mile Northwest Territory trail through the battlefield and see Turkey Foot Rock, where it is said Ottawa Chief Me-sa-sa was killed while trying to rally his forces. "It is a focal point for Native Americans to come and memorialize the sacrifices that their ancestors made," says Shannon DeYoung, park manager of programming and interpretation. 4949 N. Jerome Rd., Maumee 43537, 419/407-9700, metroparkstoledo.com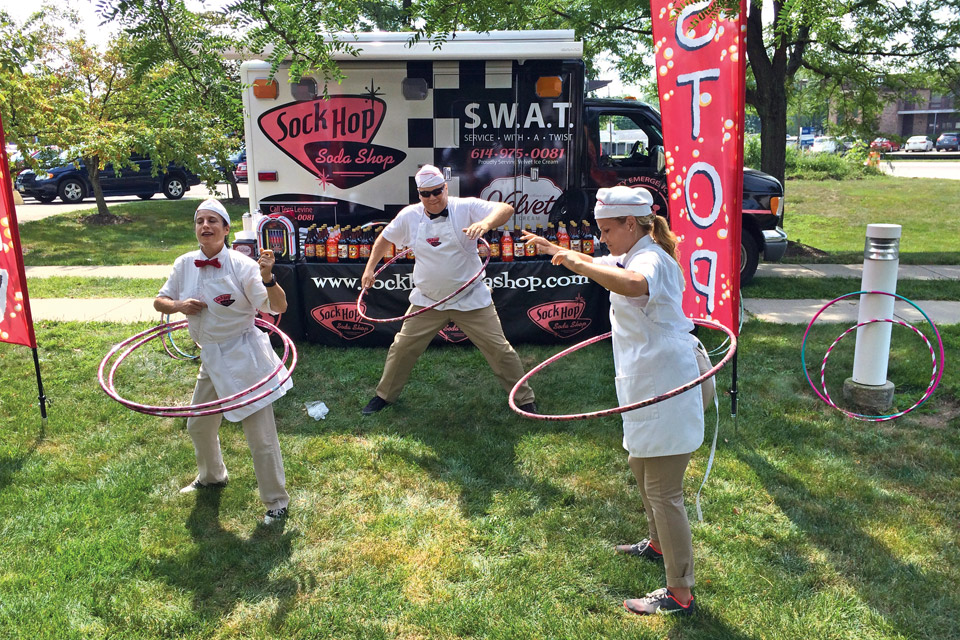 Pop-Up Soda Shop
Get ready to travel back in time when Sock Hop Soda Shop's 1950s mobile diner pulls up. For the past two years, the eatery on wheels has been serving up classic diner grub across the state with the assistance of a repurposed S.W.A.T. truck. "We're first and foremost big '50s enthusiasts — we love the music, we love the time and the whole way of life," says Terri Levine, who bills herself as the operation's "soda shop queen." The truck's menu includes gourmet grilled cheese (dubbed the Easy Peezy Melted Cheesy) as well as a fried bologna sandwich topped with grilled onions and provolone cheese. The shop pairs its food with floats made with Ohio's own Frostop soda and Velvet Ice Cream. 614/975-0081, sockhopsodashop.com?

READERS' PICK: Fine Dining
You'll find truffle cappuccino, duck confit and beef Wellington at Vermilion's Chez Francois. What you won't find is attitude, says proprietor Matthew Mars. "One of our purposes is to serve the person who works his butt off all year and then comes in to treat himself for maybe an anniversary or birthday," says Mars, who co-owns the restaurant with chef John D'Amico. 555 Main St., Vermilion 44089, 440/967-0630, chezfrancois.com

French Toast
In 2014, owners Jeff Besecker and Leslie Handshoe-Suter opened The Old Arcana in one of the historic mercantile buildings in the small town of Arcanum — a village that still resembles the railroad-boom era that built it. Diners stop into this breakfast and lunch spot for inventive versions of beloved favorites, including bourbon praline French toast. The dish starts with cinnamon bread from Bakehouse Bread and Cookie Co. in Troy. "The more I ate the bread, the more I thought it would be a phenomenal platform for French toast," says Besecker, chef at The Old Arcana. The French toast is topped with house-made praline sauce, fresh cinnamon, whipped cream and candied pecans. "It is most definitely decadent," Handshoe-Suter says. 109 W. George St., Arcanum 45304, 937/692-0068, oldarcana.com

Mountain Bike Trail
This fall, the Cuyahoga Valley National Park began welcoming adventurous mountain bikers to ride the newly completed, 2.5-mile East Rim Trail. Instead of repurposing former logging roads or old farm lanes like other trails in the state, this one was specifically made with mountain bikes in mind. "These trails, they kind of appear to be little footpaths through the woods, but they're actually designed to flow how a mountain bike will ride [them]," explains Patty Stevens, capital projects manager at the Conservancy for Cuyahoga Valley National Park. Collaborating with park officials, the Conservancy helped with the first phase of the project by garnering grants and providing volunteer help. An additional 7.5 miles scheduled to be completed by the end of 2016 will connect with the Ohio & Erie Canalway Towpath Trail and Summit Metro Park's Bike & Hike Trail. 315 Boston Mills Rd., Boston Heights 44236, 330/657-2752, nps.gov/cuva

READERS' PICK: Children's Museum
COSI has been a popular spot for parents and their little ones since it opened 52 years ago. But the 300-plus permanent exhibits in Columbus' Center for Science and Industry never fail to bring out the kid in everyone. While toddlers let their imaginations soar in little kidspace, the rest of us can discover what it's like to maneuver a rover through a Martian landscape, travel to the 1800s or explore continents and oceans in one of the 3-D movies screened daily. "Everything we present here is designed to discover not just the science behind something, but the joy and wonder behind something," says COSI project manager Josh Kessler. "We plant the seeds for you to go out and continue that exploration on your own, whether you're 8 or 88." 333 W. Broad St., Columbus 43215, 614/228-2674, cosi.org

Unless otherwise noted, all photos courtesy of organizations listed.