Ohio Life
Best of Ohio 2015
As we travel across the state, we look for the unusual, the interesting and the delicious.
January 2015 Issue
BY Staff & Contributors | Photo courtesy of Cleveland Metroparks
January 2015 Issue
BY Staff & Contributors | Photo courtesy of Cleveland Metroparks
Beach Party: Forget the bar. Celebrate happy hour with thousands of northeast Ohioans along Lake Erie at Edgewater Live. The Cleveland Metroparks' weekly summer beach party, which features food trucks, drinks and live music, debuted in June to an enthusiastic response. Thousands of Greater Clevelanders showed up to take in the celebratory, family-friendly atmosphere. "At the last concert … there were over 14,600 people," says Cleveland Metroparks CEO Brian Zimmerman. His organization took over operation of the public beach last year and gave it new life. "There were so many people that were so excited about their park coming alive again," Zimmerman says. 6800 Memorial Shoreway (just west of downtown on state Route 2), Cleveland 44102, clevelandmetroparks.com

*Readers' Ballot Winner* Bike Trail: The Ohio and Erie Canal Towpath Trail is 85 miles long and cuts through four counties, with access points in Cleveland, Brecksville, Akron, Massillon and more, but Doug Charnock of Century Cycles insists that Peninsula is one of the best places to ride. "You have a bike shop, you have a railroad stop here, and you have two restaurants here in town," he says. Rent a bike (or bring your own) and pedal along the crushed limestone path, catching sight of wildlife along the way, for as long as you like (there's no set distance or loop). Plus, the Cuyahoga Valley Scenic Railroad has stops all the way north to Independence and will take you (and your bike) back to Peninsula for $3. ohioanderiecanalway.com

History Lesson: Visitors are transported to the 1850s at Carillon Brewing Co. — a combined brewery, restaurant and educational exhibit at Dayton History's Carillon Park. "No other museum in North America has created a working historic foodways exhibit that brings together costumed educators, period techniques and brewing heritage in such an enjoyable environment," says Dayton History president and CEO Brady Kress. Beer is brewed using historic methods and the food menu is inspired by the area's settlers. 1000 Carillon Blvd., Dayton 45409, 937/293-2841, carillonbrewingco.org, daytonhistory.org

Air Fair: Every summer, hot air balloons of all shapes, sizes and colors (even one shaped like the helmet of "Star Wars" villain Darth Vader), fill the sky above Marysville for the All Ohio Balloon Festival. But the event's namesake mode of air travel is far from the only attraction at the three-day event. "Tandem sky jumping, helicopter rides and bi-wing plane rides are also available," says Kevin Behrens, general manager of the Marysville Journal-Tribune, which hosts the festival. This summer is the event's 40th anniversary, so Behrens says to expect even more balloons to mark the milestone. Aug. 13–15, 760 Clymer Rd., Marysville 43040, allohioballoonfest.com

American Beer Hall: Although it's reminiscent of European food and beer halls, The Eagle in Cincinnati's Over-the-Rhine neighborhood serves up a menu full of twists on southern-inspired classics. Its flagship dish is all-natural, Ohio-raised Amish fried chicken served with a spicy honey dressing that is equal parts sweet and heat. The Eagle also serves more than 100 beers, including 16 on tap, as well as a signature Bloody Mary that's garnished with a huge piece of candied bacon. "We wanted it to be an aesthetic that felt comfortable," co-owner Alexander Blust says of the beer hall's atmosphere. "It's got an easy feel to it." 1342 Vine St., Cincinnati 45202, 513/802-5007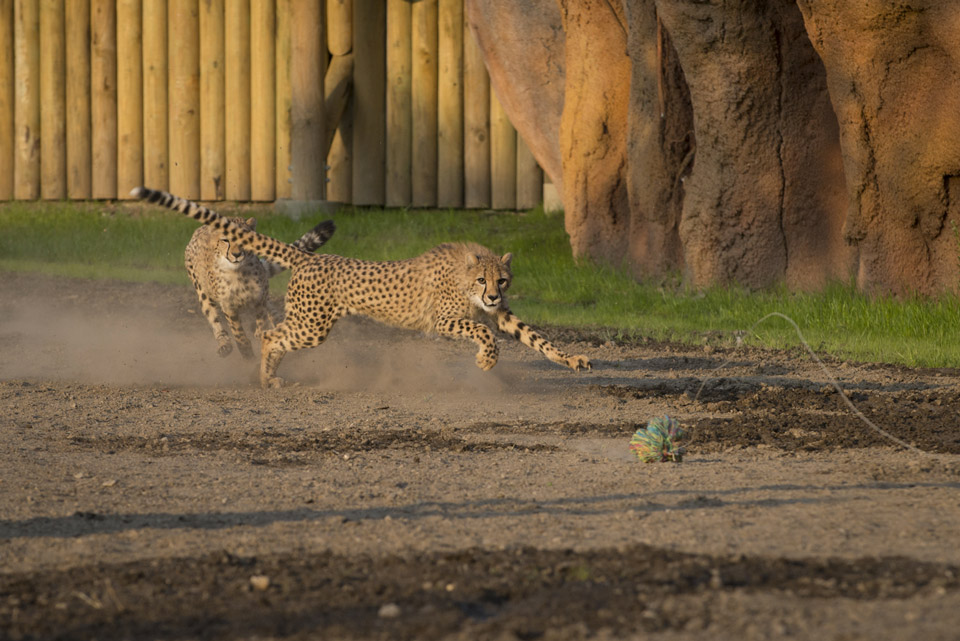 Summer Safari: You don't have to leave Ohio to get up-close to the Heart of Africa. The Columbus Zoo and Aquarium debuted its new 43-acre attraction over the summer, bringing zebras, lions and gazelles to the biggest crowds the zoo has ever seen. The watering-hole habitat mimics the hum of the real thing (but with carefully orchestrated access that keeps predator and prey from frequenting it at the same time). There are even daily cheetah demonstrations. "[They] chase a lure, a little rubber ball pulled by a motor," explains Lewis Greene, senior vice president for animal care and conservation. "It gives people a chance to see how fast cheetahs can run." 4950 Powell Rd., Powell 43065, 614/645-3550, columbuszoo.org

*Readers' Ballot Winner* Winter Destination: Ohioans have plenty of experience with cold and snowy winters, but until 1961, there was no ski destination in the U.S. as far south as Snow Trails in Mansfield. Nestled in the lap of the chilly Possum Run Valley, Ohio's first ski resort stays white with the help of 55 snow guns lining the trails. Before the resort was built, its founders carefully studied climatological data and survey maps to ensure the site would be conducive to the technology. "It was built on the premise of not relying on natural snow but making snow," says general manager Scott Crislip. Special nozzles create a mist that freezes on its way down from each machine, readying the resort's 17 trails, 3 bunny slopes, and tubing run for snow-loving guests of all ages and abilities. 3100 Possum Run Rd., Mansfield 44903, 419/774-9818, snowtrails.com

Belgian Waffle: With its trendy cafe atmosphere, imported Jenever spirits and old-school waffle recipe, Cincinnati's Taste of Belgium might be one of the area's finest European brunch and dinner experiences this side of Brussels. For its signature waffles, the restaurant uses a recipe that comes from owner Jean-Francois Flechet's hometown of Liège. The dish features a dense waffle dough, not batter, and imported Belgian sugar and is pressed between handcrafted 60-pound waffle irons. "It's done in the purest tradition, and it's something we really don't touch," Flechet says. 2845 Vine St., Cincinnati 45219 and 1133 Vine St., Cincinnati 45202; also locations at Findlay Market and Columbus' North Market. authenticwaffle.com

*Readers' Ballot Winner* Flea Market: With the bang of a gavel, buyers at the Rogers Community Auction own a squawking chicken or a vintage automobile. Auctions are entertaining, but not everyone likes to participate. That's why every Friday of the year, more than 1,000 vendors also convene. They set up in pavilions and barns and line gravel walkways, selling items that range from suits of armor to sweet corn to dairy goats. "If you like to watch "American Pickers" on TV, you'd like to come here," says promotions manager Kymberly Seabolt. There is free admission and parking, and enough gyros and lemonade to make you think you're at a county fair. "I am most proud of the fact that we keep expanding," says Wade Baer, grandson of the founders who started it all in 1955. 45625 St. Rte. 154, Rogers 44455, 330/227-3236, rogersohio.com

Supper Club: An upscale, elegant and unpretentious concert venue, the Music Box Supper Club on the West Bank of The Flats in Cleveland embraces the retro idea of sitting down with a meal and then staying to take in a live music act. Opening last August, the club was the brainchild of longtime music promoter Colleen Miller and her husband, Mike. "We book a little something of everything, that appeals to everybody," Colleen says. The Music Box has already featured R&B and gospel legend Mavis Staples, Grammy-winning singer Macy Gray and singer-songwriter Steve Earle among its slate of performers. 1148 Main Ave., Cleveland 44113, 216/242-1250, musicboxcle.com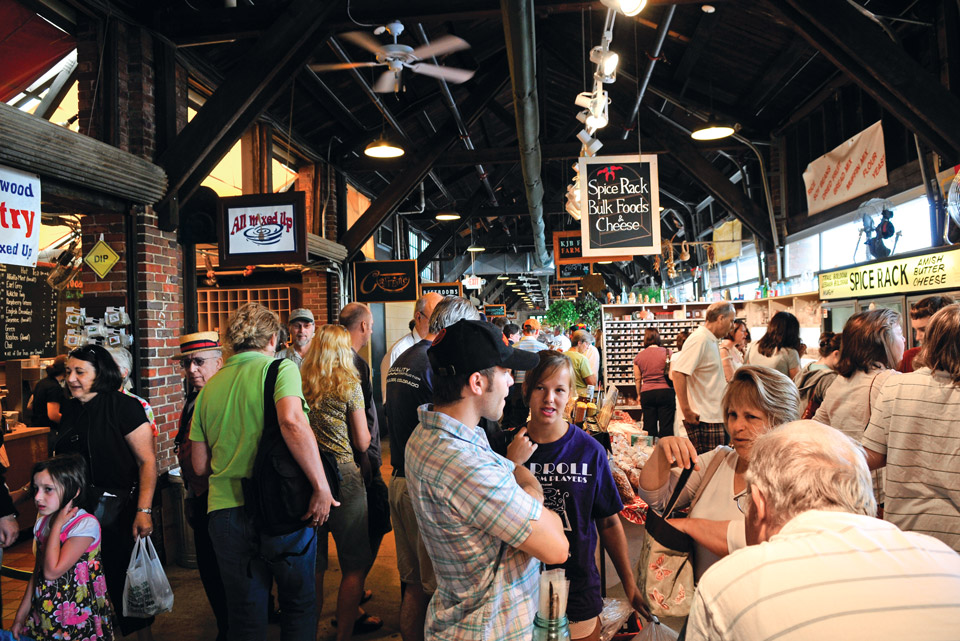 *Readers' Ballot Winner* Farmers Market: For the last 13 years, the 2nd Street Market has hosted more than 40 vendors in a former freight depot on the east side of Dayton. "Dayton is a big small town, so it has sort of a small-town feel," says market manager Jimmy Harless. Shoppers flock there three days a week, not just for the local meat, eggs, honey, dairy, bakery and works by area potters and jewelry makers, but also for a sense of belonging. "People come for that feel of community," adds Harless "Our customers feel ownership." 600 E. Second St., Dayton 45402, 937/228-2088. metroparks.org/localfood

Creative Kolaches: Columbus bakers and pals Rick Jardiolin, Dusty Kotchou and Doug Sauer have transformed the humble kolache from a delicate, doughy dessert into a hearty anytime entree. The trio's eatery, Kolache Republic, makes two-dozen varieties of the traditional Czech pastry. Flavors range from savory jalapeno sausage to sweet poppy to seasonal blueberry and key lime. There's even a breakfast kolache filled with sausage, scrambled egg and cheese. Each is made with fresh, locally sourced ingredients and no preservatives. "The secret to a good kolache is the dough," Sauer says. "When it has the stickiness of a Post-it note, I know it's ready to go." 730 S. High St., Columbus 43206, 614/928-3151, kolacherepublic.com

Apple Pie Moonshine: Moonshine that tastes like apple pie in a glass? No wonder S and G Artisan Distillery's signature spirit is already a hit. Made with rum instead of grain alcohol, the Yellow Springs distillery's handcrafted Apple Pie Moonshine is gluten-free and clocks in at a tamer-than-usual 44 proof, which makes for more smiling and less wincing with each sip. "It doesn't taste like alcohol with a splash of apple," explains Meg Solomon-Gujer, co-founder of the distillery. "We created a flavor base that tasted like apple pie and then decided how much alcohol to add to that to maintain the flavor." 305 N. Walnut St., Yellow Springs 45387, sandgartisandistillery.com

Yard Sale: Shopping at the Lincoln Highway Buy-Way Yard Sale is a matter of restraint. You could quickly blow your entire budget and pack the car to the roof at Ohio's biggest yard sale. But, you'd then have to watch in envy as everyone else snapped up bargains for the next two days. Now in its 11th year, the sale, which stretches from the Indiana line to West Virginia along the historic first road to cross the U.S., includes about 1,350 yard sales. "There is a whole culture of people who plan their vacations around this sale," says Mike Hocker, director of the Ohio Lincoln Highway Historic Byway, which coordinates the massive undertaking. Aug. 13–15, 419/468-6773, historicbyway.com

*Readers' Ballot Winner* College Town: Whether or not you have ties to Ohio University, it's easy to find something to love in Athens, a community of more than 23,000 residents tucked among the Appalachian foothills. "I'd always wanted to move back here," says Barbara Stout, owner of Athens Underground. She lived in New York City for 32 years before returning to open her vintage and variety store. "It gives you the advantages of a small town but the flavor of a larger place like New York." Independent restaurants and businesses thrive here. Food options range from the can't-miss O'Betty's hot dog joint to the employee-owned cantina Casa Nueva to the upscale American restaurant 9 Tables. Plus, most eateries in town are committed to a local initiative that promotes using ingredients grown within 30 miles. "You can eat really well around here," Stout says. "I couldn't stay otherwise." athensohio.com

Lobster Mac & Cheese: You definitely won't find this in your grocer's freezer. Ben Geltzer, head chef at Latitude 41 in the Renaissance Columbus Downtown Hotel has converted mac and cheese from an unassuming side dish to one of sheer decadence. For each serving, Geltzer blends mascarpone and Parmesan cheeses, and adds a pinch or two of chives and a quarter-pound of Maine lobster claw and tail meat. He then pours the thick, creamy mixture over orecchiette pasta pockets that have been slathered with truffle oil. "I love adding new ingredients to old favorites," Geltzer says. 50 N. Third St., Columbus 43215, 614/233-7541, latitude41restaurant.com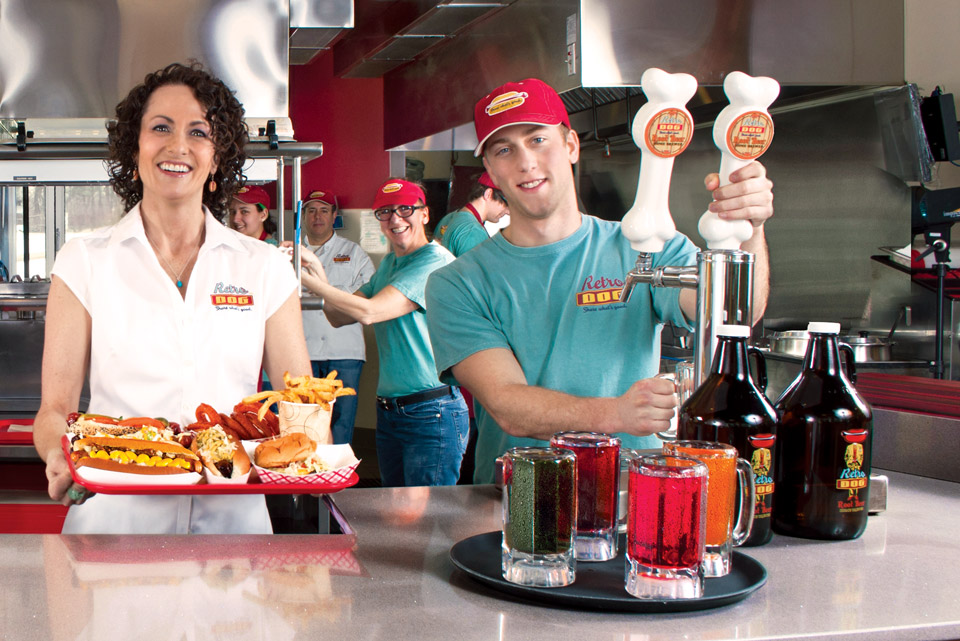 Classic Hot Dogs: One bite of Retro Dog's namesake offering, topped with homemade Coney sauce, cheese and diced onion, transports your taste buds back in time. Cuyahoga Falls' family-owned drive-in/eat-in restaurant features a lineup of 10 grilled classic hot dogs, including a vegetarian option. "Everything is freshly made to order," says co-owner and manager Camille Berrodin. "We don't even have a microwave on the premises." Favorites include the White Hot, a veal and pork dog topped with Stadium Mustard, and The Beast, a footlong dog served with ketchup, yellow mustard and relish. "Our menu is meant to conjure up good memories," offers co-owner and manager Lisa Bruno. 350 E. Steels Corners Rd., Cuyahoga Falls 44224, 330/928-3500, retrodog.com

*Readers' Ballot Winner* Food Truck: When Mikey Sorboro started churning out pizzas in the summer of 2009, he had no idea he would ultimately help drive Columbus' food truck trend. In fact, Mikey's Late Night Slice began as a 140-square-foot, brick-and-mortar shop. "Two of our food trucks are actually bigger than the shack where we started," laughs Sorboro. Now the owner of a three-truck cavalry, Mikey's peddles pizza around town as well as at a regular parking spot in the Short North district on weekend nights. The menu's four mainstays are cheese with fresh basil, mushroom with garlic, regular and spicy pepperoni — but there's always one wild option that changes weekly. latenightslice.com

Off-Road Adventures: Julieann Burroughs, co-owner of Hocking Hills Canopy Tours, says three things are needed for a successful adventure: great tour guides, an interesting location and cool stories. Her Off-Road Segway Adventures have all of the above. Participants 14 years old and up can choose the Learn to Segway Adventure or the Off-Road Adventure, which takes the operator of the two-wheeled, self-balancing electric vehicles up and down hills, over rocks and past caves created during the ice age. "Some people are also afraid of heights," says Burroughs. "So if a family comes here for a canopy tour, those individuals can do the Segway Adventure instead and have a good time because no heights are involved." 10714 Jackson St., Rockbridge 43149, 740/385-9477, hockinghillscanopytours.com

Upstart Music Festival: The east side of Toledo has long been synonymous with music. To celebrate and renew that identity, the East Toledo Creative Corridor launched The Main Event Art + Music Festival in September. Legendary Dayton rockers Guided By Voices and Toledo's own Five Horse Johnson jumpstarted the inaugural event, which featured five stages, two pop-up art galleries, local food and more. "As we have been working to grow and reactivate East Toledo, we were drawn to the live music scene that has been an asset to Toledo as a whole for decades," says festival organizer Bradley Scherzer. easttoledocc.com

Boutique Theater: Akron's Nightlight Cinema is the antidote to blockbuster films lacking substance. "The idea was [to create] a social place to see independent and foreign films that don't usually get played at the multiplex," says executive director Steve Felix. The 50-seat screening room makes for an intimate movie setting, and the concession stand sells seasonal beers, locally roasted coffee and fresh cupcakes. One quickly realizes theater-going should always be this good. "That is what a movie theater in 2014 brings to the table," says Felix, "the ability to share with the community and not watch in isolation." 30 N. High St., Akron 44308, 330/252-5782, nightlightcinema.com

Gourmet Ice Pops: Even from the other side of the world, Steve White felt the impact of Japan's 2011 tsunami. Prior to taking a job in Atlanta, he taught English there and wanted to support the friends he had made abroad. What started as a kitchen hobby became a desk-to-desk disaster relief effort as White sold herb-infused gourmet ice pops at work. "I made a bunch of them and sent all the money to [the relief effort]," recalls the owner of J-Pops Gourmet Ice Pops. White has since moved back to his hometown of Columbus, where he now sells fruit-based ice pops at markets and festivals from April through October. Favorite flavors include lemon basil and watermelon mojito. 614/407-4855, myjpops.com

Outdoor Chandelier: Cleveland's Playhouse Square has taken the show to the streets. In May, the performing-arts complex unveiled the GE Chandelier. Suspended 44 feet in the air and resplendent with 4,200 resin crystals, the beacon earned a Guinness World Record as the largest outdoor chandelier in the world. "We wanted to bring the brilliant elegance of each theater's interior and quality of old-world craftsmanship out to the street," says Baltimore experiential designer Danny Barnycz, who created the chandelier. "When people see it, we want them to be proud of the history of these incredible spaces." Corner of East 14th Street and Euclid Avenue, Cleveland 44115, 216/241-6000, playhousesquare.org

*Readers' Ballot Winner* History Museum: The Garst Museum's six wings cover 35,000-square-feet of Ohio history. Visitors enter through the main building — a Victorian structure built as an inn in the 1800s — to find exhibits that span from the state's early inhabitants (think mastodons) to an exploration of the connections broadcasting pioneer and Darke County native Lowell Thomas had with Lawrence of Arabia. But the Garst Museum is also the home of the National Annie Oakley Center, dedicated to clearing up some of the inaccurate portrayals of the Ohio-born marksmanship superstar. "The majority of people have the perception of Annie Oakley as this rough and tough tomboy," says museum director Clay Johnson. "That's the farthest thing from the truth." Viewers walk through a timeline of artifacts that span Oakley's life, including several of her rifles. 205 N. Broadway St., Greenville 45331 937/548-5250, garstmuseum.org

Bird Watching: Who doesn't like penguins? They're cute and formally dressed. The Toledo Zoo doubled its colony of endangered African penguins with the opening of Penguin Beach in May. The $3.5 million permanent exhibit features 18 African penguins in an environment more conducive to their natural habitat, including a 20,000-gallon, temperature-controlled pool with currents to simulate the ocean, leading to more penguin activity. "It was built specifically for penguins," says zoo spokeswoman Kandace York. The exhibit also features a walkway through it so people can get a closer look at the penguins — and vice versa — during warm weather. "The penguins line up and watch people walk by," York says. 2 Hippo Way, Toledo 43609, toledozoo.org

Wallet-Friendly Antiques: The three-story Barnesville Antique Mall was purchased in 1996 by the local Mayhugh family, which has a reputation for going out of its way to help customers learn about collectibles and antiques. "Being nice is just how we have been raised," says owner Brian Mayhugh. The mall also has some of the best prices for antiques in the state. It is known for its glassware, stoneware, vintage advertising, jewelry and toys. But currently, sales of advertising items from the gas, oil and automotive industries are booming. "I've never in my 30 years of doing this seen a category as hot as this," says Mayhugh. 202 N. Chestnut St., Barnesville 43713, 740/425-2435, barnesvilleantiquemall.com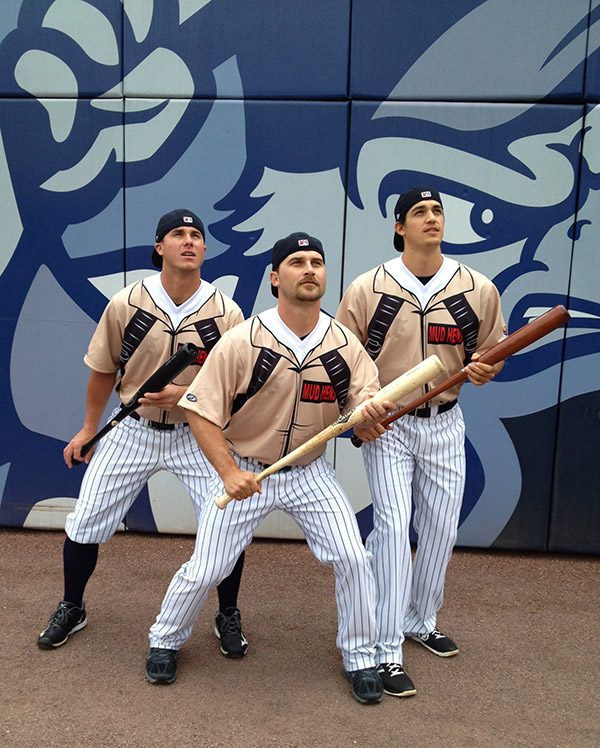 Baseball Uniforms: The idea of an alternate jersey for sports teams isn't necessarily a new one. "We just try to take it to another level," says Mike Keedy, director of special events for the Toledo Mud Hens, the Triple-A affiliate of the Detroit Tigers. In February, the Mud Hens announced their plans for a "Ghostbusters"-themed jersey. They later celebrated Christmas in July with a doubleheader featuring green elf-themed uniforms for the first game and red Santa-themed ones for the nightcap. The alternate jerseys are auctioned off for charity, and the Hens are already planning for 2015. "We've got some for-sure hits," Keedy says. 406 Washington St., Toledo 43604, 419/725-4367, mudhens.com

Theater Revival: For the first time since the Depression, Cincinnati's Woodward Theater has reopened its doors as an entertainment venue. "To be able to bring back a 101-year-old building with the same intent for which it was founded has been surprisingly fun and rewarding," says co-owner Dan McCabe. The 600-capacity theater meets the Over-the-Rhine neighborhood's need for a stage big enough for national acts that have outgrown the bar scene, and McCabe says the venue will be one of the sites used during this year's MidPoint Music Festival. 1404 Main St., Cincinnati 45202, 513/381-6687, woodwardtheater.com

*Readers' Ballot Winner* Historic Site: History buffs enjoy exploring the site of pivotal battles of the War of 1812, but you don't need to be one to enjoy Fort Meigs. Although the fort's original structures were destroyed soon after the war, replica blockhouses and a museum now greet visitors. "We have everything from muskets and swords to cannonballs," says site director Scott Lonsdale. Each Memorial Day Weekend brings a battle re-enactment. "We have cannon demonstrations, but that's only during special events," he adds. "We're surrounded by houses; you can't just shoot artillery every day." 29100 W. River Rd., Perrysburg 43551, 419/874-4121, fortmeigs.org

Our full list of readers' ballot winners can be found here.