Ohio Life
Best of Ohio 2014
During our travels throughout the state, we sought out the new, the beautiful and the quirky.
January 2014 Issue
BY Staff & Contributors | Photo by Randall Lee Schieber
January 2014 Issue
BY Staff & Contributors | Photo by Randall Lee Schieber
Costume Party
Columbus has always known how to party, but for the past six Octobers, the city's Short North Arts District has hosted HighBall Halloween, a couture costume extravaganza unlike anything we've seen before. More than 25,000 people gathered last year, donning getups inspired by glowing jellyfish and "Star Wars" characters alike. "This is not your zombie parade," says Betsy Pandora, executive director of the Short North Alliance. "It's an expression of fantasy." highballhalloween.com

Creative Bagels
With daily flavors such as apple bacon bourbon and seasonal offerings that include pumpkin coconut,
Ozro & Ray's Authentic Homestyle Bagels
has brought a creative spin to Dayton-area coffee shop menus. Although many flavors are far from traditional, chef Jeff Besecker sticks to six simple components for his fresh-and-local recipes that avoid chemical additives and preservatives. "Using locally grown products in our bagels allows for us to use the freshest ingredients and has turned our minds loose to create a wide range of unique flavors."
434 1/2 S. Broadway St., Greenville 45331, 937/459-5200,
ozroandrays.com
Tomato Fest
John Denver once sang that the only two things money can't buy are true love and homegrown tomatoes. This year, the
Reynoldsburg Tomato Festival
pays homage to the round, red garden favorite Aug. 15 and 16. Contest categories include largest tomato, best tomato dessert, most oddly formed tomato and more. There's entertainment, a cruise-in and even a tomato festival queen. And while Reynoldsburg is known as the birthplace of processed-tomato products, fried green ones are the delicacies here.
Huber Park, 1520 Davidson Dr., Reynoldsburg 43068, 614/866-4888,
reynoldsburgtomatofestival.org
Private Preserve
The 16,000-acre
Richard and Lucile Durrell Edge of Appalachia Preserve
is Ohio's largest privately owned protected natural area. "The large tracts of unbroken eastern forest interspersed with xeric limestone prairies remains one of the last great biological frontiers in the state and one of the significant centers for rare and endangered plant and animal species," explains Chris Bedel, the preserve's director. The Cincinnati Museum Center and The Ohio Chapter of the Nature Conservancy have worked for more than 50 years to provide public trails and programming on the property while ensuring that Cerulean warblers, Northern saw-whet owls and bobcats remain in the state.
513/287-7000,
cincymuseum.org/nature
German-American Festival
More than five and a half tons of spuds were consumed in the form of potato pancakes, hand-cut fries and potato salad at last summer's 48th annual
German-American Festival
in Oregon, Ohio. The three-day fest attracts 35,000 people to its full platter of food, music and events for Toledo area's largest and oldest German ethnic festival. "There are seven German- and Swiss-American societies in Toledo," says event chairman Tim Pecsenye. "Embracing the cultures is something people look forward to." The 2014 festival is set for Aug. 22 through 24.
Oak Shade Grove, 3624 Seaman Rd., Oregon 43616,
germanamericanfestival.net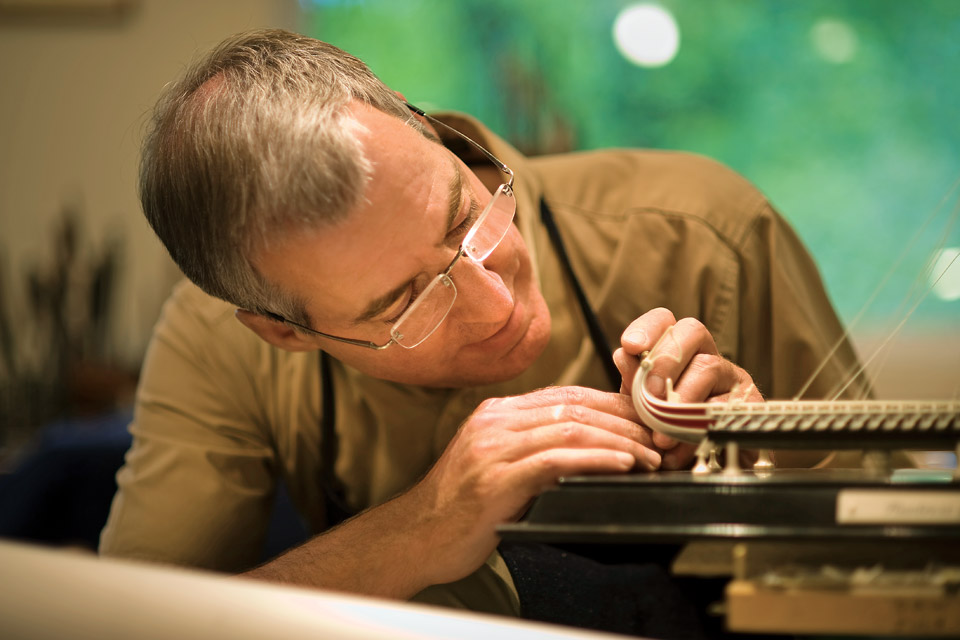 Ship Builder
David Warther II
, grandson of legendary carver Ernest "Mooney" Warther, has notched his own place in the world of miniatures. Warther has sculpted 80 sailing ships out of antique ivory and ebony wood. The pieces stretch from ancient Egypt to modern times, and the collection is housed at David Warther Carvings, which opened in 2013. "We didn't know what to expect with opening a new facility," says Warther, who is known for his ships' delicate ivory rigging. "We were impressed with the number of people and the high interest."
1775 St. Rte. 39, Sugarcreek 44681, 330/852-6096,
warther.org
READERS' BALLOT WINNER: Hotel Room View
Nestled along Lake Erie, the 139-year-old
Hotel Lakeside
boasts intoxicating panoramas of the lake from four suites decorated in Victorian-era splendor. "I love introducing a new generation to this historic gem," says Steve Koenig, the hotel's director of hospitality. If you're looking for a recommendation for which room to book, Koenig suggests suite 633, which overlooks the town's historic pier and the Lake Erie islands beyond.
236 Walnut Ave., Lakeside 43440, 419/798-4461,
lakesideohio.com

Time Capsule
Step into
16-Bit Bar + Arcade
and embrace the nostalgia of the coin-operated video game era. This Columbus "barcade" is home to around 50 classic arcade games, but that doesn't mean you have to have fond memories of Galaga to enjoy yourself. "We cater to a wide demographic," says owner Troy Allen. "Anyone who walks in immediately gets a smile on their face." Here's one of the reasons: All arcade games are free to play with the purchase of a drink. (Sorry, pinball not included.)
254 S. Fourth St., Columbus 43215, 614/222-1616,
16-bitbar.com
Belgian-style Ale
Rockmill Brewery
is located at the head of the Hocking River, but the water that runs under the 11-acre horse farm happens to have a mineral content similar to Wallonia, Belgium. That's thanks to the fact the water filters through Blackhand Sandstone, making it perfect for fuller-bodied Belgian-style ale. The brewery's popular Saison Supér farmhouse ale is a nod to when most Belgian farms were home to a small brewery during the height of the bubonic plague. "That's where saison came from," says brewmaster Matthew Barbee, "beer [provided] a safe source of hydration for harvest workers."
5705 Lithopolis Rd. N.W., Lancaster 43130, 740/205-8076,
rockmillbrewery.com
Museum Diner
Built in the 1950s and now part of the Liberty Aviation Museum, what's now known as the
Tin Goose Diner
spent most of its existence as Pennsylvania's Sunrise Diner. Several years ago, it was relocated to the WWII-era aircraft museum to offer visitors a retro diner experience. "[It's] your classic, blue-plate-special setup," says museum security director Terrence Murray, alluding to the diner tradition of low-priced daily specials. A menu of sandwiches and burgers are named after classic planes, such as the Tri-Motor Burger and the Avenger hot dog. "If you come to the diner," Murray says, "come hungry."
3515 E. State Rd., Port Clinton 43452, 419/732-0236,
tingoosediner.com
Pretzels
Finding authentic hand-rolled Bavarian pretzels can be challenging, but thanks to
Brezel
, it's not impossible. Pretzel lovers have 30 preservative-free flavors to choose from, including fan favorites such as asiago, herb & cracked pepper and slow-roasted tomato & basil. Store owner Brittany Baum says you don't even have to live in the Columbus area to enjoy them. "Order online," she says. "We'll make them in the store and ship them anywhere in the U.S."
North Market, 59 Spruce St., Columbus 43215, 614/586-0523,
brezelpower.com
Hellbender Heaven
The first thing you need to know about hellbenders is that they're really ugly. Despite their noncuddly appearance, the giant endangered salamanders have fiercely protective admirers, such as Columbiana County Park District Board vice-chairman Michael West. He explains that the 752-acre
Hellbender Bluff Park
north of East Liverpool is an ideal home for Ohio's largest amphibian. The flat-bodied creature, which can grow to 27 inches long, needs fast-flowing, clean, shallow water like that provided by Little Beaver Creek. "Hellbenders are mostly nocturnal and hard to see," West says, "so that helps protect them."
130 Maple St., Lisbon 44432, 330/424-9078,
bicycletrail.com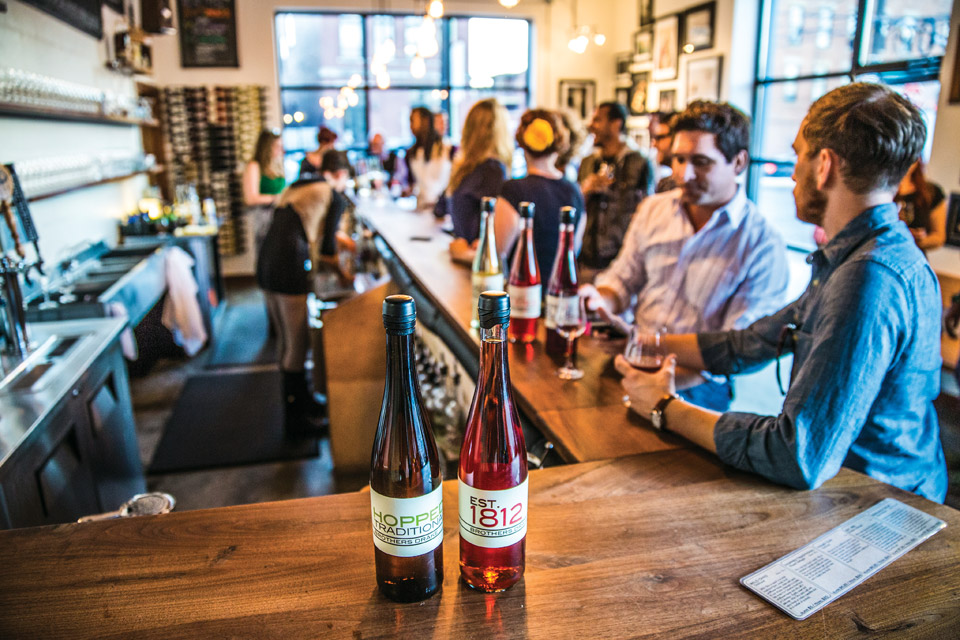 Meadery
Mead is making a comeback, and
Brothers Drake Meadery & Bar
is leading the way with delectable wines made from locally sourced honey. "We make about 12 different meads and everybody seems to love a different one," says co-owner Sarah Benary. "Apple Pie is a seasonal favorite for all of Columbus." If you're new to the world of mead, order a flight and sample several kinds until you find your new favorite. Be sure to try their signature cocktails for great combinations of locally made spirits and mead.
26 E. Fifth Ave., Columbus 43201, 614/388-8765,
brothersdrake.com
Family Fun
Billing itself as the largest indoor entertainment center in the United States,
Scene 75
will quickly envelop you in its world. A multilevel laser tag zone lets players loose in a 7,000-square-foot arena for battle, Ohio's longest indoor electric go-kart track pushes visitors' driving skills to the limit and the Big Bad Bounce enthralls the kids. Then, there are 10 other attractions ranging from minibowling to bumper cars, and don't be surprised if there are more by the time you visit. "We constantly upgrade attractions," says Nancy Roggio, director of sales and marketing. "We want people to rave when they talk about us."
6196 Poe Ave., Dayton 45414, 937/619-3200,
scene75.com
READERS' BALLOT WINNER: Romantic Getaway
Whether it's the height of summer or the middle of winter,
Hocking Hills
has long been a favorite destination for couples looking for a weekend escape. Those who desire comfy, private cabins will find plenty of options — many with hot tubs — tucked among the rolling hills. (We enjoyed a stay in one of Buffalo Lodging Co.'s secluded and beautifully constructed cabins last summer.) Couples that want to make fine dining and spa treatments part of their weekend away together can't go wrong with the upscale-yet-rustic Inn & Spa at Cedar Falls.
explorehockinghills.com
Dandelion Treats
You will never look at a yard full of weeds the same way again. Breitenbach Winery's 21st
Dandelion May Fest
, (May 2 and 3 this year), offers wine, sausage, gravy, mashed potatoes, pizza, lasagna and even ice cream made from the celebration's namesake plant. "For the Great Dandelion Cookoff, we choose 15 finalists to prepare their dishes at the festival," explains Anita Davis, whose family owns the winery. You'll also find vendors selling candles, jewelry, soap, paintings and pottery with a dandelion theme.
5934 Old Rte. 39, Dover 44622, 330/343-3603,
dandelionfestival.com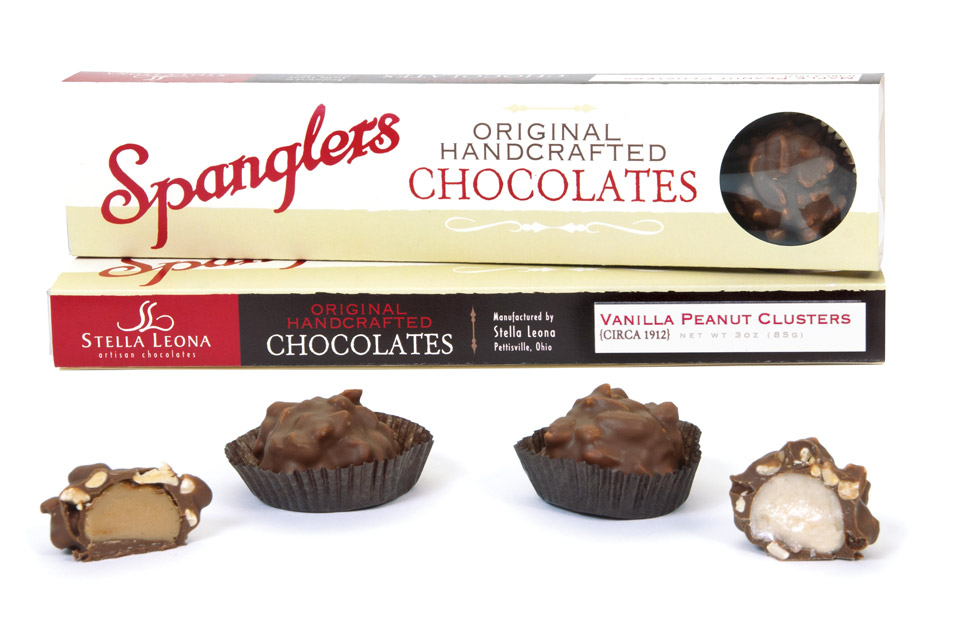 Candy Revival
Before Spangler Candy Co. was known for its lollipops and candy canes, it made chocolates. When the Bryan-based company purchased Dum Dums in 1953, the popularity of its famous
Spanglers Original Handcrafted Maple and Vanilla Peanut Clusters
was one of the casualties. Last year, Spangler teamed with artisan chocolatier Stella Leona to bring its classic candy back to life. Anne Spangler, Spangler Candy Co.'s store museum and tour manager, describes the throwback treat as "chocolaty, creamy and salty, all wrapped into two to three bites."
362 Main St., Pettisville 43553, 419/445-0370,
stellaleona.com
Snitz Pie
Enjoyed as part of the Sunday meal following church services in many Amish households, this traditional fried pie made with dried apples is available to the rest of us at
Miller's Bakery
in Millersburg. A 9-inch snitz pie is $7.49, but you have to place an order in advance. "We dry the apples, core them and mush them up to make a texture like apple sauce," says Ada Miller, whose family owns the well-known bakery. "The pies are sweet and really good."
7 a.m.–5 p.m. Mon–Sat; 4280 Township Rd. 356, Millersburg 44654, 330/893-3002
Food-truck Hot Dog
Three years ago, husband and wife team Dave and Lee VanArtsdalen merged their restaurant experience with their love of horror genres. The result roams the streets of Dayton as
Zombie Dogz
, a monster-themed food truck that takes a chainsaw to the traditional hot dog cart menu. "The idea came about around a campfire one night and grew from there," says Dave. Among their creations is the crowd favorite Calling in Dead, which covers an all-beef hot dog with white-truffle-oil mac and cheese and cracker crumbs.
zombiedogzdayton.com
Travel Companion
The idea of a slim wallet isn't new, but the way Columbus'
Zeroz
merged form and function in its cash-and-card carriers is like nothing you've seen before. The minimalistic leather sleeves, which come in an array of colors, carry two to 10 cards, depending on whether you opt for extra-small, small or medium (you see, there's nothing large about these), and an etched strap on the back offers a place to stow your cash. "We make everything here," says owner and designer Paul Westrick. "It's an old-school kind of way."
17 E. Gay St., Columbus 43215,
zeroz.com
READERS' BALLOT WINNER: Burgers
If you want a tasty burger, hit
The Thurman Café
. Family owned since 1942, this German Village spot's Thurmanator appeared on the Travel Channel's "Man v. Food." There's no prize for finishing the massive burger (other than bragging rights). Just know that you're in the company of some heavy-duty company. "It was actually created for bodybuilders attending the Arnold Classic," says Aaron Suclescy, whose family started the place. He's alluding to Arnold Schwarzenegger's annual Columbus fitness gathering now known as the Arnold Sports Festival. "They wanted a burger with more protein, so we created the Thurmanator,"
183 Thurman Ave., Columbus 43206, 614/443-1570,
thethurmancafe.com
Storytelling
You hear Ron Hatten before you see him. The strains of Native American flute music carry through the trees as you near a natural amphitheater in the woods, where Hatten finishes his song before sharing the legends and beliefs of the Shawnee people. Created by
Hocking Hills Adventure Trek
, which also offers rock climbing, rapelling, guided bass fishing and naturalist-led hikes, the inspirational experience is unlike any other peaceful walk in the woods. "[Hatten] grew up in Jackson, Ohio … in a house that only spoke Shawnee," explains Hocking Hills Adventure Trek founder Jim Stratton. "It's extremely rare in Ohio to have anybody still alive whose first language is Shawnee."
740/777-2579,
hockinghillsadventuretrek.com
Handmade Posters
Google "Johannes Gutenberg" and you'll understand why it takes 40 to 50 hours to create the template for
Just a Jar Design Press
' limited-run posters. The text is set by hand, letter by letter, with antique wood or lead blocks dating back 200 years. Just a Jar has made the colorful, etched designs for events ranging from community barbecues to music festivals. "It's not like a Photoshop filter that you click to make things look worn," says co-owner Bobby Rosenstock. "It's worn because this piece of type was in a print shop somewhere in Ohio in the mid-1800s."
1000 Warren St., Marietta 45750, 503/853-6720,
justajar.com
Stargazing
At some planetariums, you squint to see that pinpoint of light meant to simulate a far-off star. Forget that.
The Dome at the Boonshoft Museum of Discovery
pairs a Digistar 4 advanced-graphics system with a cutting-edge Christie Mirage 3D projector (it runs video at twice the normal frame rate and interweaves left and right eye imagery) to create an immersive experience. "It is drastically different from traditional displays," says director of marketing and public relations Kristy Creel.
2600 DeWeese Pkwy., Dayton 45414, 937/275-7431,
boonshoftmuseum.org
Minor League Upgrade
Goodbye, Akron Aeros … hello,
Akron RubberDucks
? Don't worry, there's nothing wimpy about the new name of the Cleveland Indians double-A affiliate. Team owner Ken Babby says the switch is about having a good time. "We wanted a name that reflects our [dedication] to a fun fan experience in the ballpark," he says. (Plus, we bet that new ferocious-looking duck logo will sell more than a few shirts.) Here's what else Babby has on tap: more fireworks, movie nights on the new 68-foot HD scoreboard and $2 hot dogs.
300 S. Main St., Akron 44308, 330/253-5151,
akronrubberducks.com

Vintage Hotel
Built in 1931, the
Hilton Cincinnati Netherland Plaza
still has its incredible Hall of Mirrors ballroom and 11,343-square-foot Pavillion Caprice — the French art deco hotel's original place to be seen, which was designed to look like an ocean liner nightclub. The hotel's fine dining restaurant, Orchids at Palm Court, was awarded four stars in 2013 by "Forbes Travel Guide," one of only two restaurants in Ohio to earn the honor. That's impressive. So is the fact that the hotel's two original seahorse sculptures still guard the Palm Court fountain.
35 W. Fifth St., Cincinnati 45202, 513/421-9100,
cincinnatinetherlandplaza.hilton.com
Sunflower Celebration
Sunflowers seem to dance in the wind and turn their faces toward the sun. Maybe that's why the
Sunflower Festival
at Gorman Heritage Farm is the largest draw of the year. "[Visitors] like to take that happy feeling home," says Vicki Muething, marketing and events manager. "Our field has a pathway through it for a lovely stroll and easy access to the most beautiful cutting flowers." This year's festival, Oct. 4 and 5, will include a corn maze and traditional musicians. The Pumpkin Launcher will be back as well.
10052 Reading Rd., Evendale 45241, 513/563-6663,
gormanfarm.org
Ohio Whiskey
When it comes to aging whiskey, Tom Lix has forgone the time-tested, oak-barrel route. Instead, the
Cleveland Whiskey
founder puts wood into the young spirits and uses extreme pressures to push the liquid in and out of the wood, condensing a process that normally takes several years into several weeks. "Eighty percent of the flavor of any whiskey comes from its interaction with the wood," explains Lix, whose liquor boasts a bold and smooth flavor with hints of black cherry and espresso. "This process proves that age is irrelevant and flavor is what matters."
clevelandwhiskey.com
Thrill Ride
If you've ever wondered what it would be like to fly tucked under the wing of a dragon, check out Cedar Point's
GateKeeper
this summer. Unveiled in 2013, the amusement park's 16th roller coaster offers an incredibly smooth ride on a 32-passenger train that twists and soars along 4,164 feet of track at speeds reaching 67 miles per hour. Oh, and your feet dangle in the wind the entire time. The park's manager, John Hildebrandt, called GateKeeper "a roller coaster only Cedar Point can build." After taking our 2-minute, 20-second ride on the steel monster, we have to agree.
1 Cedar Point Dr., Sandusky 44870, 419/627-2350,
cedarpoint.com
READERS' BALLOT WINNER: Toy Store
Having morphed from a collectibles shop to a toy store during its 30 years in business,
Cairns Toys
is packed with fun for children and nostalgia for adults. A back corner features activity tables filled with stacks of wooden tracks and trains, dinosaurs and action figures for kids to play with while parents browse the aisles for special toys from their own childhood. "We put as many things out as possible," says owner Melissa Cairns. "[We want] kids to have a real hands-on experience when they come in."
31 E. Main St., Tipp City, 45371, 937/667-7622,
cairnstoys.com
Recycled Bridge
Stretching nearly 25 feet, the
Onion Ditch Bridge
is as remarkable as it is anonymous. The West Liberty span — made from 100 percent post-consumer plastic from detergent bottles, car bumpers and dashboards — is the longest recycled bridge in the United States. New Jersey-based Axion International created the liquid- and pest-resistant structure as part of Logan County's goal to become a zero-waste community by 2020. "It is 120,000 pounds of plastic that was diverted from landfills," explains Dave Crane, executive vice president of Axion's building products division.
North side of Lions Club Ball Park, 576 Road 174, West Liberty, 43357
University Inn
There are a number of hotels in Ada, the home of Ohio Northern University, but only one has luxury lodging at such an affordable price (January weekend-night rates for two adults are $105).
The Inn at Ohio Northern University
was built in 2008 and is on campus of the school of approximately 4,000 students. Its 70 rooms offer a small-town feel and a comfy vibe, complete with robes and heated towel racks. "It makes for a nice getaway to treat yourself," says general manager Tallene Eichelberger. "[It feels] as if you've never left home."
401 W. College Ave., Ada 45810, 419/772-2500,
innatonu.com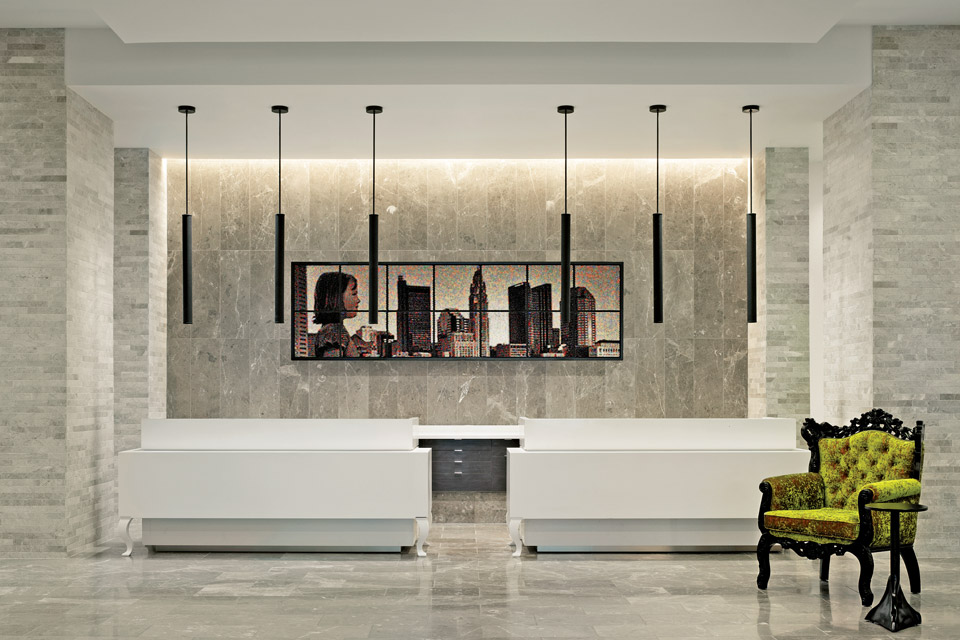 Hotel Art
There's nothing childish about Christian Faur's talent. The Granville artist displays his fondness for Crayolas by hand-casting crayons of his own, which he then stands on their ends (points up) to create mosaiclike works of art. His recent work,
"Skyline,"
hangs behind the front desk at the Hilton Columbus Downtown. Faur used 30,000 crayons to create his depiction of the capital-city urban vista. "Crayons may be an old-fashioned medium," says Faur, "but they have serious potential when it comes to exploring new ideas in our digital age."
christianfaur.com
,
401 N. High St., Columbus 43215,
hilton.com
READERS' BALLOT WINNER: Coffee Shop
A place to drink hand-roasted coffee, socialize, listen to live music and eat tasty pastries would be enough. But Bowling Green's 7,000-square-foot
Grounds for Thought
is also a sprawling used book store (it stocks vinyl records and comic books, too). Owner Kelly Wicks, who opened this college-town spot in 1989, says many of his patrons take some beans for the road. "I love seeing our customers come to refill their coffee stock from us," he says. "We take pride in our hand-roasted coffee."
174 S. Main St., Bowling Green 43402, 419/354-3266,
groundsforthought.com
Opera House
The wooden balcony and 395 polished wood seats date back to the opening of
Stuart's Opera House
in 1879. The rest of the original interior fell prey to a 1980 fire — a stroke of misfortune that ultimately led to the Nelsonville landmark's revival. "Everything has been restored or renovated with the original idea in place," explains marketing director Brian Koscho. Along the way, the addition of air conditoning and modern lighting has allowed the venue to host nationally touring musicians ranging from indie rock favorites Yo La Tengo to folk legend Arlo Guthrie.
52 Public Square, Nelsonville 45764, 740/753-1924,
stuartsoperahouse.org
FOR A FULL LIST OF 2014 READERS' BALLOT WINNERS, CLICK HERE.