Ohio Life
A Bicycle Built for You
Once you see Rody Walter's creations, you'll understand why his waiting list is measured not in months but years.
June 2016 Issue
BY Andrew Poulsen | Photo by Cody York
June 2016 Issue
BY Andrew Poulsen | Photo by Cody York
Rody Walter's workshop is a departure from the cavernous space in which he learned the art of bicycle building. Instead of 18-foot cinder block walls and a room barely illuminated by fluorescent bulbs, his workshop is a modest 1,150 square feet with little space between the neatly organized shelves of metal tubing, saws and welding stations.

But Groovy Cycleworks doesn't require a lot of space. The Wooster shop has been a one-man operation since 1994, and as Walter weaves through the maze of workbenches while explaining the minutia of his craft, his positive attitude is infectious.

"You can buy a bike from your local shop that — quality and ride-wise — can do everything that one I make will do," he says. "But the personalization and experience is something you can't get from a manufactured bike shop."

He understands that the type of riders who invest in a custom bicycle see cycling as a major part of their lives. In addition to a bike that is carefully made to accommodate for height, weight and arm length, Walter relies on his customers' creative input. He builds bikes that are extensions of their riders' personalities — tangible representations of their hobbies, passions and lifestyles. He even once made a bicycle with colors, panels and wheels inspired by the fond memory of a beloved Mercury station wagon.

"I'd love to say there's a magic wand to finding the perfect bike," Walter says. "But we're individuals, so it's more like putting together a big puzzle."

Once a design has been conceived, Walter brings it to what looks like a large steel artist's canvas with adjustable clamps. There, he arranges cut tubes into a shape to get an idea of what a frame will look like and where he may need to make modifications to fit a customer's body type and ride preferences.
Next, he selects the tubing that will be used on the bike — steel, titanium, aluminum or carbon — and cuts it to length using a low-speed cold saw, which protects the integrity of the frame material. He then trims the pieces to a more precise length and mills them so they fit the shape of the frame.
After cleaning the tubes with chemicals that strip away oil and dirt, Walter welds them with a machine that generates heat of 2,400 degrees Fahrenheit but focused to the size of a pinhead. It makes the welds look almost seamless. Afterward, he gives the frame one last cleaning before painting it.
"The paint room is where the customer's personality truly comes out," Walter says. "I've built up enough trust with my customers where they often ask to be surprised. I enjoy the creative output that gives me, but I also don't want to put 20 hours into a paint job and have them not be totally wowed."
The average amount of time it takes Walter to get a bike from workshop to showroom is about 40 hours. This is partly because he keeps much of the parts manufacturing in-house, including the brackets, seat posts, stems, handlebars and other pieces. Depending on the intricacy, he says it can take up to six hours just to build one piece for a bicycle. The amount of meticulous craftsmanship is why each one begins at around $6,000.
Another factor that plays into each bike's build time is Walter's reluctance to bring in another craftsman, which puts the waiting list for one of his creations at roughly seven years.
"The wait list isn't necessarily a manifestation of desirability," he says. "The real focus is about having a relationship between the customer and builder."
Given the amount of care that goes into each bike, it is surprising that the line of work was a calling that came to him by happenstance.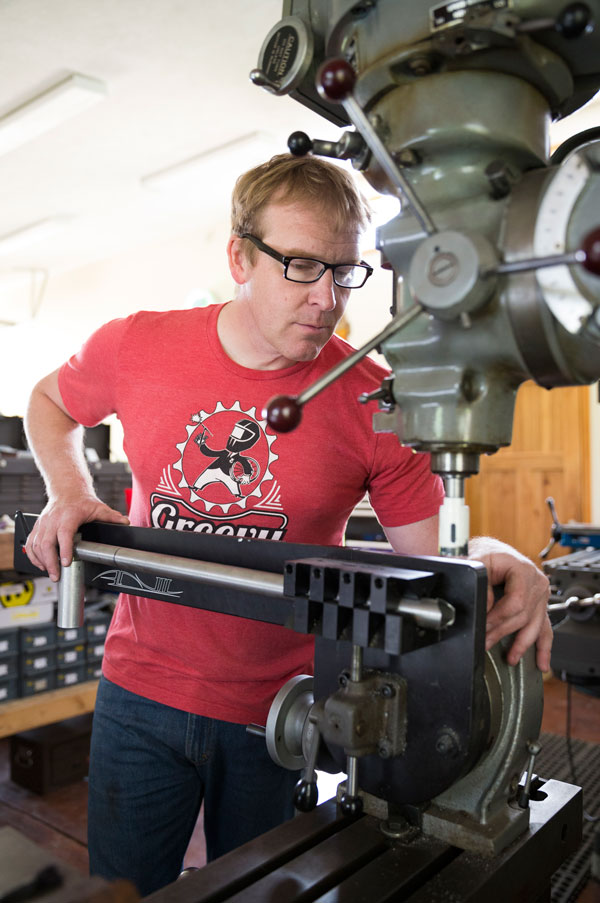 In the early 1990s, Walter was living in Wooster and working as a firefighter. When he and his wife, Christi, married, the two cycling enthusiasts spent their honeymoon on a tandem bicycle, riding across Vermont and New Hampshire, but the bike's lack of rear suspension made the bumpy trails rather uncomfortable.
Unaware of the existence of a custom bike market, Walter wrote down on a napkin his ideas for building a tandem that was better suited for rugged terrain. After an extensive search in a pre-internet era, Walter found Bill Grove, a builder in Centre Hall, Pennsylvania, who was willing to take on the project.
While Grove worked on the tandem bicycle, Walter made routine visits to the shop. The beautiful bike frames hanging from the walls of the old, postwar factory inspired him, leading Walter to ask Grove if he would take him on as an apprentice.
"He told me, 'Look, I have three employees with families that I need to look after. I don't have time to hold somebody's hand,' " recalls Walter. "I was disappointed, but I understood. However, the next morning, as I was loading up the tandem in my car ... he asked if I was sincere about working for him."
For the next two years, Walter traveled the more than 250 miles from Wooster to Centre Hall for several days at a time, trading shifts at the fire department and sometimes sleeping in a tent outside of Grove's workshop until he learned enough to open his own shop.
The handmade bicycle industry has grown a lot in the past decade, and many builders participate in the various handmade bike shows and conventions. The North American Handmade Bicycle Show is the largest one in the world, with more than 7,000 attendees each of the past couple years. In 2015, Walter won "Best in Show" for a bike he built to match a client's surfer lifestyle.
The bike's features and detailed design included a customizable rack for a surfboard, a fender made from six different types of wood to resemble the iconic "Woodie" car body style, rims crafted from steamed white oak and an octopus tentacle paint job to match the client's tattoos.
"There are maybe two or three guys in this industry that really hit their mark when it comes to design and execution ... and Rody is definitely one of them," says Don Walker, president and founder of the North American Handmade Bicycle Show. "The details that went into that bike far and away exceeded what we had seen in years past."
The Surf Bike is just one example of the imagination Walter and his customers can put on two wheels. It's why people turn to him to get their dream bike, even if it has to be met with great patience.
"[In] no other form of physical motion will you come as close to flying as riding a bike," says Walter. "There's a kind of freedom that can only be achieved by the bike and your body. It's amazing how a piece of machinery can raise the human spirit like that."
To learn more, visit groovycycleworks.com.