Home + Garden
The Oak Barrel Co., Berlin
Chris Deffenbaugh makes beautiful and creative home decor pieces from repurposed wine and bourbon barrels.
June 2019
BY Sally Kershner | Photo by Eric Wagner
June 2019
BY Sally Kershner | Photo by Eric Wagner
When the sunlight filters through the windows of Chris Deffenbaugh's showroom, everything he has made out of wine and bourbon barrels comes to life. Rich browns, velvety maroons and golden honeys complement the space's wooden support beams and create a beautiful landscape that offers just a preview of the depth of work that goes into each piece.

"How it all started was a friend of mine had a barrel in his basement that was falling apart and he asked me to kick it to the curb," explains Deffenbaugh. "But the pieces ended up in the back of my truck. I took it home and rebuilt it."

From there, a snowball effect of creativity led Deffenbaugh to leave his job at a Fortune 500 company to pursue a career of reimagining uses for old wine and bourbon barrels. He founded Oak Barrel Co. in 2005 and opened a showroom in the Holmes County community of Berlin in 2016.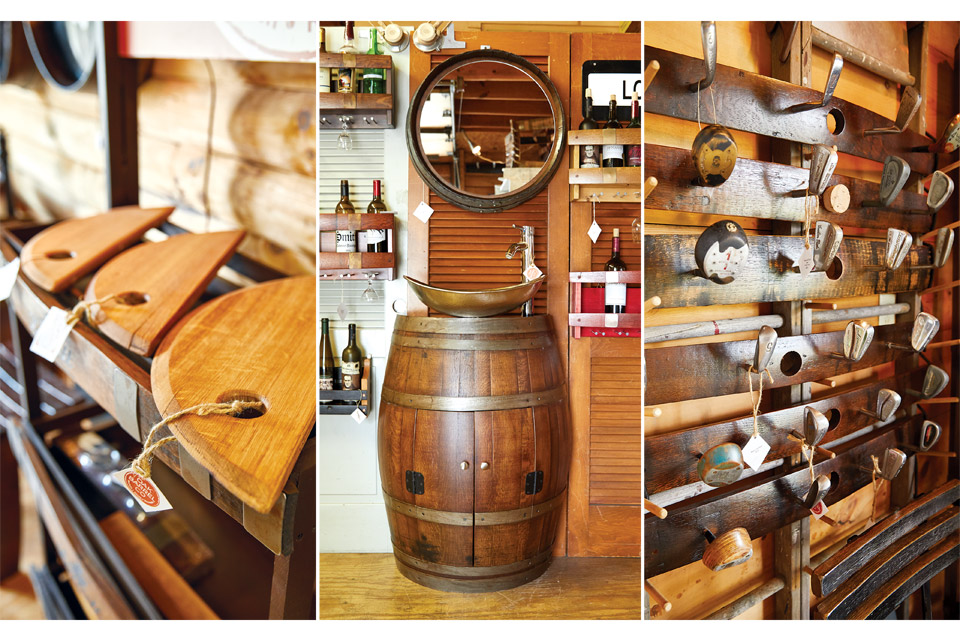 Pieces include indoor and outdoor furniture, bar tables, bar stools, home accents, kitchenware, light fixtures, mirrors and even golf clubs made into bottle openers. Wine lovers will find myriad ways of storing, shelving and presenting bottles, and Deffenbaugh often makes the visible barrel logos of notable brands part of his designs.

The craftsman even offers a lifetime guarantee on some works, like the concrete-topped bourbon barrel bistro table made for the outdoors, which his sister and brother-in-law have had in their backyard for a decade. It's still in great shape.

Deffenbaugh makes everything in his shop himself — from the wine-barrel-stave benches to bourbon-barrel-stave bar stools to the barrel sink stands — but he's quick to mention his architect father provides crucial input during the creative process.

"The ideas are mine but he is involved in the improvement of them," Deffenbaugh says. "He will gripe and gripe at me to fix something, and in the end, I know he's right."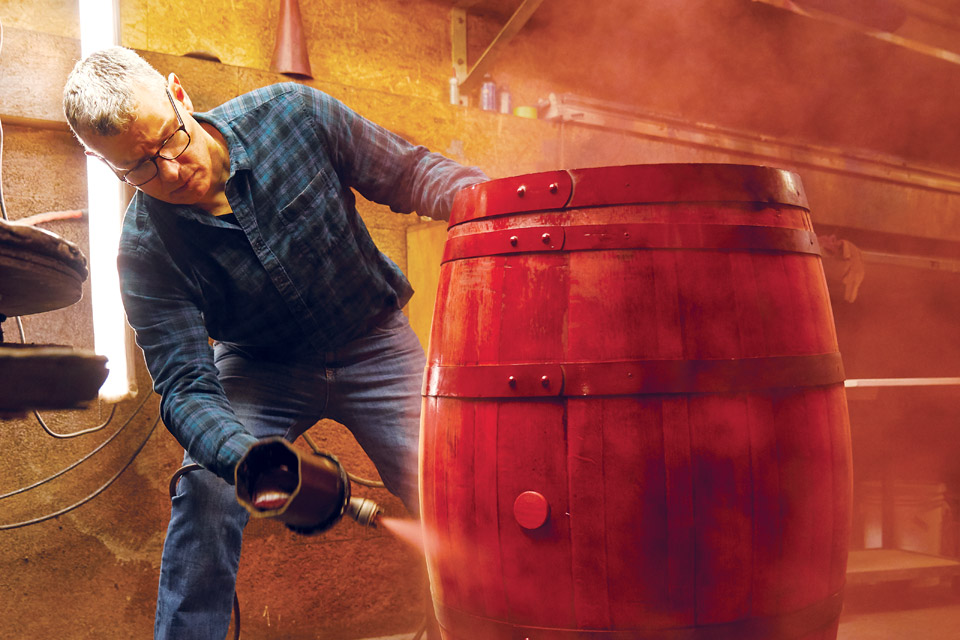 The father-son duo works out of their barn just outside of Wooster, where each piece takes anywhere from a day to a week to complete. From there, the works go to The Oak Barrel Co. showroom in Berlin, located about 20 miles away.

Deffenbaugh credits his success to his father's guidance, finding a showroom location in the heart of Ohio's Amish countryside and teaming with his business-minded operations manager Kelly Smith. While Deffenbaugh admits his extreme sentiment for his craft affects his ability to accurately price and sell what he makes, Smith brings a more practical approach. She serves as a coach of sorts to Deffenbaugh when it comes to business management as well as helping those who walk through The Oak Barrel Co.'s doors appreciate the authenticity and uniqueness of his work.

"Chris is the only craftsman at the shop, and when I tell customers that he is truly hands-on with everything here … [people] say that it is so refreshing to see a local artisan at work."

The slogan "Reclaim. Reuse. Recreate." is inscribed on the sign out front, highlighting the fact that the materials at the heart of everything made here arrived in Deffenbaugh's possession after serving another purpose — just like the first barrel that was the original inspiration for the business. Deffenbaugh is humble and quick to deflect the idea of being an artist, but he admits he brings a different perspective to the woodworking and furniture market.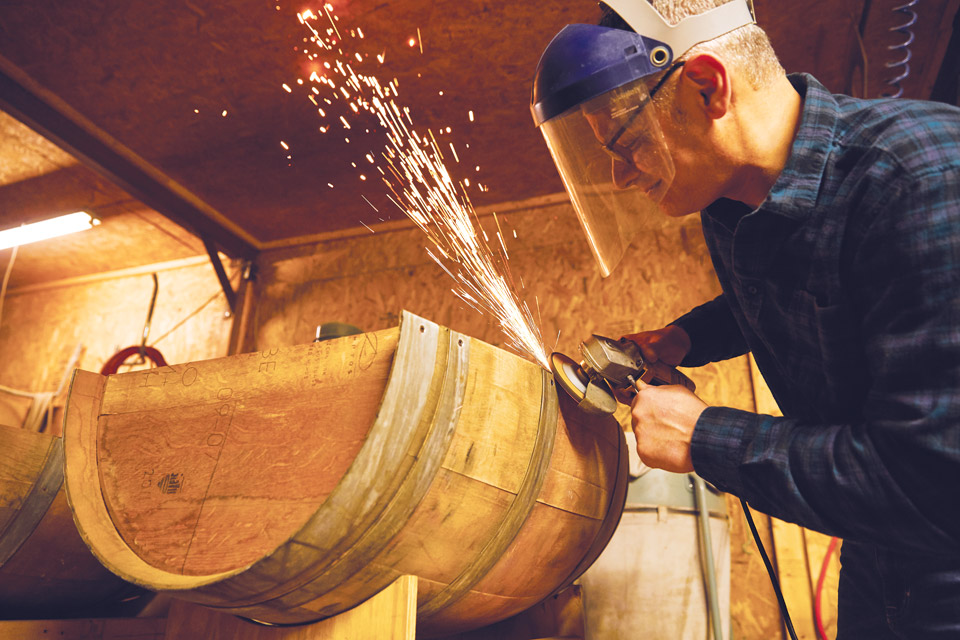 "I'm not an artist, but I am pragmatic," he says. "I never want to throw anything away, so a lot of this stuff has a former life. But once we give it a bit of life, people can tell what the real value is — what has character and what didn't come off the shipping container overseas, but what was made in my own town."

Deffenbaugh embraces unusual sources of inspiration for his work that end up serving as great conversation starters. Upon seeing an image of a candlelit barrel in a cave, the craftsman decided to build a wine barrel display table with an inner dome light and a 30-inch, smoked-glass top. The same inspiration struck Deffenbaugh when he stumbled upon an old-fashioned piano he remade into a functional bar with a glass cover.

"Some people just want function and just go to Ikea," Deffenbaugh says. "But if someone is in a time of their life where they're trying to get a home or settle into somewhere for a long time, these pieces make that space a home."

Deffenbaugh also points out there are functional differences between wine and bourbon barrels. A showroom display explains that because bourbon barrels are charred inside, they are weaker, prone to creating health risks and don't repurpose well outside furniture. Most of his work is crafted from wine barrels because they are cleaner, have galvanized steel rings and sport stains that provide character.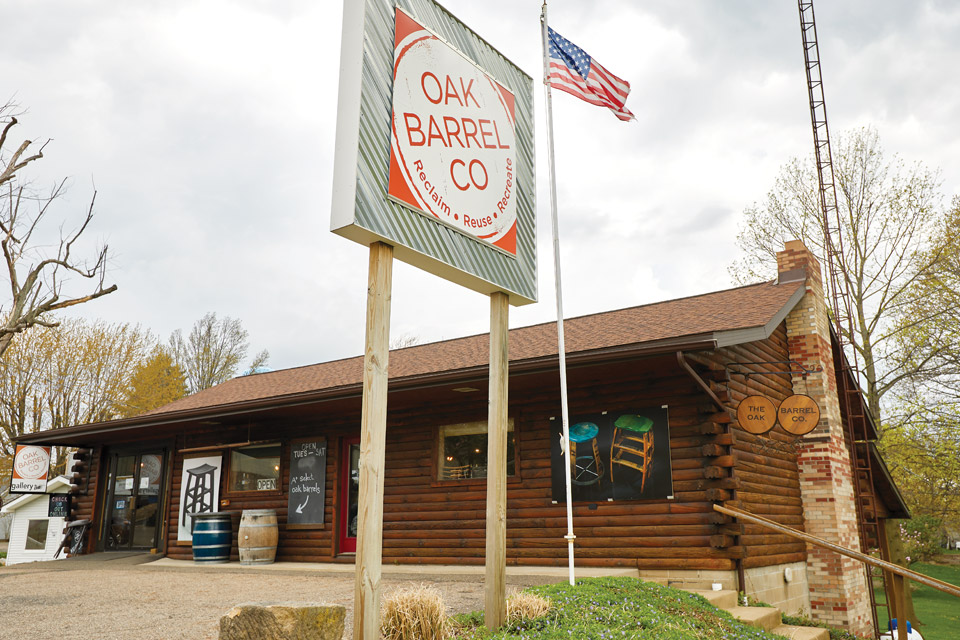 Although Deffenbaugh one day hopes to expand his small showroom and make a name for himself outside the region, he says he is also fully content with the life he has making new designs each week and sending his creations out into the world to be enjoyed.

"You want somebody to like a piece and use it once you put all the hard work into it, [but] you never get the full effect of your own work because you don't use it yourself," he says. "If I could, I would get a big house and fill it with all my stuff, but this work is meant to be shared."

4839 E. Miller Ave., Berlin 44610, 330/466-0636, theoakbarrelcompany.com