Home + Garden
Step Inside 3 Homes in Columbus' German Village
This neighborhood has long been a place filled with beautifully renovated historic homes. Three homeowners invited us in.
June 2020
BY Teresa Woodard | Photo by Maddie McGarvey
June 2020
BY Teresa Woodard | Photo by Maddie McGarvey
Walk down the brick streets of German Village with its charming cottage homes and pocket gardens, and you'll immediately appreciate the efforts of the late Frank Fetch and a new generation of home-restoration champions.

Frank, considered the father of the historic Columbus neighborhood as it exists today, and his wife Elnora first opened their home to visitors in 1959, drawing attention to an area just south of downtown that was originally settled by German immigrants in the mid-1800s.

"We had traffic stopped in all directions," Elnora recalls in a recorded oral history. "We had no idea there were that many people that were really interested in the south end."

Frank jumped on the community's growing interest and formed the German Village Society to organize the first tour of 10 homes — both renovated ones and ones with potential. The tour ticket price was $1.

The German Village Haus Und Garten Tour is an annual event that routinely draws 5,000 visitors to tour beautiful homes in the neighborhood. Like Frank and Elnora Fetch, new and longtime residents continue to update homes while preserving the character of this historic neighborhood. Last summer, three of the tour hosts invited us in to see the places they call home.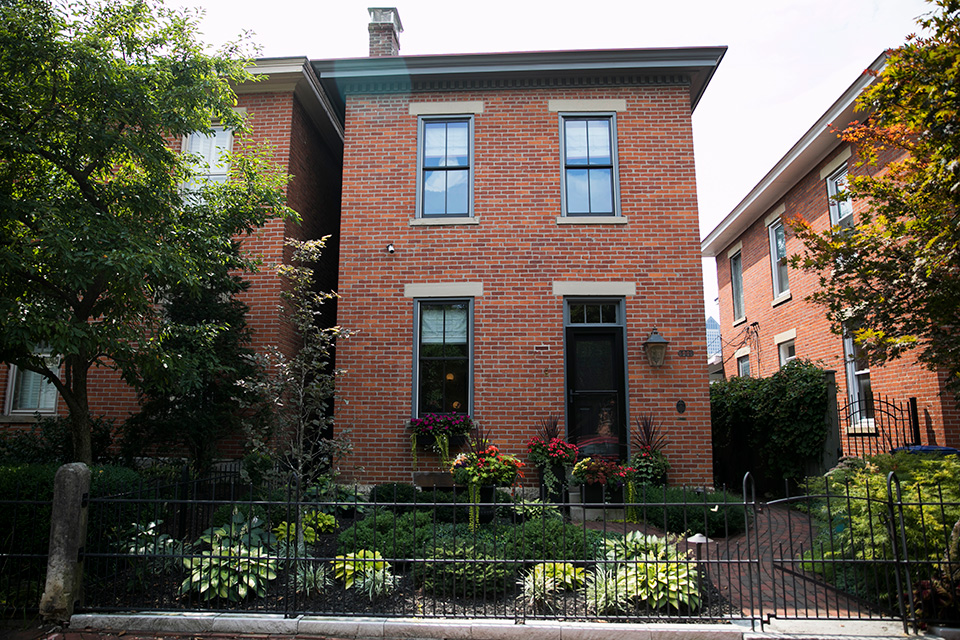 David Thomas & Vince Thompson
Austin, Texas, transplants David Thomas and Vince Thompson loved their newly purchased 1880s home but worried the interior may be too dark, especially in the winter.

"This was our first time living up north and living with a real winter in 24 years, so we wanted to make sure there was as much sunlight as possible," Vince explains.

Working with contractor Dave Fox Design-Build Remodelers, they came up with a few solutions: remove two walls to open the galley-style kitchen, add a glass wall in the family room on the west-facing back side of the house and paint walls in a reflective color (Sherwin Williams' Greek Villa). Besides brightening up the interiors, the couple also wanted to bring a modern flair to the home's decor.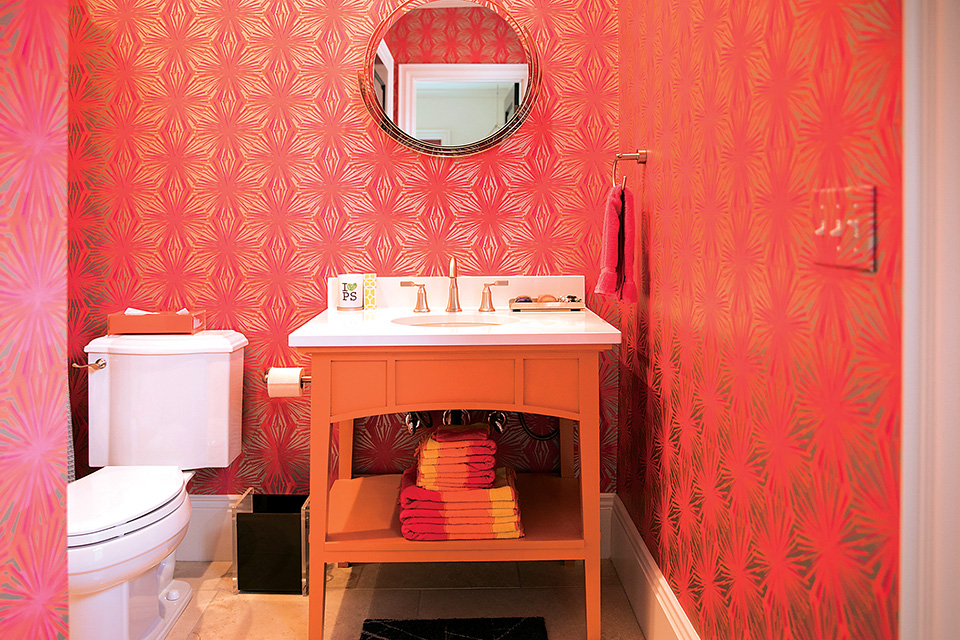 "It was more traditional, and we're more contemporary and mid-century style," says Vince.

Dave Fox's designer recommended adding black in places to bring contrast to the white walls and trim. So, they chose to paint the doors and exposed kitchen beams in Sherwin Williams' Caviar. They repeated the black-and-white theme in the kitchen with a black island and Cambria quartz counter with an eye-catching waterfall edge. They also chose kitchen wall cabinets in black matte for the base and gloss white for the upper. While most of the interior had been gutted in a previous renovation, an original brick wall was exposed near the kitchen.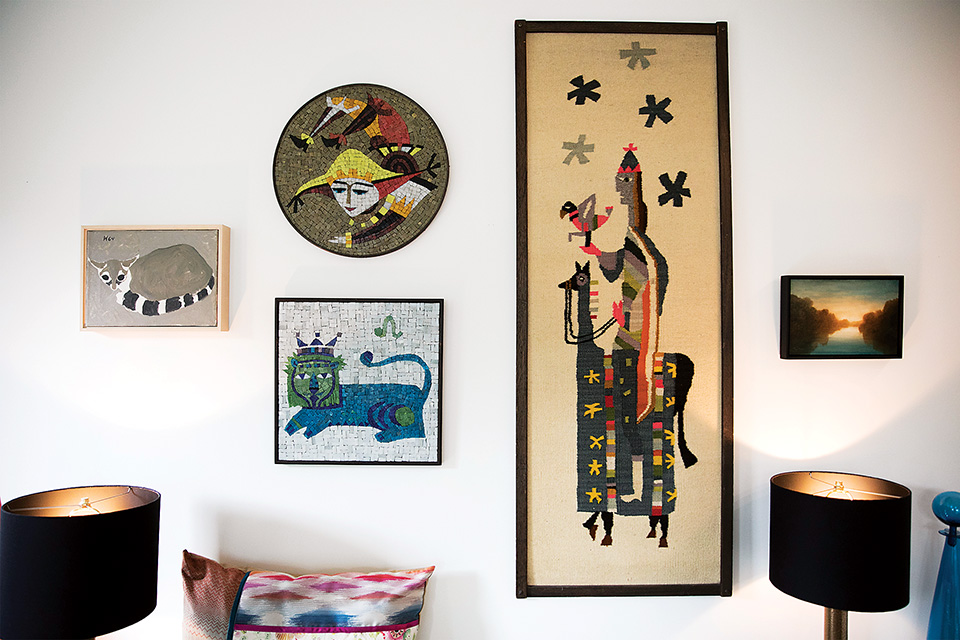 To finish the space, the couple recruited a design friend from Texas to hang and display their art collection, including tapestries and mosaics by L.A. modernist Evelyn Ackerman, pieces by local Columbus artists and finds from regular trips to Palm Springs' Modernism Week each February.

"It really feels like home," says Vince. "It's just the two of us, and it's a fairly large home, but we're using all of it."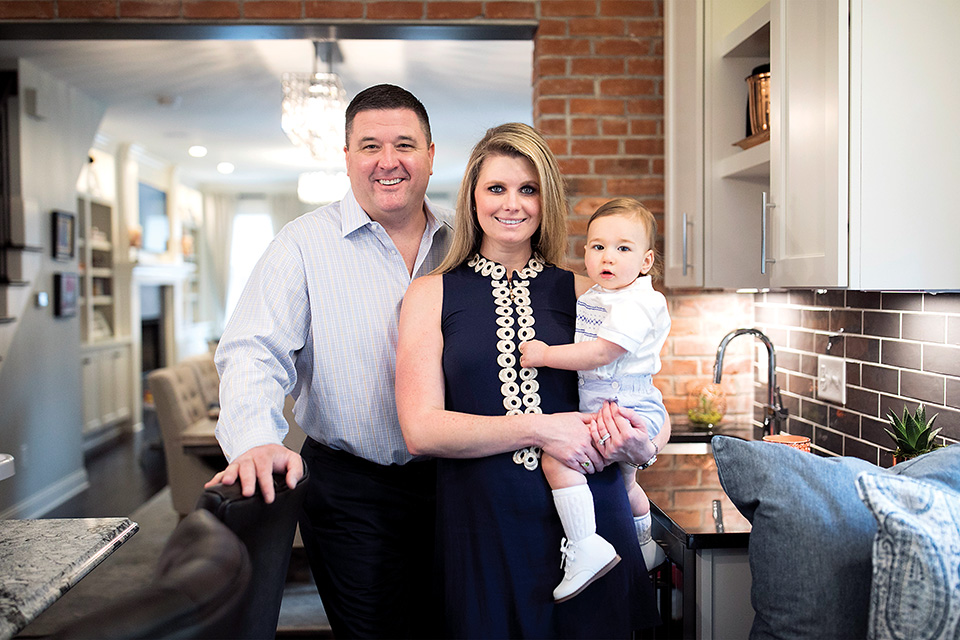 Brooke & Mark Malinowski

Enter Brooke and Mark Malinowski's brick home, and you find a classically finished open space that stretches from the living area into the dining room and on through an exposed brick opening to a kitchen that's part of a back-of-the-house addition. Varying shades of gray, custom carpentry details, sparkling glass light fixtures and dark hardwood floors bring a fresh, traditional style to the historic home.

"Originally, you used to walk directly into the kitchen, which is conceptually unusual but normal in the Village, which has unique things like that," explains Mark.

He had admired the home for a decade, and it was previously owned by a family member, until Mark and his wife Brooke purchased it in 2016.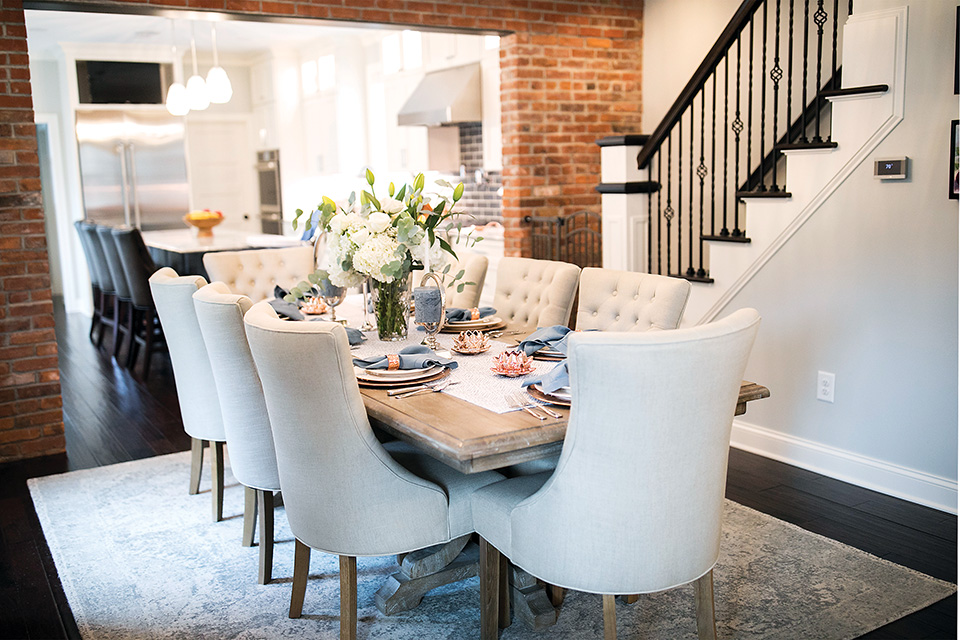 "It sits in the dead center of German Village," Mark says, explaining the home was the first of a trio of similar-looking houses — known as The Three Sisters — built by Joseph Eckhart in 1878 on one of three adjoining lots.

After living in the house for a year, the Malinowskis pondered renovations, including moving the kitchen to the back of the house. They discussed options with their builder Jay Luebbe and decided to swap out an inefficient sunroom to build on a two-level addition that spans the kitchen, an upstairs bedroom and basement.

"As things go, it was a snowball, but it was a pleasurable snowball," Mark says of the extensive renovation.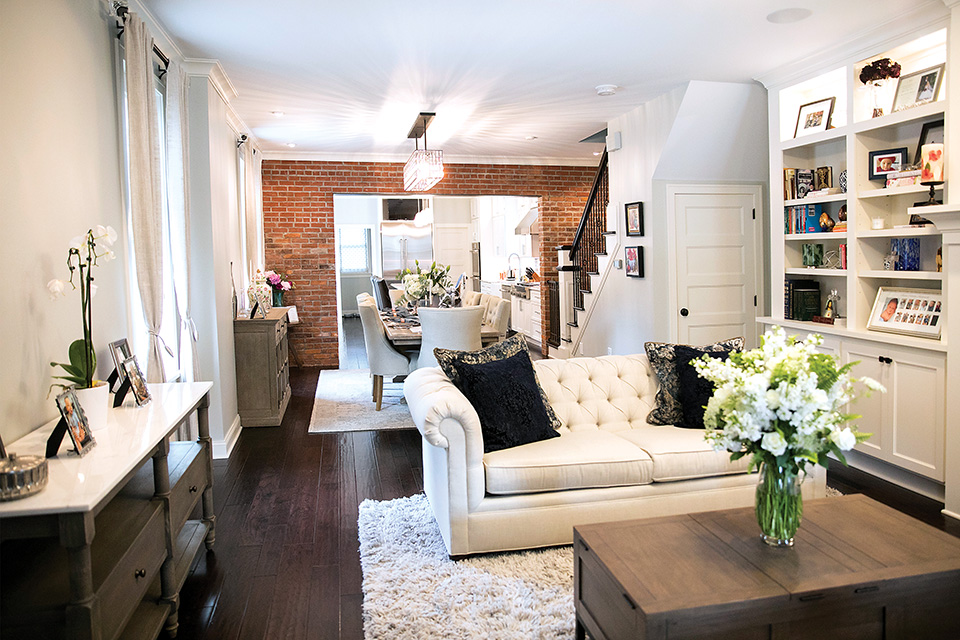 It was no easy feat either. Two giant steel beams braced the back of the structure and a horizontal beam was put in, so masons could untooth the old brick walls while keeping the original limestone foundation intact. During the year-long renovation, the Malinowskis' lives transformed as much as their home. They got married and rented a nearby apartment. Plus, Brooke became pregnant and worked to finish nursing school. With the renovation complete, Mark and Brooke are now enjoying their home and the neighborhood.

"We've got a lot of irons in the fire," he says, "and we've done it all reasonably gracefully."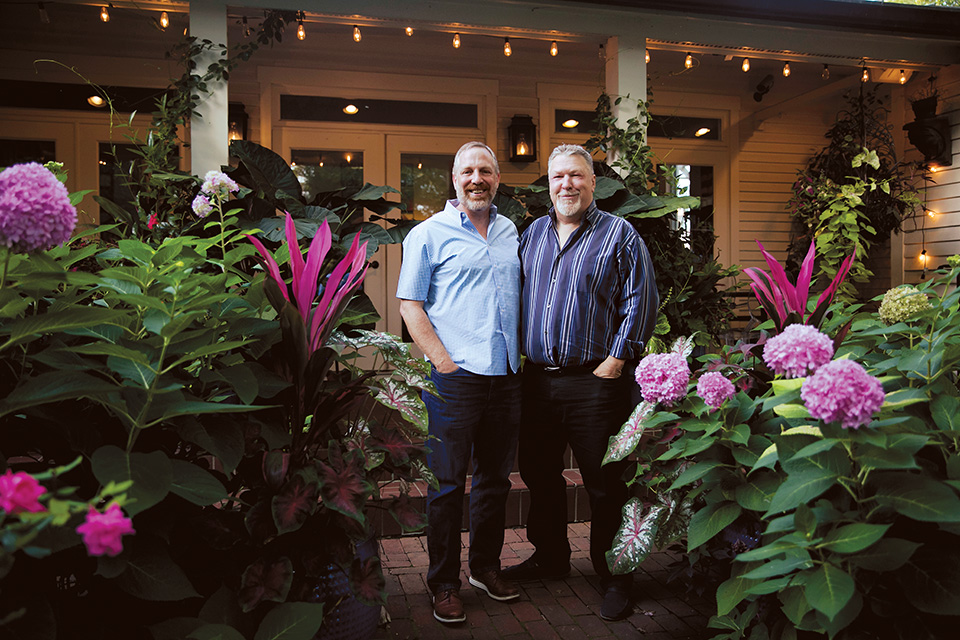 Chris King & Rob Hunter

Several of Chris King and Rob Hunter's neighbors were already familiar with the couple's front-yard garden, often peeking through the picket detail atop the wooden privacy fence surrounding their charming corner lot.

Chris and Rob spend most summer evenings on their large front porch overlooking the lush space filled with blooming hydrangeas, oversized tropical containers and ornamental trees like Japanese maples, gingko and weeping pines. Chris, owner and interior designer at Manifesto, brings his design talents to the outdoor seating areas. On the porch, he has arranged a mosaic-tile coffee table and fabric sectional with teal cushions to one side and a black dining table with six Lucite chairs to the other.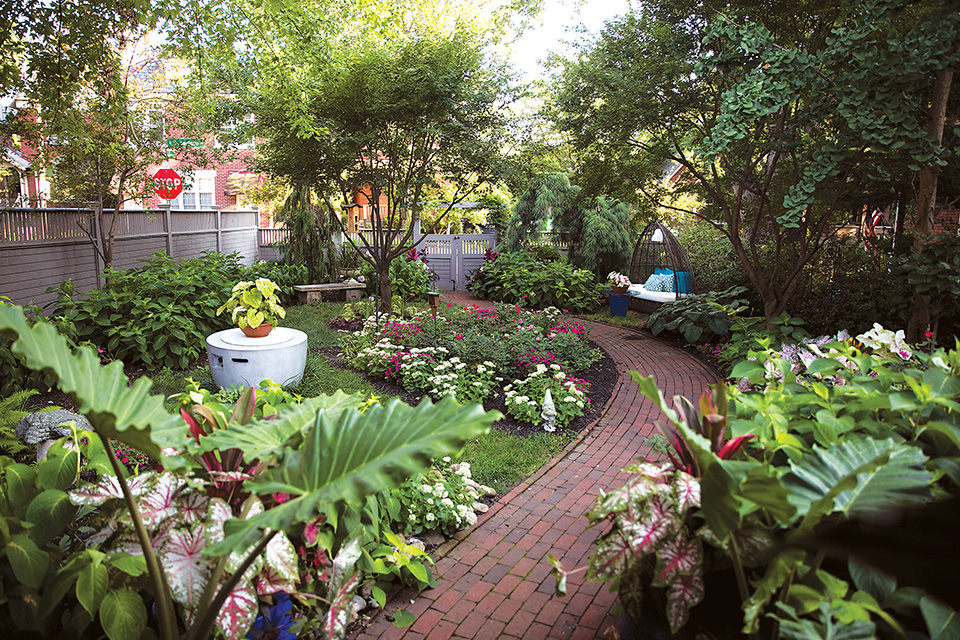 In the yard, he's created another seating area by a fountain surrounded with pea gravel and accented with a pergola for climbing mandevilla vines. In a far corner of the garden, sits a cocoon-style rattan sofa.

When the couple purchased the property in September 2016, they rebuilt the rotting wooden fence and removed nine shade trees from the lot.

"I had to unchain Rob from a tree, but there was no way hydrangeas would bloom if we didn't get more sun in," Chris says about his outdoorsman partner and backbone of the home's many landscape projects.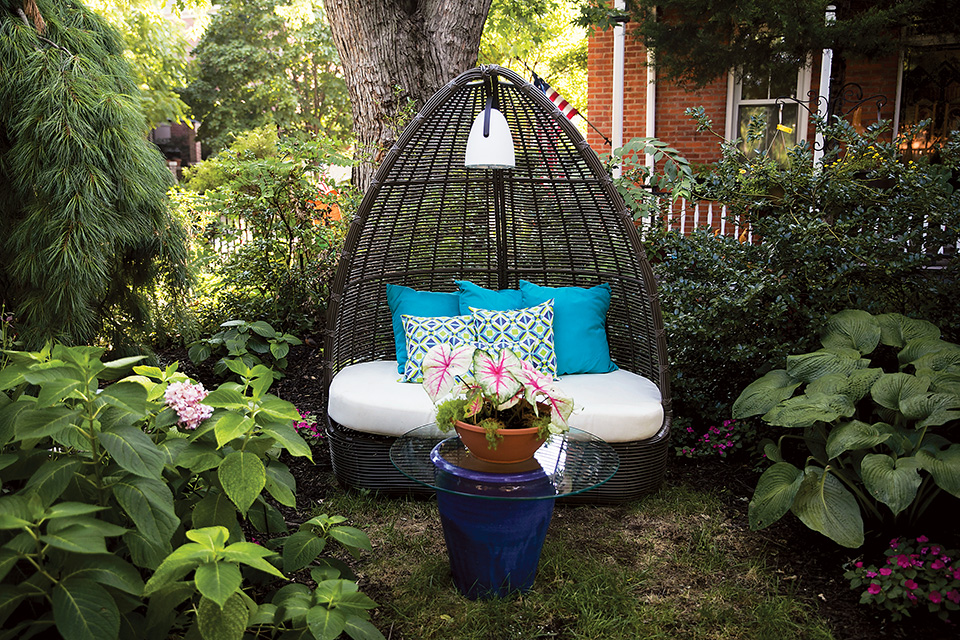 Outside the fence, the couple also landscaped the brick sidewalks to welcome passersby. Ornamental grasses soften the sides of the fence, while weeping spruce trees and climbing wisteria vines accent the entry gate. A teal blue shutter door opens from the porch to the sidewalk, and window boxes overflow with pink caladiums, chartreuse sweet potato vines and fuchsia impatiens. It's an inviting gardening style indicative of German Village's welcoming ways.

"We like that everyone can see in," says Chris. "That's the beauty of the Village: that you meet through its gardens."

For more information about Columbus' German Village neighborhood, visit germanvillage.com.