Home + Garden
River City Leather, Gallipolis
Aaron and Erin Buckley's leather shop crafts beautiful bags, wallets and totes that are designed with a focus on simplicity, quality and longevity.
December 2019
BY Jim Vickers | Photo by Kelly Wilt
December 2019
BY Jim Vickers | Photo by Kelly Wilt
Light spills through River City Leather's front window and across a display of beautiful bags. Hanging next to it, a neon sign glows "Made in Ohio." The small and inviting space in downtown Gallipolis has a comfy couch and a stock of products that show off the range of Aaron and Erin Buckley's handmade leather goods.
A large window divides the showroom from the workshop, where raw materials in a variety of colors and textures are transformed into bags, wallets and totes. The couple started the business in 2011, and the store followed four years later. Their River City Leather line is elegant and accessible, and its quality is obvious.

"When we make stuff, it's definitely overbuilt," says Aaron, adding that each piece carries a lifetime guarantee. "To be able to make something simple enough and high quality enough and then have it look good — that's super hard."

Aaron first began studying his craft after a serious motorcycle accident kept him out of work for well over a year. To pass the time during his recovery, he picked up some leather supplies at the local shoe repair shop in town.

"I just dabbled in it for a while," he says. "I ended up working for the shoe repair shop for free just to get out of the house."

Eventually, Aaron went back to work full time as an analyst at a local plant while doing leatherwork as a hobby. When he posted a photo of a tote bag he made for Erin on Facebook, he began getting interest from friends in Philadelphia, where the couple lived during college, as well as from those in Gallipolis. After the birth of his and Erin's first child, Aaron turned to leatherwork full time in 2013, building a workshop in the garage and launching a website.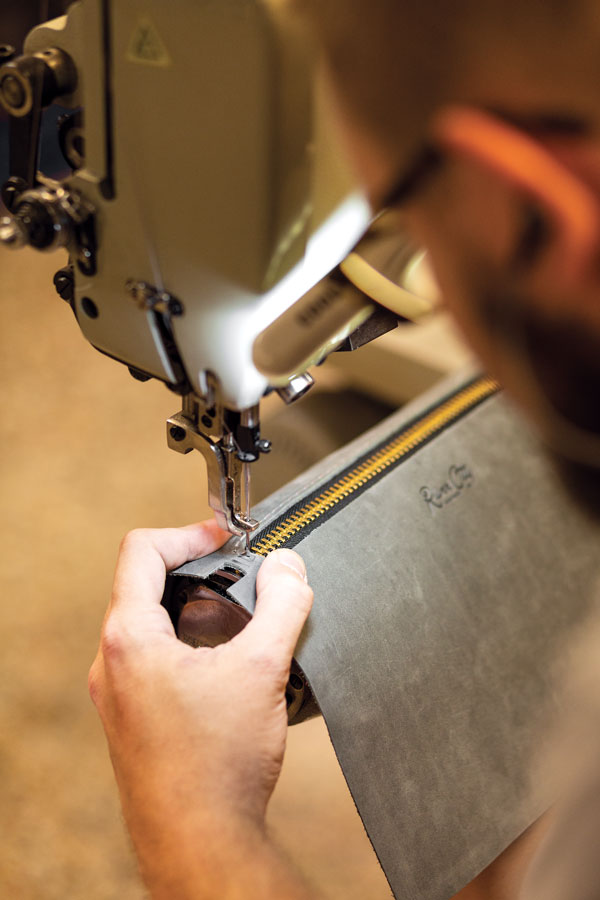 "Within 25 days, we had to shut the website [orders] down," he recalls. "If we had taken any more, we wouldn't have been able to get them done before the holidays."

Today, River City Leather focuses on its core line as well as Stapleton leather goods for men, named after the shoe repair shop where Aaron worked. The business now employs eight and has a second retail location in Huntington, West Virginia, but it still embraces the do-it-yourself approach that made it viable.

"Aaron is the type of person that, if he is interested in something, he wants to become an expert at it," says Erin, whose expertise is in fashion merchandising. "He's super resourceful and he's made a lot of tools that, at the time, we couldn't afford to buy. Even now, sometimes he makes tools and equipment that are better than the ones we could buy." 314 Second Ave., Gallipolis 45631, 740/446-4172, rivercityleather.com