Home + Garden
Reuse, Renew, Refresh
Ohioans with a knack for home decorating share creative ideas for putting a fresh spin on your living spaces.
April 2014 Issue
BY Hallie Rybka | Photos by Joshua A. Bickel
April 2014 Issue
BY Hallie Rybka | Photos by Joshua A. Bickel
Crated Convenience (above):
Vintage wooden soda crates are a useful flea market find with a small price tag. The weathered wood adds character to a functional item that can serve multiple purposes. "I like using them for parties," says Chelsea Mohrman of Columbus, who writes the blog Farm Fresh Therapy. "You can stack everything into the crate and take it to the outdoor party." A wooden crate in the living room can also help keep you organized. Used as a coffee table centerpiece, it can hold a small vase for flowers, a stack of coasters and serve as a home for that ever-elusive television remote.


Furniture Revival:
Keep an open mind toward updating old furniture. Columbus-based House of Earnest blogger Erin Souder once found a set of antique cane chairs along the side of the road. "I saw the cane chairs and thought,
Those are usually pricey
," she recalls. Because the seats of most chairs unscrew, repairs or upgrades are relatively easy. "I pulled off the old cane and recovered it in a new fabric," Souder says. Spray-painting the frame is another way to give old chairs new life. For a solid wood chair, a quick sanding and coat of paint might be all you need.
Textured Touches:
Filling glass canisters with frequently used ingredients and stashing them in plain sight is nothing new for avid bakers, but Grace Jones, owner of Dwellings on Madison in Cincinnati, offers a decorative twist for those who aren't. "Filling [glass] containers with natural items and making an island with them is really pretty," she says. Try a grouping of three complementary textures or colors, such as noodles, coffee beans and tea leaves. Jones suggests keeping an eye out for fillers at dollar stores. "They have things that will expire within a couple of weeks," she says. "It doesn't matter because you're using it for decoration." Inexpensive glass canisters can frequently be found at craft and discount stores.
***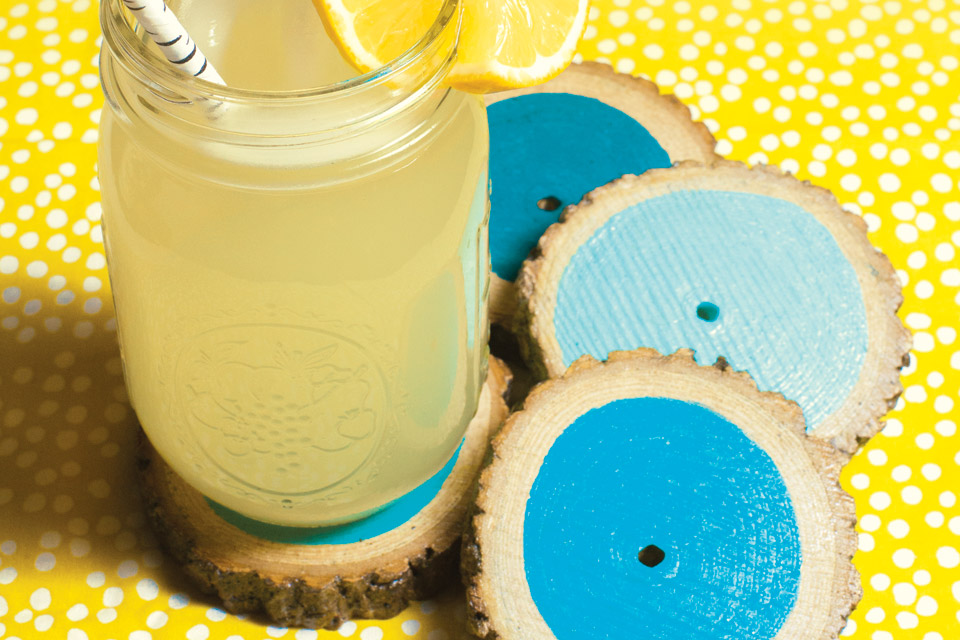 HOW TO: Cool Coasters:
A fallen or trimmed branch can easily be turned into conversation-piece drink coasters. Farm Fresh Therapy's Chelsea Mohrman offers the easy, four-step process.
1.
Find a branch that's five to six inches in diameter and as dry and fresh as possible.
2.
Saw the wood into slices 1/4- to 1/2-inch thick, brush off the sawdust and leave the bark around the rim for a rustic look.
3.
Leave the coasters natural or opt for color by painting the centers with acrylic craft paint. "That's where the creativity comes in," Mohrman says.
4.
After the paint dries, seal the coasters by brushing two thin coats of a water-based polyurethane on the entire surface area.
***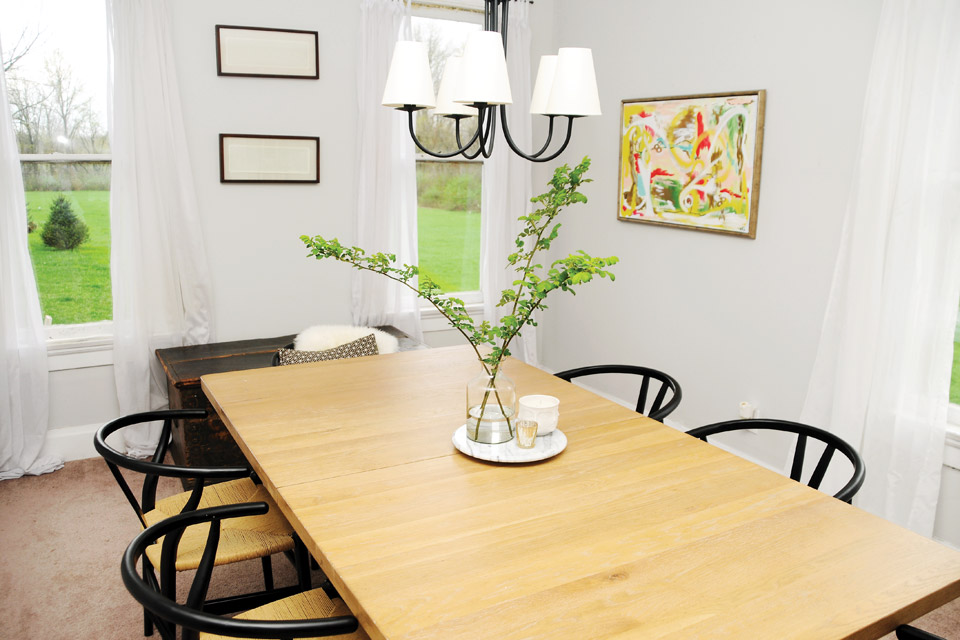 Branching Out:
Clipping a few branches off a budding, woodsy bush in your yard can provide a long-lasting, inexpensive alternative to fresh-cut flowers. Bright yellow forsythia and the gentle hues of dogwood and crab apple are popular choices. Gently pound the ends of the stems with a hammer to open up the woody edge for water to flow in, and be sure to choose a vase with a narrow neck. Erin Souder says she frequently uses a wine decanter to hold tall boughs in her own home. "When you put flowering branches in them, they flow upwards and outwards really nicely," she says, "even if you only have a few stems."
Reinvented Finds:
An afternoon of antiquing often uncovers fun and inexpensive pieces that can easily be repurposed. Chelsea Mohrman keeps an eye out for vintage coffee tins, which she turns into miniature planters. "They add a pop of color and greenery," she says. Succulents are a popular planting option because they don't require direct sunlight or extensive care. To prepare the tin, drill holes in the bottom, fill it with regular soil and display it on a plate to catch excess water. "Anything that's metal that you can put a hole in the bottom of could be a planter," she says.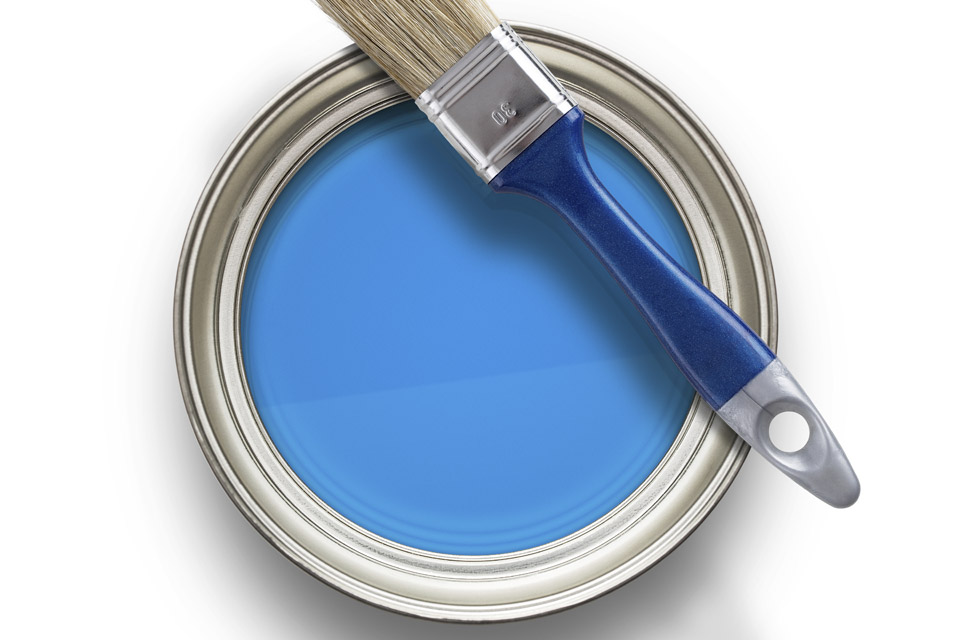 Bright Idea:
Paint is an inexpensive way to make a big spring statement, and you don't have to cover an entire room in a bright new shade to get noticeable results. Instead, paint a single item — a vintage mirror with a heavily carved frame, for example — with a fresh coat of color. "Don't worry if there's a couple pieces missing or if it's blistered," says Grace Jones. Protect the mirror's surface by masking it with painter's tape, and then spray the exposed frame with a high-gloss lacquer.
Illuminated Evening:
Those large saucers that sit under terra cotta patio pots no longer have to be relegated to the ground. Clean out the remnant soil, fill them halfway with water and make table centerpieces for outdoor entertaining that feature floating candles and flower petals or fresh blooms. "The beauty of a flower is when you can look into it," says Angel Elden, owner of Angel 101 in Perrysburg, explaining that it's easier to see the layers of petals when looking at a floating bloom. The easy cleanup is another benefit. You can leave the terra cotta plates outside at the end of the evening, even if a spring rain hangs in the weather forecast.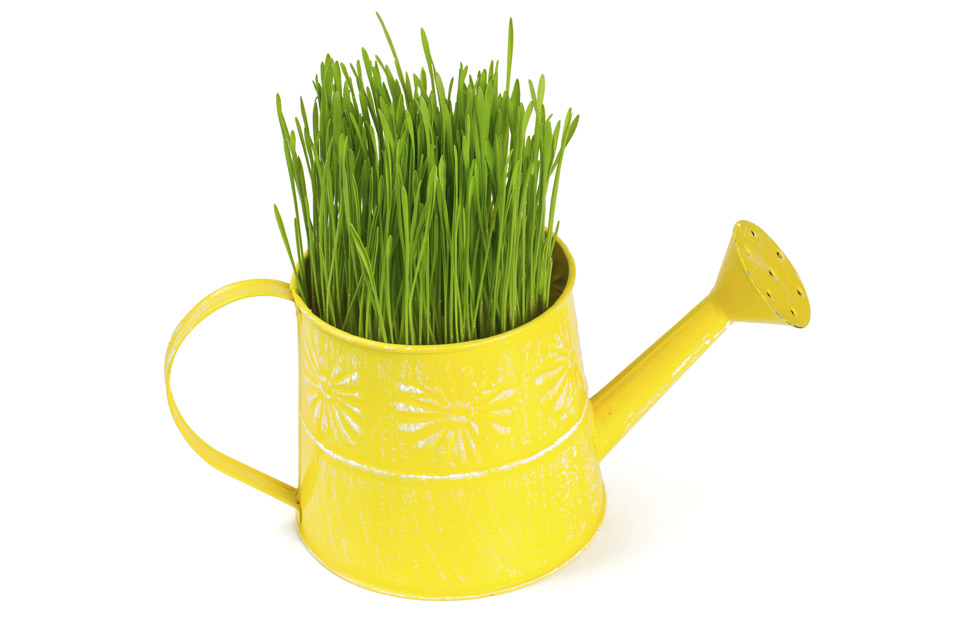 Whimsical Planting:
Green shoots poking out of the earth are sure signs of spring, so Angel Elden suggests bringing the fresh look inside by getting creative with wheat grass. It blooms quickly and grows up to four inches tall. Just choose a vessel (be it a standard pot or an unusual choice such as a teacup), add at least one inch of soil, a layer of wheat grass seed, and keep it watered and warm. "We love to plant it in cute vases or a bell jar, [and] it's adorable to do it in a pie pan," says Elden. "You can even turn it into an Easter or spring centerpiece [by hiding] eggs in it."
***


HOW TO: Country Cabinets
An old-fashioned country kitchen easily evokes memories of baking pies and gathering with family. Grace Jones of Dwellings on Madison replaced the glass panes in one client's cabinets with chicken wire and fabric. "An old, vintage fabric will give it a warm, country kitchen look without redoing the cabinets," she says. Follow these steps to create the same look in your own kitchen.
1.
Open the cabinet door and remove the clips holding the glass in place.
2.
Staple or tape chicken wire along the inside edge of each cabinet door. When the doors are closed, you should only see the cabinet's wooden frame with chicken wire filling where the glass was.
3.
Hem the top and bottom of your preferred fabric, which should be tall enough to fill the panes of your cabinet and two-to three-times the width of the cabinet door. Jones suggests a vintage cotton fabric, burlap or tulle.
4.
You'll need two appropriate-length small sash rods for each door. Slide the rods through the hems. Gather the fabric to create a ruche, or pleated appearance. Nail the sash rods into place (the small nails won't leave much of a mark in your wood), one at the top of the cabinet and one and the bottom so the fabric rests against the chicken wire.
***


MEET OUR CONTRIBUTORS
Meet the four creative minds who contributed these fresh ideas for sprucing up your home this spring.

Chelsea Mohrman:
Chelsea, a full-time nurse, launched Farm Fresh Therapy as a creative outlet. The lifestyle blog focuses on DIY and home decor projects and chronicles the renovation of her 1918 bungalow in Columbus.
farmfreshtherapy.com

Angel Elden:
Angel began her career in the flower business and owns Angel 101 in Perrysburg. Her store is stocked with fun and vintage-inspired home finds, and she enjoys helping customers find ways to incorporate their purchases into their home. 4
19/874-4409

Grace Jones
: With more than 25 years of interior design practice, Grace opened Cincinnati's Dwellings on Madison in 2011 as a place to find unexpected treasures from around the world.
dwellingsonmadison.com

Erin Souder:
Erin is the founder of the home-style and entertaining blog House of Earnest. She is also the owner and creative director for the Columbus-based home and decor brand Grandiflora.
houseofearnest.com