Home + Garden
Linnea Campbell Ceramics, Cincinnati
This artist's ceramics span mugs, tumblers, bowls and other items featuring illustrations of plants and critters that you might find in your own backyard.
July/August 2022
BY Kelly Powell | Photo by Lauren Meisberger
July/August 2022
BY Kelly Powell | Photo by Lauren Meisberger
Linnea Campbell has been working the wheel for a decade now. In 2015, she put her love for pottery in motion. The southwest-Ohio-based artist graduated from the University of Cincinnati and explored her craft at Queen City Clay in Norwood before selling at local shows and becoming a full-time potter in 2020.

Her colorful and charming pieces are decorated with insects, plants and animals. One of her favorite designs is from her Brood X batch and features the type of cicada that emerged in the Cincinnati area in 2021. Campbell jokes that it prompted a polarized reaction among marketgoers.
"I mostly draw illustrations that are native or local to the Midwest … that we would find just in our backyards here," she says. "But I have branched out. There are a few that are from different areas or places I've traveled to and little creatures that I've interacted with in my travels. I like to keep it to things that you can find in the wild."

Campbell creates a core collection of wine cups, tumblers and bowls, as well as seasonal lines. One that celebrates summer features planters, vases and pitchers, allowing Campbell to test out different forms.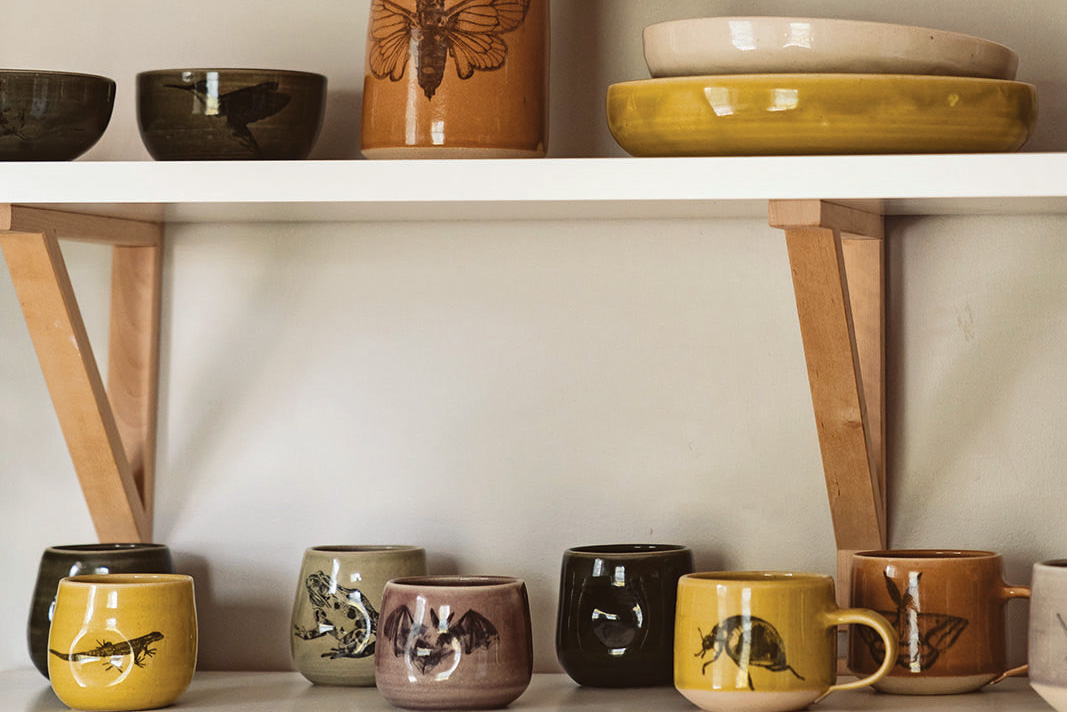 Mugs, a long-running part of the artist's work, illustrate the effort put into each product. She begins by creating each on a wheel, covering it with plastic and letting it lightly dry. The next day, she takes the plastic off, trims any excess clay and adds the handle. Then, she spends another day letting it dry.

In the meantime, she prints her illustrations and silkscreens them with underglaze transfers. The mug sits out a few days (sometimes a couple of weeks) then is put in the kiln for a first firing — the bisque firing, which releases water and impurities. Campbell then glazes each with one of the colors she mixes herself.

"I also have to make sure that the illustration can be seen because it is underneath the glaze," she says. "So, it's taken lots of experience."

Afterward, the mugs are put into the kiln a second time. It takes a day for the kiln to heat up and a day for it to cool down. All in all, creating one piece — although Campbell makes many at once — can take up to a month, but she also creates tea towels, prints, wall hangings and calendars.

"Seeing [the illustrations] printed out on the paper, I can see all the little, tiny details that I had done in my original drawing," she says. "So, it's fun to see the difference with those."

To see more of Linnea Campbell's art, visit linnea-campbell.com.