Home + Garden
Labor of Love
Blacksmith Doug Lockhart is reviving an appreciation for his craft by teaching others the right way to swing a hammer.
August 2015 Issue
BY Andrew Poulsen | Photo by Nate Knobel
August 2015 Issue
BY Andrew Poulsen | Photo by Nate Knobel
Signs marked only with an anvil and an arrow guide the way, appearing every half-mile or so as I drive the country roads outside of Logan. The markers point the way to Doug Lockhart's home in the Appalachian foothills — a log house with a workshop out back where he spends his days bringing new life to a time-honored trade.

"The choices you make today will determine the manner in which you will be remembered," is written above a doorway in bold black letters just inside the entrance to Lockhart's workshop. It's a motto that also neatly encapsulates his approach to his craft.

"I'm never OK with being 'OK,' " he says. "I want to be remembered for my work, and I never settle for mediocrity. I'll take metal and push it to its extremes just to see where it fails and know how far I can take it to its limit."

For the past 34 years, the successful blacksmith has turned out artful kitchen and bath hooks, rustic fireplaces and many other pieces for the home. He also does restoration work on historic gates and bridges and has made commissioned works for Walt Disney World, the Ohio Governor's Mansion and the Clinton White House.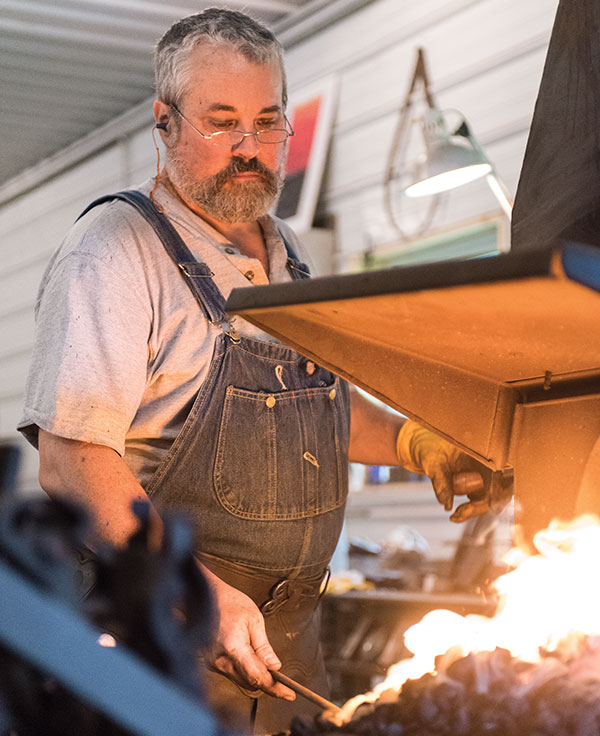 Although blacksmithing was once among the civilized world's most vital careers, it has suffered in the age of mass production. Today's market doesn't favor handmade pieces, but Lockhart is doing what he can to change that. It's one of the reasons I'm gathered with six other students at his workshop on a Sunday morning for a nine-hour introduction to his line of work.

"In history, the blacksmith was the most important of all the trades," explains Lockhart, using a piece of chalk to draw visual aids on the metal tabletop around which we're huddled. "In the old kingdoms, there was God the creator, then there was the king and then there was the blacksmith. There's no one else between them. If the king dies, the blacksmith moves right below God. Nothing could happen without the blacksmith. There would be no chains for the drawbridge. There would be no spears for the soldiers." As Lockhart's tale reaches present day, he sighs and emphatically pushes a handful of metal rods to the side of the table to illustrate the blacksmith's place in the 21st century.

"Machines are putting us out of business," he says. "People are satisfied with ironwork you can just buy at Lowe's and don't mind whether they're paying for quality."

In addition to sparking interest in the trade, Lockhart aims for his instructional sessions to impart proper Old World technique — something that he says has been missing from blacksmithing in the United States for generations.

"Some of the most beautiful ironwork still exists in Europe, because in order to practice blacksmithing, you had to undergo years of being an apprentice and a journeyman before presenting your work to the master guild," Lockhart says. "When immigrants came to America, all they needed was a railroad spike, some butane and a claw hammer to call themselves a master blacksmith. And by doing so, that untrained and sloppy technique has been passed on throughout the centuries in this country."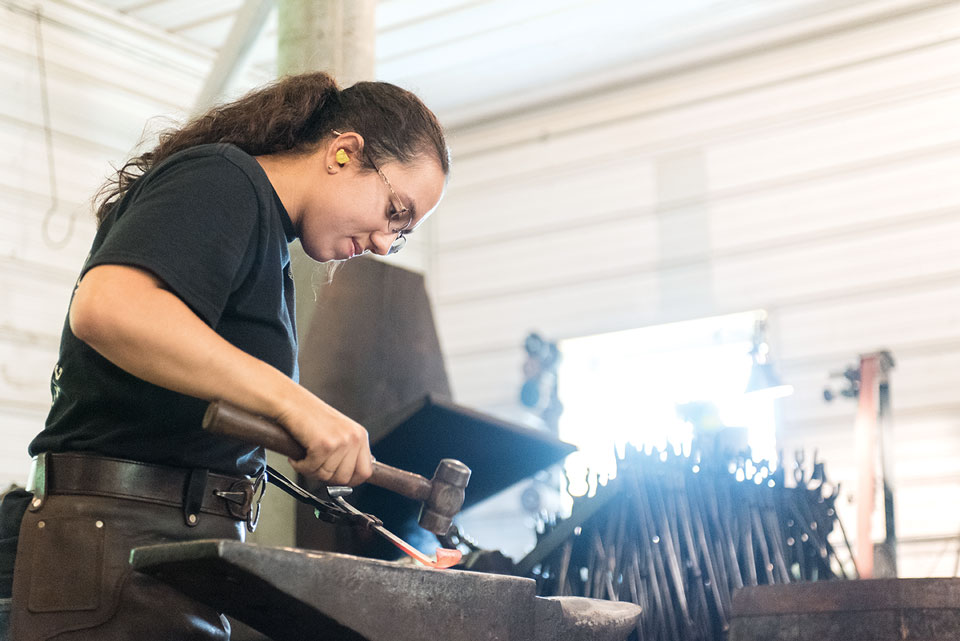 Growing up in Maryland during the 1970s, Lockhart never had a desire to study math or history, but he always maintained A's in art and home economics. In his early teens, he began to learn about glassblowing. Soon he was making a name for himself on the craft-fair circuit. At age 16, before he was old enough to set up a trade booth without a chaperone, he made a radio appearance on a West Virginia NPR affiliate to discuss his work.

Lockhart's parents wanted him to go to college, so he enrolled at Salem College in Salem, West Virginia, where he studied heritage arts and learned traditional skills such as printmaking. It wasn't until Lockhart serendipitously walked into a blacksmith's shop that he discovered the trade that would define his life's work.

"This is a little embarrassing to say, but I truly felt like he had magical powers," Lockhart says. "I had never seen someone twist steel like that, and it just deeply resonated with me right away. I became so obsessed with the trade and only read books about blacksmithing."

Lockhart began his career shoeing draft horses. When clients sought him out for other work, he decided to open his own business. He practiced his craft in small shops until 2012, when he moved the business to his property near Logan, just steps away from his home.

Over the years, Lockhart has amassed a long client list and national recognition. In 1989, Better Homes & Gardens magazine named him one of the 10 best full-time blacksmiths in the country. He has reproduced wall sconces from the 1930s for the Ohio Governor's Mansion, designed lighting fixtures for the "Beauty and the Beast" castle at Walt Disney World and was commissioned to design a Christmas ornament for the Clinton White House.

These days, Lockhart's work has become a family affair. His 13-year-old son, Benjamin, is already an award-winning knife-maker, while Lockhart's 20-year-old daughter, Danielle Russell, is an accomplished welder and blacksmith.

The equipment Lockhart and his children use isn't much different from days of old, including the coal-powered forge with a hand-cranked blower. Except for a few machines that expedite larger orders and alleviate some of the backbreaking labor, much of what is made here is hammered into form on one of the shop's anvils.

Watching Lockhart shape iron, he does make it seem as if there is some sort of sorcery involved. He pulls a rod out of the forge, places it on the anvil and pounds out a near perfect spade with several well-placed hammer strikes. It is the kind of precision that makes an untrained observer believe what they're witnessing is easy to do. It is not.

For me and the other students, the day ends with blisters, sweat and a soot-covered handshake from Lockhart as he congratulates us on the S-hooks and spades we made. He sends us home with our creations, but it's the understanding he hopes sticks. He wants us to remember each hammer blow and every bead of sweat. He wants us to appreciate even the small details when we see an iron fence or gate. He wants to share what he knows with others who can take it forward.

"When you want to pursue something, you have to find someone whose work you admire and you mimic that work," Lockhart says. "When you learn from someone at that caliber, you're taking in their solutions, not their mistakes. That is what is going to make you grow leaps and bounds as an artist."

For more information about Doug Lockhart and his business, call 740/380-6816 or visit themakersofhandforgediron.com.