Home + Garden
Ice + Dust Pottery, Westerville
A graphic designer by day, Halley Immelt spends part of her evenings and weekends crafting fun mugs, trinket dishes and more at her Westerville home.
December 2019
BY Rachel Cagle | Photo by Megan Leigh Barnard
December 2019
BY Rachel Cagle | Photo by Megan Leigh Barnard
Ceramics isn't a process that can be rushed, especially when the artist is a mother with a full-time day job as a graphic designer. Many evenings you'll find Halley Immelt in the basement studio of her Westerville home working on the mugs, trinket dishes and planters for her Ice + Dust Pottery line.

When making mugs, for example, Immelt will spend one night hand-shaping the mug bodies on her pottery wheel and then letting the pieces dry — but not too much — before putting them in plastic bins before she leaves for work the next morning.

The following evening, she'll carefully trim the mugs into their proper shapes in preparation for the next night's work of making and attaching each mug's handle and adding decorations, such as the cutout of Ohio that adorns some of her creations.

Finally, the fully shaped mugs go into the kiln to be fired. Once they've cooled, Immelt glazes each with colors and patterns before returning them to the kiln to create a shiny finish. The end result is playful and colorful pieces that are as fun as they are functional.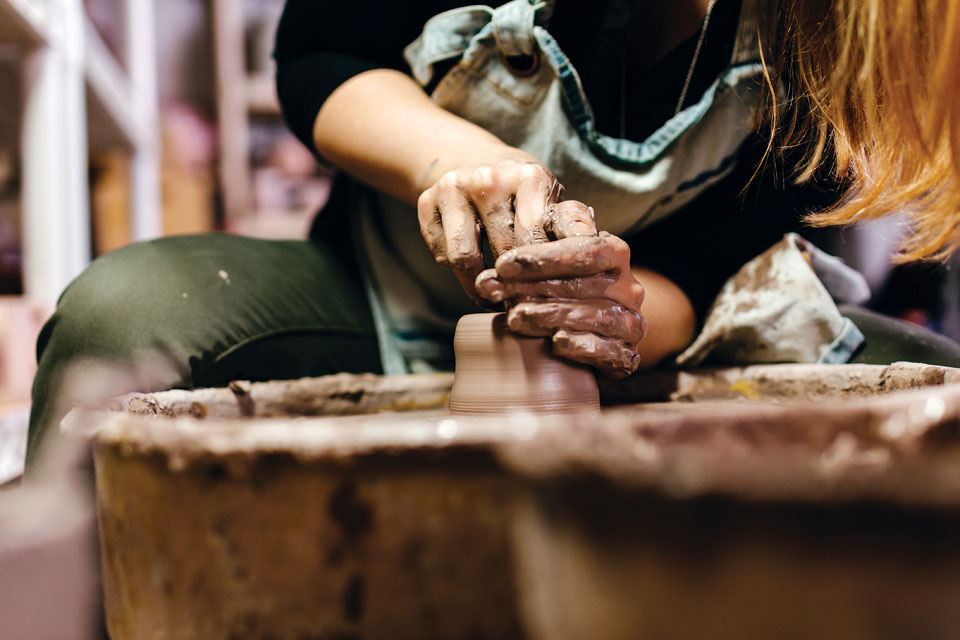 "I've always been a pretty goofy person," she says, "and I like to think that part of my personality is what shows through in the pieces I make."

Immelt's creative process is balanced with her work, daily chores and taking care of her 4-year-old son, who claims half of the basement as his play area.

"Multitasking is kind of my superpower," she says with a grin. "While I'm working on weekends, he is typically playing with Legos."

A high school ceramics class fueled Immelt's passion for pottery, but she always thought of it as a post-retirement hobby. After missing the creative outlet it provided and seeing other potters run successful businesses, she decided to give it a try in 2017.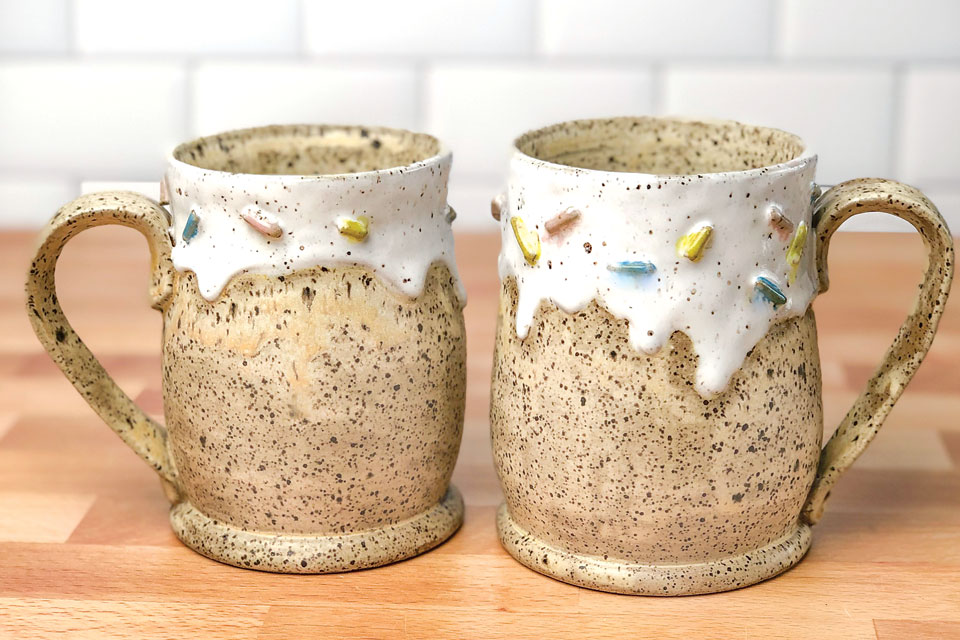 "I didn't expect to get hooked like I did," she says.

Immelt sells most of her pieces online but she also carves out time to attend craft shows, which have become her favorite way to sell. This holiday season, she has five scheduled throughout central and southern Ohio. For her, making pottery hasn't only been about launching a business but making a better life.

"Ice + Dust has been an exercise in committing to self-care while maintaining a work-life balance," Immelt says. "I needed a good stress reliever after starting a family, and pottery has absolutely filled that void." iceanddustpottery.com