Home + Garden
Glass Rooster Cannery, Sunbury
Glass Rooster Cannery provides a taste of rural living and the opportunity to learn vintage homemaking practices.
September 2016 Issue
BY Jill Sell | Photo by Nate Knobel
September 2016 Issue
BY Jill Sell | Photo by Nate Knobel
A little girl stares at the jams, jellies, mustards and barbecue sauces in small glass containers on the table in front of her. The tester jars include some unusual flavors: Vanilla Peach Jam, Indian Mango Mustard and Mimosa Champagne Jelly. But the girl with the big, brown eyes and pigtails isn't impressed.

"Do you have strawberry jam?" she asks politely. "I like strawberry."

Jeannie Seabrook, co-owner of the Glass Rooster Cannery in Sunbury, smiles and rattles off a number of strawberry combinations, including Chocolate Strawberry Jam, a popular choice.

"Strawberry. Just strawberry," the girl replies. She gets her wish and, once she licks the spoon clean, gives her approval.

Seabrook's combination cannery and retail store is located on a 120-acre farm in Delaware County and housed in a red barn. As of July, its commercial kitchen had canned more than 500 pounds of cucumbers from local farmers, turning cukes into several kinds of sweet and tart pickles.

Heirloom tomato varieties you won't find at the local supermarket are grown in an on-site teaching garden, and renegade strawberries (survivors of a time when the farm was overrun with daylilies and berries) still pop up across the property.

"We also choose the longest and straightest beans to make Dilly Beans," says Seabrook, referring to the cannery's pickled green beans, "because they fit the best into the glass jars."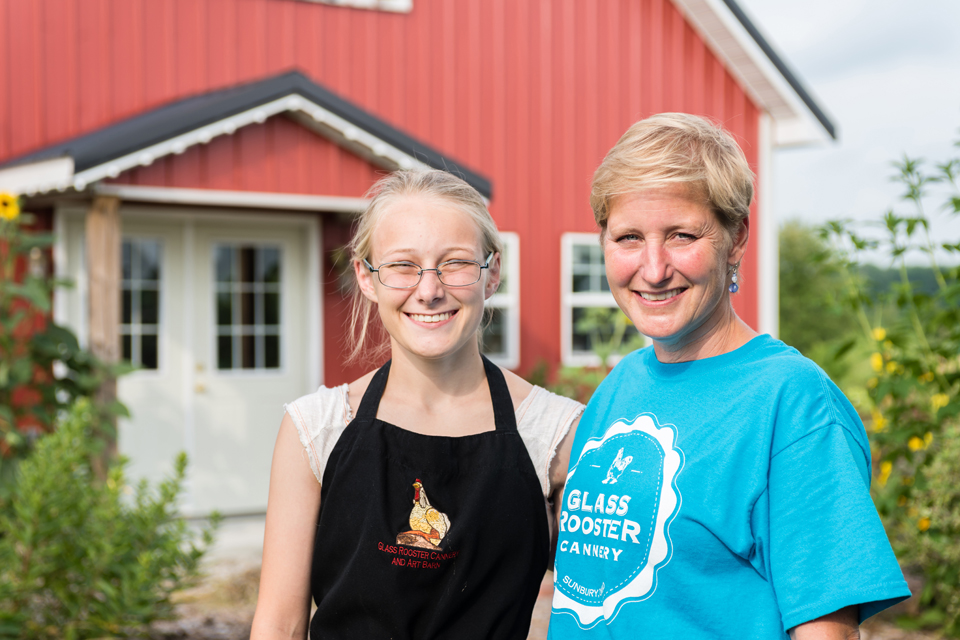 The shelves of the retail store are filled with jars spanning more than 150 varieties that bear the Glass Rooster label. Seabrook creates her products by working with both nearby farmers and local food-and-drink producers to make use of products that might otherwise be composted. For example, Glass Rooster Cannery's Smoked Apple Barbecue Sauce is made from the smoked apples left over after the whiskey-making process at 451 Spirits, a small-scale distillery in Columbus.
The options have grown greatly since Glass Rooster Cannery opened five years ago, with a small selection of locally canned food and basic classes in water-bath canning and pressure canning — homemaking techniques that are becoming more and more rare these days. But as the business grew, attracting young people, retirees looking for a hobby, and church groups, schools and clubs, the number and variety of classes began to grow. Offerings now range from cheese-making to food dehydrating to soap-making.
"The whole shop-local-eat-local movement is increasing," says Seabrook, adding that she believes her operation is unlike any other in the state. "But honestly, none of that was a factor or an incentive for what we do here. I came from a family of 16 kids and canning was just part of growing up."
Seabrook was the 15th of 16 kids, while her sister and co-owner of the business, Susie Schmidhammer, was the sixth. Today, Seabrook is the mother of five children and has been a foster parent.
"Some people who come here are already capable canners, but people want the confidence to know what they are doing is safe. They come to reassure themselves," Seabrook says. "There are no negotiations in canning. … I teach the newest and most recommended methods."
She explains that when Americans were canning in the 1940s and 1950s, it was almost a social activity. These days, Seabrook says, the allure of what she offers is connecting people with where their food comes from. Although canning is often associated with pinching pennies, Seabrook says that's not necessarily the case given the time, effort and equipment required. But, as she points out, the results speak for themselves.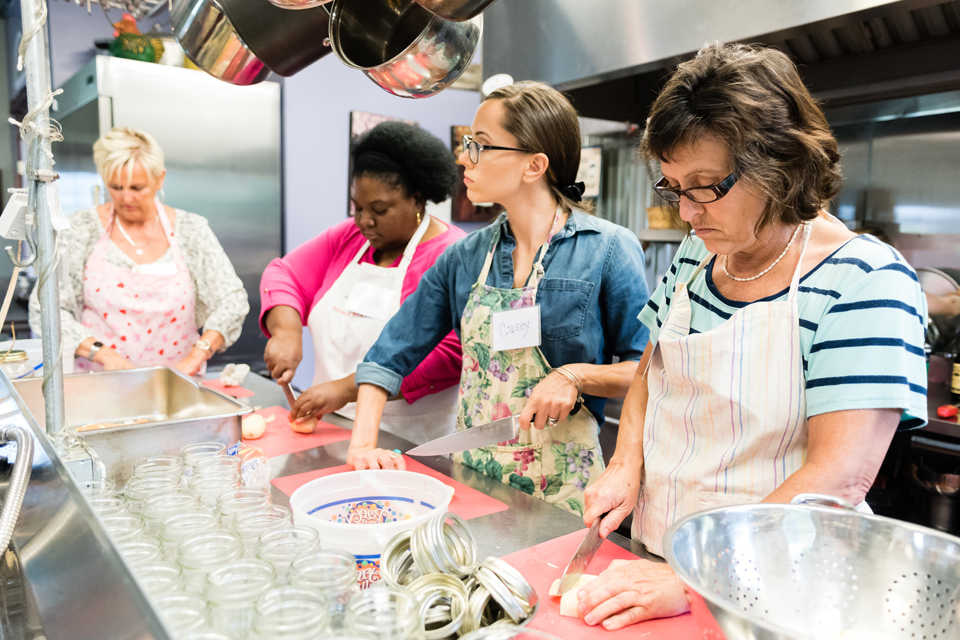 "If you try canning just once, you will realize why some beans cost 33 cents a can and others $4 a jar," she explains. "There is a big difference. It can be a lifestyle choice."
But a visit to Glass Rooster Cannery isn't only about what's going on inside. The business takes its name from art shows that Schmidhammer once held at the property, which she owns. A former-accountant-turned-artist-and-businesswoman, her talents have converted the farm into a whimsical outdoor art gallery.
"I weed an area and then Susie makes it interesting," says Seabrook, who likes showing off the property's pond, rustic cabin and even a decorative outhouse with a woodpecker door knocker. (Don't worry, a modern restroom is available for farm visitors.) A restored barn and a large corn crib now house antiques, vintage furniture, handmade purses, jewelry, original artwork and more, all for sale.
Schmidhammer also created an outdoor garden mosaic wall from colorful glass bottles, while vintage iron bed frames and old fencing now serve as outdoor seating, sculptures and colorful barn loft railings.
"I started using junk for art way back when I didn't have any money for other supplies," Schmidhammer says. "I like old stuff. … When I came here in 2003, there were a lot of things left in the barns that I wanted to remain on the property. I try to keep things outside in the back of the house though, and leave the front plain. People don't have any idea what's here until they drive in back and walk around."
Visit the website for more information about Glass Rooster Cannery's class schedule. 1673 St. Rte. 605, Sunbury 43074, 614/499-2958, glassroostercannery.com


***
How To: Make Farmers Cheese
Courtesy of Glass Rooster Cannery
Farmers cheese is one of the oldest and most universal cheeses on Earth. It's created from local milk sources — cow, sheep or goat — and local seasonings, if added. Soft, mild-tasting farmers cheese can be used as a spread, dressing or filling. "Farmers cheese is classic and easy to make. Just remember to use whole milk or it won't work as well," says Jeannie Seabrook, co-owner of Glass Rooster Cannery in Sunbury.
INGREDIENTS
2 quarts whole milk
1/4 cup vinegar
1 teaspoon salt
DIRECTIONS
Heat milk to 190 F. Add vinegar, stir and let rest for 15 to 20 minutes. Strain mixture through cloth (preferably cheesecloth) and add salt to taste. Eat immediately or store in refrigerator for three to four days. Makes about 12 ounces.