Home + Garden
Gracefully Wrapped, Wooster
Marianne Garey creates beautiful pieces of jewelry featuring bits of flowers, seeds and other plants at her home in Wooster.
December 2019
BY Kelly Powell | Photo by Casey Rearick
December 2019
BY Kelly Powell | Photo by Casey Rearick
Marianne Garey's sunroom holds more than what one sees at first glance. There's the large wooden work table, storage shelves and a whiteboard filled with brainstorming for the holiday season ahead. But look closer, and you see the intricacy of what's happening in this small space that has doubled as an artist's studio since 2017.

Garey specializes in casting tiny flowers, leaves, grasses and her most popular item, mustard seeds, into wearable pieces such as necklaces, earrings and bracelets. The work is incredibly intricate and starts with Garey choosing a bezel shape with which to work — rectangle, semicircle, teardrop — and adding several layers of resin.

The first acts as a base and the others work as a hardener. She has about 40 minutes to get all of the bubbles out, which she does by blowing warm air on the piece herself. (Some artists use a blowtorch, Garey explains, but she strays from the method since she works on a wooden table.) Finally, it's time to place the plant material that serves as the focal point of the piece.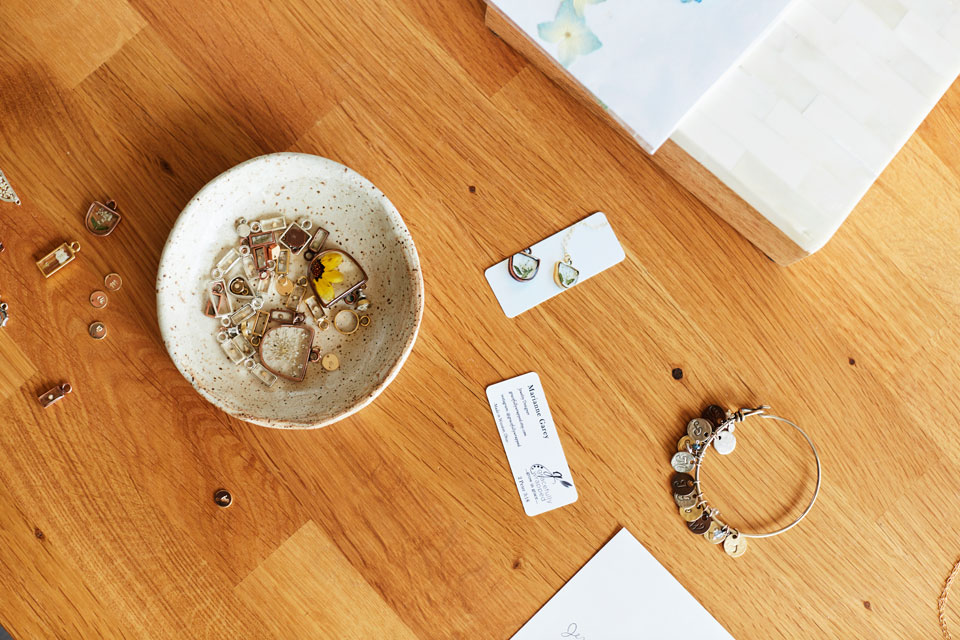 "Flowers are big, and you can't always fit a specific flower into a piece, but you can always cut down and recreate," Garey says. "That's a lot of what I do. I'll take time, break it down, re-create and make something new that someone's looking for."

Garey launched her Gracefully Wrapped faith-fueled jewelry brand after friends began requesting the leather-wrap bracelets the Wooster-based artist used to create in her free time. In additon to crafting the pieces that make up her core jewelry line, Garey also accepts about 20 custom orders a month.

Customers can send her packages with items that are close to their heart — wedding bouquets, flowers from a loved one's funeral, sand from their favorite beach — to be fashioned into wearable pieces.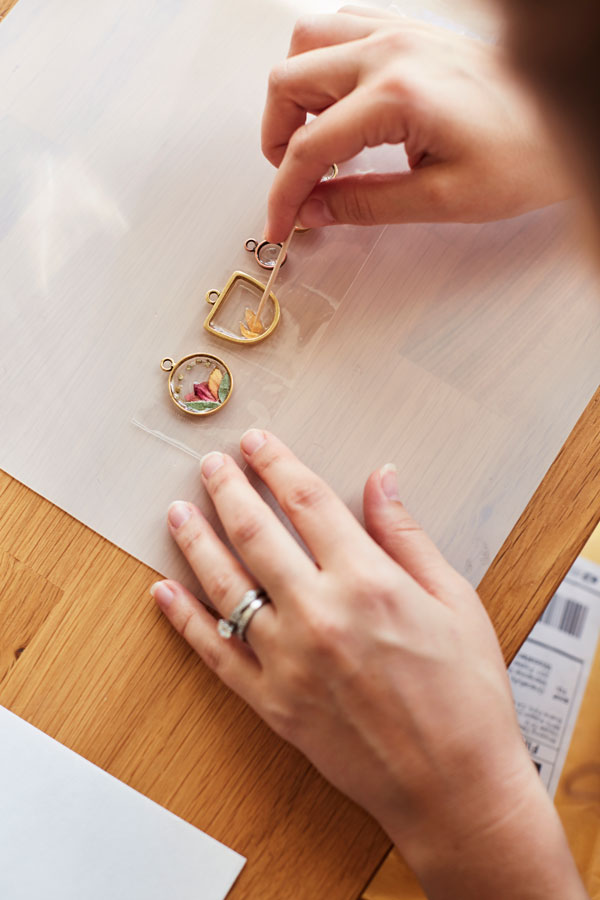 Garey, also a mother of three, came up with the idea of the mustard seed necklace soon after she launched her business. It serves as a visual reminder of the Bible verse Matthew 17:20: "If you have faith as small as a mustard seed, you can say to this mountain, 'Move from here to there,' and it will move."
Some customers who ordered one of her mustard seed pieces have told Garey they felt compelled to give it to someone who needs its message. Others will purchase mustard seed jewelry for a friend who is going through trying times.

"People will send me stories like, 'Hey, I got my friend this mustard seed necklace, and she wore it to every cancer treatment and held onto it. Now she's in remission, and I want to get her this other piece to symbolize that she got through it and is stronger now,' " Garey says. "Every time I'm exhausted ... I'll get one of those stories, and be like, 'OK, I'm good. I'm going to keep going.'" gracefullywrapped.com