Home + Garden
Creekside Colors
Packer Creek Pottery's decades of success is also the story of two women separated by a generation.
July 2015 Issue
BY Jill Sell | Photo Courtesy of Packer Creek Pottery
July 2015 Issue
BY Jill Sell | Photo Courtesy of Packer Creek Pottery
Julie Harbal waves her arms — carefully, of course — as she navigates Packer Creek Pottery's three connected spaces, each filled with vibrant platters, plates, mugs, cake stands, bowls, teapots and magnets.

Every piece on display is hand painted, so each fish, frog, palm tree, pink flamingo, carnation, lighthouse, giraffe, tulip, polka dot and zigzag in the showroom is slightly different from the one before it or the one to come next. In fact, the word "showroom" sounds almost too formal for this art gallery and retail store that evokes the whimsy of an "Alice in Wonderland" tea party. Shelves and tables overflow with the company's joyful creations, but the presentation as a whole is beautifully and invisibly calculated.

"Sometimes I come in here when the shop is closed and just look around at everything," says Harbal, who bought the Genoa, Ohio, business from her long-time mentor and boss, Packer Creek Pottery founder Jan Pugh, in 2013. "I may move a couple pieces or arrange something, but it's very comforting to me."

Packer Creek Pottery is the story of two 14-year-old girls, separated by a generation. It begins in 1970 — Pugh's freshman year in high school. She wasn't as successful as her older brother who ran track and played drums, and she remembers being adrift in teenage angst. Then one day Pugh's mother saw someone making pottery on television and called in her daughter to watch.

"It was amazing. I said, 'I've got to do that,' " Pugh recalls. "Luckily I had young, enthusiastic parents who said, 'OK, we live in the middle of nowhere, but we'll find somewhere for you to get pottery lessons.'

"And that's all I ever wanted to do," adds Pugh, who graduated from Rochester Institute of Technology and Kansas City Art Institute. "It makes me wonder how things work. Was I a potter in another life? I wasn't great at it when I started, but it was everything to me."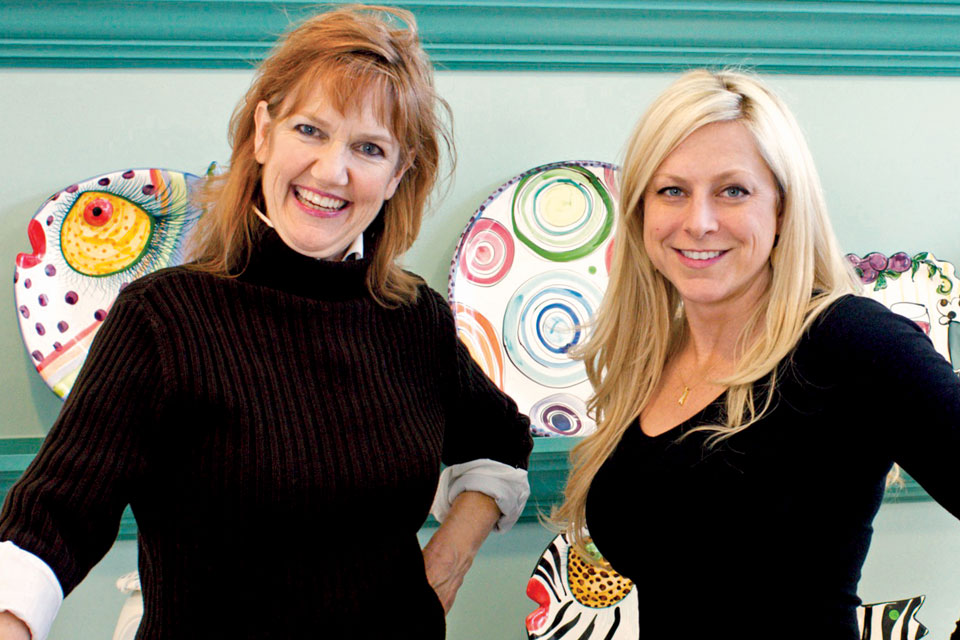 Pugh opened her tiny one-room pottery studio in an old warehouse in 1979. She wanted to use a gas kiln for firing her pottery. But after an insurance agent said that would mean $12,000 to insure the property, her father, Kells Pugh, gently told her she wouldn't make that in a year.
So, Pugh began making low-fire pottery, which uses an electric kiln to create terra cotta and earthenware. She experimented with clay formulas and developed a special glaze that is still used today. Pugh created a signature look that resembles classic majolica pottery, which has roots reaching back to the 15th century.
"But it was the Italians who really made majolica famous," says Pugh. She explains that they took red clay — what they had available — and put a white glaze on top of it to imitate beautiful Chinese porcelain. Then, they painted over it in colorful hues. "I used terra cotta, a reddish clay, and put a white glaze over it," Pugh adds. "But the red clay sources changed over the years, and it cracked and pieces went into the dumpster. So, eventually, we went with white, low-fire earthenware."
In the early days, Pugh could only afford three paint colors for her pottery creations: purple, brown and green. "I did a lot of grapes in those days," she says. "But when I could afford more colors, I started to take my pottery to shows."
Brown and gray earth tones were hallmarks of 1970s-era pottery, so Pugh's vibrant approach got attention. "People couldn't believe the colors I was using," she says.
Both Pugh's father and her husband, Jon James, made molds for her slipcasting method of creating pottery. Liquid clay is poured into a plaster mold and allowed to form a cast. The cast is then removed, cleaned and trimmed. The resulting greenware (clay objects before they have been fired) is dried, fired, glazed, painted and fired again. Packer Creek Pottery continues that slipcasting tradition as well as several other methods of making pottery.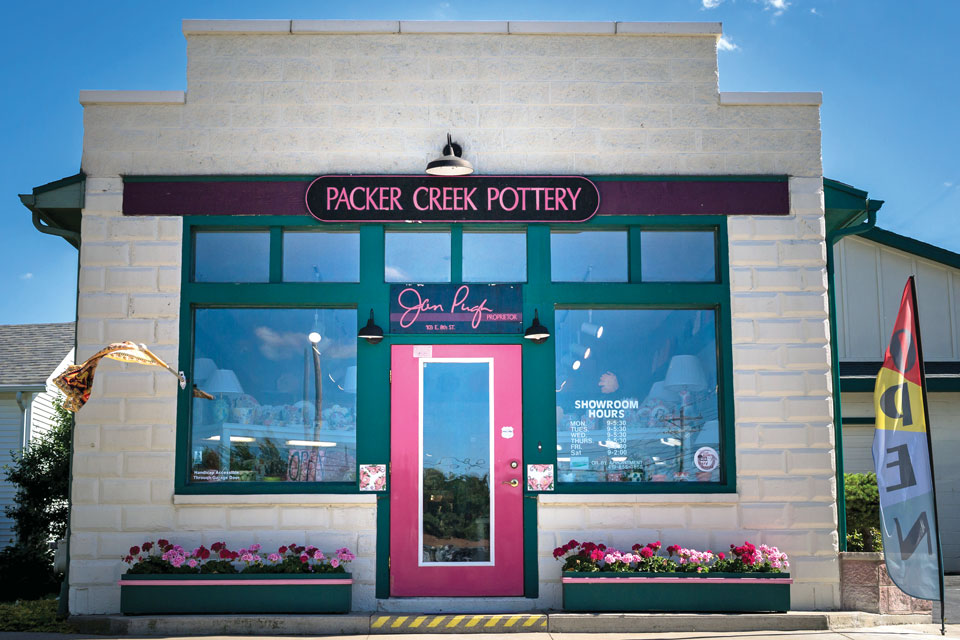 Today, the business also has a reputation that reaches far beyond Genoa, kickstarted by some famous customers and notable names who've received the store's creations as gifts. Pugh says customers of hers have purchased pieces from the store for a list of luminaries that includes Jerry Seinfeld, Julie Andrews and Ohio State University football coach Urban Meyer. In 1993, Packer Creek Pottery was asked to create an angel for a Christmas tree at the White House. Afterward, the Junior League requested Pugh make a gift for Queen Noor of Jordan, who was visiting the Toledo area.
Pugh watched nearby Toledo native Katie Holmes grow up. The actress visited the shop with her mother, and her older sister is a collector of the pottery.
Julie Harbal also visited the store with her mother, who had known Pugh from school. As a teen, Harbal became mesmerized by the store bursting with red, green, yellow and blue colors.
She called every week asking for a job until she was finally hired to sweep floors and clean greenware. With her artistic skills, Harbal was quickly asked to help a small staff of painters and potters. "Right from the beginning I felt like I belonged here," says Harbal. "I feel blessed. Every day is a beautiful day at the pottery shop."
Harbal worked at the shop throughout high school and college, as well as some after college. She has a degree in fine arts and an MBA, both from Bowling Green State University, and she worked as an interior designer at the university for eight years before rejoining the business. "I always thought pottery was part of me," says Harbal, who continues to hand paint some items. "Jan and I were together for so many years. I felt honored to come here and take over after Jan retired."
Harbal says she loves the company's watermelon bowls, but adds that the fish plates are her favorites to paint. The fish has become a symbol of the company, a nod to the shop's namesake creek that runs through the town, as well as its proximity to Lake Erie. No Packer Creek Pottery patterns have been retired, which means loyal customers can still buy pieces from beloved collections from the past and present, such as Dragonfly, Flower Garden, Crabby and Wine Bottle.
But Harbal has new ideas. She introduced fresh colors this year, including teal, coral and turquoise. She has added house address numbers and created custom-made kitchen tiles.
Harbal is deeply touched that some female customers she knew as a young girl now have daughters who use the shop's bridal registry. Other loyal clients bring in granddaughters who "ooh" and "ah" their way past striped fish and funky feline plates.
"I hope someday a 14-year-old girl comes in here looking for a job," says Harbal. "I look at my role as protecting and growing the business. There aren't too many places like us."

103 E. Eighth St., Genoa 43430, 419/855-3858,
packercreekpottery.com