Home + Garden
How to Grow Blackberries in Your Backyard
We visited two Ohio growers who cultivate the fruit and got advice on planting your own at home.
August 2014 Issue
BY Jill Sell | Photo courtesy of Thinkstock
August 2014 Issue
BY Jill Sell | Photo courtesy of Thinkstock
Folklore says when the devil was cast out of heaven he landed in a blackberry patch and was so upset he cursed the bramble fruit and spat on it. But that hasn't stopped the blackberry from being enjoyed by humans for thousands of years.

The midnight blue or black fruit hangs like a multifaceted and juicy jewel from the plant's canes, or branches. In the wild, people have long been more than willing to suffer the thorns to pluck the tasty treasures.

Today, cultivated thornless varieties make growing blackberries in your backyard or picking them at a commercial farm a much more pleasant experience. Their versatility makes them perfect for tea, wine, pie, jelly, jam, ice cream, cobbler, yogurt and syrup. Plus, the North American Raspberry and Blackberry Association says the fruit has antibacterial, anti-inflammatory and antioxidant properties that may help prevent certain kinds of cancer.

Right now, blackberries are plumping up at 415 commercial growers throughout the state, according to a U.S. Agriculture Department count provided by Gary Gao, Ohio State University horticulturist and associate professor of small fruit crops. We visited two of the operations to take a closer look at the plant that delivers one of summer's devilishly delicious flavors.

---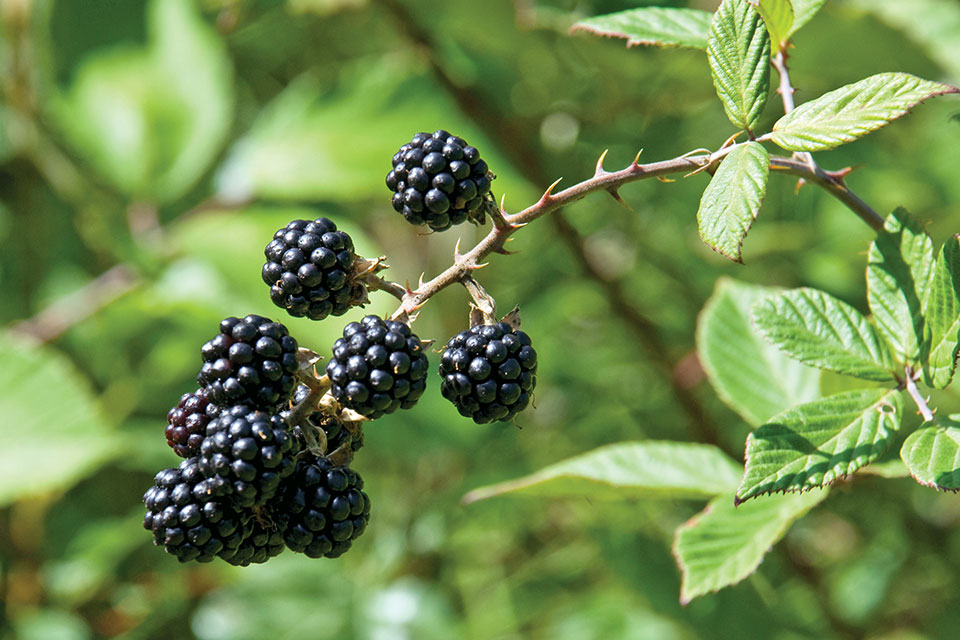 Brett Rhoads stands amid the 22 acres of blackberry plants that cover just a fraction of his family's 600-acre, Pickaway County farm. It's mid-spring and he's watching the bees buzz back and forth as they go about their business. "The bees are humming, working hard for us today, getting us pollinated," he says. "I appreciate that."

The Rhoads Farm in Circleville is among the largest blackberry producers in the Midwest, growing enough each year to pack 600,000 6-ounce plastic clamshell containers. Rhoads says 95 percent of the blackberries are sold at large chain stores, mostly in Ohio. They're also available at his family's Rhoads Garden Center and at farmers markets in the area.

The roots of Rhoads' family farm reach back to 1958 when his father was just a boy of 8, selling produce to local canneries and from roadside stands. The farm didn't grow its first blackberries until 1999. Today, it cultivates the fruit using a reconfigurable trellis system that results in higher yields with the need for less labor.

The system's growing-and-harvesting position makes it so fruit grows on only one side of the trellis, which makes for easier harvesting and helps shield it from the hot, drying westerly sun. The trellis can also be configured to lie flat so plants can be covered with huge crop blankets from December through March to protect them from the bitter cold. Rhoads says this winter was exceptionally hard on blackberries.

Many summer evenings, Rhoads and his wife, Tara, will spend time in the fields with their 3-year-old triplets, giving them their first glimpses of the life he's grown up knowing.

"The triplets love the taste of blackberries," he says. "And it's like a giant jungle gym to them out here. Of course, they will probably hate it when they are older and we make them pick berries." Mon.–Sat. 9 a.m.–6:30 p.m., Sun. 10 a.m.–5 p.m.; 1051 St. Rte. 56 E., Circleville 43113, 800/378-8934 or 740/474-2028, rhoadsfarmmarket.com

---

Ron and Marian Buchanan grow just 1,600 blackberry plants, but the passion they have for their Medina County operation could fill acres. The couple opened Marian Kay Berry Farm four years ago as something they could do together during retirement.

"We tell our seven children that this farm is their inheritance," says Marian. "We couldn't be happier."

Ron worked for both a major record label and an industrial-construction management firm during his career, while Marian owned two beauty salons. Today, she's also a professional pie maker and food preparer.

"My earliest memories are sitting at the counter in the cafe my mother owned on Route 66 in Texas and seeing all her homemade pies," says Marian.
The Buchanans grow three varieties of blackberries: Ouachita Thornless, a full-bodied, erect plant with pretty white flowers; Triple Crown Thornless, a sweet, heavy producer; and Loch Ness Thornless, a popular berry in England but less common here. All were selected mostly for their flavor and ability to withstand Ohio's nasty winters.

The Buchanans, who live in Avon, run a you-pick business at their Lodi farm and also sell containers of blackberries. They're $5 a pound and are usually available from mid-July through August. The farm also sells blackberry-based products — Marian Kay's Rich Blackberry Syrup, Blackberry Honey Lemon Jelly, Blackberry Seedless Port
Jam and Blackberry Chipotle Bar-B-Que Glaze — that are prepared by Marian.

By next year, the couple expects to have a canning kitchen in full operation at the property's barn store. Part of their mission is to help the community, which they plan to do by teaching classes on how to can and preserve blackberries and other fruit as a way to save money and eat healthier.

"It will be possible to pick your own blackberries and leave with a product you made yourself the same day," says Ron. Mon.–Sat. 9 a.m.–5 p.m., 8876 Congress Rd., Lodi 44254, 440/315-9697 or 440/822-5257, mkberryfarm.com

WEB EXTRA: Get the recipe for Marian Buchanan's french blackberry cream pie here.


***


GROW YOUR OWN
Ohio State University Extension horticulturist and berry expert Gary Gao offers his advice for Ohioans who want to grow blackberries in their backyards.
• Gao's choices for plump backyard berries include Chester Thornless, Triple Crown Thornless, Ouachita and Natchez, a newer blackberry with large, elongated and glossy fruit. He also likes Prime Jan, Prime Jim and Prime-Ark45 — primocane berries that fruit on the current year growth and are good for a fall crop. But Gao suggests northern Ohioans stick to summer-fruiting varieties.
• Blackberries need slightly acidic soil with a 6 to 6.5 pH, full sun and good drainage, but "not too much wind," adds Gao. Varieties are classified by growth habits: erect, which can stand alone; semi-erect, an arching plant that needs some support; and trailing varieties. "[They] grow like vines and need support or they will look like a messy jungle," says Gao. Plant erect and semi-erect varieties 3-to-5 feet apart in rows. Plant trailing types 6 feet apart.
• Blackberries can be purchased bare-rooted (without soil) and dormant from mail-order nurseries or as container plants from local ones. Most will not produce berries the first year, according to Gao, and he advises planting several varieties. "If we don't have a polar vortex ... it's not that hard for a backyard grower to grow blackberries," says Gao.