Home + Garden
Autumn Comforts: 6 Ideas for Outdoor Spaces
Cozy up, people. Innkeepers Bobbi and Jeff Noe of The Welsh Hills Inn share how to create warm and inviting outdoor spaces this time of year.
October 2018
BY Teresa Woodard | Photo by Casey Rearick
October 2018
BY Teresa Woodard | Photo by Casey Rearick
As days grow shorter and temperatures dip, it's easy to linger in autumn's glory. Linger with a cup of coffee on the porch to bask in the morning sunlight. Linger to savor one more meal on the patio table beneath a sugar maple at its peak crimson color. Or, linger to roast one more marshmallow over a bonfire under a full moon.

At The Welsh Hills Inn near Granville, innkeepers Bobbi and Jeff Noe are masters at creating cozy outdoor spaces for their guests. After working 20 years in the corporate world, they recognize the value of a getaway. In the summer of 2010, they were on their way home from a summer vacation in Mexico when they hatched the idea for a bed-and-breakfast.

"The trip made us realize how much we appreciated a getaway," says Bobbi.

"We both were engineers and perpetual planners," she says. "Still, we jumped into the project with zero research and zero business plan — just our hearts to share a place for people to get away and relax."

That fall, they started innkeeping by opening their home to Denison University parents and have never looked back.

"Back then, I never would have imagined we would host guests from 50 states and 24 countries," says Bobbi.

The big draw is the inn's hilltop location on 15 acres overlooking the Welsh Hills. Welsh immigrants from Pennsylvania settled the area in the early 1800s before the establishment of Granville. The inn is wrapped with a porch on two sides with views overlooking a hillside of oaks, maples, sycamores and hickories.

"I'd walk out on my porch, and my blood pressure would drop," Bobbi recalls of her Jeff's early experiences at the property. "There's something tranquil about our location."

Guests often post comments echoing the sentiment. When we asked, the Noes graciously shared their advice for creating cozy, restful spaces.

So, layer on the blankets, fire up the chimenea and warm up the cider. It's time to make the most of these fleeting, fall-perfect days and nights.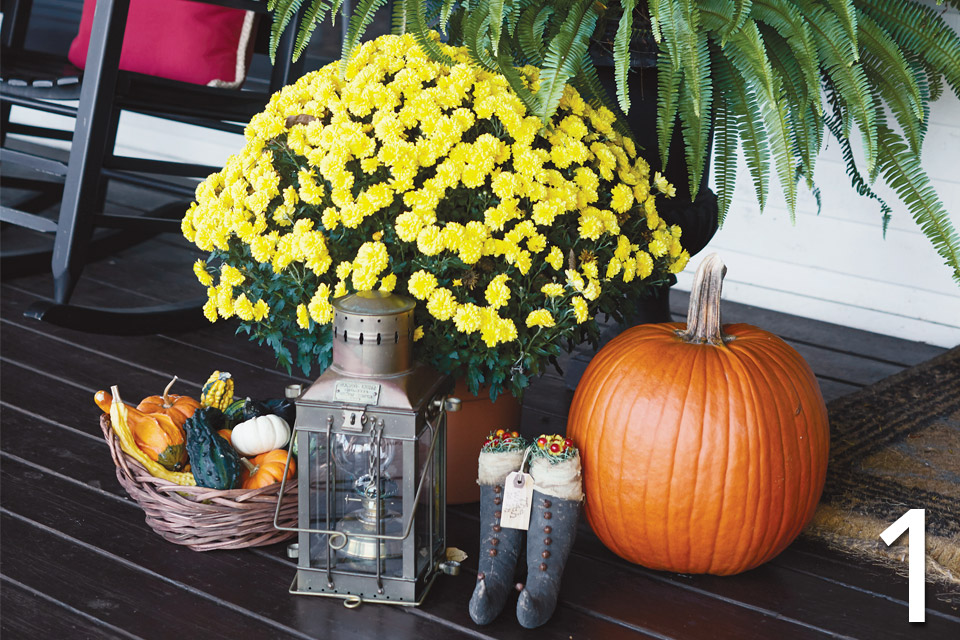 1. Dress the Door
Bobbi's fall decor starts at the front door, where she displays a few pumpkins. She and Jeff scour garden centers and the Granville Farmers Market to purchase an eye-catching mix. "We have several favorites, including Cinderella, Fairytale pumpkins, traditional jack-o'-lanterns, cheese-style pumpkins, Great Whites, Turbans and sugar pie varieties," says Bobbi. They keep the summer's urns of ferns and update the look for fall with pots of mums, a lantern, vintage boots and a fall-themed wreath of sunflowers, hydrangea blooms, apples, pears, dried berries and ivy.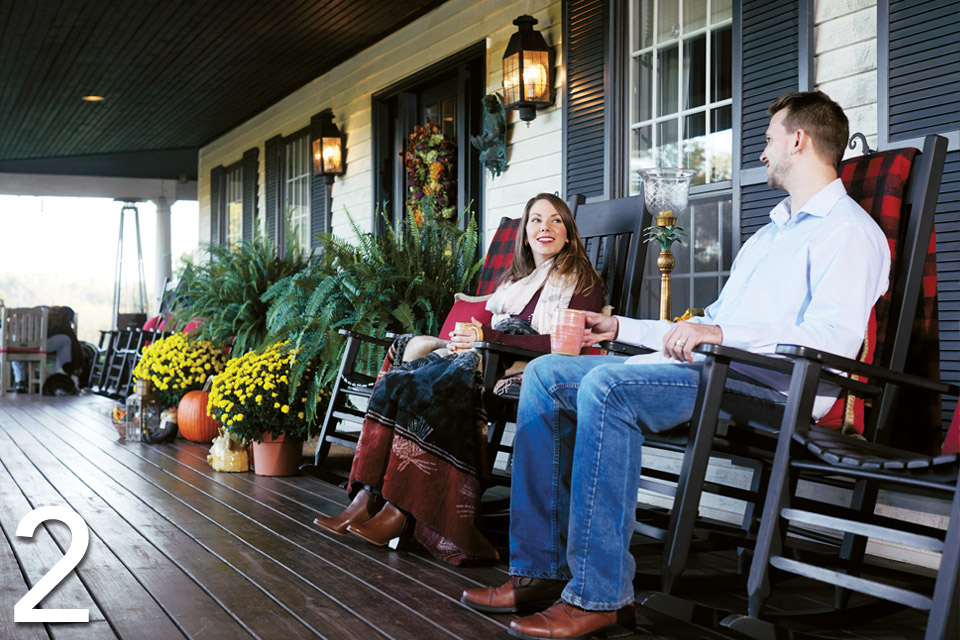 2. Warm Up the Porch
The Noes say it's easy to indulge in porch time, whether it's coffee at sunrise, wine and cheese at dusk's golden hour or hot cocoa on a moonlit evening. "I love the outdoors, and this environment draws you outside with its wraparound porch and panoramic views," says Bobbi. Beyond the view, the couple makes the space inviting with eight black rocking chairs, buffalo-check wool blankets, candle-lit lanterns and strings of lights.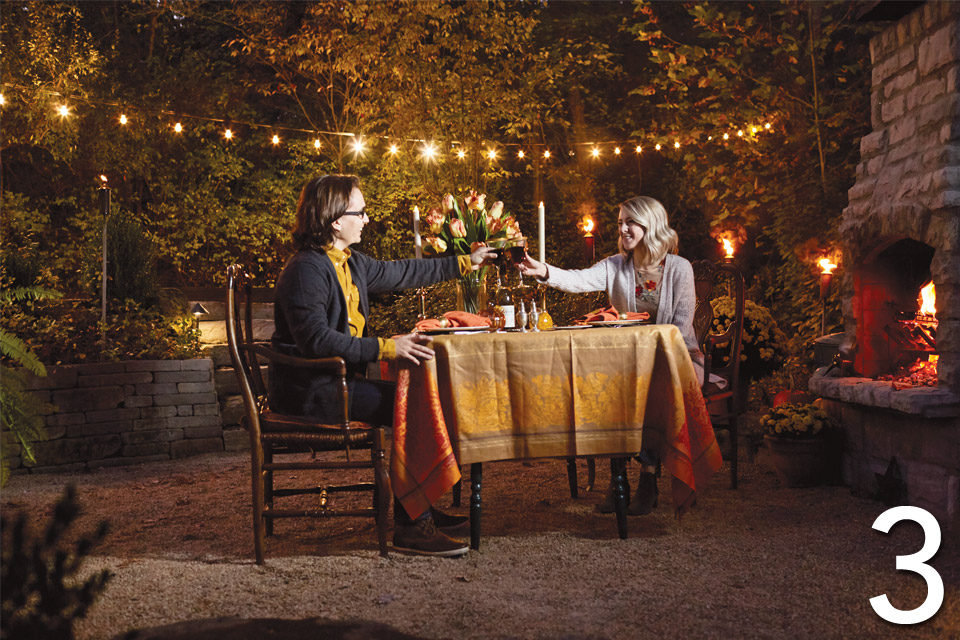 3. Dine Alfresco
The Noes offer intimate fireside dinners in a newly finished outdoor space. For such special occasions, the innkeepers go all out with strings of lights, table linens, fine china, candles and fresh-cut flowers. For more casual evenings, they switch out the dining furniture for Adirondack chairs, roasting sticks and supplies for s'mores.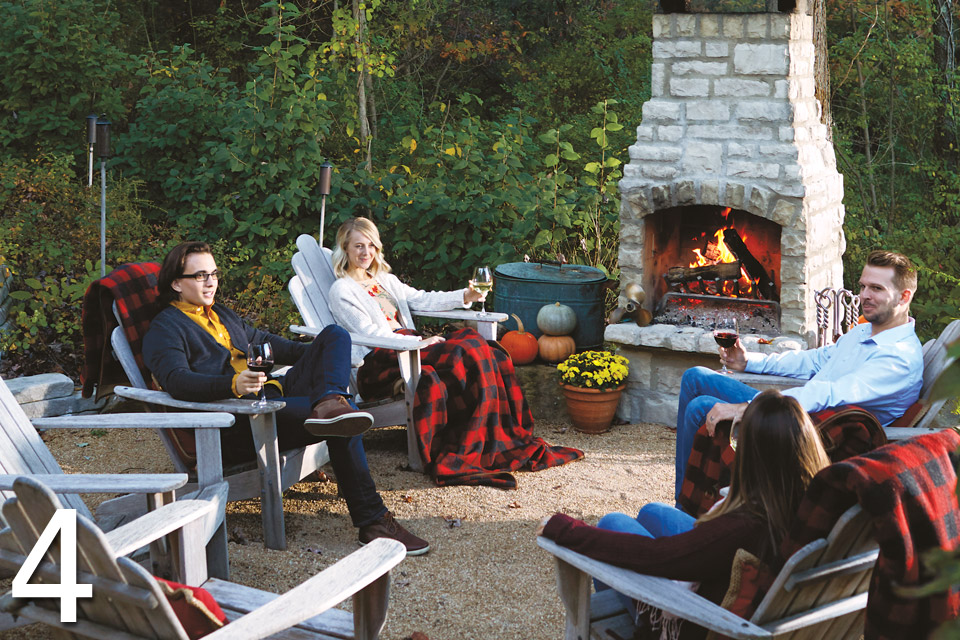 4. Get Cozy
Fall is an ideal time for outdoor lounging, especially since summer heat and mosquitos have ceased. The Noes transformed an ugly hillside into a cozy patio with a stone fireplace. They cleared away brush and worked with an architect to create a space with a crushed gravel patio, walkways, chimneyed fireplace and lush landscaping. It is a popular area for small weddings and anniversary dinners.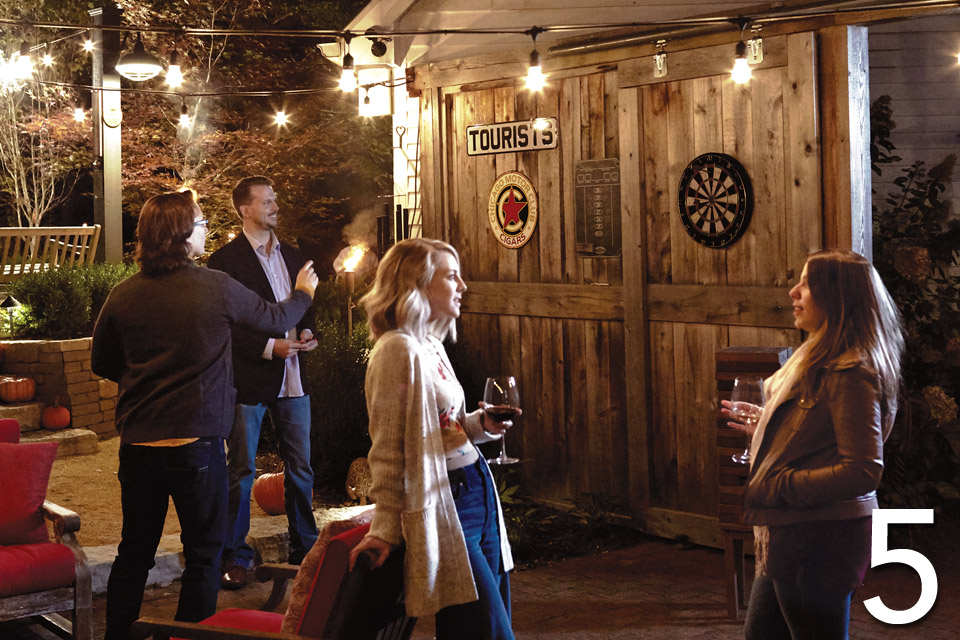 5. Bring Out the Games
Bobbi credits Jeff for the inn's outdoor gaming area. He started with a bocce court and tabletop checkers set, then added darts, board games, dominos and an outdoor pingpong table. Comfortable seating and strings of lights add to the ambiance. "We love the old wooden board games," says Bobbi. The Noes' also have a giant Jenga game. Seven times the size of the original game, this version stands 4 feet tall and physically engages teammates.



6. Embrace the Fall Garden
The Noes welcome their hillside's fall spectacle of colors visible from the inn's front porch. The color show is repeated on the inn's grounds with river birch, oak, magnolia, Japanese maple, apple, pear and pine trees. The Noes keep their gardens texturally interesting with billowy boxwood hedges, plumed ornamental grasses, rosy hydrangea panicles and sculptural seed-heads of black-eyed Susans and coneflowers. As the hills hit their crescendo, the Noes bring renewed color to the gardens with yellow mums. "They are my favorite, and we spread plenty of them around the inn," says Bobbi. Lucky for the Noes, they also call this cozy inn their home, and here they, too, can linger outdoors to enjoy the ephemeral days of fall.

For more information, visit welshhillsinn.com.