Home + Garden
Aged to Perfection
Curt and C.J. Shaver's Columbus Barrel Co. crafts home decor pieces from bourbon barrels.
November 2015 Issue
BY Andrew Poulsen | Photo by Kirk Irwin
November 2015 Issue
BY Andrew Poulsen | Photo by Kirk Irwin
The shop floor is filled with the warm, smoky and sweet bouquet of lingering drops of bourbon still trapped inside the 80 or so barrels stacked high against the walls. In just two years, brothers Curt and C.J. Shaver went from barrel hunting in the hills of Kentucky's Bourbon Trail on the weekends to having some of the nation's top distilleries delivering to their doorstep.

Here, in a nondescript industrial park in Lewis Center, the brothers churn out one-of-a-kind home decor pieces under the name Columbus Barrel Co. They refer to their style as "rustic sophistication."

"There's nothing you can do to this furniture to make it look modern," says Curt as he holds up a loose wooden stave from one of the barrels. "It's a look you can't duplicate. At its core, it's just American white oak, but it takes up to 12 years to look the way it does."

Curt, 28, takes care of the business side of the company, while C.J., 25, handles the craftsmanship. Their business is a continuation of their family's tradition of woodworking. The brothers are the third generation to pick up the trade, getting their start in their early years working for their father's cabinet business.

It was there where C.J. first began to experiment with the intricacies and possibilities of barrel wood. Soon, he was making belt buckles and a handful of other small knickknacks out of leftover barrels in his father's shop.

After a larger corporation acquired their father's shop, Curt and C.J. decided to start their own. Although typical woodwork doesn't necessarily stand out at a craft show, the brothers realized that using bourbon barrels as their raw materials provided a story and a past for the pieces they made. Each comes with a label explaining from which distillery the barrel wood originated.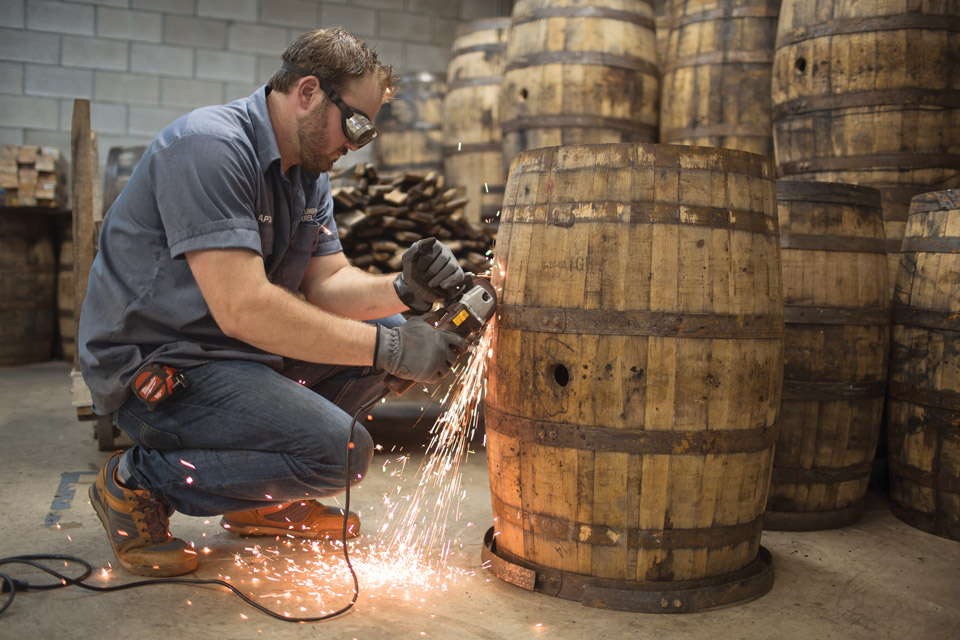 "I think there's both uniqueness and a novelty to using this kind of wood," C.J. says. "Barn wood is something that's accessible to everyone, but this is something different. People want that rustic decor and DIY quality, and the barrel wood encompasses all of that."

After Curt graduated from the University of Kentucky with a degree in business, the brothers were able to focus on turning the garage hobby into a full-scale enterprise. Although they wouldn't leave the garage for some time, the two were cranking out orders for tables, backsplashes and wall clocks almost as fast as the barrels could dry.

Curt's savvy business tactics were able to get the two in the fold with some of the most respected bourbon distilleries, including Maker's Mark, Four Roses, Bulleit and others. Now, instead of spending weekends in Kentucky scouring for their next batch of barrels, distilleries are selling them directly to the Shavers — more than 80 at a time — for use in their shop.

The brothers' access to barrels has also made them very popular in the craft beer community. Columbus Barrel Co. has become a quasi barrel broker for local breweries looking to age their beer in freshly emptied bourbon barrels.

"Breweries can sometimes get these barrels less than 24 hours after the whiskey is dumped," Curt says. "That's unheard of. These brewers go crazy for that, because there's an endless amount of flavor opportunities that come with having barrels this fresh."

There's not a single stave of wood that has left Columbus Barrel Co.'s workshop that wasn't shaped by C.J. Shaver. With the exception of a machine that cuts circles and a few other modern woodworking amenities, all the work that goes into each product is done by hand.

In fact, many of the saws, chisels and dust collectors used in the shop were passed down from the brothers' great-grandfather.

Each project begins by removing the metal rings of the barrel and then steaming the wood, so it can take the desired shape for cutting. An important part of the business is yielding as much wood as possible out of each barrel. Even the odds and ends are often repurposed as prototypes for new products.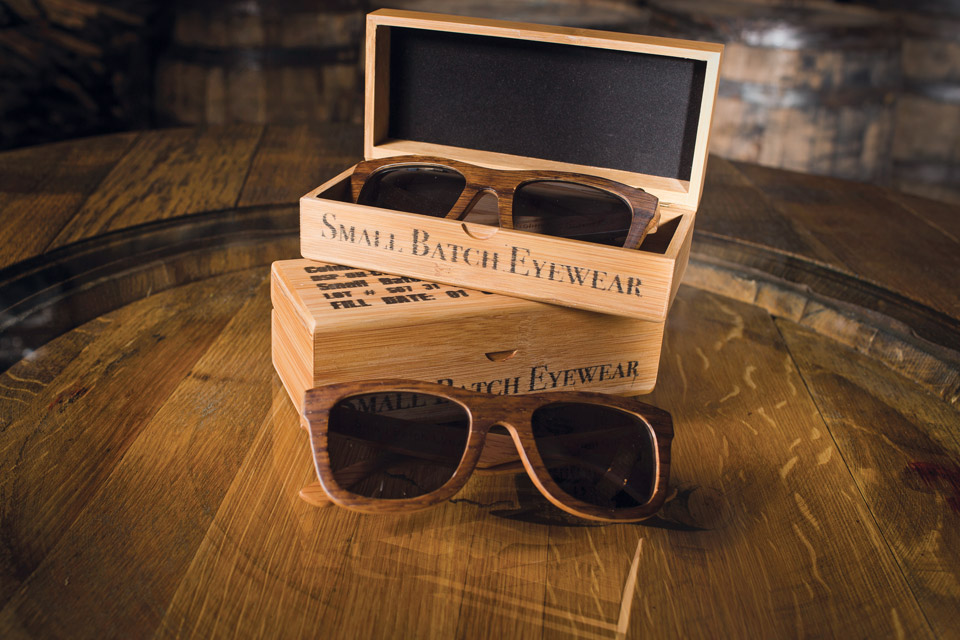 "I never touch or mess with the natural patina of the barrel," C.J. says. "That's what gives each piece its uniqueness. Customers will want something to be super clean or fine, but I don't like to do that. Instead, we like to have the customer come in and pick out the barrel themselves."

Today, about half of the company's business is custom orders. More and more, owners of high-end homes from across the Columbus area seek out the Shaver brothers for tables and other large pieces of furniture. Their work can be found at a number of breweries throughout Ohio in the form of tap handles, and they've recently teamed up with local apparel company Where I'm From to build wooden kiosks in malls throughout the state.

The brothers' booming online sales have kept the two so busy that they no longer have time to attend as many artisan markets, much to the chagrin of Curt who misses the grassroots days of meeting every customer face to face.

"This all evolved from us in one truck carrying four barrels to a 53-foot semi delivering barrels to our front step," Curt says. "But at the end of the day, I want my brother and I to be known as a couple of young entrepreneurs just trying to do what we do — better than everyone else."

For more information about Columbus Barrel Co., visit columbusbarrelco.com.