Food + Drink
| Craft Beer
Wolf's Ridge Brewing
This Columbus spot focuses on food as much as it does beer, with a menu of carefully constructed American favorites.
February 2016 Issue
BY Andrew Poulsen | Photo by Eric Wagner
February 2016 Issue
BY Andrew Poulsen | Photo by Eric Wagner
Beams of natural light fill the dining room, reflecting off the long tables that seat chatty, eager brunch patrons by the dozen. Artistically presented and exotic versions of beloved standards are the order of business here. Beautifully built bacon and eggs appear in the morning and a gorgeous rib-eye served with fingerling potatoes, mixed vegetables and leek butter is among the dinner options.

"Every plate that goes out to a table, we want our customers to say, 'Wow, this looks too good to eat,' " says Seth Lassak, executive chef at Wolf's Ridge Brewing. "First impression is everything."

The atmosphere at Wolf's Ridge Brewing is equally appealing, with brick walls and original wood floors meeting sharp-yet-subtle modern decor. When father and son co-owners Alan and Bob Szuter and their wives gutted the century-old space in downtown Columbus in 2013, they were strict about preserving the building's rustic charm.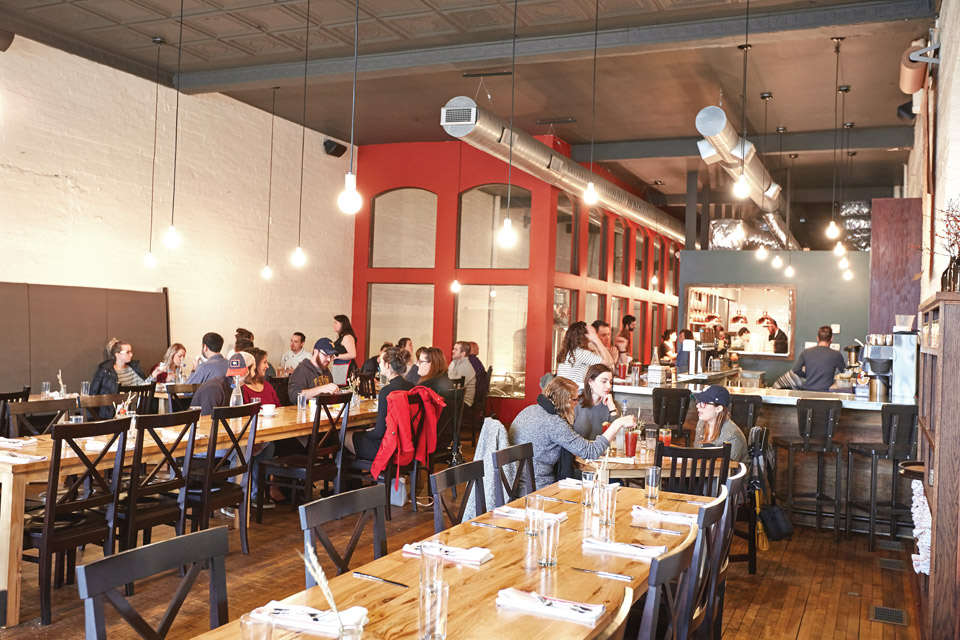 "We wanted to make what we were doing fit the space, not the other way around," Bob says. "We wanted to keep it simple and maintain a natural feel."

The Szuters collaborated with the brewery's neighbor, the Columbus College of Art and Design, which made a project out of the interior layout. The goal was to pay homage to the days when breweries and beer gardens were meeting places. Customers are encouraged to engage one another thanks to the communal tables and absence of televisions in the main dining area.

A longtime enthusiast and avid home brewer, Alan was inspired to open a craft brewery while traveling the country for his previous job as a consultant. He enlisted Bob, who originally worked in finance, to oversee the restaurant side with the help of Lassak, a childhood friend. Brewmaster Chris Davison leads the beer-making team.

The restaurant serves up to 20 beers at a time from its rotating lineup of craft brews. Although the brewery's style of experimentation doesn't meet the German brewing traditions of using only hops, barley, water and yeast, recipes are kept as authentic as possible by incorporating ingredients local to the region of each beer, which includes using malts native to Germany's Bamberg region for the brewery's Buchenrauch Lager.

"Our focus is ... brewing authentic, true-to-style beers with a lot of creativity," Alan says. "You can expect to see a lot of infusions and experimentations."
The same attention applies to the cuisine. While Wolf's Ridge Brewing serves a variety of American brunch, lunch and dinner favorites, Lassak also offers modern interpretations of Mediterranean, Chinese and Latin dishes. Because his menu changes every three months, Lassak plans ahead on a large dry-erase board in his office. Unlike wine pairing, where flavors are often meant to contrast, Lassak favors beer pairings where the food and drink complement the other's dominant qualities. For example, he will pair a salmon topped with lemongrass and an orange ginger gel with a white IPA to cut through the fat of the salmon and bring out the citrusy and bitter components of the beer and fish.

"Both our brewer and our chef are true artists and craftspeople," Alan says. "Sometimes there's a little hesitation, but we have to trust them and give them their freedom."

215 N. Fourth St., Columbus 43215, 614/429-3936, wolfsridgebrewing.com

***

Order This
Chef Seth Lassak shares a few of his favorite food-and-beer pairings at Wolf's Ridge Brewing.

Bacon and Eggs + Buchenrauch Lager:
"[The beer] complements the applewood smoke on the bacon and goes well with the minerality of the root vegetables," says Lassak, who pairs thick slabs of pork belly with two sunny-side-up eggs, root vegetable slaw and honey-poached cranberries.

Mussels + Gold Standard Helles Lager:
These wild-caught mussels are steamed in lager, wrapped in bacon and smothered in Gorgonzola cheese sauce with garlic and herbs. "It's a heavier dish, so that crisp lager really helps make it a little lighter," Lassak says.

Peanut Butter and Banana + Dire Wolf Russian Imperial Stout:
"This one was inspired by childhood memories of being raised on peanut butter and banana sandwiches," Lassak says, adding that the dessert brings out the sweet, chocolate notes in
the stout.