Food + Drink
| Craft Beer
Warped Wing Brewing Co., Dayton
Community pride and local history are on tap at this downtown Dayton brewery that has taken flight since opening in 2014.
February 2018
BY David Nilsen | Photo by Kelly Wilt
February 2018
BY David Nilsen | Photo by Kelly Wilt
The former home of the Buckeye Iron and Brass Works foundry sits on a side street at the edge of downtown Dayton. The hulking structure was built in 1938 and looks indestructible enough to last another 80 years. Thick, concrete walls brace an imposingly high ceiling, and the foundry's original 10-ton industrial crane arches across the interior space, still sitting on steel tracks from its glory days of hoisting metal for manufacturing.

These days, this seemingly harsh building is home to one of the most inviting businesses in town: Warped Wing Brewing Co. The severe, concrete exterior now sports a warm, red hue. Inside, brew kettles and fermentation tanks sit beneath the mighty crane rather than furnaces and forges.

Warped Wing's busy taproom is in the front of the building, and its long German-beer-hall-style tables are nearly always full. In nice weather, the front bay doors roll up, offering patrons a gorgeous view of the downtown Dayton skyline. The small city of just fewer than 150,000 residents (there are nearly a million in the metro area) is finding its footing after a couple of rough economic decades, and young businesses like Warped Wing are a vital part of framing Dayton as an attractive place to live, work and play again.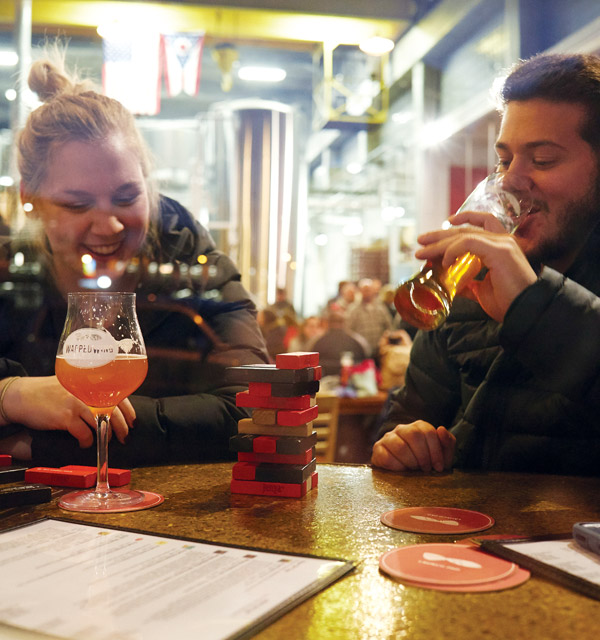 "[We want] to build community and rally local pride by bringing people together around world-class beer," says Nick Bowman, who co-founded Warped Wing Brewing Co. in 2014.

"We love Dayton and its rich history. Dayton has a good story to tell and we are trying to share that story through some of our beers."

Ermal's Belgian-style Cream Ale celebrates the Dayton inventor who created the first pop-top can, while 10 Ton Oatmeal Stout pays homage to the taproom's original tenant and is made beneath its namesake piece of industrial equipment. Even the brewery's name is a nod to Dayton history, referencing the Wright brothers' unique wing design that allowed for controlled flight.

Last month, Warped Wing celebrated its fourth anniversary with a party at the brewery that included special releases of rare and barrel-aged Warped Wing beers. One of the most anticipated was a special wine-barrel-aged barleywine-style ale brewmaster John Haggerty set aside last year so it would be ready in time for this year's festivities. Haggerty, who is celebrating 25 years as a brewer in 2018, was trained in Germany. Many of his recipes blur the lines between established styles, but all are defined by balance and consistency.
Close to 20 beers are typically on tap at the brewery at any given time, including flagship favorites like Trotwood Lager and Flyer Red, as well as a rotating cast of special releases and seasonal offerings. Fans fill Warped Wing's spacious taproom to sip these beers with friends, and often make new ones in the process. Vintage pinball games provide retro entertainment, and a foosball table and giant Jenga set allow for family-friendly competition. Kids are welcome at Warped Wing any time, and the brewery even makes its own nonalcoholic craft sodas, which taste great with spent-grain cookies from the taproom's kitchen.

While already the largest brewery in Dayton, Warped Wing Brewing Co. is always looking to the future. Dayton city planners have been trying for years to restore the Arcade, a large downtown merchant space built in 1902.

If the current plans for restoration come to fruition, Warped Wing hopes to one day open a brewpub in the historic structure — a second location that would allow the brewery to explore sour and mixed-fermentation beer styles, which its fans have been seeking for years.

Warped Wing is at a size when many breweries begin distributing to other states, but Bowman and his crew have instead chosen to continue to dig roots deep into their immediate surroundings.

"Our vision is not to be the biggest," he says. "We just want to be the best." 26 Wyandot St., Dayton 45402, 937/222-7003, warpedwing.com