Food + Drink
| Craft Beer
Seventh Son Brewing Co., Columbus
Embracing a New American approach to beer, this brewery pulls from a range of influences to craft its core lineup and seasonal releases.
February 2018
BY Nicholas Dekker | Photo by Kelly Wilt
February 2018
BY Nicholas Dekker | Photo by Kelly Wilt
At this point in the evolution of Ohio's craft beer scene, Seventh Son Brewing Co. might seem old school. Established in 2013, the brewery is housed in a former auto mechanic shop in Columbus' Italian Village neighborhood. A brewhouse with rows of stainless steel fermenters and a long, concrete bar now sit where cars were once serviced.

Despite its light-industrial feel, the taproom is warm and inviting. In colder weather, a fire pit glows on the front patio and guests are greeted with the comforting smell of a wood fire. During warmer months, garage doors roll open, connecting the taproom with the patio.

Because Seventh Son excels at brewing so many different styles, it is sometimes hard to pin down. On any given visit you might find pale ales, IPAs, stouts, porters, barleywines, Belgian-style ales, brown ales and beyond. The brewery features four or five core beers, which are almost always available and can frequently be found in cans and on tap around the city. Overall, the brewery's owners figure they have crafted more than 150 different beer varieties since 2013.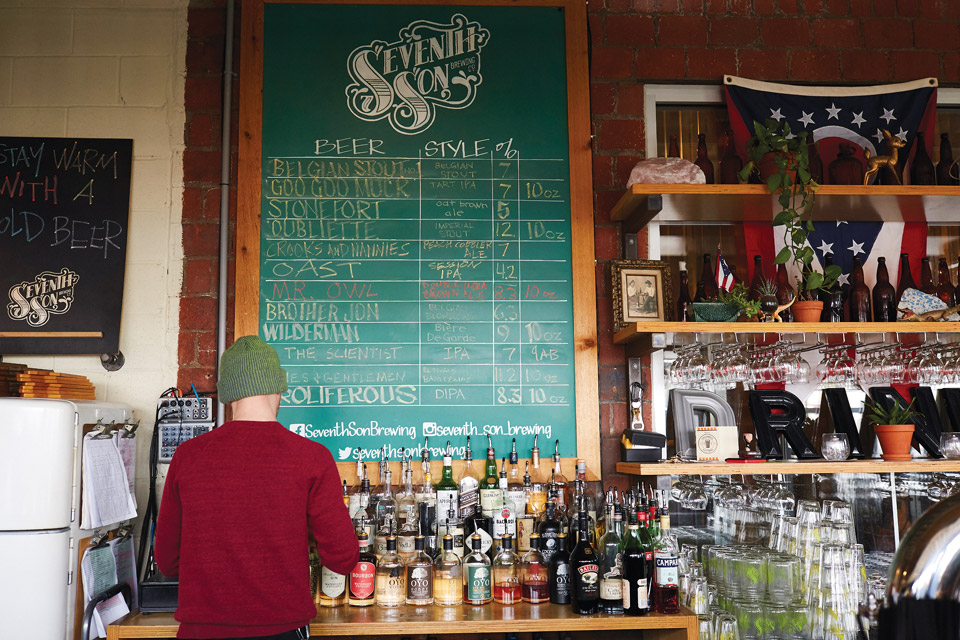 "We have a calculated approach to making a lot of different styles very well," says co-owner Collin Castore. "We like to have a New American craft perspective and take traditional methods and put together American and Belgian brewing styles. We do a lot of things and do them well."
The New American approach to beer comes from head brewer Colin Vent's background in the culinary world.
"In New American cuisine, you're free to pull flavors from wherever you want," he says. "We have that mentality with our beers. When I started making beer, we said, 'Let's do an American strong ale — there are no real hard rules to that. Let's make a pale ale as close to an IPA as we can get.' In the early days it was blurring some boundaries in terms on styles."
A great example of this is Seventh Son's Mr. Owl double India brown ale. It combines the balanced, malty taste of a brown ale with the sweet and strong hop profile of an IPA.
"We primarily do ales; we don't have the space to do lagers," Vent adds. "But we don't tie ourselves to any particular style. We pull influence for our beer from a new flavor profile, a new hop ... We're open to anything at this point."

To accommodate its fans' thirst for more Seventh Son beer, the brewery plans to open a large addition this spring. It will increase Seventh Son's brewing capacity five or six times and add a new rooftop bar with a retractable covering so it can be used in all seasons.

As if one brewery isn't enough, Seventh Son is also set to launch a sister brewery, Antiques on High, this spring. Located in Columbus' Brewery District just south of downtown, the new spot takes its name from the fact it's housed in a former antiques store on South High Street. It will feature a bar and a rooftop patio, but will primarily be used for barrel-aging and blending sour and Belgian styles of beer. It'll also allow Seventh Son to continue its focus on playing with classic beer styles.

"It will feature funky farmhouse ales to classic Belgian styles to nouveau styles like lemongrass wits," says Vent. "It will have a nice, diverse portfolio."

1101 N. Fourth St., Columbus 43201, 614/421-2337, seventhsonbrewing.com